These spicy orange meatballs employ an orange marmalade and Sriracha combination to create a spicy sweet and sour sauce. An easy appetizer that cooks in your crockpot or double the sauce and serve over rice for a quick and easy Chinese-style dinner.
This post may contain affiliate links. As an affiliate, I earn a commission.
Jump down to Recipe
Love Chinese food? Then you'll love these spicy orange marmalade meatballs. An easy appetizer you can make in your slow cooker.
★ Why You'll Love this Recipe ★
Set it and forget!
Crockpot appetizers are great for when you're short on time but you still want to bring or serve something delicious.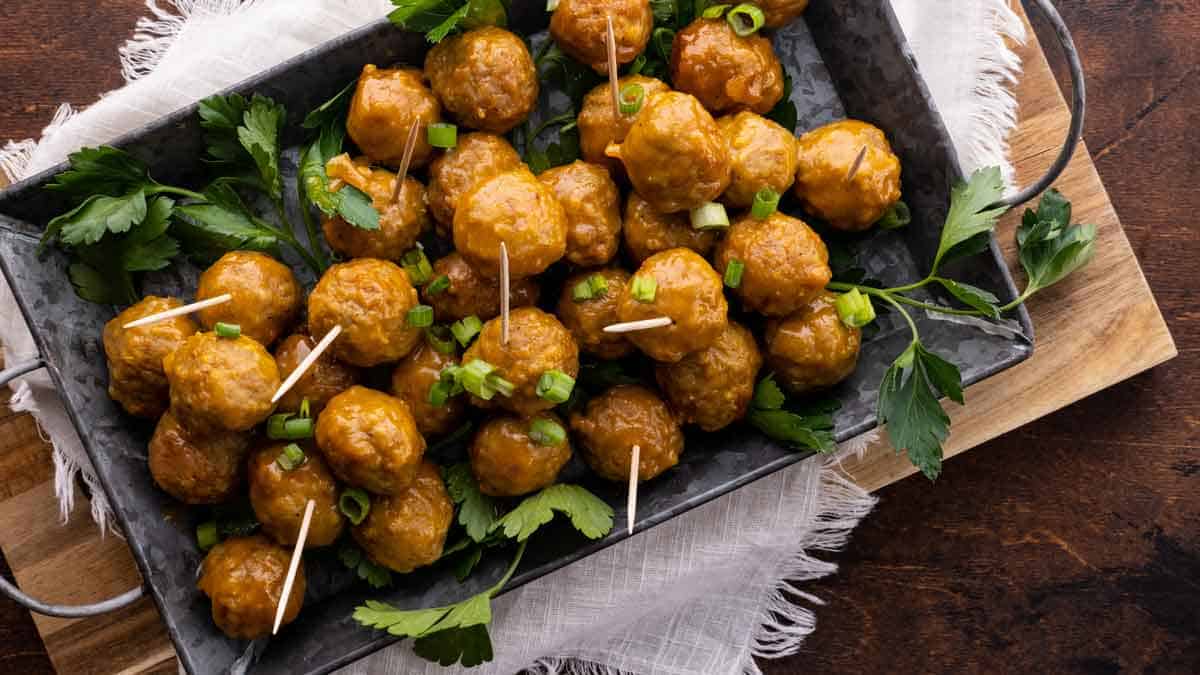 I love these slow cooker meatballs because they're an easy appetizer recipe yet they're not your typical grape jelly and chili sauce meatball recipe, although those are yummy too!
These spicy orange meatballs are yummy and so easy!
This is such a simple appetizer recipe, made using just 5 ingredients. Perfect to take to a pot luck or serve at a party you're hosting.
You can turn these into a full meal.
Serve these orange meatballs over rice, with a side vegetable or salad for an easy dinner! I like to add extra sauce when I serve these as a meal to flavor the rice.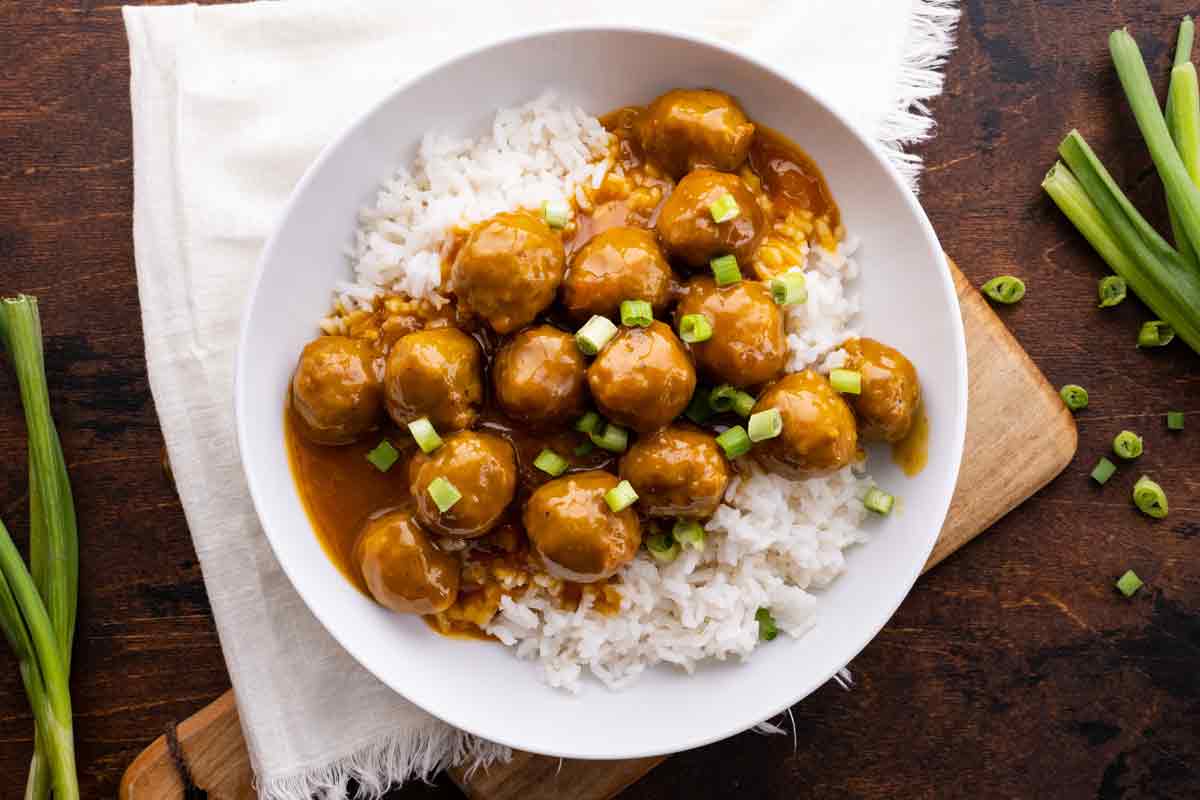 ★ Ingredients You'll Need ★
All you need is FIVE ingredients!
Frozen meatballs. Or you can make your own using my recipe or use your own.
Orange marmalade. You can find this next to the jelly and jams in the store.
Chinese or yellow mustard. Either one works, your choice.
Sriracha sauce. This adds the spice. You can dial the heat up or down by adjusting the amount you add.
Rice vinegar. You want to make sure to use rice vinegar. This gives you that Asian flavor.
The sweet and spicy flavor of these orange marmalade meatballs comes together really easily and transforms plain meatballs into a delicious appetizer or dinner.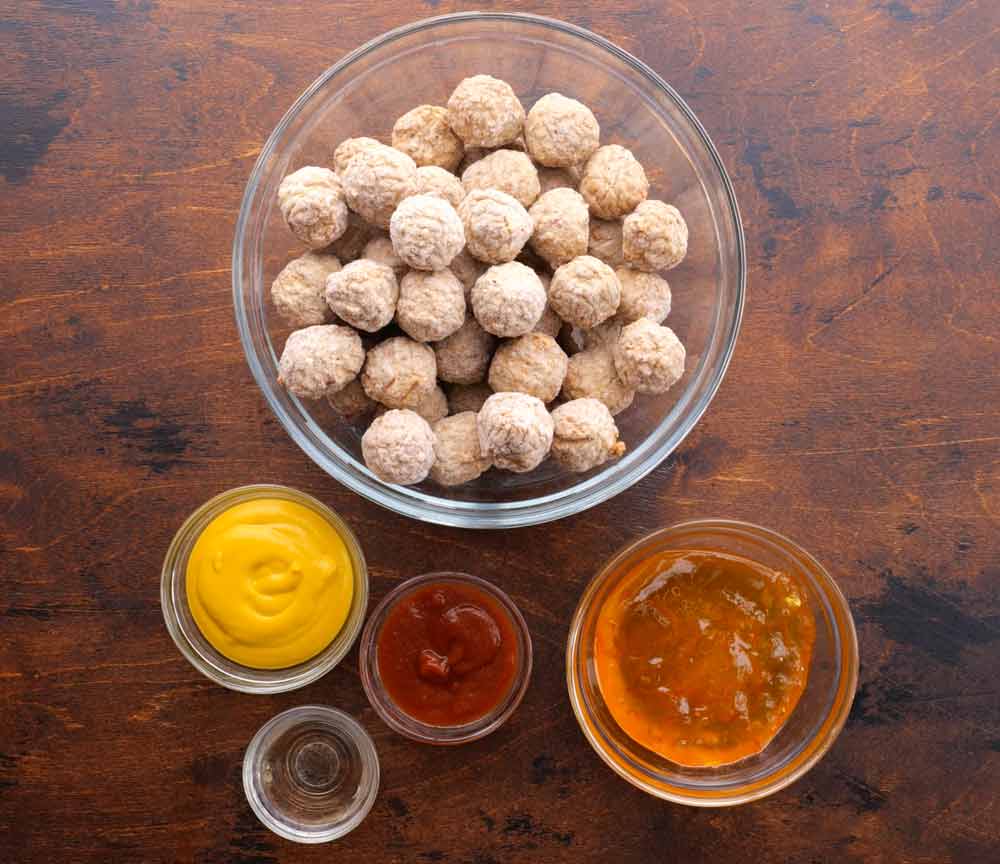 ★ Tips & FAQs ★
Sriracha vs. sweet chili sauce?
I've been really trying to make an effort to cut out junk ingredients lately. After reading quite a few labels, I found that Sriracha has more natural ingredients than chili sauce so I opted for that vs. chili sauce to give these meatballs some spice.
Plus, the orange marmalade add a unique orangey flavor of sweetness that chili sauce does not.
What kind of jelly is best?
You can find most flavor of jelly or jam in a "Natural" variety now. Orange marmalade is no exception.
Could you use Chinese mustard instead of yellow mustard?
Yep! But I've written this recipe using yellow mustard since most people have that on hand. I'm all for simplifying my condiment collection otherwise it can get out of hand quickly! It can also be hard to find bottled Chinese mustard. Good news is, you can easily make your own Chinese mustard using yellow mustard and rice vinegar.
If you have Chinese mustard on hand, then just leave out rice vinegar.
Garnish only if you want.
If you want to go the extra mile, toss some chopped green onions on top. They add some nice fresh green color and also a little flavor and crunch. Totally optional though!
What type of meatballs are best? Can you use frozen meatballs?
You can use any variety of meatball you prefer. Go light and choose a meatless "meatball" or turkey meatballs.
Use pork meatballs, chicken or beef.
Make your own meatballs or buy frozen. Totally up to you!
Just avoid Italian seasoned meatballs since this is a Chinese-style recipe.
How long does it take to cook frozen meatballs in a crockpot?
This is a question I hear a lot. It depends if the meatballs are precooked or raw. If you're using already cooked frozen meatballs, you only need to "cook" them long enough for them to be thoroughly heated all the way to the center. In this sauce, that takes about an hour on high heat.
However, you can test one by cutting it in half and carefully feeling the center to see if it's hot. If you're making your own meatballs using raw meat, I'd recommend cooking them first in the oven then adding them to your crockpot with the sauce.
★ Helpful Tools ★
What do you need to make these meatballs?
There are a few things you'll need or want to make these meatballs:
★ More Recipes You'll Love ★
Love easy appetizers?
Browse all my appetizer recipes and Pin your favorites so you've got plenty of idea when your next potluck or holiday party comes up.
This recipe for spicy orange marmalade meatballs was featured on Meal Plan Monday!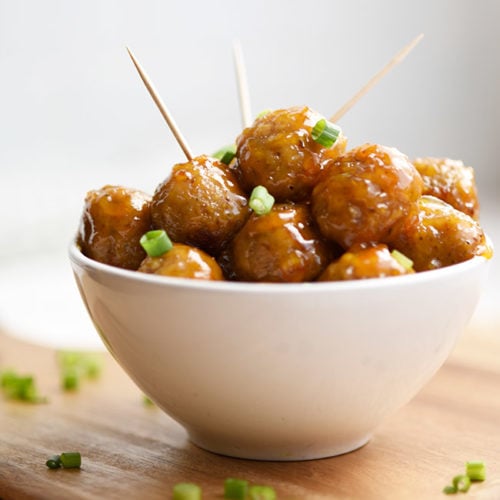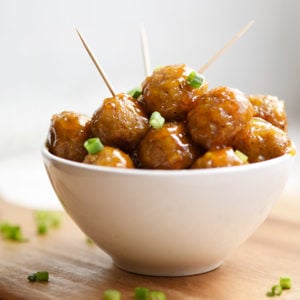 Spicy Orange Meatballs
These spicy orange meatballs employ an orange marmalade and Sriracha combination to create a spicy sweet and sour sauce. An easy appetizer that cooks in your crockpot or double the sauce and serve over rice for a quick and easy Chinese-style dinner.
Read Comments
Print
Pin
Rate
Ingredients
24

oz

frozen meatballs (chicken, beef, or turkey — your choice)

7

oz

orange marmalade

3

tablespoon

yellow mustard

1

tablespoon

rice vinegar

1-3

tablespoon

Sriracha sauce to taste

2

green onions, finely chopped

optional for garnish
Instructions
Add frozen meatballs, orange marmalade, yellow mustard, rice vinegar and Sriracha sauce to your slow cooker.

Cook on high for 1 hour or until sauce is bubbling. Stir and then set to warm to serve.
Notes
To speed up the cooking process, you could cook these on the stove in a large pot on high for about 10 minutes and then transfer to a crockpot to keep warm.
To enjoy as a dinner, double the sauce and serve over white rice.
Nutrition Facts
Calories:
289
kcal
|
Carbohydrates:
17
g
|
Protein:
15
g
|
Fat:
18
g
|
Saturated Fat:
7
g
|
Polyunsaturated Fat:
2
g
|
Monounsaturated Fat:
8
g
|
Trans Fat:
1
g
|
Cholesterol:
61
mg
|
Sodium:
168
mg
|
Potassium:
263
mg
|
Fiber:
1
g
|
Sugar:
15
g
|
Vitamin A:
28
IU
|
Vitamin C:
3
mg
|
Calcium:
25
mg
|
Iron:
1
mg
Follow Mighty Mrs. for more easy recipes!
Find @MightyMrs on Pinterest