This post may contain affiliate links. As an affiliate, I earn a commission.
Jump down to Recipe
This 5-ingredient chicken stir fry is impossibly good! But it is, in fact, possible. Very possible. And very easy!
★ Why You'll Love this Recipe ★
This recipe is ready to eat in 15 minutes!
This simple five-ingredient chicken stir fry recipe utilizes several shortcuts to make a delicious stir fry dish in no time flat. A dinner win that you'll want to add to your weekly dinner rotation.
The secret is using prepped ingredients like cooked chicken, frozen vegetables and bottled sauces. This 5-ingredient dinner is perfect for a busy weeknight.
Leftovers reheat well in the microwave making a perfect lunch to take to work.
Two bottled sauces are combined for delicious take-out style flavor. First — Stir Fry sauce. I mean, no brainer there. Second though is one of my favorite secret sauces — Sweet Chili sauce. This sauce combines beautifully with stir fry sauce to add a layer of sweet, sticky spiciness. Perfection.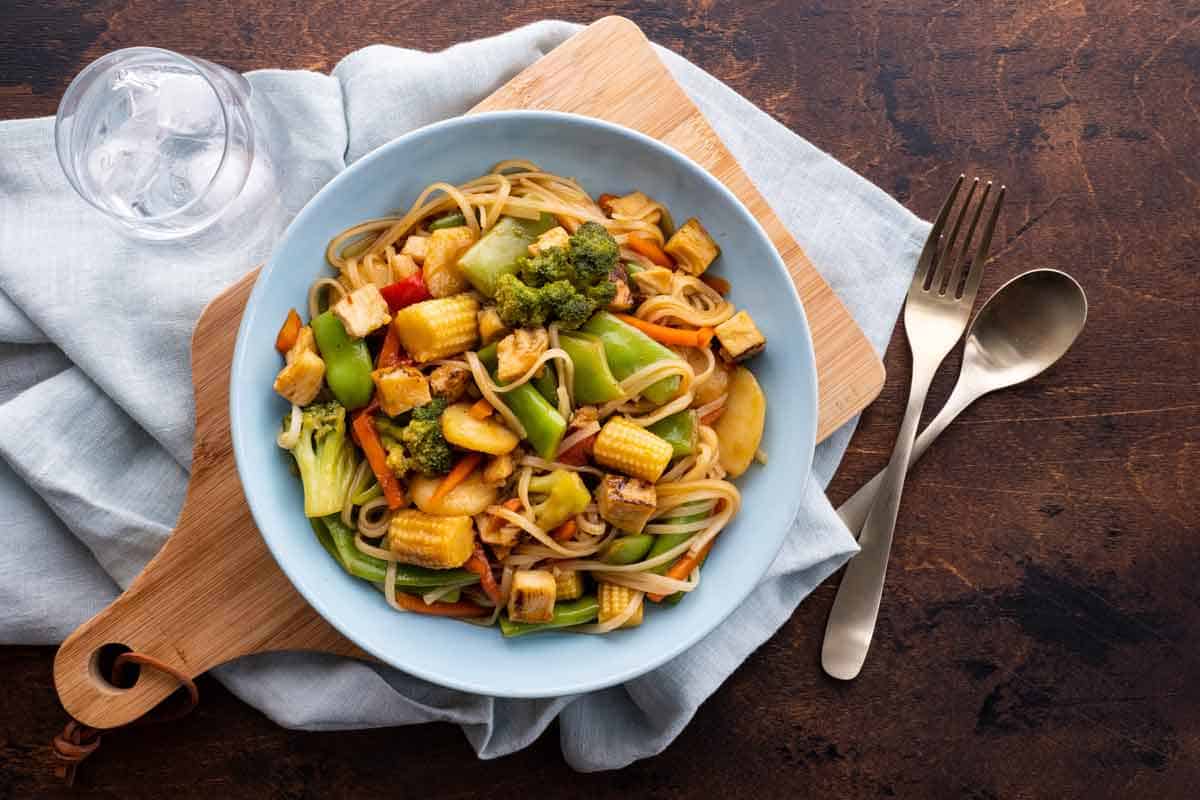 Everything cooks in one pan.
One pan. No vegetable chopping. Easy clean up!
Traditionally stir fry is made in a wok. However, I'm taking the liberty to break free of the "right way" to do stir fry and opting for the easy way. And the do-less-dishes way. This involves using a dutch oven. Which happens to be my very favorite piece of cookware because it's so versatile.
So, if you have a dutch oven, you can cook your stir fry noodles first, drain and leave them in the strainer. Then cook your vegetables, heat your sauce and finally toss in warm chicken (or reheat your cooked chicken). You don't even need to rinse the pot in between because you'll eventually stir in the noodles and the leftover starch will actually help thicken your sauce. Win-win.
Don't have a dutch oven? Shop dutch ovens on Amazon
★ Ingredients You'll Need ★
Here's everything you need to pull this meal together in less than 15 minutes!
Cooked chicken, noodles, frozen stir fry vegetables, sweet chili sauce and stir fry sauce. Simple!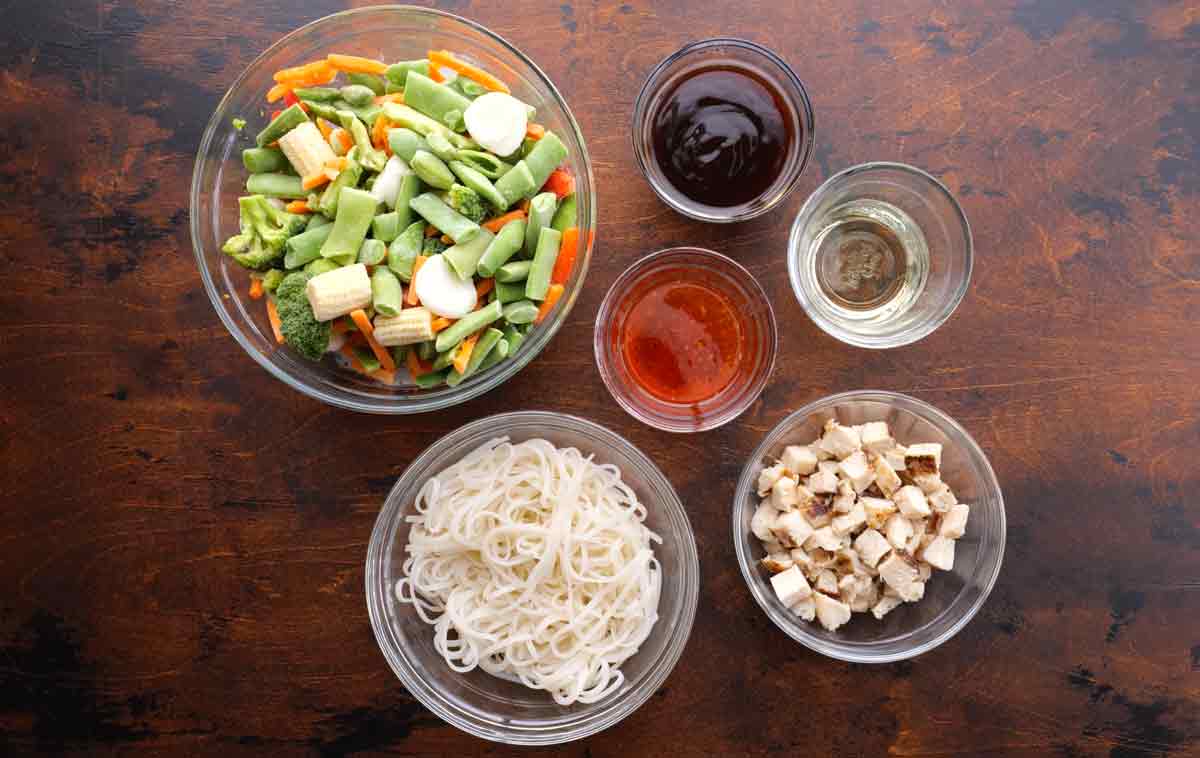 Stir fry noodles or rice. You can use stir fry noodles or even spaghetti. White or brown rice works great too in place of noodles. Go with what you have or what suites your mood.
Frozen stir fry vegetables. I recommend the stir fry vegetable blend that includes broccoli, green beans, carrots, baby corn cobs, water chestnuts, and red peppers.
Cooking oil. Cooking oil is an optional ingredient because it's really there to help things not stick to the pan and add a little more moisture to the food. You can eliminate the oil if using a non-stick pan.
Stir fry sauce. A really good stir fry comes down to the sauce, so feel free to make your own. However, I use bottled stir fry sauce which saves a lot of time.
Sweet chili sauce. Adding sweet chili sauce enhances the flavor and layers in a little heat as well.
Cooked chicken. Leftover chicken is perfect for this recipe or you can use rotisserie chicken, pre-cooked chicken cutlets, leftover chicken, or grill, Instapot, crockpot, broil, oven-bake, stir fry, etc. your own chicken. You can also use frozen chicken, just heat it according to the package instructions and then add it in once the vegetables are cooked.
★ How to Make this Simple Stir Fry ★
Here are the basic steps you'll need to take. See below for the full recipe.
Heat pan with oil until a drop of water sizzles and pops.
Add vegetables and stir while cooking.
Fold in cooked chicken.
Pour in sauces.
Add noodles and toss to coat them in sauce.
Or serve chicken and vegetables with sauce over warm cooked rice.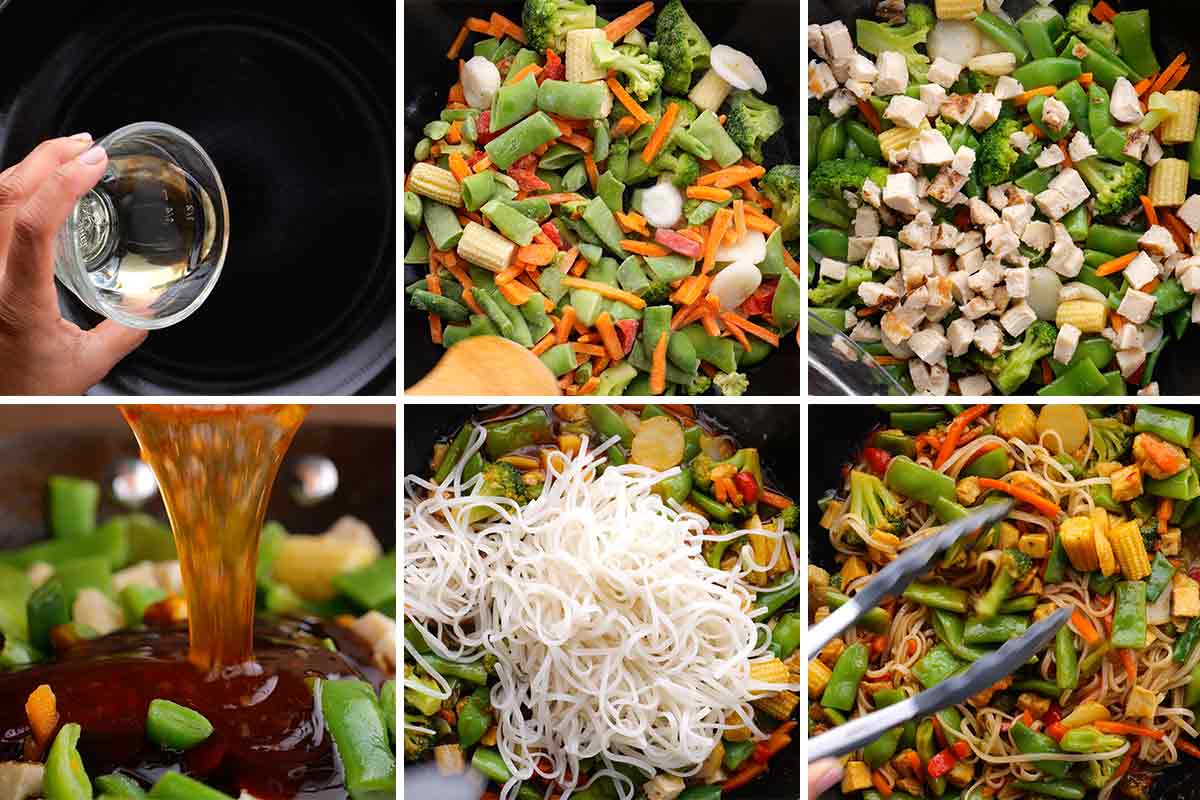 ★ Tips & FAQs ★
What type of chicken is best for this stir fry?
What we're looking for here is chicken that's already cooked to save time but also one that has no flavor or a flavor that compliment the Asian sauce.
When choosing a pre-cooked chicken, the more mild the seasoning, the better. However, you really can't go wrong with the usual rotisserie chicken seasonings or the garlic or even lemon flavored chickens. All those flavors mix well with this Asian style meal. You could even use frozen chicken, or breaded chicken!
Bottom line: any type of cooked chicken works.
Make it Vegetarian
If you prefer a vegetable stir fry, simply leave out the cooked chicken.
You can incorporate a plant-based meat substitute, tofu or seafood. Shrimp
What type of noodles are best for stir fry?
Whatever is available is my go-to and being in somewhat of a rural area, we are limited in our options. I seem to always be able to find the Thai brand of stir fry noodles though so that's what I go with when I'm looking for a more authentic stir fry taste and texture.
However, you can get away with other types of noodles — gluten free noodles, ramen noodles, even spaghetti noodles will do the job.
So, your choice. If you have access to a lot of different options, experiment and decide what you like best with this dish.
What ingredients are in this stir fry sauce?
This chicken and vegetable stir fry is made very easy using two bottled sauces—stir fry sauce and sweet chili sauce. But you could make your own sauce, if you want.
Here are in the main ingredients in each of these bottled sauces:
Stir Fry Sauce
I use Kikkoman stir fry sauce. It has all the basic stir fry flavors which works well when blended with the Sweet Chili sauce. The main ingredients are: soy sauce, sugar, wine, vinegar, garlic, oyster sauce, spices and salt. So you could make your own stir fry sauce using those ingredients if you want.
Sweet Thai Chili Sauce
I use the generic sweet chili sauce which has the following main ingredients: sugar, vinegar, chili paste, garlic and red pepper. Again, if you prefer to make this sauce from scratch, these are the ingredients you'll need. I find it pretty easy to put together sauces this way (referencing store-bought sauces) and I just adjust the amounts of each ingredient to taste.
So that's it! Just combine those two sauces and voila! What you get is a very traditional flavor of stir fry taste with a hint of sweetness and spice. Not too much. Just right!
This chicken and vegetable stir fry is just 5 ingredients so it's not a fancy recipe or a from scratch recipe. It's a quick and easy go-to meal for when you want something as yummy as take out, but that you can easily whip up at home.
Use noodles or rice — your choice.
Have some leftover rice you need to use up? This recipe is great with rice as well as noodles. So feel free to interchange these as you please.
Add some crunch!
Won ton strips are an easy way to add some crunch to this dish. You could even lower your carbs and make this recipe with extra vegetables, no noodles or rice and just put a few won ton strips on top to satisfy those carb cravings.
Chow Mein crunchy noodles are also a great topping for this stir fry if you're craving some carbs and crunch.
Storage
Leftover Chicken Stir Fry will keep in an airtight container in the refrigerator for up to five days and in the freezer for up to three months. I would recommend reheating it in a pan on the stove if you can, but you can use the microwave too.
What vegetables are in this stir fry?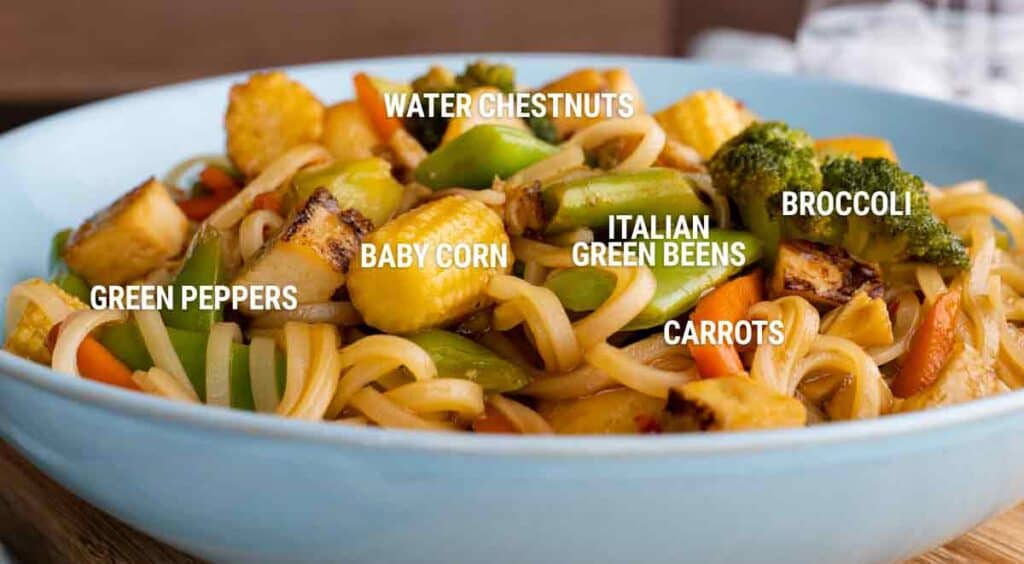 I use the deluxe frozen stir fry vegetable mix which includes: broccoli, green beans, carrots, baby corn cobs, water chestnuts, and red peppers.
Or you can go with the broccoli stir fry mix which includes the same veggies minus the baby corn (just regular corn kernels instead) plus cauliflower, sugar snap peas, and mushrooms. So I'm not sure why the other one is called deluxe, ha! I guess the baby corn cobs must be fancy.
Of course, you can pick and choose your own fresh vegetables and come up with your own medley but grabbing the frozen mix saves a lot of time.
The beautify of this dish is that it's easy and also super versatile. So if there are veggies you want to add, go for it.
What are the most important steps to a good stir-fry?
In order to have the best stir fry possible, you need to have a hot pan that maintains heat well and stir the ingredients frequently so they cook evenly and heat all the way through, your food should not be able to stick to the pan at all.
Why is chicken stir-fry healthy?
Fresh vegetables and lean protein combine to make chicken stir fry a well-balanced meal with a small serving of grains in the noodles or white rice that you serve it with. If you use a low sodium sauce combination and low sugar sauces you will have an even healthier meal in a short amount of time.
What goes well with chicken stirfry?
You generally don't really need to serve anything with stir fry, since there is a little bit of almost every food group already in the dish. If you wanted to serve a side of fresh fruit or a nice hot tea that would complement the meal nicely. Stir fry is a complete meal in itself, some people like to have a small bowl of snow peas (sugar snap peas sometimes) to add a little more freshness to the table and some bright color. You can garnish the top of your servings with diced green onions, red pepper flakes, pepper, sesame seeds, or anything else you like.
What are the steps to stir-frying?
All you need to do to make an easy chicken stir fry recipe is heat oil until it is hot, then cook the vegetables and add your protein and sauces with the carbohydrate you choose to enjoy with it. As long as you keep everything moving around your hot pan you'll have a great stir fry.
Do I need a wok for stir-fry?
A wok is a traditional pan used to make stir fry because it is large enough to accommodate all the ingredients at once while keeping the heat evenly distributed. You can use a large skillet or large dutch oven as well, it just needs to be big enough to hold all the ingredients and be able to maintain high heat, which not all pans are able to do.
Time-saving Tip
To save time, use pre-cooked noodles or rice. Or, cook your noodles so they can boil why you stir fry the vegetables. This will require an additional pot though!
★ More Recipes You'll Love ★
Looking for easy dinner ideas?
Browse all my dinner recipes and be sure to Pin your favorites for later.
This easy 5-Ingredient Chicken and Vegetable Stir Fry recipe was featured on Meal Plan Monday and South Your Mouth!

5-Ingredient Chicken Stir Fry
An easy weeknight go-to dinner idea. This Chinese style 5-Ingredient Chicken Stir Fry is made with a noodles, chicken and frozen vegetables. Take-out taste in under 15 minutes!
Read Comments
Print
Pin
Rate
Ingredients
2

cups

cooked stir fry noodles or rice

20

oz

frozen stir fry vegetables

¼

cup

cooking oil

optional*

½

cup

stir fry sauce

¼

cup

sweet chili sauce

1

cup

cooked chicken

chopped
Instructions
Heat oil in a large skillet, dutch oven or wok over high heat. (Oil is ready when a drop of water sizzles) *See below for notes to eliminate the need for oil

Carefully add vegetables and cook, stirring frequently for about 5-7 minutes or until vegetables are brightly colored and most of the water has evaporated. If you'd like some extra flavor, cook until you lightly brown the outsides of the vegetable skins.

Stir in cooked chicken and heat for 1-2 minutes, stirring, if needed.

Add sauces, then cooked noodles. Toss to coat noodles and vegetables in sauce. Keep stirring in the heated pan as long as needed to bring all cooked ingredients to desired serving temperature.
Notes
To lighten up this dish, you can fry everything without the oil. However, you'll need to use a nonstick pan and reduce the heat to medium. Be sure to stir frequently to prevent sticking or burning. You will loose a little bit of the crisp that oil would give you but if you are looking to cut calories, this might be worth it.
Frozen vegetables will pop quite a bit in hot oil, so carefully add them to the pan and cook them until they are bright in color. It's important to continually stir so they cook evenly.
To save time, start with pre-cooked noodles or rice. Or set up the noodles or rice to cooked while you stir frying.
Nutrition Facts
Calories:
444
kcal
|
Carbohydrates:
56
g
|
Protein:
17
g
|
Fat:
17
g
|
Saturated Fat:
2
g
|
Polyunsaturated Fat:
5
g
|
Monounsaturated Fat:
10
g
|
Trans Fat:
1
g
|
Cholesterol:
26
mg
|
Sodium:
710
mg
|
Potassium:
535
mg
|
Fiber:
8
g
|
Sugar:
11
g
|
Vitamin A:
7444
IU
|
Vitamin C:
20
mg
|
Calcium:
54
mg
|
Iron:
2
mg
Want more easy recipe ideas?
Follow @MightyMrs on Pinterest