If you love iHop's Swedish Crepes, you'll love this homemade crepe recipe. Top with Lingonberry jam, butter and powdered sugar. Delicious and easy!
This post may contain affiliate links. As an affiliate, I earn a commission.
Jump down to Recipe
If you love iHop's Swedish Crepes with Lingonberry jam, then you will love to know that it's actually easy to make this dish yourself at home!
★ Why You'll Love this Recipe ★
You'll love these breakfast crepes! They are incredibly thin and rich with flavor. They are topped with whipped lingongberry jam and butter for the perfect amount of tang and sweetness.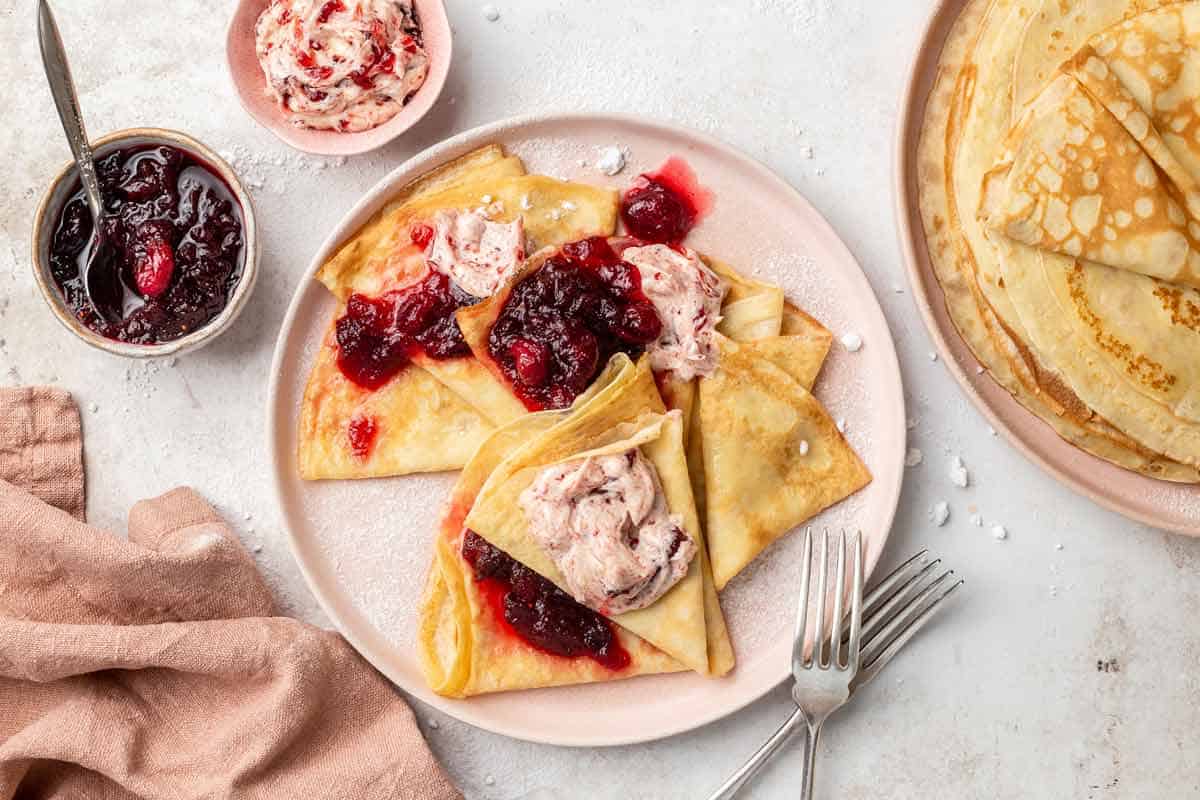 One of the things I love most about this recipe is its versatility. Whether you enjoy it as a decadent breakfast or a delightful dessert, these Swedish Lingonberry Crepes will satisfy a craving for something sweet and delicious
These crepes can be topped or filled with a variety of other yummy foods such as Nutella, strawberries, bananas or any kind of fruit jelly or jam. Dust them with powdered sugar for garnish plus a touch of extra sweetness.
If you are aiming to recreate the joy of dining at iHop in the comfort of your own home, then the recipe is for you!
★ Ingredients You'll Need ★
Good news: You don't need a long list of ingredients to make homemade crepes.
Here's everything you'll need to make Swedish style crepes topped with lingonberry butter!
Crepes
Flour, milk, eggs, egg (non-alcoholic beer is fine!), sugar, salt and butter.
Toppings
Butter, lingonberry jam, powdered sugar
To make your crepes Swedish style, you'll want to use butter and lingonberry jam. However, you can top these crepes with anything you'd like!
You can stuff or top these delicious crepes with fresh fruit — strawberries, bananas and Nutella are a favorite combo of ours. Raspberries are delicious too!
★ How to Make this Recipe ★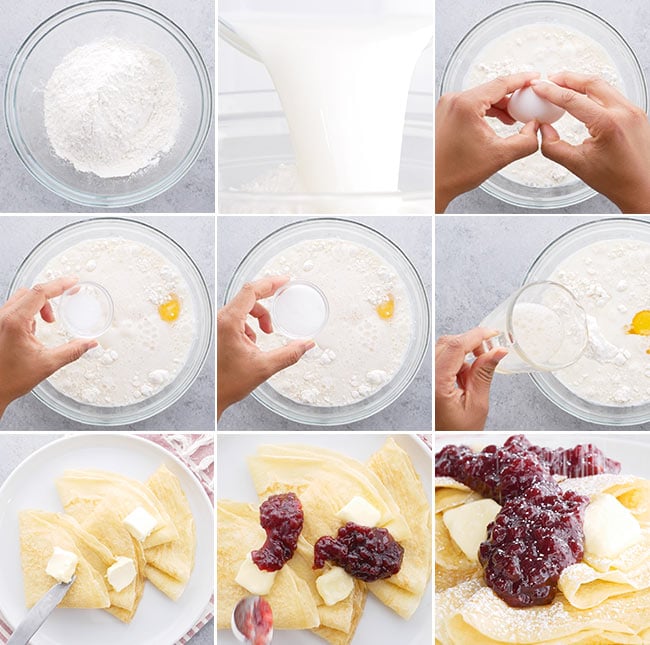 Here are the basic steps involved. See below for the full recipe.
Blend flour, milk, sugar, salt and beer to form the batter.
Pour batter into a heated and grease pan.
Flip to cook both sides.
Move crepe to a plate and fold or roll.
Top with lingonberry butter or toppings of your choice.
That's it! Pretty simple.
★ Tips & FAQs ★
Homemade crepe batter is better with beer!
That's the secrete here. The beer!
Beer adds some extra flavor to these crepes making them amazingly delicious. However, it's not required.
If you don't have beer or prefer not to use beer, you can just add extra milk instead. You can also use nonalcoholic beer if you'd like.
Homemade crepes are actually easy to make!
Slightly more difficult than pancakes, I'd say. Once you master the flip, you're good to go.
Check out the video below the recipe. It shows how to make these, step by step.
What do Lingonberries taste like and where do they come from?
Lingonberries are a small red berry that have a tart flavor. Add a little sugar and this become a delicious sweet-tart jam with a wonderful texture!
Since the berries themselves are so small, the jam usually features whole lingonberries within the jam which give you a nice little pops of flavor as you chew them.
Lingonberries are native to Sweeden so funny enough you can find jars and jars of lingonberry jam at Ikea! You can also find this Swedish jam at many grocery stores now too as it has gained popularity over the last 10 years or so.
A hearty amount of butter is best.
Butter makes everything better and this is certainly the case with the Swedsih crepes. I like to add heavy portions of both lingonberry jam and butter. Many times I will mix the two together first and then apply the butter-jam mixture to the top of the crepes. The creamy/saltiness of the butter really brings out all the best qualities of the lingonberry jam and makes these crepes melt in your mouth.
So, my point? Don't skimp on the butter! Or you'll really be missing out on the maximum flavor of these crepes.
You'll want to use a flat skillet, frying pan or crepe pan.
The key here is something flat. And round.
You'll want the pan to be pretty large so the crepe batter has room to spread out nice and thin. 10" to 12" is an ideal size.
Non-stick works best. Cast iron is not ideal.
Need a flat pan? Shop flat round pans on Amazon
★ More Recipes You'll Love ★
Want more delicious breakfast ideas?
Browse all my breakfast recipes
This recipe for Swedish Lingonberry Crepes (iHop Copycat) was featured on Menu Plan Monday!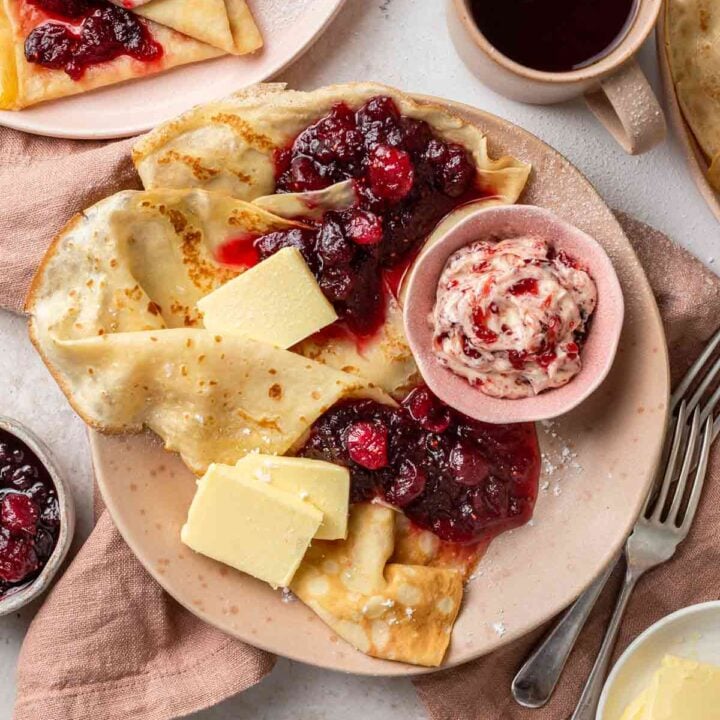 Swedish Lingonberry Crepes (iHop Copycat)
If you love iHop's Swedish Crepes, you'll love this homemade crepe recipe. Top with Lingonberry jam, butter and powdered sugar. Delicious and easy!
Read Comments
Print
Pin
Rate
Ingredients
CREPES
1 ½

cups

flour

1 ¾

cups

milk

3

eggs

¼

cup

beer

1

tablespoon

sugar

½

teaspoon

salt

Butter for greasing pan
TOPPINGS
Butter

Lingonberry jam

Powdered sugar

optional
Instructions
Mix ingredients in a bowl using a hand mixer or whisk to eliminate lumps.

Pour about ¾ cup batter into the center of generously oiled/buttered, pre-heated, flat and round, skillet over medium heat. There should be just enough batter to cover the entire pan in a thin layer.

Help the batter spread out evenly by rotating the skillet in a circular motion. Cook 2-3 mins or until crepe is completely dry on top then flip. To flip, loosen first by giving the pan a shake to free the crepe from the pan, then slide it off the edge a little onto a spatula (or I use my hand but it is HOT) and then flip to cook the other side.

Heat for an additional 30 seconds on the remaining side then slide the crepe onto a plate and fold in half then in half again.

Top with whipped butter, lingonberry jam and a sprinkle of powdered sugar if desired.
Nutrition Facts
Calories:
301
kcal
|
Carbohydrates:
45
g
|
Protein:
12
g
|
Fat:
7
g
|
Saturated Fat:
3
g
|
Polyunsaturated Fat:
1
g
|
Monounsaturated Fat:
2
g
|
Trans Fat:
1
g
|
Cholesterol:
133
mg
|
Sodium:
385
mg
|
Potassium:
241
mg
|
Fiber:
1
g
|
Sugar:
9
g
|
Vitamin A:
351
IU
|
Calcium:
147
mg
|
Iron:
3
mg
Follow Mighty Mrs. for more easy recipes!
Find @MightyMrs on Pinterest