This recipe for homemade chicken noodle soup is quick and easy, yet so flavorful! Made with a few special ingredients — parsnips, egg noodles and fresh rosemary. Make this soup on the stove top in a dutch oven or slow cook in your crockpot.
This post may contain affiliate links. As an affiliate, I earn a commission.
Jump down to Recipe
★ Why You'll Love this Recipe ★
This quick and easy recipe for homemade chicken noodle soup is our family's go-to comfort food. It's a recipe we make when someone's feeling under the weather. When you start with rotisserie chicken, it only takes about 35 minutes of prep and cook time.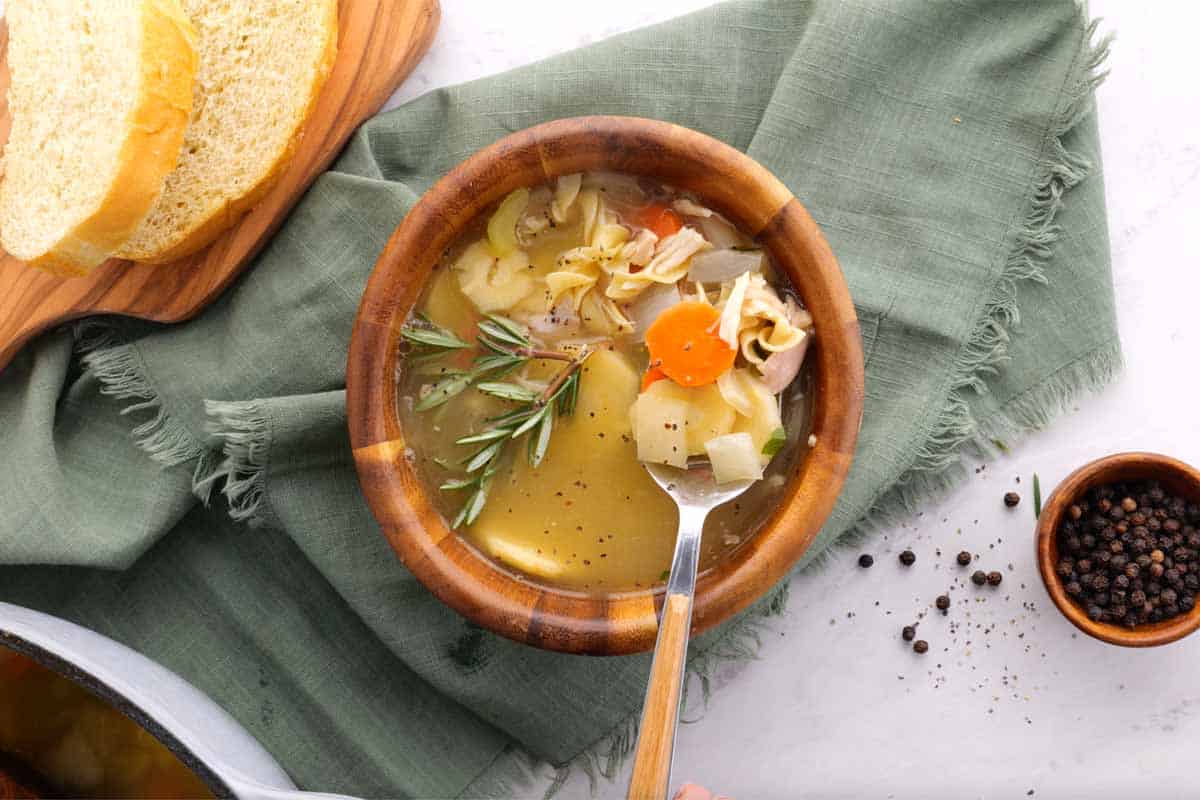 Chicken soup heals. It's science!
Everyone knows that chicken noodle soup is the best when you're sick. But did you know that there's actually a scientific reason why chicken noodle soup is good for you when you're sick?
Doctor's say that "Chicken soup inhibits inflammation of the cells in the nasal passage, reducing the symptoms of a cold. The hot soup also promotes mucus secretions that soothe sore throats and coughs and trap bacteria."
Extra Flavorful Chicken Broth
My mother-in-law likes to add parsnips to her chicken noodle soup and a little extra chicken bullion. This gives the broth a hint of sweetness and rich chicken flavor. So good you can sip the broth by itself and its delicious!
So that's how we always make our soup now and what you'll enjoy about this recipe compared to some others than may taste a little bland in comparison.
★ Ingredient You'll Need ★
Our special ingredients for the best flavor include parsnips, egg noodles and fresh rosemary.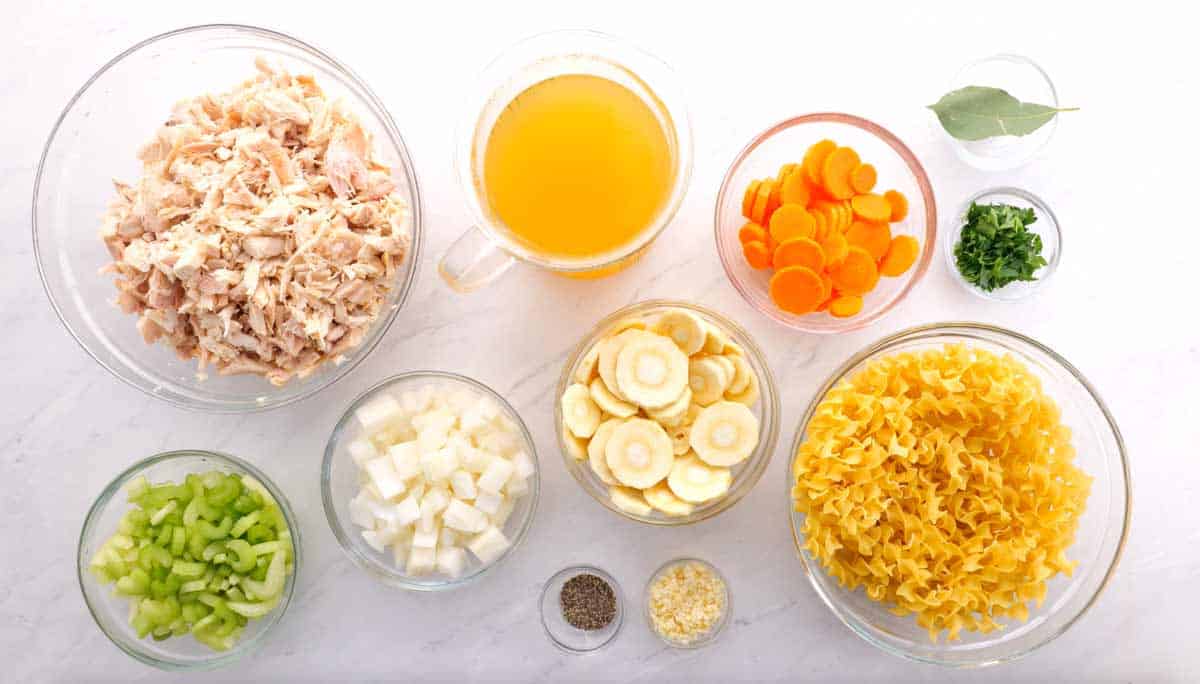 Here's everything you'll need:
Rotisserie chicken. You can use a fresh, warm one or a chilled one. Warm is easier to pick. Be sure to save the juices, those will add great flavor to your broth!
Butter. Or you can use any kind of cooking oil to sauté your veggies.
Carrots. Use fresh or frozen. Fresh always taste a bit better in my opinion.
Parsnips. These are optional but add a really nice, very subtle sweetness.
Celery. In a pinch, you can also use celery seed but chopped, fresh celery is best.
Onion. Yellow or white onions are best. Caramelize them if you want a sweeter soup. Just "sweat them" over low heat if you do not want to caramelize them.
Garlic. My go-to is minced garlic or garlic paste because it's easy. But you can use fresh or even garlic powder. Sometimes I leave the garlic out all together honestly because it can overpower the other flavors.
Chicken broth. You can mix your own using bullion and water, make your own from scratch, or get the cartons or cans. Totally up to you. I use the cartons of bone broth.
Chicken bullion. Powder or paste I add this to my chicken broth to get it a boost in flavor. You also typically don't need to salt your soup if using extra chicken bullion.
Bay leaf. This herb has a very subtle hint of pine which just really adds a nice aroma and flavor to your soup. It's not mandatory but it does add a little something special.
Egg noodles. I find these hold up better than pasta or rice but you could also use these. Or even dumplings or Amish noodles.
Fresh parsley or rosemary. These are optional for garnish and flavor. Fun but not necessary.
★ How to Prepare this Recipe ★
You can make this recipe with or without sauteing or sweating the vegetables first.
Sweating Your Vegetables
Cooking the vegetables (carrots, onions, parsnips and celery) first will soften them so they have a nice texture and aren't crunchy when you go to serve your soup. When you cook them over low heat, this is known as "sweating" since you are essentially releasing their moisture.
What I like to do is cook the veggies on low with a little butter so they don't stick to the pan. Just enough to soften them, then add my cooked chicken, broth and other ingredients.
Caramelizing Your Vegetables
If you prefer a sweeter flavor to your soup, you can cook the vegetable over medium heat so that they lightly brown as they soften. Be sure to stir so you don't burn the vegetables which will produce more of a charcoal flavor.
Don't Par-cook You Vegetables
The vegetables can also cook and soften right in the broth, however, you will likely need to add additional cook time.
If you want to skip the step of cooking the vegetables first, that's fine. You can go ahead and add everything to the pot and let the vegetables soften in the broth. It really doesn't make a big difference in flavor either way.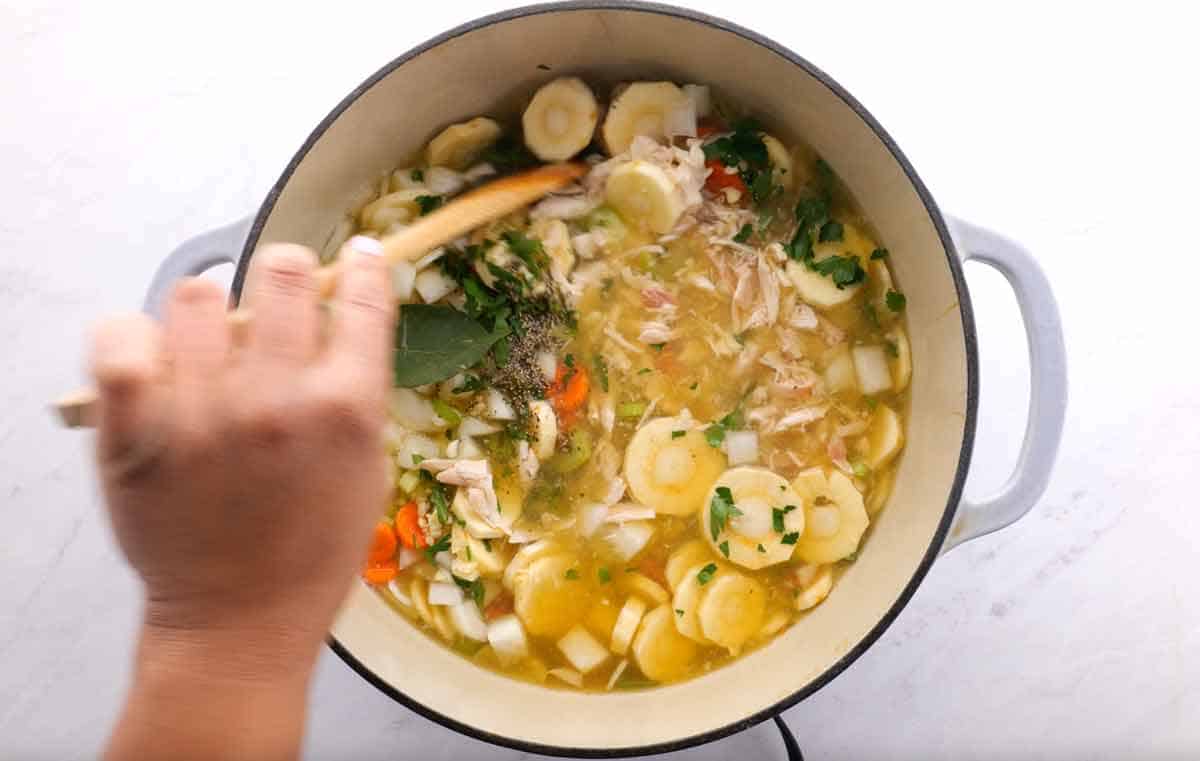 Watch how to make this dish the simplest way.
To watch, step by step, how to make this homemade chicken noodle soup, check out the video below the recipe. This shows the simplest method of letting the veggies cook in the broth without sweating or sauteing them first.
★ Tips & FAQs ★
How to Make this Soup in a Crockpot
We usually make this on the stove top in a dutch oven, however, you can also make this in the crockpot.
You can saute the vegetables first in a frying pan then add everything to your crockpot on cook on low for 2 hours, or on high for 1 hour.
If you don't feel like sauteing the vegetables, you can go ahead and just add them to your crockpot with everything else and adjust the cook time to 4 hours on low, or 2 hours on high.
Need a crockpot? Shop slow cookers on Amazon
Using and Making Bone Broth
There are many health benefits to bone broth that you may interested in. Roasted bones can also add a nice flavor to your soup.
You can use easily incorporate the benefits of bone broth into your chicken noodle soup by simply buying chicken broth that has been cooked with bones. These packages are typically labeled "bone broth" and from what I've notice tend to be a little pricier that your traditional chicken broth.
It pretty easy to make your own bone broth too, especially when you're starting with a rotisserie chicken because you also get the full carcass of bones along with that. Simply add several of the larger bones to your soup and let those simmer with your soup as it cooks. Remove the bones before serving.
For extra flavor you can roast your bones in the oven at 400˚F for 20 minutes before adding them to your soup.
★ More Recipes You'll Love ★
Soups are perfect for the cooler months. Want more ideas so you can mix up your rotation?
Browse all my easy soup recipes and be sure to Pin your favorites.
This easy homemade chicken noodle soup recipe was featured on South Your Mouth!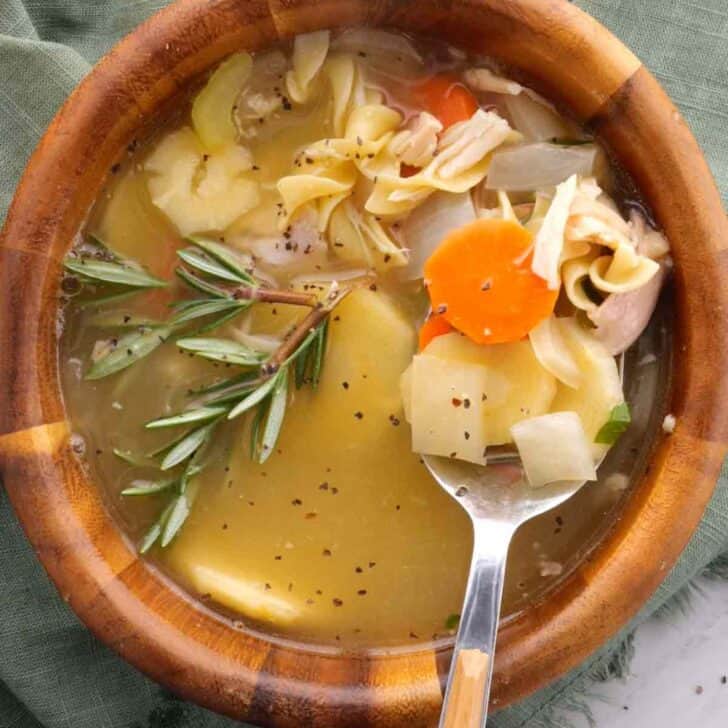 Easy Rotisserie Chicken Noodle Soup
This recipe for homemade chicken noodle soup is quick and easy, yet so flavorful! Made with a few special ingredients — parsnips, egg noodles and fresh rosemary. Make this soup on the stove top in a dutch oven or slow cook in your crockpot.
Read Comments
Print
Pin
Rate
Ingredients
1

rotisserie chicken

pick & reserve juices/jelly

4

tablespoon

butter

3

carrots

peeled and sliced

3

parsnips

peeled and sliced

4

ribs

celery

sliced, leaves removed

1

large

onion

chopped

1

tablespoon

minced garlic**

optional

8

cups

chicken broth

1

tablespoon

chicken bullion

powder or paste

1

bay leaf

12

oz

egg noodles

2

tablespoon

fresh parsley or rosemary

for garnish
Instructions
Pick meat off of the chicken and shred into bite-size pieces. Set aside in a large bowl.

Scrape gel or juices from the rotisserie chicken into the bowl with picked chicken. Set aside.

In a dutch oven, melt butter over medium-high heat. Add carrots, parsnips, celery, onion and garlic (optional). Cook for 12-15 minutes or until onions are translucent, stirring occasionally.*

Add picked chicken and any juices/gel you were able to save to the dutch oven.

Pour in chicken stock, then stir in the chicken bullion and add the bay leaf. Bring to a boil.

Add egg noodles and cook for 10 mins or until noodles are softened then serve topped with parsley or fresh rosemary.

Season with salt and pepper if desired.
Notes
*Vegetables should "sweat" and not caramelize or turn brown. Be sure to stir and turn down the heat as needed.
**Garlic can be overpowering so sometimes I leave it out. It's up to you if you want to include it or not. It's optional.
Nutrition Facts
Serving:
1
cup
|
Calories:
287
kcal
|
Carbohydrates:
31
g
|
Protein:
20
g
|
Fat:
10
g
|
Saturated Fat:
4
g
|
Polyunsaturated Fat:
1
g
|
Monounsaturated Fat:
1
g
|
Trans Fat:
0.2
g
|
Cholesterol:
85
mg
|
Sodium:
916
mg
|
Potassium:
347
mg
|
Fiber:
4
g
|
Sugar:
5
g
|
Vitamin A:
2746
IU
|
Vitamin C:
9
mg
|
Calcium:
45
mg
|
Iron:
1
mg
Follow Mighty Mrs. for more easy recipes!
Find @MightyMrs on Pinterest