This creamy shrimp scampi is a delicious dinner, ready in 30 minutes! You'll love the lemon, white wine and garlic infused Alfredo sauce. Serve with angel hair pasta, spaghetti or fettuccine.
This post may contain affiliate links. As an affiliate, I earn a commission.
Jump down to Recipe
When you want to be fancy but also a little lazy, this one-pot creamy shrimp scampi is the dinner option for you!
★ Why You'll Love this Recipe ★
You'll love the lemon and white wine flavor of the classic shrimp scampi dish combined with the richness of alfredo sauce.
This is a pasta dish that's so delicious you'll feel like you're out to eat, yet it's all very easy to make yourself, at home. I bet it will become a go-to dinner option after you try it.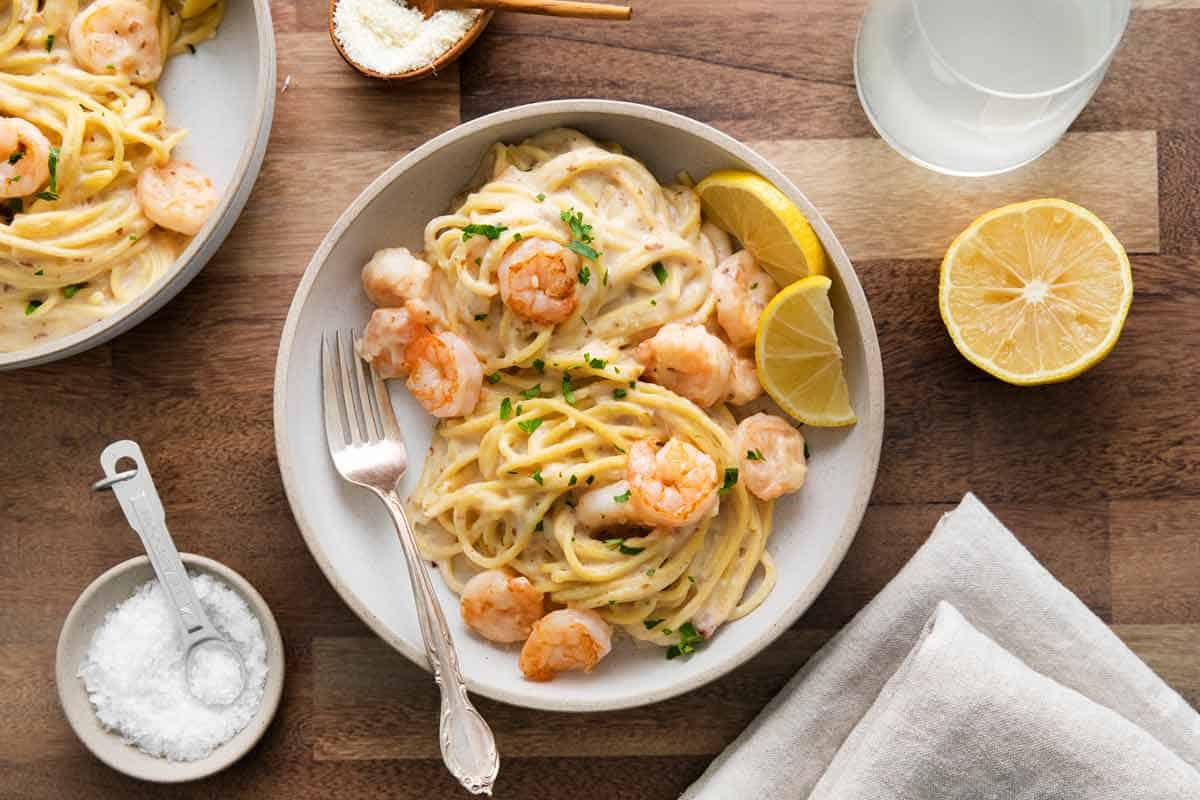 Perfect for a quick and easy weeknight meal.
This is one of my favorite weeknight meals because it's simple to prep and I almost always have all the ingredients I need to make this, on hand. Plus, everything cooks in one pot for easy clean up.
I use frozen raw shrimp which defrosts quickly, so no need to even plan ahead!
We all need more meals like this in our lives, right?
★ Ingredient You'll Need ★
You don't need a long list of ingredients to pull off this recipe.
Even though we're making the sauce from scratch, you only need a handful of ingredients.
Here's everything you'll need:
Raw shrimp. Frozen shrimp or fresh. Thaw frozen shrimp to room temperature first by running under lukewarm water.
Pasta. Angel hair pasta, spaghetti or linguine is typical for this dish best but any pasta works. ,
Butter. Salted butter or margin.
Flour. All purpose flour combines with the butter to create your roux, the base of your creamy sauce.
White cooking wine. If you don't have cooking wine, you can use a dry table wine.
Lemon juice. Fresh squeeze is best.
Grated Parmesan cheese. You can use shredded if you prefer. It will melt into the sauce so it doesn't make a difference.
Milk. Any percentage works. Go heavier if you want a more creamy rich sauce.
Parsley. Fresh cropped parsley is optional for garnish and added flavor but highly encouraged and it really makes this dish look amazing when plated too!
★ How to Make this Recipe ★
You'll love how easy this creamy shrimp scampi is to make.
The full recipe is written out below but here's a quick snapshot of the steps you'll take:
Cook and drain pasta.
Cook shrimp.
Melt butter and whisk in flour.
Add wine, lemon juice, milk, Parmesan cheese and garlic salt.
Stir to create your sauce.
Add cooked pasta and shrimp, toss to coat.
Serve garnished with fresh parsley.
That's it! Easy!
Watch the quick video beneath the recipe (below) to see step-by-step how this delicious dinner dish comes together.
★ FAQs & Tips ★
Make everything in one pot.
Using a dutch oven, you can boil the noodles, drain then set those aside. And then use the same pot to cook the remaining ingredients of this dish. Using just one pot makes clean up so easy! I have a 6-quart Lodge Dutch Oven (in green!) that I love and use all the time for one-pot meals and for literally almost everything I cook.
Need one? Shop dutch ovens on Amazon
You can also use a large cast iron skillet to cook this one-pot meal.
Be sure your cast iron skillet is well seasoned.
Acidic foods like lemons and tomatoes can wear away the seasoning on your cast iron skillet so be sure your skillet is well seasoned and use extra butter or oil if you feel the need to add a layer of protection. You can also just use a non-stick skillet or a dutch oven for this recipe.
Making your own Alfredo sauce.
Using a simple roux base (butter + flour) you can make your own Alfredo sauce in just a few minutes. Parmesan cheese gives this homemade Alfredo sauce it's classic cheesy flavor and creamy texture. This homemade sauce tastes 100 times better than any jarred sauce available and is so easy there's no reason not to go for it!
White wine and lemon add tang and sophistication.
If ever you want to jazz up a weeknight meal, just add some sort of cooking alcohol. That's my motto. And for this dish, it totally works.
For a non-alcoholic version, you can substitute champagne vinegar, rice wine vinegar or white wine vinegar for the wine, just use a little less of it so it's not overly vinegary and balance it out with more lemon juice.
When you make a sauce with lemon and white wine, it's often times called shrimp scampi. So this dish is very similar in flavor but we are introducing Parmesan cheese here for an extra boost of flavor and richness and the roux make this sauce thick which help it stick to the noodles and shrimp.
Add chicken to this dish.
Feel free to sub or add chicken to this dish. Shrimp and chicken go really well together and the flavors of this dish work really well with both.
Make this dish kid-friendly.
Easy. If you have picky eaters, just set some plain noodles and plain cooked shrimp aside and add a veggies.
What veggies go well with this creamy shrimp scampi pasta?
A side salad goes great with this dish. Or if you're in the mood for something warm, roast some veggies. I really love roasted asparagus, Brussels sprouts or broccoli with this pasta dish.
★ More Recipes You'll Love ★
Love easy pasta dishes?
Creamy Shrimp Scampi
This creamy shrimp scampi is a delicious dinner, ready in 30 minutes! You'll love the lemon, white wine and garlic infused Alfredo sauce. Serve with angel hair pasta, spaghetti or fettuccine.
Read Comments
Print
Pin
Rate
Ingredients
8

oz

angel hair, spaghetti or linguine pasta

6

tablespoon

butter

divided

3

tablespoon

flour

12

oz

frozen raw shrimp

¼

cup

white wine

1

tablespoon

lemon juice

freshly squeezed is best!

2

cups

milk, half and half or cream

¼

cup

Parmesan cheese

¼

teaspoon

garlic salt

more or less to taste

fresh parsley for garnish

optional
Instructions
Prepare pasta according to package. Drain and set aside.

Rinse frozen shrimp under luke warm water until separated. Pat dry with paper towel.

Melt 2 tablespoon butter in large skillet over medium heat. Stir and cook just until the shrimp turns pink, about 4-6 minutes. Remove from pan and set aside.

Add and melt 4 tablespoon butter to skillet. Whisk in flour. Let bubble for 2 minutes then add white wine, lemon juice, milk and Parmesan cheese. Bring to a boil then reduce to simmer. Stir until thick. Add garlic salt to taste.

Add shrimp and noodles to Parmesan Alfredo sauce and gently toss to coat. Add fresh parsley as a garnish to your plates or toss it in with everything in the pan. Your choice! Serve hot.
Notes
Be sure your cast iron skillet is well seasoned. If not, the acidity of the lemons can eat away at the iron and at a metallic taste to your dish. Alternatively you can prepare this is a large pot or dutch oven.
Nutrition Facts
Serving:
1
cup
|
Calories:
368
kcal
|
Carbohydrates:
36
g
|
Protein:
17
g
|
Fat:
16
g
|
Saturated Fat:
10
g
|
Polyunsaturated Fat:
1
g
|
Monounsaturated Fat:
4
g
|
Trans Fat:
0.5
g
|
Cholesterol:
114
mg
|
Sodium:
608
mg
|
Potassium:
291
mg
|
Fiber:
1
g
|
Sugar:
5
g
|
Vitamin A:
616
IU
|
Vitamin C:
1
mg
|
Calcium:
193
mg
|
Iron:
1
mg
Follow Mighty Mrs. for more easy recipes!
Find @MightyMrs on Pinterest