Spaghetti Stuffed Bread - a yummy way to use up leftover spaghetti. An easy dinner, work lunch or tasty appetizer. You'll love the texture and Italian flavors!
This post may contain affiliate links. As an affiliate, I earn a commission.
Jump down to Recipe
Here's the answer to your dinner prayers: Spaghetti Stuffed Bread.
Ideal for when you're hungry, short on time, and can't make up your mind what you even want for dinner. You need something fast. Something easy. Something delicious. That everyone likes. Bonus points if you use leftover spaghetti.
Spaghetti Stuffed Bread: Great for Dinner or as an Appetizer
This recipe is so easy, you're going to love it for dinner but it also make a great appetizer.
You can use a large loaf of Italian bread. I even like to buy the day-old bread because it's more dry and toasts nicely. Up to you and how crunch you want your bread to be. But the large loaf works well if you're serving this stuffed bread as an appetizer so that you can simple slice it up and serve.
Now, if you're planning to make this for dinner, you could certainly serve this the exact same way. Or, you could hollow out kaiser rolls and make individual-sized spaghetti stuffed bread bowls. Again, up to you!
What goes well with this spaghetti stuffed bread?
I like to serve this with a side power salad, like this cranberry kale salad mix you can get in a bag, ready to go: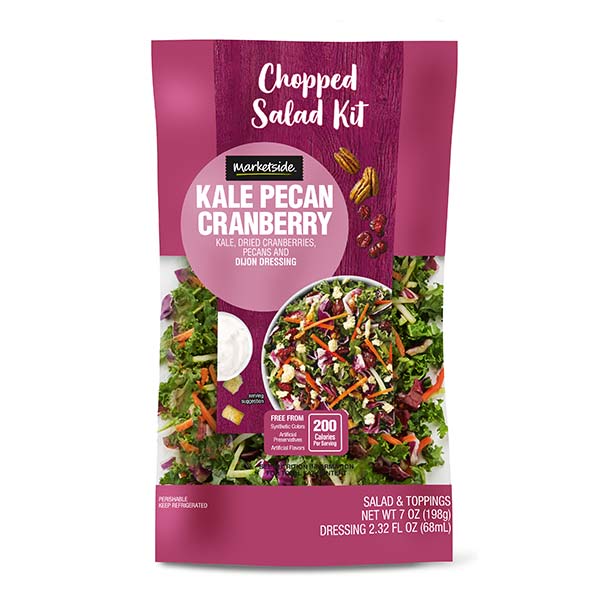 A couple pieces of the spaghetti bread and a big bowl of this salad, and I am good and full and feel balanced.
A great idea for using leftover spaghetti.
When you're wondering what to do with leftover spaghetti because you don't necessarily want to eat the exact same meal two days in a row, then this recipe is perfect. It changes up the texture and flavor enough to be it seem like a brand new meal. It also make prep time next to nothing. We're talking like 5 minutes and dinner is ready! Leftovers gone. Easy prep. Win-win.
What to do with the top of the bread.
When you hollow out the loaf of bread, you'll be left with a top piece. You can toast that plain or with a little butter and some Italian herbs and break it up over your salad for some quick and easy homemade croutons. Or you can save you old bread scraps and make your own breadcrumbs out of them. Check out my write up on how to make breadcrumbs from toast.
Use a toaster oven or regular oven.
I love my toaster oven. I use it for everything that I can get to fit in there. I have this one that has served us well for more than a decade: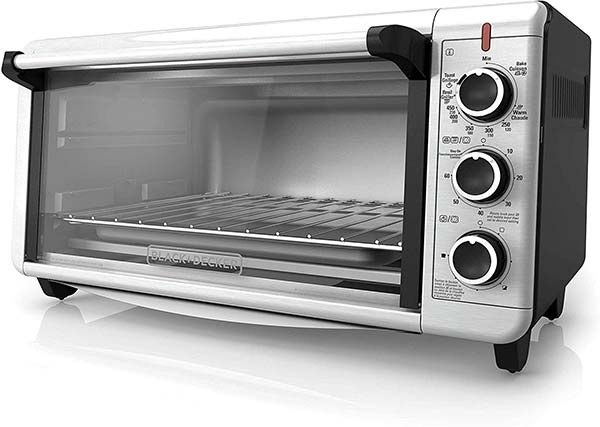 Shop Toaster Ovens on Amazon
What the best sauce to use?
I always say the best is what you have, but if you're shopping to fill your pantry, then I'd recommend going with your favorite spaghetti sauce, or you can use pizza sauce or marinara sauce. Each has a different flavor and all are good choices. I like to mix it up and buy a variety of sauce to keep on hand. That way I can make the same dish on rotation, but it'll taste a little different each time so it doesn't become tired.
You could also try using alfredo sauce, vodka sauce or even pesto sauce to make this recipe. Anything Italian works.
Could you add toppings?
Absolutely. I like to keep my recipes simple so it's not a freak out moment when you don't have everything you need. But additional toppings are always fun and are another way to mix up the flavor of the same dish after you've had it a few times. So this recipe is great just as it is, but if you want to dress it up and have time to shop for additional ingredients, or you have somethings you're looking to clean out of the fridge, then go ahead and layer them on top.
Some toppings that would be great are things that would also work on a pizza. For example: pepperoni, ham, ricotta, mushrooms, olives, etc. Have fun customizing this according to what you or your family likes best.
Love Italian seasoning?
Stock up! You can grab a big bottle of this herb blend so you don't run out, on Amazon: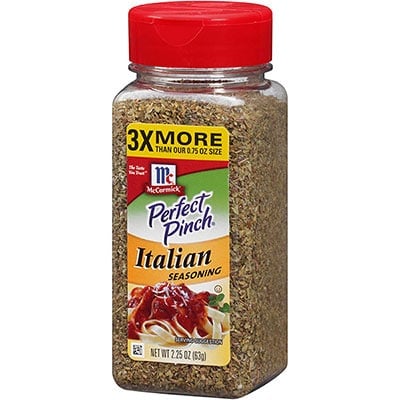 Shop this Italian seasoning blend on Amazon now
Want more easy recipe ideas?
Browse all my favorite recipes and pin the ones that look good to you!
This easy spaghetti stuffed bread recipe was featured on Sweet Little Blue Bird!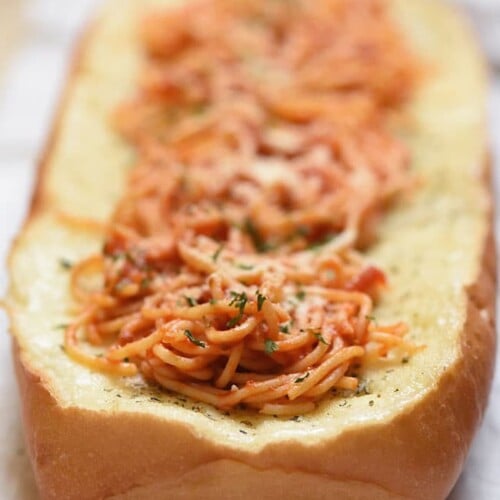 Easy Spaghetti Stuffed Bread
Spaghetti Stuffed Bread - a yummy way to use up leftover spaghetti. An easy dinner, work lunch or tasty appetizer. You'll love the texture and Italian flavors!
Read Comments
Print
Pin
Rate
Ingredients
1

large loaf Italian bread

4

slices

Havarti cheese

¼

teaspoon

garlic powder

¼

teaspoon

Italian herb blend

¼

teaspoon

dried parsley

divided

1

cup

cooked spaghetti noodles

½

cup

spaghetti or pizza sauce

Grated Parmesan cheese to taste
Instructions
Hollow out the loaf of Italian bread using a serrated knife by making a shallow, diagonal cut all along the outside perimeter of the loaf. Pointed the tip of the knife towards the center of the loaf until the top of the loaf is cut free. Remove and set aside.

Layer slices of Havarti cheese into the bottom layer of the loaf. Sprinkle with garlic, Italian herbs, and parsley.

Toast bread in a toaster oven or oven at 425˚for about 3-5 minutes or until cheese is melted and bread has golden brown edges.

Toss together cooked spaghetti noodles with sauce and re-heat if needed using the mircrowave.

Layer hot spaghetti noodles on top of toasted bread. Top with spaghetti noodles, Parmesan cheese to taste and a sprinkle of dried parsley for garnish. Slice and serve warm.
Nutrition Facts
Calories:
396
kcal
|
Carbohydrates:
36
g
|
Protein:
9
g
|
Fat:
24
g
|
Saturated Fat:
13
g
|
Polyunsaturated Fat:
4
g
|
Monounsaturated Fat:
6
g
|
Trans Fat:
1
g
|
Cholesterol:
12
mg
|
Sodium:
396
mg
|
Potassium:
193
mg
|
Fiber:
3
g
|
Sugar:
18
g
|
Vitamin A:
178
IU
|
Vitamin C:
1
mg
|
Calcium:
89
mg
|
Iron:
2
mg
Follow Mighty Mrs. for more easy recipes!
Find @MightyMrs on Pinterest