This post may contain affiliate links. As an affiliate, I earn a commission.
Jump down to Recipe
If you're curious about how to make bread crumbs from toast, you might be surprised to find out it's pretty simple. All you need is a toaster, a blender or food processor and some (old) bread.

Why you'll never need to buy store bought bread crumbs again
It's so super simple to make your own bread crumbs from toast. Before I get into how to do it, there are a few things I wanted to point out about why making your own bread crumbs a thrifty/easy/nostalgic thing to do.
1.) All those bread "butts" or at least that's what we call the ends of a loaf of bread in our house, become useful. I hate to waste food. So when I get to the end of a loaf of bread, I toast the bread butts and leave them in the toaster (turned off) for the day so they get nice and dry but not burnt.
Stockpile and store your old bread
Once your toasted pieces of bread are completely dried out, put them back in the plastic bag that the bread was in and then store that in a cupboard or pantry.
I keep adding to my little collection of toasted bread butts until I have a full bag. Then I simply blend them into tiny crumbs or, you can use a food processor to get larger breadcrumbs a.k.a Panko bread crumbs.
2.) I use my blender to make my breadcrumbs for this example because I think it's so neat how my Mason jars screw onto the Oster blender base in place of the glass pitcher. It makes for less clean up because I also store my breadcrumbs in a mason jars. Typically, I like the wide-mouth jars because it's easier to get things in and out. The regular mouth jars however, are the ones that fit onto a blender and breadcrumbs are small so the regular size works well for this.
3.) Ball Jar shaker caps are perfect for make-your-own breadcrumbs. I love these things. They have so many uses but this particular style with the flip cap and then the perforated insert really works well for storing and dispensing my homemade breadcrumbs.
What kind of bread or toast do you need?
If you're adventurous, you can use different kinds of bread. If you're using your breadcrumbs in meatloaf for example then it really doesn't matter too much since you have a lot of other flavors happening.
When using the bread crumbs as a breading for chicken, then maybe you'd want to use a certain kind. You can even use crackers! Check out my cheese cracker chicken nuggets recipe if that's something that sounds interesting to you.
I bet you'd also like my crispy baked macaroni and cheese with bread crumbs. 🙂
Season your bread crumbs.
To season your breadcrumbs, simply stir in salt and herbs to taste before you use them. I like to keep my bread crumbs plain until I'm ready to use them. That way I can season them to match whatever style dish I am using them for.
Watch this how-to video!
This quick video will show you exactly how to make bread crumbs using a blender:
This how to make bread crumbs from toast tutorial was featured on Home Stories Tutorials & Tips!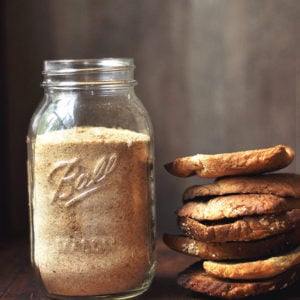 How to Make Bread Crumbs from Toast
If you're curious about how to make bread crumbs from toast, you might be surprised to find out it's pretty simple. All you need is a toaster, a blender or food processor and some (old) bread.
Read Comments
Print
Pin
Rate
Ingredients
8

slices

leftover bread

Dried herbs - Italian or your own blend

optional

Salt to taste
Instructions
Lighty toast the ends of bread as you finish up a loaf of bread. Be careful not to over-toast. You just want to dry out the moisture.

Let toast sit in toaster after it toasts for a few hours to be sure it's extra dry, then transfer the toasted bread ends back to the bread bag for storage. Store in pantry. (No need to refrigerate)

When you have about 8 pieces of bread saved up (I use a mix of whatever breads I have one hand), crumble the toasted pieces into chunks small enough to fit into your mason jar or blender or food processor. Use the pulse feature to break up the toast into crumbs.

Use your regular Mason jar lid or get yourself the Ball Jar shaker cap to break up clumps when ready to use your bread crumbs.
Nutrition Facts
Calories:
76
kcal
|
Carbohydrates:
14
g
|
Protein:
3
g
|
Fat:
1
g
|
Saturated Fat:
1
g
|
Polyunsaturated Fat:
1
g
|
Monounsaturated Fat:
1
g
|
Trans Fat:
1
g
|
Sodium:
145
mg
|
Potassium:
51
mg
|
Fiber:
1
g
|
Sugar:
2
g
|
Vitamin A:
1
IU
|
Vitamin C:
1
mg
|
Calcium:
39
mg
|
Iron:
1
mg
Want more easy recipe ideas?
Follow @MightyMrs on Pinterest