This post is sponsored by CreateMyCookbook; however, all thoughts and opinions are my own.
A Year's Worth of Festive Recipes
Holiday cooking is something a lot of people do, even if they aren't big on cooking normally.
The holidays bring out our desire to connect with family at home and to share with neighbors and friends. And food is a great way to do that. Naturally, holiday-specific recipes have become a tradition for many people and families.
So a book full of fun, festive and yummy recipes is something that really makes for a great gift for just about anyone.
For the fun of it!
Holiday cooking can be especially fun because many times the food has a festive look and process to it that you don't always get when you're just trying to get dinner on the table.
For example, our family likes to make cut-out cookies every year around Christmas time and everyone decorates them in different ways. Personalizing their cookies to mirror their own family traits or their own taste is part of the fun. The kids like to decorate their cookies with plenty of sprinkles, mini chocolate chips and dabs of different colored icing while the adults more carefully choose the icing colors and arrange the sprinkles to form patterns and really make the cookies cute. The cut-out cookies are always the first to get eaten because they actually taste the best too! This tradition is something I wanted to share with other friends and families of ours in this holiday cookbook.
We have similar traditions for other holidays and I'm excited to have the opportunity to capture a full year's worth of these festive recipes in one single book that we can share with others as a gift.
We'll be sharing these printed holiday cookbooks with friends, family and even business contacts. The beauty of a cookbook as a gift is that it's something anyone can use and appreciate.
Building the Holiday Cookbook
You may already know that a few years ago I published a family cookbook using CreateMyCookbook. To see how that turned out you can go back and look here.
For this holiday cookbook, the process was very similar. I used the CreateMyCookbook web-based software to build the book pages and layout. It's super easy and much of the process is automated and templated, saving a lot of time. CreateMyCookbook prints the books as well.
Here's how the cookbook making process works:
1.) I gather up recipes and photos I have taken of my recipes. For me, this process was easy. I keep a blog of my favorite recipes and so I was able to easily copy and paste my recipe ingredients and steps right into the Recipe Box on the CreateMyCookbook website. I already had an account to which I was able to add a new book. But it's easy to create an account if you're new to CreateMyCookbook and you can actually use your Facebook account to login with one tap of a button.

If you do not have your recipes already typed up, you can take advantage of the WeTypeIt service and they will actually type everything for you, using just an image of your typed or handwritten recipe card.
Now, if you don't already have photos of your recipes, and that's something you want to invest some time to do, you may be interested to learn more about how I photograph my recipes here.
You can choose a no-photo layout, however, or simply use your phone to take photos of your recipes.
2.) Once all the recipes are entered into the Recipe Box, you can adjust the page layout by choosing from several templates and customizing the layout to your liking. I changed the fonts just a bit. The nice thing is, if you make a change to one recipe page, the entire book will update so that all the recipe pages are formatted the same way. So easy.
One feature I especially love is the ability to add a photo page. For many of my recipes, I had more than one photo. So I was able to add a full-page photo or multiple other photos to this page, showing different angles of the finished recipe or in some cases, in-process shots of the recipe being made. I really love how this feature gave my book a very professional look and will be helpful for those reading the recipe to get to see some additional views of the dish.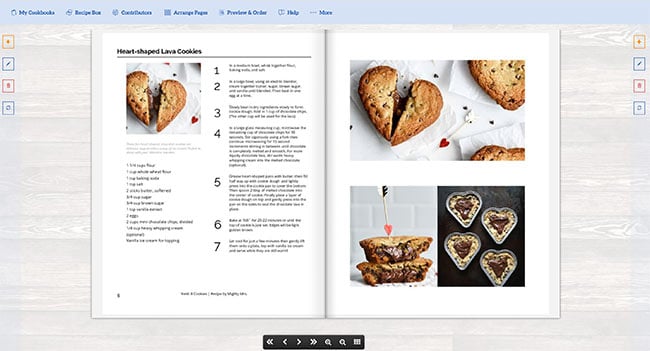 3.) Once all the pages are filled out, you can easily arrange the order of the pages.
Another nice automated feature is the Table of Contents. You don't need to figure out which recipe goes on which page, all that is figured and auto-filled for you as you arrange the pages. Again, super easy. Such a time-saver!
4.) The final step for me was designing the covers. There are few options for tackling the cover.
A.) You can use the free Cookbook Designer software to build the cover by adding a title overlay to a full-page photo of your choosing.
B.) You can design and upload your own custom cover image. Since I'm fortunate enough to have a graphic design background and the software Photoshop, I was able to take the front and back cover specs and create a really cool looking cover using a variety of recipe images. I also added some text with a fun gold overlay effect.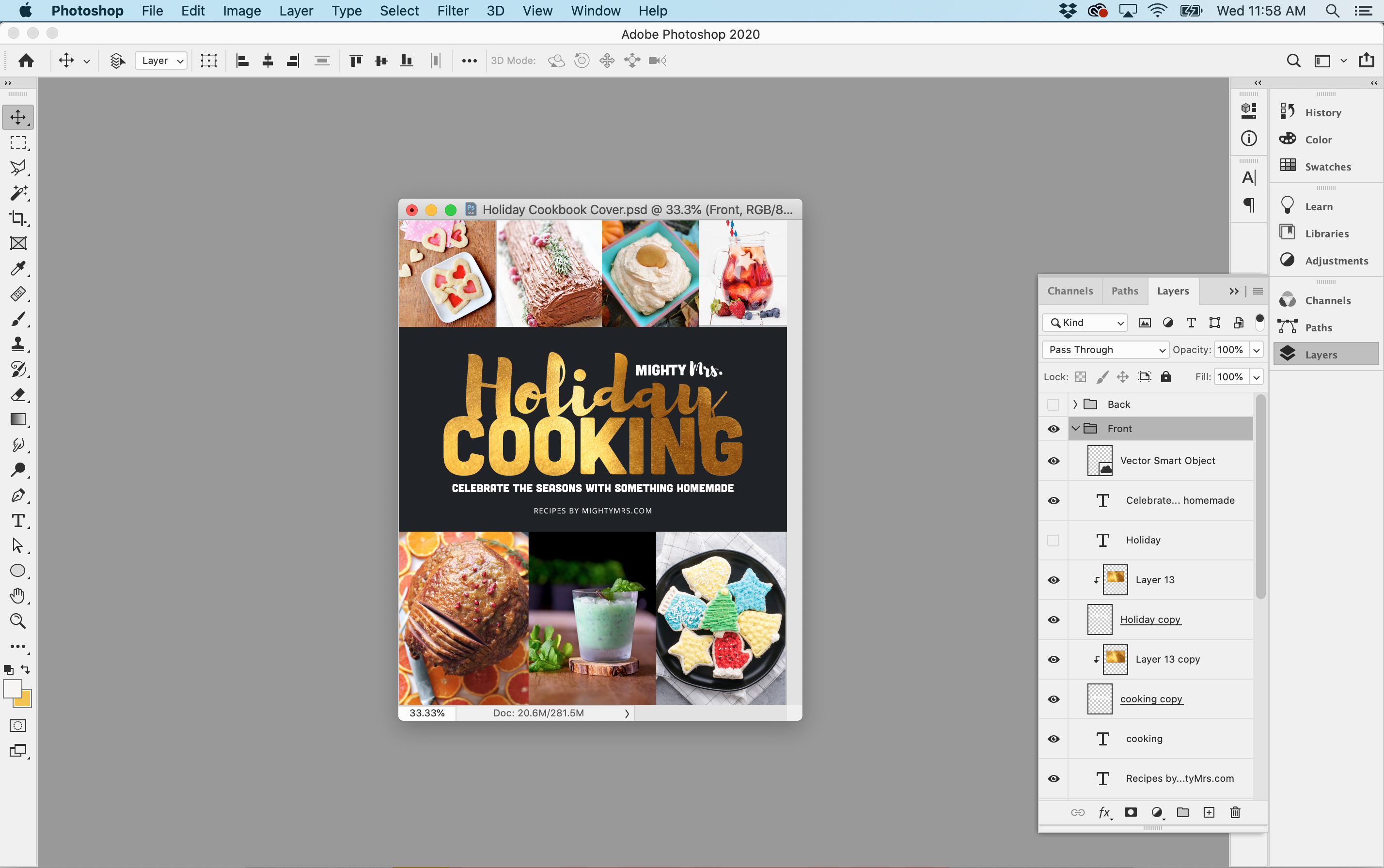 I wanted this holiday cookbook to feel really festive and special and so I felt like the gold lettering would really pull that off. I'm excited to show off how that came out when my printed books arrive. Stay tuned!
C.) If you don't have a graphic design background or software like I do, you can still get a really awesome custom cover design by taking advantage of CreateMyCookbook's Design Services. This is an additional fee but the cost is very reasonable and comes with a bunch of extras beyond just the cover that will really make your cookbook look fantastic.
One other thing I want to mention is that you also have access to customize the spine color and text. I updated the spine to match my front and back covers right in the CreateMyCookbook design editor.
IMPORTANT NOTE ABOUT CREATING YOUR OWN COVERS: Once my covers were in place, I had to make a few adjustments to my Photoshop design to accommodate the wrap-around edge. If you're DIYing your cover, I just thought this might be helpful to note.
To accommodate the cover images wrapping around the edges of the book, I moved in the main portion of the recipe photos so that if any of the area in red folds over the edge in production, what's left will still look good as the cover. I used the zoom and manual align options to position the custom cover images (front and back) just where I wanted them.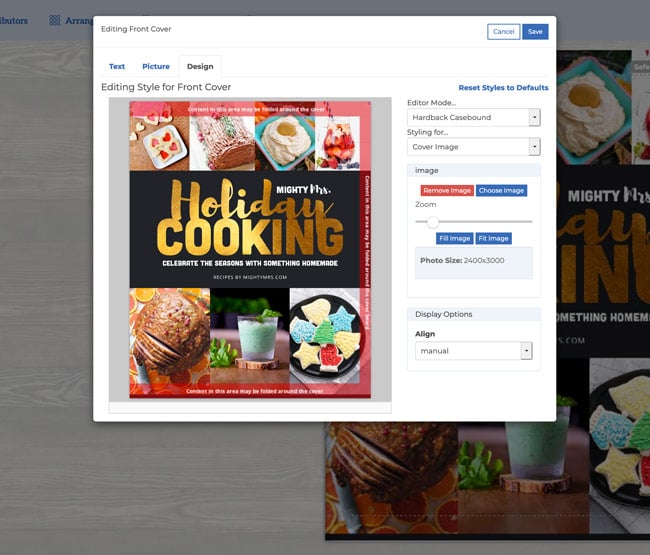 5.) Once the design and content is all ready to go, then it's time to order. And the first choice is selecting a binding option. I chose the Hardback Casebound option for binding this time. I really wanted this book to look professional and like something you'd see on a bookstore shelf, so that option stood out to me as having the look I wanted. Choose the one that suites what you're looking for.
6.) Final step, proofing. I'll be honest. This is my least favorite step! Being this close to the end of the process, I get anxious to get the cookbook off to print so I can see my beautiful books come in the mail, and admire the finished product in all its glory. BUT, you have to proofread. Almost always, many times over. Being the in graphic design business, I know how this works but I still don't wanna do it! However, getting a finished book in the mail with a typo is a far worse feeling than putting in the hard work of proofreading. So do yourself a favor and proof, proof, proof for errors. If you have someone willing to help give you a second set of eyes, that's always helpful too since sometimes you can overlook your own errors.
I reviewed the PDFs and found several changes I needed to make. After a few rounds of corrections, I finally was able to sign off on my proofs and feel confident that the books will come to me error-free.
I can't wait to get the holiday cookbooks in the mail and give you another video tour of how they came out! I think you are going to especially love the cover and full-page photos.
**UPDATE** The cookbooks arrived! Check out the video tour of the finished cookbook.
Are you excited to make your own holiday cookbook? Pin this guide for later or get started now by setting up a free account over at CreateMyCookbook!