This post sponsored by CreateMyCookbook

Why Create a Family Cookbook?
Well, when my husband and I were first married we didn't have a lot of money to spend on gifts for family members for the holidays so we came up with the idea of doing a cookbook of our favorite recipes to give as gifts.
At that point, neither of us were that great at cooking so our recipes were pretty so-so! None the less, we came up with about 10-12 recipes and compiled them using Word, printed them in black ink on colored paper, hole-punched them, then tied a ribbon through the holes to bind them.
As the years went on, we got a little more sophisticated and I started taking photos of the recipes we made and created a booklet layout which we printed ourselves. We used colored ink and the pages were folded in half and stapled. It was definitely a step up from our previous books but honestly still looked a little chintzy.
When our daughter was born and then our son, I decided to start capturing our favorite recipes on a blog I named Gast Family Recipes (really creative, I know). It was a way to share our recipes with friends and family and also with anyone else who might be interested in cooking or recipes.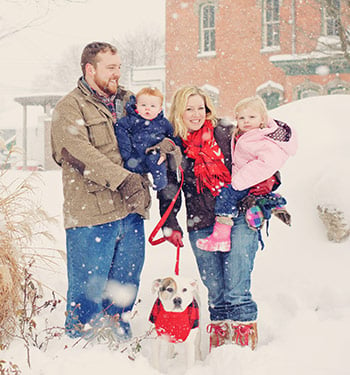 I became more interested in cooking mostly because our days of being able to afford eating out several times a week were over! Taking a couple of toddlers to a sushi place wasn't the most relaxing way to enjoy a meal anyway. So our focus shifted towards homemade family dinners, treats for special occasions, and dishes I could bring to family gatherings.
As I started diving deeper into this world of recipes and cooking, I discovered that food photography was a thing that people did for a living. I became really interested in learning more about professional photography techniques and equipment in order to improve my recipe photos. You can learn more about how I photograph my recipes here.
So I've been blogging now for a number of years, rebranded my website to Mighty Mrs. and I continue to work on both my cooking and photography but we had stopped capturing our recipes in print each year. I was putting all my effort into the blog. However, there's something special about a printed book that I began to miss. With the holidays coming up again this year, and our recipes having improved quite a bit over the last few years, I thought it was a good time to create a printed compilation of some of our favorite family recipes. I thought this would make a really nice gift and if I compiled recipes from all sides of the family, then it would be meaningful and even worth passing down to future generations.
I knew I wanted something a little more refined than our printed booklets from the past so I did some searching and discovered CreateMyCookbook. They offered web-based software for building the cookbook and a few different, really slick looking printing and binding options. The price was really reasonable and I liked that you could also get an ebook version. It sounded like just what I needed so I decided to go for it.
How to Make a Family Cookbook
I'm going to show you what the process looked like from start to finish so you can get an idea of what's involved in making your own cookbook. Here are the steps I took:
1. I created an account with CreateMyCookbook. I used the Facebook sign-in option because it was easier than creating a new user name and password. It also connects your Facebook account so you can pull photos in from there, invite people to collaborate with you in making the book, and then also makes it easy to share the book when you're done. I got a welcome email right away that pointed me to the next steps.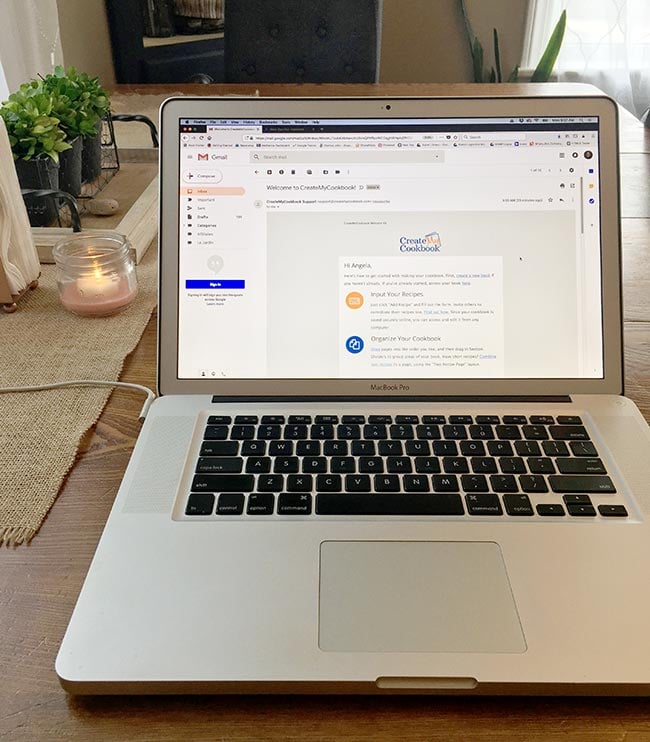 2. I gathered recipes. I made a list of recipes I knew I wanted to include and then reached out via text message to family members for other ideas. CreateMyCookbook also has a feature that allows you to add collaborators to the cookbook project by email. So I did send an invite to my mom and sister to get their input. I also made a trip over to my husband's grandma's house and she shared some of her oldies but goodies with me!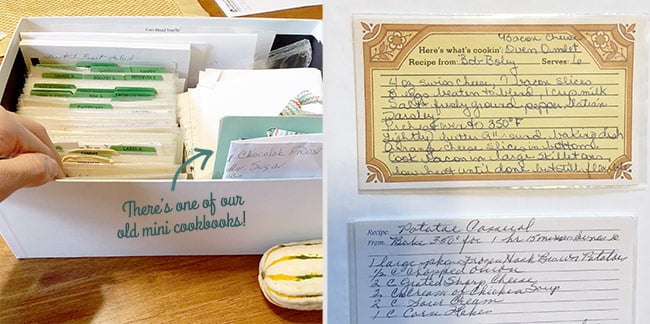 One nice time-saving feature CreateMyCookbook offers is typing the recipes for you. All you have to do is send them a photo of the handwritten recipe and they will do the typing for you! This makes everything so much easier. Two recipe credits for their WeTypeIt service are included in the cost of your book, then they offer packages depending on how many recipes you need typed.
3. I added my recipes and photos to the CreateMyCookbook website. I had some photos to start with but for the ones I hadn't photographed yet, I actually made those dishes and then took photos. You don't have to have photos with each of the recipes but I wanted to. There was one recipe I didn't get time to cook but I was able to find an image in the CreateMyCookbook gallery to use for that page. Some family members were even willing to send me a photo along with their recipe which would be really helpful if you don't already have a collection of recipe photos like I did.
4. I choose the design of the cookbook. There are several layouts to choose from so I played around and tried out different ones to see what I liked best. The software automatically applies the layout to all the recipes so if you change your mind, it's not a big deal to change the layout. I finally landed on this template: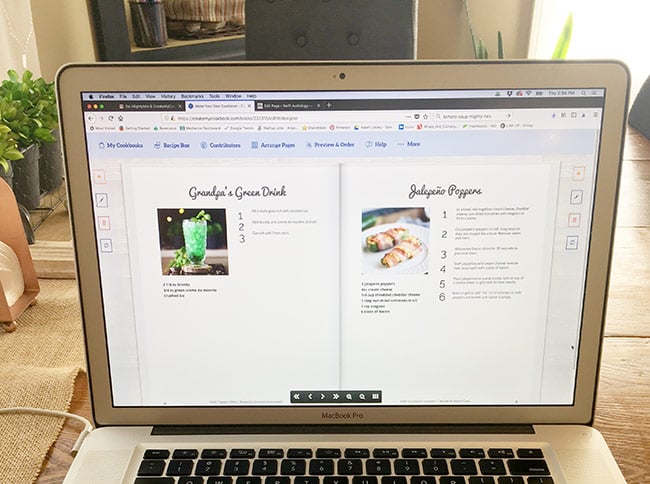 5. I arranged the pages. This was an easy task because the Arrange Pages feature is drag and drop and then the Table of Contents is automatically generated. Awesome. I arranged my pages in the order you'd eat. I put cocktails first, then appetizers, soups, main courses, side dishes and finally, desserts.
6. I added front and back covers and a spine. There are a number of photo options to choose from along with custom colors and fonts. You also have the option to upload your own design for the front and back—you just have to be sure to use their specs and be careful to include extra graphics to allow for the wrapping of the edges. The preview tool will show you how you've done and you can revise as needed. Since I wanted our family cookbook to be extra special and personalized to match my blog, I decided to create my own design using Photoshop. If you're not familiar with Photoshop, then you can choose from a variety of templates or you can have CreateMyCookbook's design team build something unique for you for an additional fee.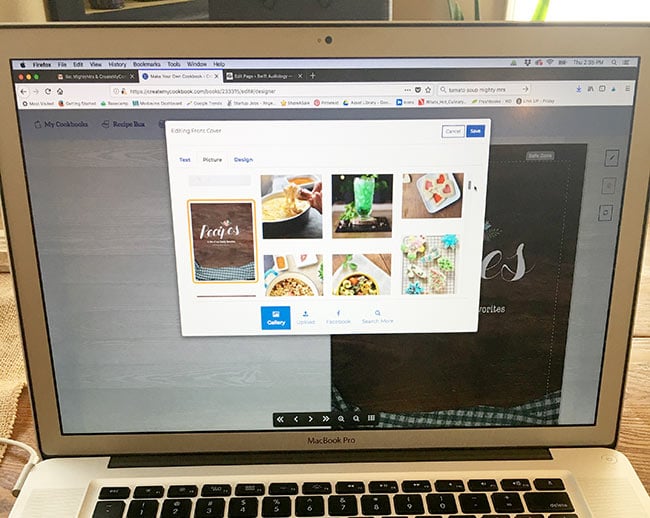 7. I proofread everything 12 times! I seriously went over the book from cover to cover at least a dozen times. I wanted to make sure everything was spelled and typed correctly before I sent it off to print. I'd recommend having a friend or family member double check it too.
8. I sent it off to print. There were a few shipping options to choose from. Since I started early, I choose the slowest and least expensive option. It's nice to have the other options if you're getting close to a holiday. I can't wait until the printed book arrives in the mail!
*UPDATE* My cookbook arrived in the mail! Check out the Tour of my Family Cookbook post to see how it came out!
Getting excited to make your own family cookbook? Pin this guide for later or share the idea with someone on Pinterest.
**GIVEAWAY is now closed** Angela Grogan was randomly selected as the winner! Congrats, Angela! Thank you to
CreateMyCookbook
for sponsoring the giveaway and to all who entered! I loved hearing from you and the reasons you had for wanting to create your cookbook made my heart so warm and happy! I hope that you all get inspired to fulfill your wish of creating your own cookbook. Even if you just start small like we did many years ago.