This post is sponsored by CreateMyCookbook; however, all thoughts and opinions are my own.
A DIY Holiday Cookbook
That totally does not look like a DIY cookbook!
I previously posted the step-by-step process I used to create my own, professional-quality cookbook using CreateMyCookbook's free, web-based software. In case you missed that or want to re-visit the making of this cookbook before I dive into the tour, check out my How to Make a Holiday Cookbook post.
If you're ready for the tour then, let's roll! Check out this video as I page through the finished product to give you an idea of what you can expect should you decide to make and order your own cookbook through CreateMyCookbook.
A Video Page-through of the Finished Cookbook
What I Love Most About the Book
It looks and feels like something you'd pull off of a bookstore shelf. The quality of this hardback casebound book is 100% professional grade.
The front and back covers have a beautiful gloss to them. The inside pages are thick and matte so it's easy to read the text on each page.
The book opens completely flat which will be nice for anyone laying it open while cooking.
The spine text is crisp, bright and clear and will be easy to spot on a shelf.
The photo quality on the covers and the interior pages is just amazing! The full-page sized photos are stunning. The printed ink colors are spot-on with the original images, not off-color at all or too light or dark. Truly exactly as expected, or hoped!
How I Plan to Gift this Book
Not to spoil the surprise for friends and family but... guess what you're getting this year?! 🙂
Friends and family of mine will get copies as well as a few business contacts who are basically extended family too. It's one of those universal, can't-go-wrong gifts and it has a personal touch too, which is rare anymore, yet I think people still appreciate.
The cookbooks wrap up beautifully for easy gifting and if you mail them on their own, will even qualify for discounted media mail. Be sure to ask about that at the post office.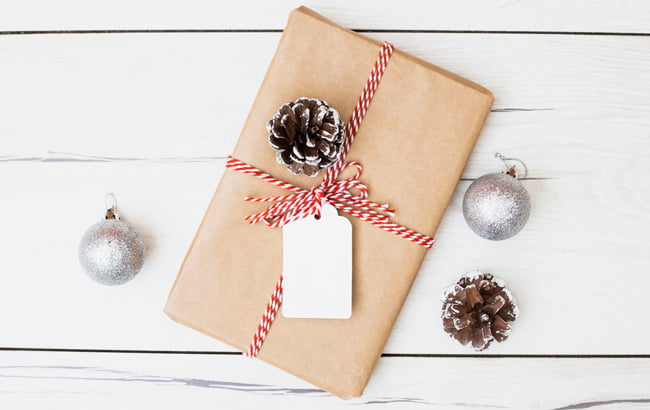 Making Your Own Cookbook as a Gift
I hope this gives you a solid idea of what it's like to create your own cookbook with CreateMyCookbook to give as a gift or just as a family keepsake.
If you have any questions for me about the process, leave a comment and I'll get back to you!
If you want to further explore the idea of making your own cookbook, head to CreateMyCookbook.com. You'll be able to see all the options and pricing and you can test-drive the software without committing to purchasing anything.

You may want to also check out my post about creating a family cookbook, which will give you an in-depth look at what went into the making of that book. There is a video tour of that cookbook as well, which was a different style binding and smaller number of pages.
Are you excited to make your own holiday cookbook but not quite ready to dive in? Pin this post for reference later.