It's so simple to make homemade scented sugar scrubs that you'll wonder why you never tried to DIY this before! Store them in a mini mason jar and this makes a great gift. Save one for yourself... your hands will be so soft!
It's so simple to make your own scented sugar scrubs that you'll wonder why you never tried to DIY this before! Read on to learn how to make this 3-ingredient recipe.
★ Why You'll Love this Recipe ★
This recipe is super easy!
Just mix together 3 ingredients — sugar, oil and a scent. No cooking required.
You can add food coloring for a festive look or go natural — your choice.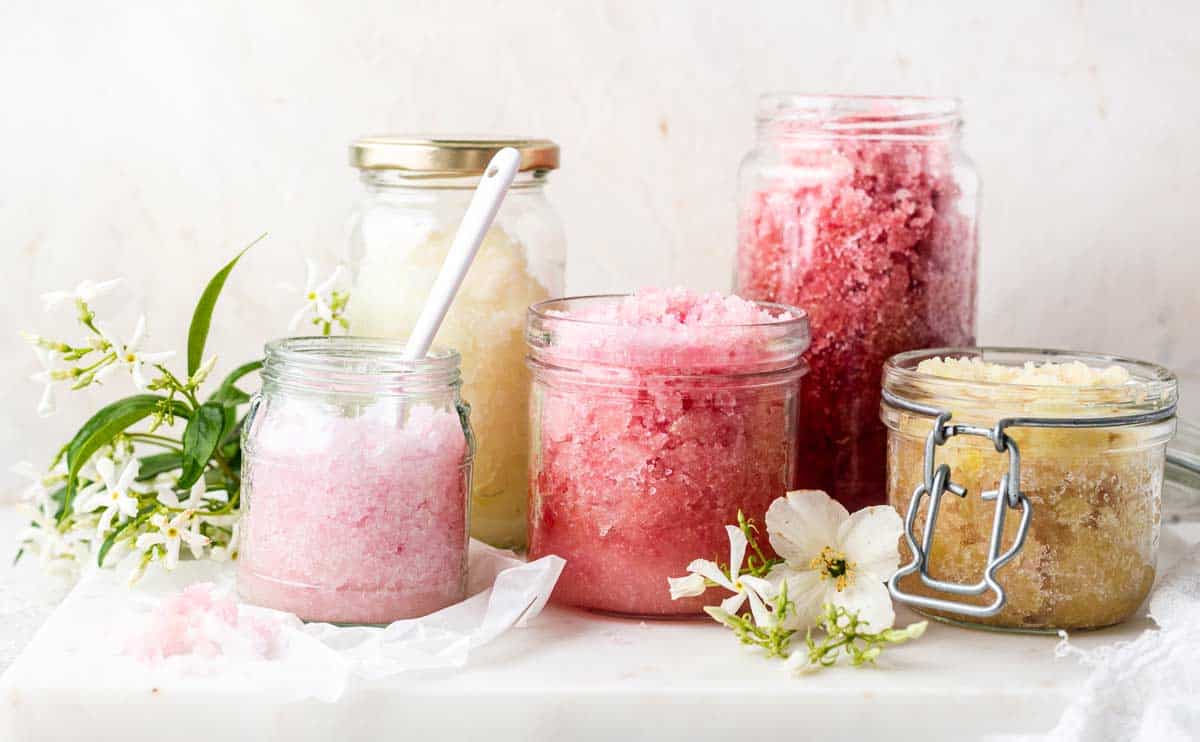 Everyone loves soft hands.
This homemade sugar scrub makes a great gift for anyone from kids to adults, make or female. You can completely customize the scent, color and packaging depending on who you are gifting to.
The feel of the scrub is so relaxing! I like to start with wet hands and then add a dollop of the sugar scrub to my palm and then rub it all over just like soap, up to my wrists.
Sugar scrub is the best for the colder, dry months. So it makes a great cheap DIY Christmas or holiday gift.
Sugar scrub makes an especially great gift fr anyone who works with their hands.
★ Ingredients You'll Need ★
You need just 3 main ingredients to make your own scented sugar scrub.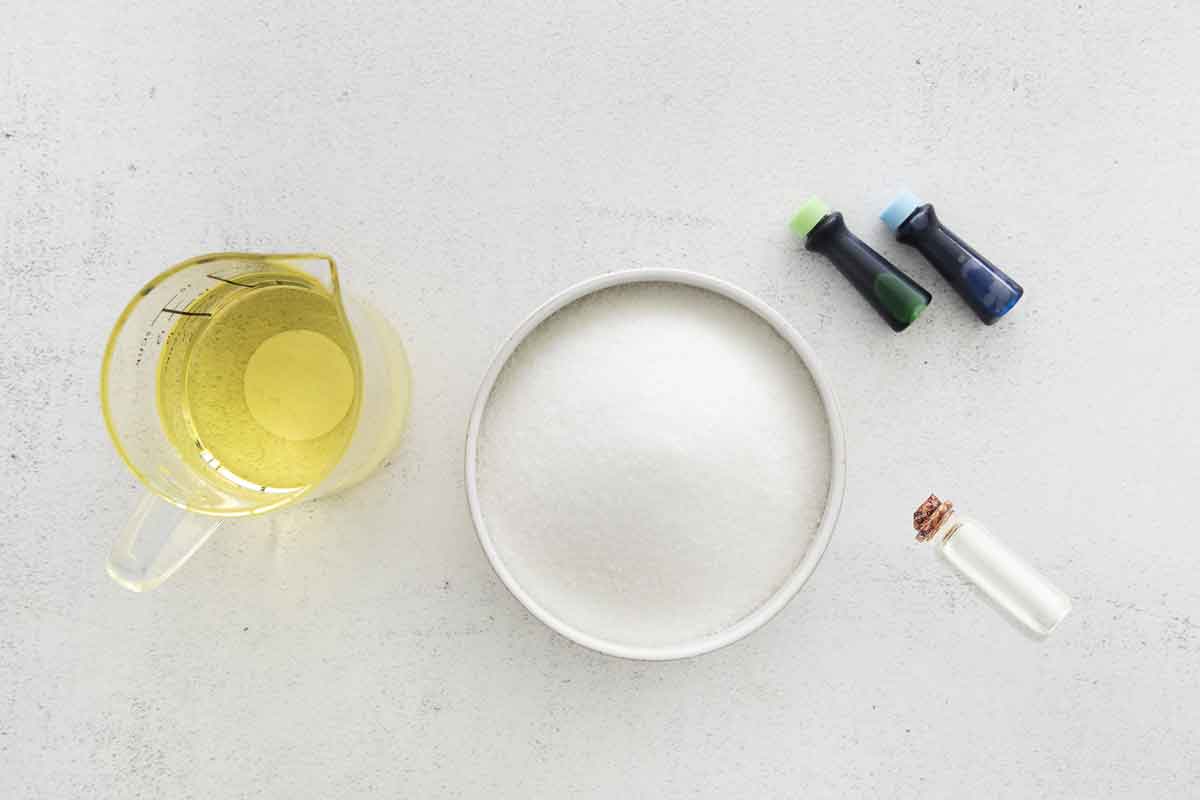 Sugar. White table sugar is all you need.
Oil. Olive oil, coconut oil, or any non-scented food-grade oil works. You can adjust the amount of oil you use if you want more saturated "wet" scrub or a more dry granular scrub.
Scent. I like to use extracts but you can also use essential oils or fresh herbs like lavender. Just me sure that they are skin-safe and try a small bit on your own skin to be sure your particular body doesn't react to the scent.
Food coloring is optional but is a nice way to complement the scent you choose. The liquid food color works better than the gel food coloring to dissolve.
Plus food coloring if you'd like some color.
★ How to Make Homemade Sugar Scrub ★
This DIY sugar scrub recipe is so easy and the main ingredients are just sugar and oil. Add color and a scent to making using it a fun and relaxing experience!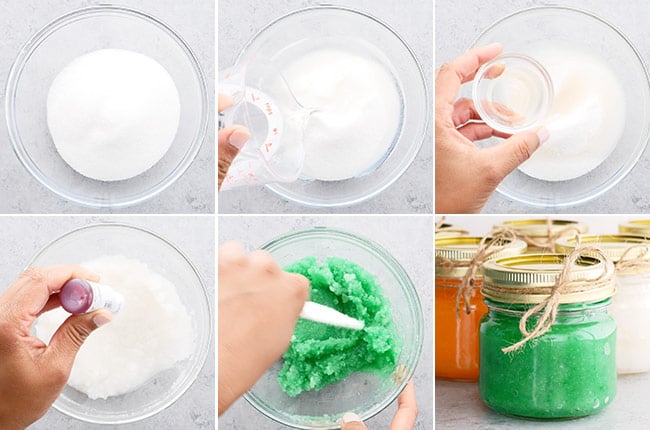 This scrub stores well in mini jars, small mason jars work great or any glass bottle that seals would also be ideal.
Shop small glass jars on Amazon
It's quick simple to make your own body and hand sugar scrub. No cooking required.
Check out this video that shows how to make this easy sugar scrub recipe in several different color and scents. Perfect for gifting!
★ Tips & FAQs ★
What kind of oil is best for sugar scrubs?
You can use any food-grade oil. Choosing a food grade oil will be safe against allergies. Of course, if you are allergic to a type of oil, don't use it.
What's the best sugar to use?
You can choose your sugar based on personal preference of the way the sugar was processes, or by the size of the grain.
Raw sugar is going to be less process but the grain is bigger so it's going to be more rough on your skin.
You can also use brown sugar if you like the scent and texture. I prefer to simply use table sugar. You do you. 🙂
Choose a natural way to scent your sugar scrub.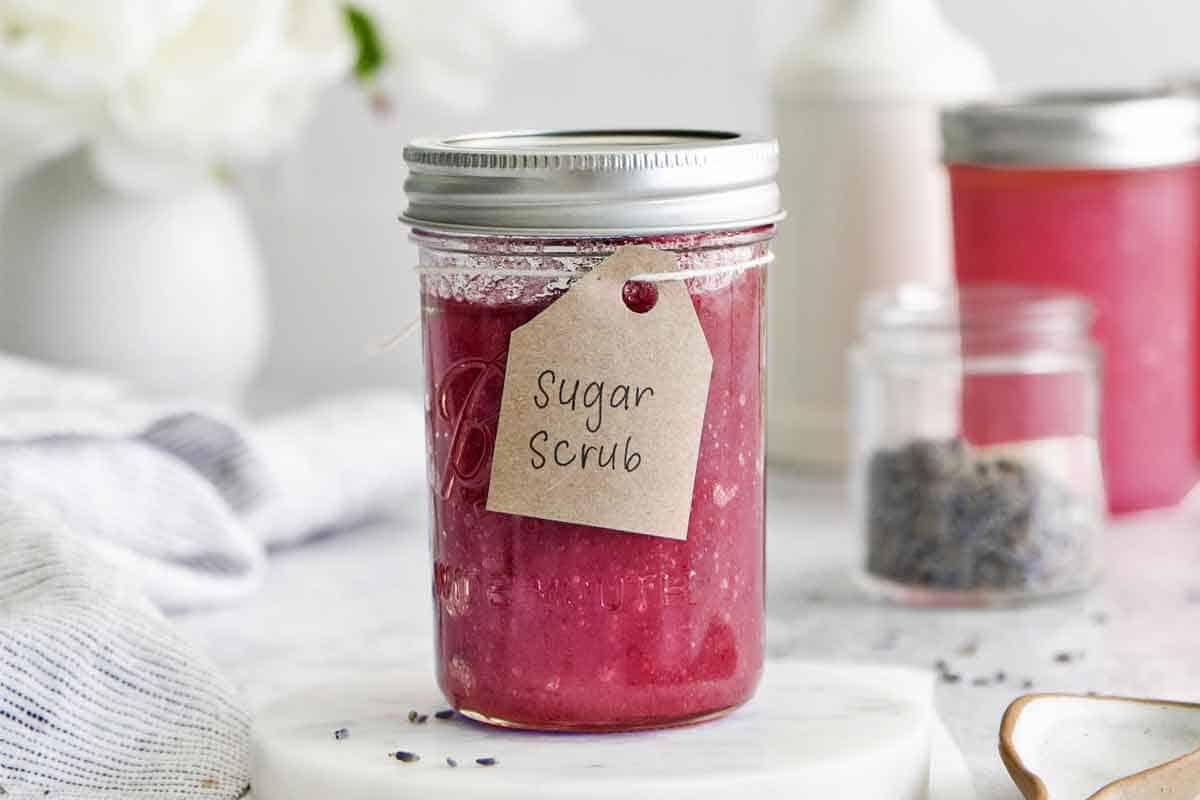 There are a ton of natural ways to add a lovely fragrance to your homemade sugar scrubs. The anything food-safe rule applied here again. A great place to look for scents is in the baking aisle. Any of the extracts are a great choice. I prefer food-safe add-ins because then the whole scrub remains non-toxic.
There are different benefits to various types of oil and this can even vary by brand. Some oils may contain more vitamins than others. Just check the back of the labels at the store and choose one that fits your price range that has the vitamins you want. I don't think there is a right or wrong choice when it comes to oil, just a personal preference.
You can also add essential oils. You just have to be sure they are hypoallergenic and that they are skin-safe so you don't get a rash. If you're not sure, I'd stick with food-safe extracts to start.
Here are some popular natural, food-grade sugar scrub scents:
• Vanilla
• Honey
• Peppermint
• Lemon
• Lime
• Orange
• Almond
• Coffee
• Rum
• Lavender
• Basil
• Cotton Candy
• Raspberry
• Strawberry
• Rose
• Root Beer
• Coconut
Those a just a few ideas!
Then you can get into combining scents that go well together like honey and vanilla, strawberry lemonade, basil and lime, or lavender and lemon to name a few.
Experiment with a variety of different scents.
Want to have some fun? You can build a custom order of natural flavors and extracts on Amazon.
Each set comes with 5 bottles and there are 60 different scents you can choose from.
Add some color as a finishing touch.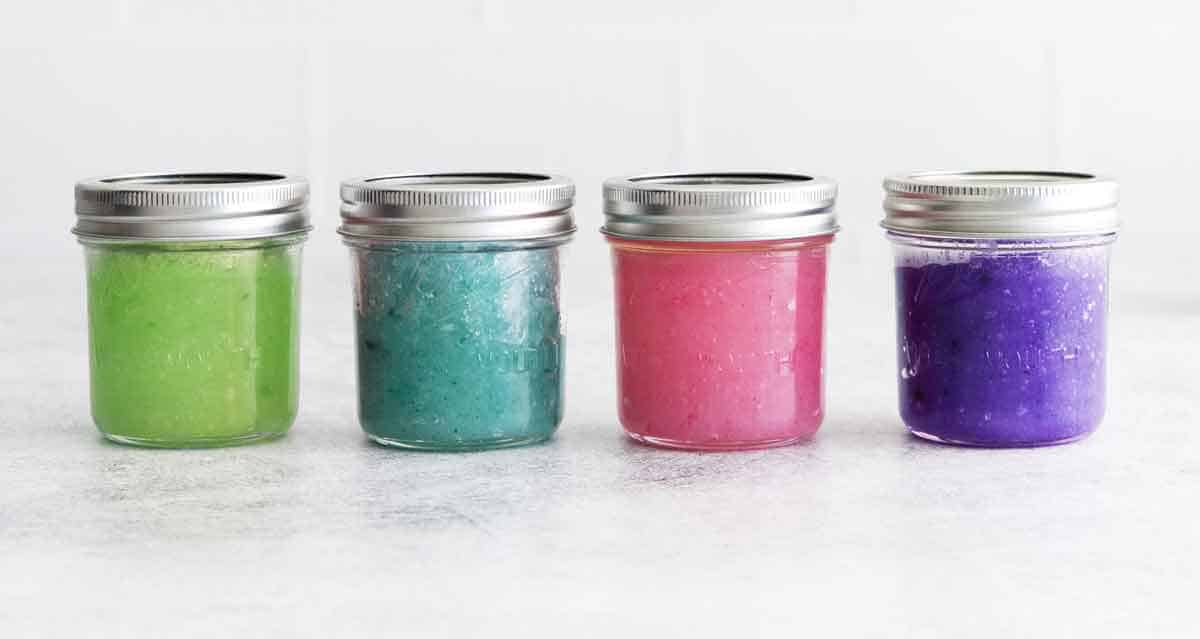 The final step of this really pretty simple sugar scrub recipe is color. You can easily add color using food coloring. Again, making this sugar scrub completely food-safe and nontoxic.
Simply a few drops to individual batches to match the flavor of the scrub. You can also try layering two different color scrubs. I've seen white and red layered with a peppermint scent.
You can also blend colors. For cotton candy, as an example, you could use both blue and pink food coloring and swirl it just enough so it creates a marbleized look.
I've even seen glitter added with a swirl of blue and green scrub for a "mermaid" look. Get creative with how you package your scrub! You can completely customize this scrub to fit with upcoming holidays, the theme of a wedding or baby shower, or to personalize this scrub as gift for birthdays.
Add a finishing touch with your packaging.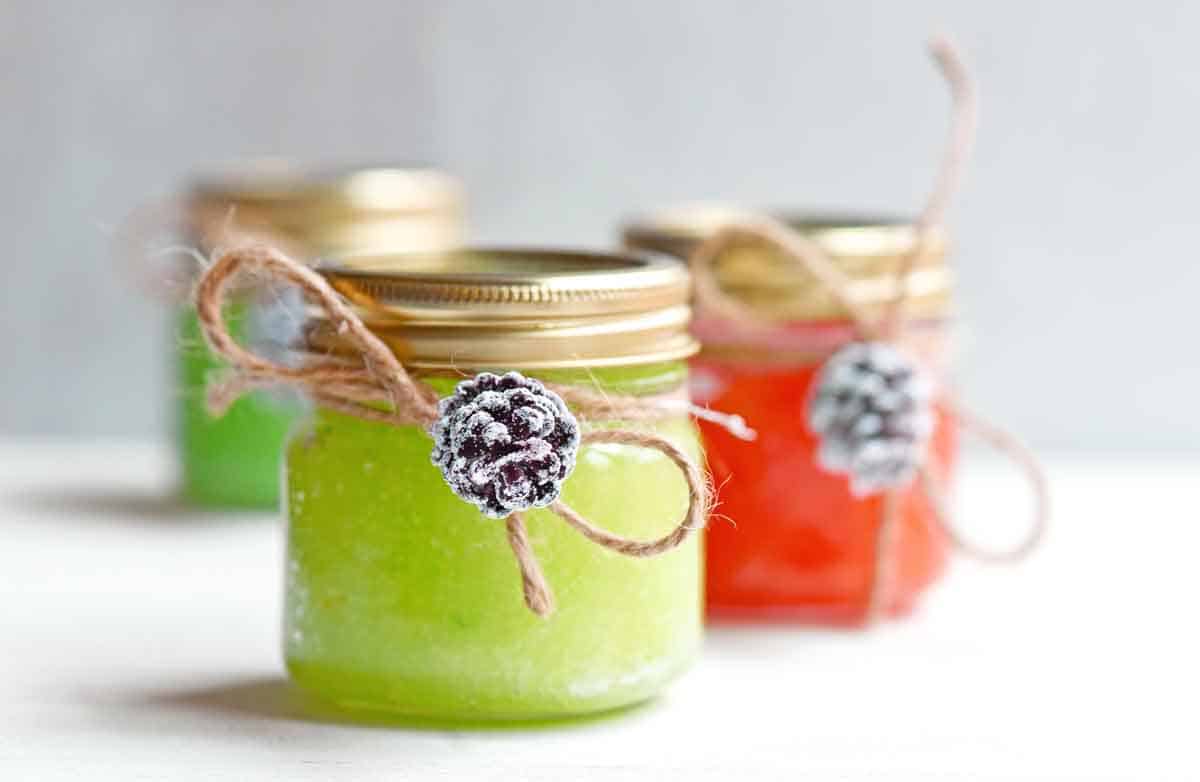 As I mentioned, if you are planning to give these sugar scrubs as a gift, then how you package them is important! There are a few sizes of mason jars you can use and some even come in festive colors, especially around the holidays. I found ones with gold lids that added a really nice touch.
I made these around the holidays, so I purchased a package of 10 mini ornaments. I tied an ornament on with some twine, made a bow and viola! They looked great. And as a bonus, the gift recipient get a little ornament to hang up.
You could also top with a square of fabric and any kind of ribbon, you could paint the lid, paint the jar, wrap the jar in fabric, and glue on buttons, gems, whatever your heart desires!
If you're not sure how to style your packaging, try drawing some inspiration from the scents you chose or just use whatever extra materials you have laying around.
★ Packaging Supplies ★
If you're gifting your homemade sugar scrubs, then cute packaging makes all the difference!
Here are a few links to help you shop for pretty packaging:
★ More DIY Projects You'll Love ★
DIY Tabletop Firepit
DIY Chalkboard Wall
DIY Holiday Cookbook
This easy recipe for non-toxic DIY sugar scrubs was featured on Sew Can Do!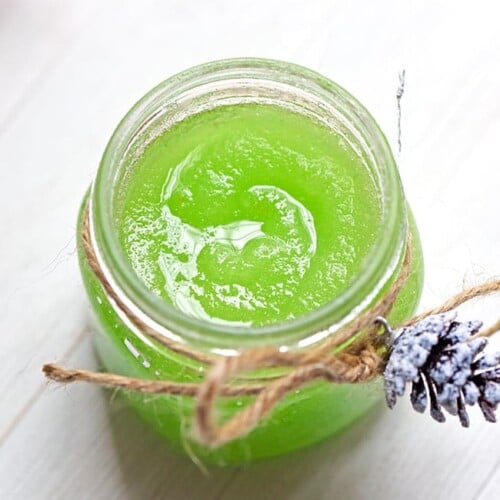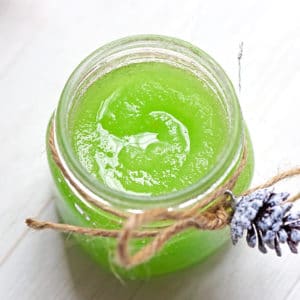 Simple Homemade Sugar Scrub
It's so simple to make homemade scented sugar scrubs that you'll wonder why you never tried to DIY this before! Store them in a mini mason jar and this makes a great gift. Save one for yourself... your hands will be so soft!
Read Comments
Print
Pin
Rate
Ingredients
2

parts sugar

1

part oil*

2-3

drops food coloring

¼

teaspoon

extract for flavoring

add more or less as desired
Instructions
Measure sugar and pour into a large mixing bowl. Add food coloring to sugar and stir using a rubber spatula to spread out color.

Next add oil and extract. Stir until everything is well blended.

Spoon sugar scrub mixture into Mason jars. Seal by hand and add twine and decorative touches as desired.
Notes
Liquid food coloring drops work better than gel food coloring. If all you can find is the gel, that's OK. You may just need to spend more time mixing to make sure the color spreads out.
Note: While made with food-grade ingredients, this scrub is not intended for consumption.
*Add extra oil for a more saturated "wet" scrub vs. a more granular scrub.
Follow Mighty Mrs. for more easy recipes!
Find @MightyMrs on Pinterest