This classic Chicken Cordon Bleu recipe is easier than you might think to make. Oven-baked chicken culets are rolled up with ham and Swiss cheese, breaded and seasoned then served with a creamy white wine sauce. Perfect for special occasions and holiday dinners.
This post may contain affiliate links. As an affiliate, I earn a commission.
Jump down to Recipe
Classic Chicken Cordon Bleu is easier than you might think to make.
This oven-baked dish is made with chicken cutlets, smokey ham, Swiss cheese, breadcrumbs and seasonings all served with a creamy white wine sauce.
★ Why You'll Love this Recipe ★
This dish is perfect for celebrating special occasions and holidays, hosting a family dinner or a dinner party. It's also easy enough to make on a weeknight or as a family dinner on the weekends.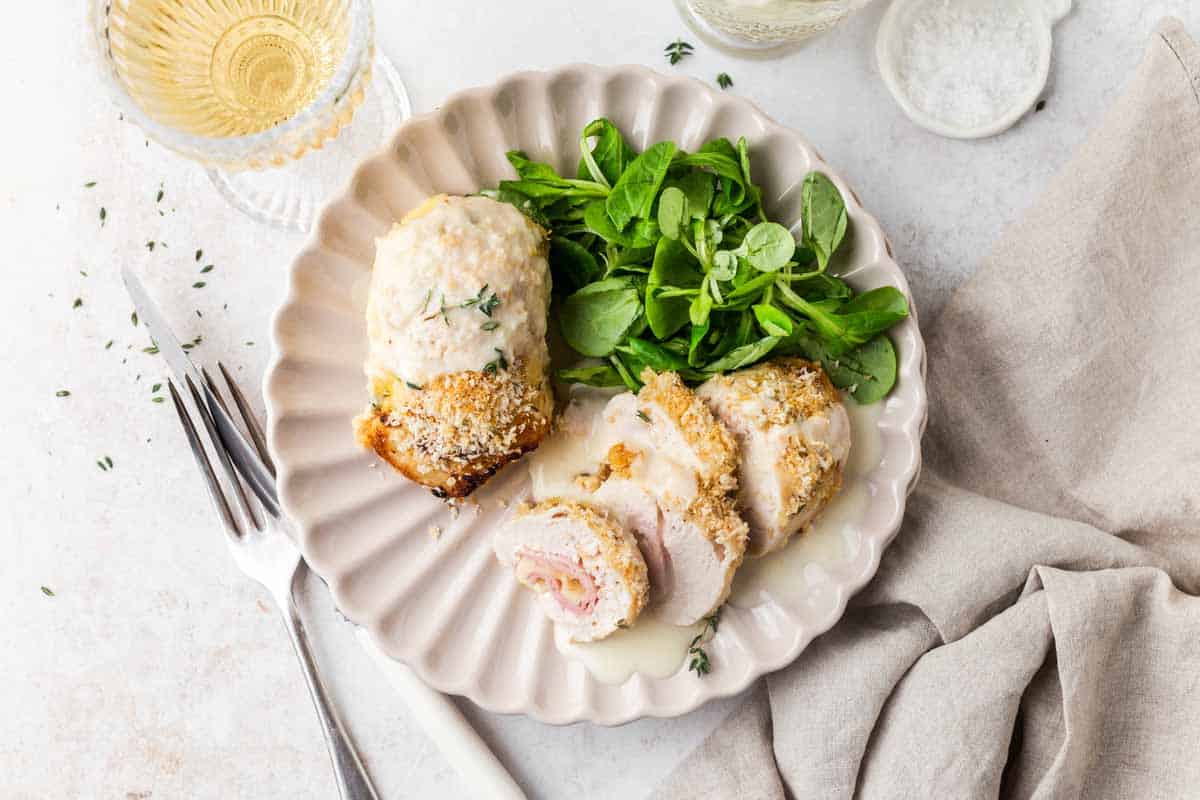 This dish is a classic for a reason. The flavors just work! I've simplified the process as much as possible to make this recipe very easy and fool-proof.
I think you're going to love it!
Serve this Chicken Cordon Bleu with a tasty side dish or two and a dessert for a full meal!
★ Tips & FAQs ★
Choose Quality Ingredients: Start with fresh, high-quality chicken breasts, ham, and Swiss cheese. Using good ingredients is key to a delicious dish.
Pound the Chicken: After butterflying the chicken, gently pound it with a meat mallet to ensure even thickness. This also helps tenderize the meat.
Season Well: Season the chicken with salt, pepper, and any desired herbs or spices. This adds flavor to the dish.
Use Thinly Sliced Ham and Cheese: Opt for thinly sliced ham and Swiss cheese to make rolling the chicken easier. Thick slices can make the dish bulky and difficult to roll.
Secure with Toothpicks: Use toothpicks to hold the rolled chicken together. This prevents the filling from falling out during cooking.
Choose the Right Oil: Use a neutral oil with a high smoke point like vegetable or canola oil for frying. Heat the oil to 350-375°F (175-190°C) for optimal results.
Fry Until Golden Brown: Fry the chicken rolls until they are golden brown and the internal temperature reaches 165°F (74°C). This ensures the chicken is cooked through.
Drain on Paper Towels: After frying, place the chicken on paper towels to remove excess oil. This keeps the dish from being greasy.
Serve Hot: Chicken Cordon Bleu is best enjoyed right after cooking while it's still hot and crispy.
Can I use chicken chicken breasts instead of cutlets? Yes. If starting with chicken breast, you'll just need to butterfly the chicken. To do this, slice the chicken breasts horizontally to create thinner cutlets. This not only cooks the chicken evenly but also makes it easier to roll with the filling.
What can I substitute for Swiss cheese? If you're not a fan of Swiss cheese, you can use other cheese varieties like Gruyère, provolone, or I personally really love Havarti cheese as a Swiss substitute.
Can I fry instead of baking? Yes, you can fry or bake Chicken Cordon Bleu. If frying, be sure to fry each side until the chicken is cooked through. Check with a meat thermometer and make sure the chicken temperature is at least 165˚ before serving.
How do I remove toothpicks before serving? Be sure to inform your diners that there are toothpicks in the chicken rolls. To remove them, simply pull them out carefully before eating.
What sides go well with Chicken Cordon Bleu? Common sides include mashed potatoes, steamed vegetables, rice pilaf, or a fresh salad. Choose your favorite accompaniments to complete the meal.
Can I prepare Chicken Cordon Bleu in advance? You can assemble the chicken rolls in advance and refrigerate them until ready to cook. However, it's best to bread and fry them just before serving to maintain their crispiness.
Can I freeze Chicken Cordon Bleu? Yes, you can freeze cooked chicken cordon bleu. Allow it to cool, wrap it in plastic wrap or aluminum foil, and place it in an airtight container before freezing. Reheat in the oven to maintain the crispy texture.
★ More Recipes You'll Love ★
Try this dish as a casserole!
If you love chicken Cordon Bleu but want to try my casserole variation, check out that Chicken Cordon Bleu Casserole recipe here.
Want more dinner ideas?
Browse all my easy dinner recipes. Be sure to Pin your favorites for later!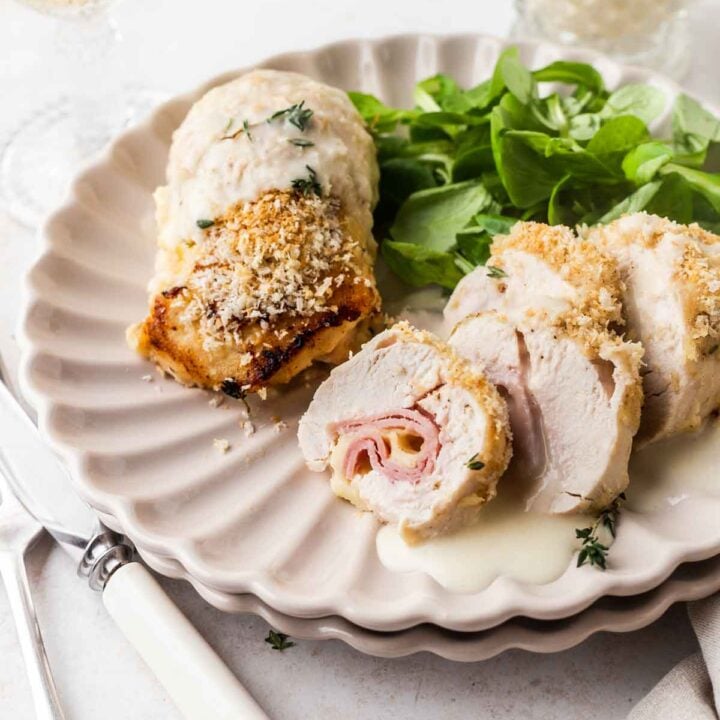 Chicken Cordon Bleu
This classic Chicken Cordon Bleu recipe is easier than you might think to make. Oven-baked chicken culets are rolled up with ham and Swiss cheese, breaded and seasoned then served with a creamy white wine sauce. Perfect for special occasions and holiday dinners.
Read Comments
Print
Pin
Rate
Ingredients
6

chicken cutlet

6

slices

Swiss cheese

6

slices ham

¼

cup

flour

1

teaspoon

salt

2

teaspoon

fresh or dried thyme

½

cup

butter

(1 stick), divided

1

cup

white cooking wine

6

cups

chicken broth

1

teaspoon

chicken bouillon

1

cup

heavy cream

¼

cup

Panko bread crumbs
Instructions
Place chicken cutlets on a cutting board, cover with plastic wrap and pound flat as needed to achieve an even thickness.

Layer a slice of ham and a slice of Swiss cheese onto each cutlet, then roll. Secure with a toothpick if needed.

In a medium bowl, mix flour, salt, and thyme.

Add each rolled and stuffed piece of chicken to the bowl and rotate to coat the chicken on all sides.

Heat 6 tablespoon butter in a skillet over medium-high heat.

Add chicken and cook each side for about 2-3 or until golden brown on each side.

Transfer browned chicken to a 8x8 greased baking pan. (Use remaining 2 tablespoon butter to grease pan)

In a medium bowl, whisk together wine, chicken broth, bullion and cream.

Pour wine sauce over chicken. Use a brush to completely coat the chicken with sauce.

Then top chicken with breadcrumbs, pressing them as needed to be sure they stick.

Bake at 375˚F for 20 mins.

Chicken is done when internal temp of chicken reaches 165˚.

Cover loosely with foil as needed to prevent bread crumbs from over-browning.

Plate baked chicken and spoon wine sauce from pan over top right before serving.
Notes
Add salt and pepper to finished dish as desired, to taste.
Nutrition Facts
Serving:
1
piece chicken
|
Calories:
594
kcal
|
Carbohydrates:
12
g
|
Protein:
61
g
|
Fat:
29
g
|
Saturated Fat:
14
g
|
Polyunsaturated Fat:
2
g
|
Monounsaturated Fat:
8
g
|
Trans Fat:
1
g
|
Cholesterol:
237
mg
|
Sodium:
1703
mg
|
Potassium:
1215
mg
|
Fiber:
1
g
|
Sugar:
2
g
|
Vitamin A:
853
IU
|
Vitamin C:
27
mg
|
Calcium:
221
mg
|
Iron:
2
mg
Follow Mighty Mrs. for more easy recipes!
Find @MightyMrs on Pinterest