Marsala wine is the secret to this deliciously easy French onion soup. Caramelized onions, in a rich beef broth seasoned with thyme and topped with croutons and melted cheese. A perfect comfort food for cold days!
This post may contain affiliate links. As an affiliate, I earn a commission.
Jump down to Recipe
Bonjour! And that is the extent of French that I know.
Luckily speaking French is not a requirement for making a delicious cup of French onion soup. In fact, it's easy even if you don't really know how to cook! This recipe is a classic and is pretty simple.
The French have a few classics when it comes to food.
I do know that the French make some very savory things though. Particularly this little soup, you may have heard of it... French onion soup? You know, the kind with the melted cheese on top. Yeah, thought you may have heard of it. There's a little something special about this french onion soup though and that's the Marsala wine. I personally can't get enough of Marsala's earth flavor. You could also use Sherry or a dry white wine if you don't have Marsala on hand.
French Onion Soup is Surprisingly Easy to Make
Check out this video that shows the whole recipe process, step-by-step:
Love it when the Mr. Cooks
So this is actually a recipe I pulled out of the archives and re-upped it a little with the help of my better half. The Mr. surprised me tonight and cooked this soup for dinner and he made it look so good! Of course, I had to take some new photos of it. He patiently waited to eat until I was done. Gotta give the guy credit. He can be pretty sweet. It almost makes up for the fact that I had to pick up his underwear this morning and pretty much every morning. I guess it all evens out, right?
Soup is always in season, really.
Anyway, being the very last day of summer, it seems wrong to be eating soup. When you blog about food though, you've really got to stay ahead of the seasons so I feel we're always doing things a little early. Well, wait. I mean really that only applies specifically to cooking recipes. Nothing else are we on time for. Let me know just get that out there and not pretend like we are punctual people. We try. Really we do. It just doesn't always work.
This soup does require some baking...
So, below is my original little blurb that I decided to include because it reminded me of when I made and photographed this fancy french soup for the first time, almost exactly five years ago now. That feels so long ago but I actually remember the day perfectly well. It was October 2, 2010 and it was still hotter than a baking pan fresh out of the oven and upstairs in our over-the-garage apartment without air conditioning, there we were. Cooking. Soup. Not just any soup. Soup you have to also bake. We are weirdos.
The marsala wine and sugar are my secret ingredients to this french onion soup. Trust me it's worth the trip to the liquor store to get the wine. And with the left over wine you can try this great chicken marsala recipe recipe from allrecipes.com. Also one of my favorite dishes! I pretty much like anything cooked in wine, really. So, if you're a french onion soup lover, like me, then you will really enjoy this. Also, as with almost all of our recipes, its super easy to make.
You'll need some oven safe ramekins to get that melty cheese on top

To properly make French onion soup with the melted cheesy top, you will need oven-safe ramekins.
If you don't already have a set, check out this lovely 4-pack of gorgeous colors. I love my teal ones but if I had seen these instead they would be mine, lol!
Ingredients Needed to Make this French Onion Soup Recipe
You'll need 13 ingredients to make this recipe: croutons, thyme, salt, provolone cheese, Swiss cheese, grated Parmesan cheese, pepper, malt vinegar, Marsala wine, beef broth, sugar, butter, and of course lots of onions!
Want some more soup ideas?
This easy French onion soup recipes was featured on Hearth and Soul and Menu Plan Monday!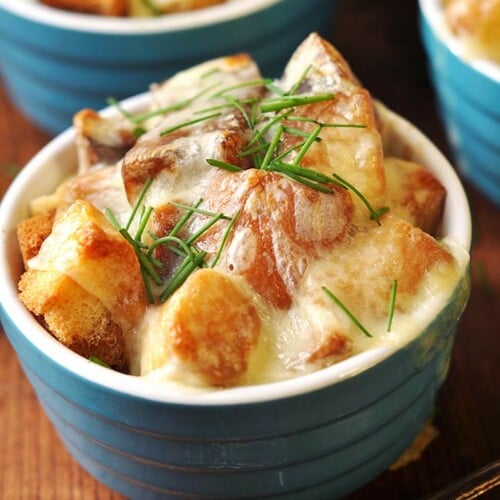 French Onion Soup with Marsala Wine
Marsala wine is the secret to this deliciously easy French onion soup. Caramelized onions, in a rich beef broth seasoned with thyme and topped with croutons and melted cheese. A perfect comfort food for cold days!
Read Comments
Print
Pin
Rate
Ingredients
¼

cup

butter

2

onions

sliced

6

cups

beef stock

½

cup

Marsala wine

1

teaspoon

fresh thyme

(ground or not, up to you)

Salt and pepper to taste

2

heaping tablespoon sugar

2

tablespoon

malt vinegar

5

oz

Caesar croutons

6

slices

provolone cheese

2

slices

Swiss cheese

diced

¼

cup

grated Parmesan cheese
Instructions
Bring beef broth to a boil in a large pot. Add sugar and malt vinegar. Reduce heat and simmer for 5 minutes.

Meanwhile, in a skillet over medium-high heat, sauté onions and thyme in butter until caramelized, about 3-5minutes. Scoop out onions and add to pot of beef broth. Deglaze the skillet by adding Marsala wine; bring to a boil and then scrape the sides. Carefully pour wine with flavorful onion bits into the pot of broth. Finally, season broth with salt and pepper to taste.

Ladle soup into oven-safe bowls or ramekins and place a handful of croutons in each. Sprinkle on Parmesan and Swiss cheese then layer 2 slices of provolone on top.

Place bowls on a cookie sheet and broil on low in a preheated oven until cheese bubbles and turns golden brown. About 5-7 minutes.
Notes
For added flavor be sure onions are caramelized but not burnt. Adjust heat as needed. Onions should be translucent with a light caramel brown color when done.
Add fresh or dried thyme in with butter and onions to bring out the most flavor of this herb.
You can skip the step of deglazing the onion skillet and add the Marsala wine directly to the broth, however, you'll miss out on some good flavor!
Nutrition Facts
Calories:
547
kcal
|
Carbohydrates:
47
g
|
Protein:
24
g
|
Fat:
26
g
|
Saturated Fat:
15
g
|
Polyunsaturated Fat:
1
g
|
Monounsaturated Fat:
7
g
|
Trans Fat:
1
g
|
Cholesterol:
63
mg
|
Sodium:
1428
mg
|
Potassium:
878
mg
|
Fiber:
3
g
|
Sugar:
13
g
|
Vitamin A:
755
IU
|
Vitamin C:
5
mg
|
Calcium:
429
mg
|
Iron:
3
mg
Follow Mighty Mrs. for more easy recipes!
Find @MightyMrs on Pinterest