If Chicken Marsala and Wild Rice Soup had a baby, this would be it! Chicken Marsala Wild Rice soup — the best of two different delicious dishes.
This post may contain affiliate links. As an affiliate, I earn a commission.
Jump down to Recipe
Attention Mushroom Lovers: This Chicken Marsala Wild Rice soup is a cozy-day dream come true.
★ Why You'll Love this Recipe ★
Chicken Marsala meets Wild Rice Soup
This soup combine best of two differents dishes. Imagine if Chicken Marsala and Wild Rice soup had a baby. Are you thinking what I'm thinking? Yeah. That baby would be delicious.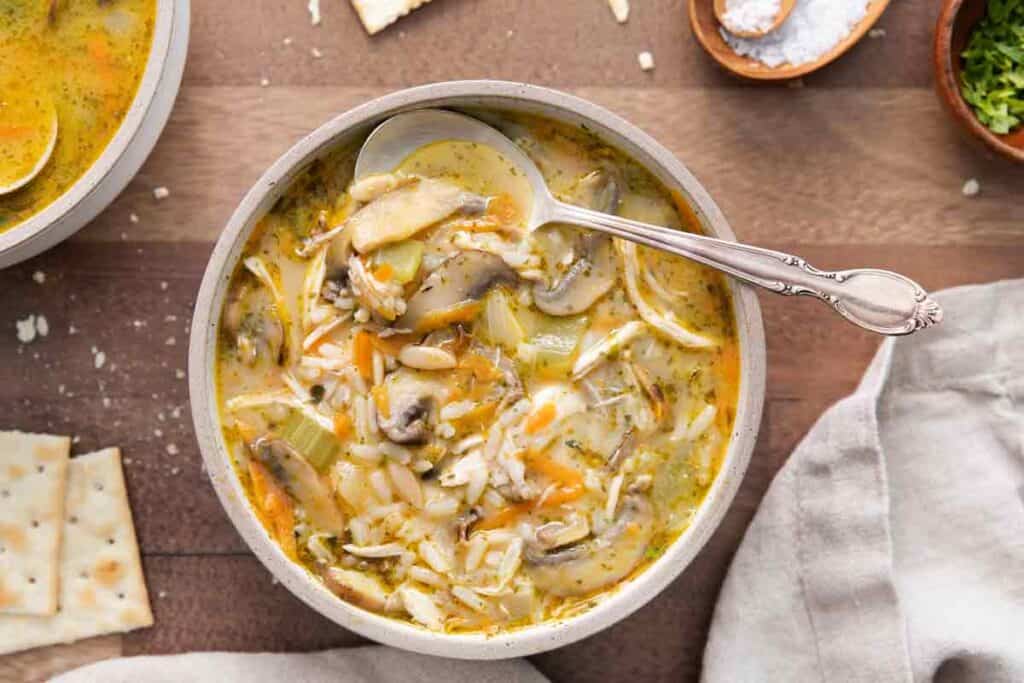 What does this soup taste like?
Ever tried classic wild rice soup? If you haven't and want to get acquainted with wild rice soup in its most basic homemade form, check out this recipe on Pinch of Yum.
If you've already tried wild rice soup or maybe you haven't but you're just ready to take it up a notch anyway, then you're going to like what's about to go on here. Basically we're adding mushrooms and Marsala wine to create that signature chicken Marsala flavor that's oh-so-good.
Quick and Easy Recipe!
This recipe for Chicken Marsala Wild Rice Soup is super easy to make thanks to the use of fast-cook Rice-a-Roni and rotisserie chicken. Everything cooks on the stove top and produces a deliciously rich and creamy soup you're going to love!
★ Ingredients You'll Need ★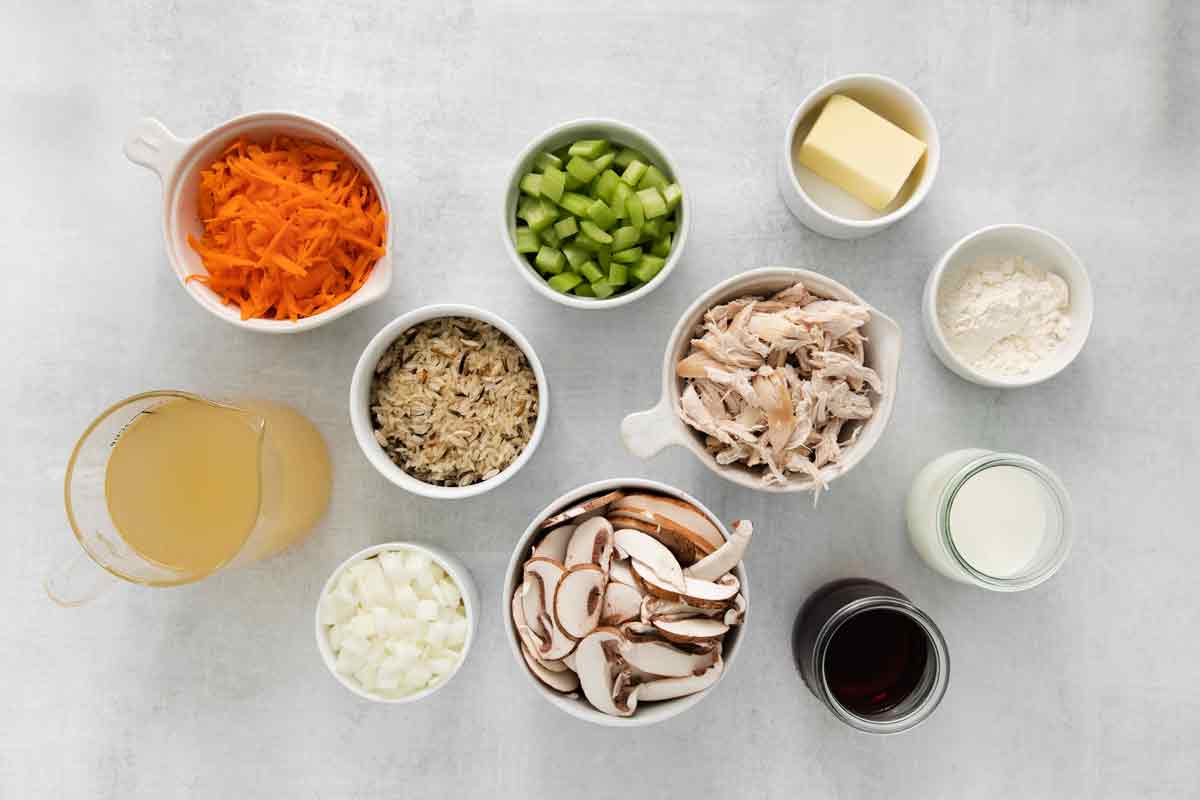 Rotisserie chicken
Fast-cook long grain wild rice
Onion
Celery
Carrots
Mushrooms
Butter
Four
Chicken stock
Marsala wine
Milk, half and half, or heavy cream
Salt and pepper to taste
★ How to Make this Soup★
Check out this step-by-step video that shows how to make this lovely, earthy soup:
We're using two fancy French cooking terms here!
1. You're using a mirepoix.
Let me take a moment to explain what's happening here with this soup. First of all this soup's flavor is based on a mirepoix. Don't worry if you've never heard of a mirepoix before. A mirepoix is a blend of celery, carrots, and onions typically sauteed before adding liquid to make it a broth. (How to pronounce mirepoix)
In this case, we're adding mushrooms to the classic mirepoix mixture.
2. We're also creating a roux.
Yes, another French word. A roux is a mixture of flour and fat (usually butter but sometimes bacon fat) used to thicken up a sauce, stew or in this case, a soup.
I'm not telling you all these fancy French words to scare you off. This soup is really basic and easy to make despite all its fancy terminology. A roux is something I learned to make back when I first started to learn homemade cooking and I use this technique a ton from everything from gravy to sauces to soups.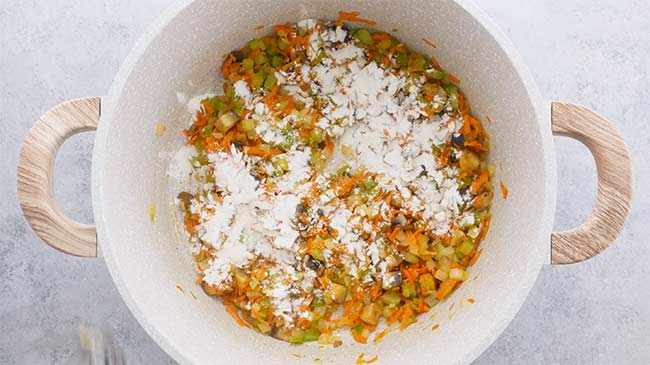 So in this case, since we're sauteeing the mirepoix with butter, we simply need to add flour. The flour combines with the fat nicely wand forms a paste which dissolves much better with the broth we'll add than if you were to try to add flour directly to broth. If you were to skip the step of combining the flour with the fat first, and just tried to add flour to the brother, you'd get a lumpy mess.
★ Tips ★
A dutch oven is a soup maker's best friend
I typically make my soups in a dutch oven so that I can saute everything first and then add the remaining ingredients and cook everything using just one pot. If you're using a crockpot, then you can either saute in a separate pan first, or skip sauteing and slow cook everything.
Or you can look into getting a crockpot with a saute feature. If using an Instapot, it does have a saute feature so you can saute in the same pot. I guess that's what people like them. I haven't ever used one (yet).
Well, those are all the tips I can think to share with you. If you have any questions or feedback, please let me a comment! I think you're going too love this soup and it will fast become one of your new favorites.
★ More Recipes You'll Love ★
If you love Marsala wine, I bet you'll also love this...
French onion soup with Marsala wine
Could you eat soup for days?
Check out all my soup recipes! Browse them and be sure to Pin your favorites for later.
This Chicken Marsala Wild Rice Soup was featured on Inspiration Monday!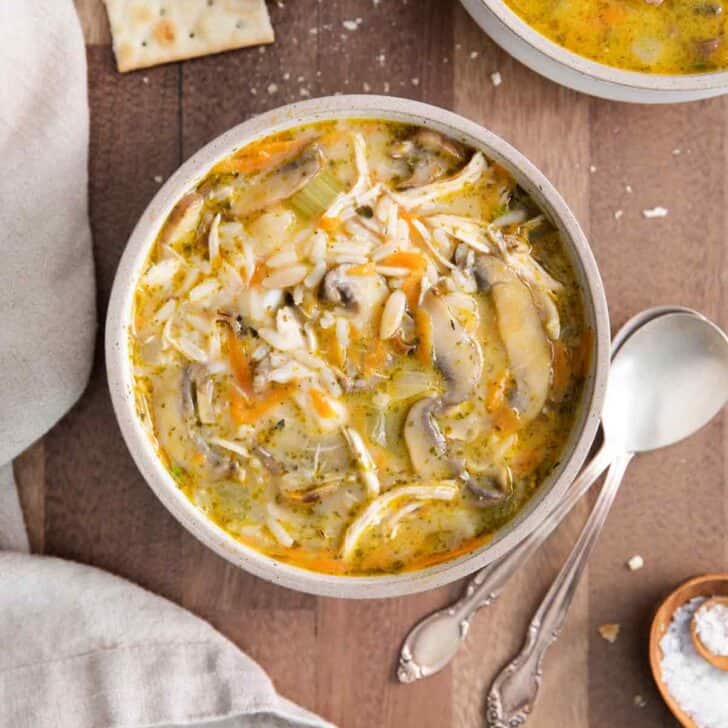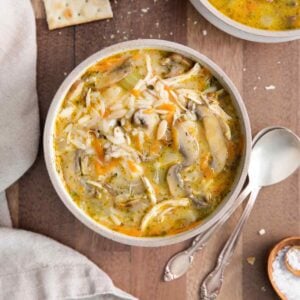 Chicken Marsala Wild Rice Soup
If Chicken Marsala and Wild Rice Soup had a baby, this would be it! Chicken Marsala Wild Rice soup — the best of two different delicious dishes.
Read Comments
Print
Pin
Rate
Ingredients
1

cup

cooked rotisserie chicken meat

shredded

6.2

oz

Fast Cook long grain and wild rice

1

small

onion

diced

4

ribs

celery

diced

1

cup

fresh shredded carrots

8

oz

mushrooms

chopped

¼

cup

butter

2

tablespoon

flour

6

cups

chicken stock

½

cup

Marsala wine

½

cup

milk

salt and pepper to taste

Garnish with fresh chopped parsley if desired
Instructions
Prepare wild rice as directed on box.

In a large pot, saute onion, celery, carrots and mushrooms in butter for about 4-5 minutes adding carrots, celery and mushrooms first then adding onions a minute later. Cook until translucent.

Next whisk in flour. Cook for a minute, stirring frequently.*

Add shredded chicken, chicken stock and Marsala then bring to a boil. Reduce and simmer for 5 minutes.

Stir in cooked rice and milk and bring to a boil. Reduce heat and let simmer 5 more minutes then it's ready to serve. Add salt and pepper to taste.
Notes
*You want to cook the flour in the butter until it bubbles for about one minute. This cooks out

the floury taste.
Nutrition Facts
Calories:
174
kcal
|
Carbohydrates:
14
g
|
Protein:
7
g
|
Fat:
9
g
|
Saturated Fat:
5
g
|
Polyunsaturated Fat:
1
g
|
Monounsaturated Fat:
3
g
|
Trans Fat:
1
g
|
Cholesterol:
22
mg
|
Sodium:
346
mg
|
Potassium:
419
mg
|
Fiber:
1
g
|
Sugar:
7
g
|
Vitamin A:
2504
IU
|
Vitamin C:
3
mg
|
Calcium:
42
mg
|
Iron:
1
mg
Follow Mighty Mrs. for more easy recipes!
Find @MightyMrs on Pinterest