This post may contain affiliate links. As an affiliate, I earn a commission.
If you're a cat owner you may be familiar with this pretty grass as a living treat for your pet. It's safe for animals to eat and cats especially love it, hence the name.
But what you may not have thought of, is how beautiful this grass looks in a planter as an indoor houseplant!
No Cat Required
So, even if you're not a cat owner, you can grow cat grass for decorative purposes. Its bright green color and thick blades make a beautiful looking indoor houseplant.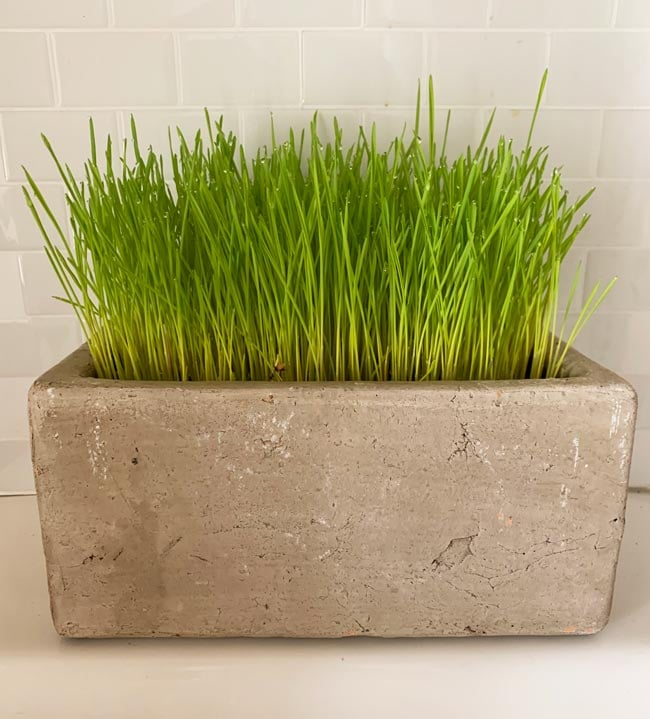 Where will cat grass grow?
You can grow cat grass indoors or outdoors. It enjoys light but it grows well in low light as well.
For reference, I have a planter of cat grass in our bathroom which gets just a small amount of light let in when we leave the door open. It grows great in there! Its lush and green and if anything, I don't have to trim it much.
Cat grass also grows great in full sun so you can literally put it anywhere and you should not have a problem growing it.
Some idea for where to put your decorative cat grass in your house: In the bathroom on the back of the toilet as you can see I did, as a centerpiece on your dining room table, in a smaller container on your coffee table, nightstand, bathroom counter, kitchen counter, window sill, book shelf, or end table. Literally anywhere and you can plant it in anything. Even a coffee mug!
You could even use cat grass as centerpieces for wedding, bridal showers, baby showers or birthday parties. Maybe a golf themed birthday? How cute would that be? Or an Easter tablescape?
Since can grass starts to sprout in just a couple of days and grows fast, you have so many options. The possibilities are truly endless.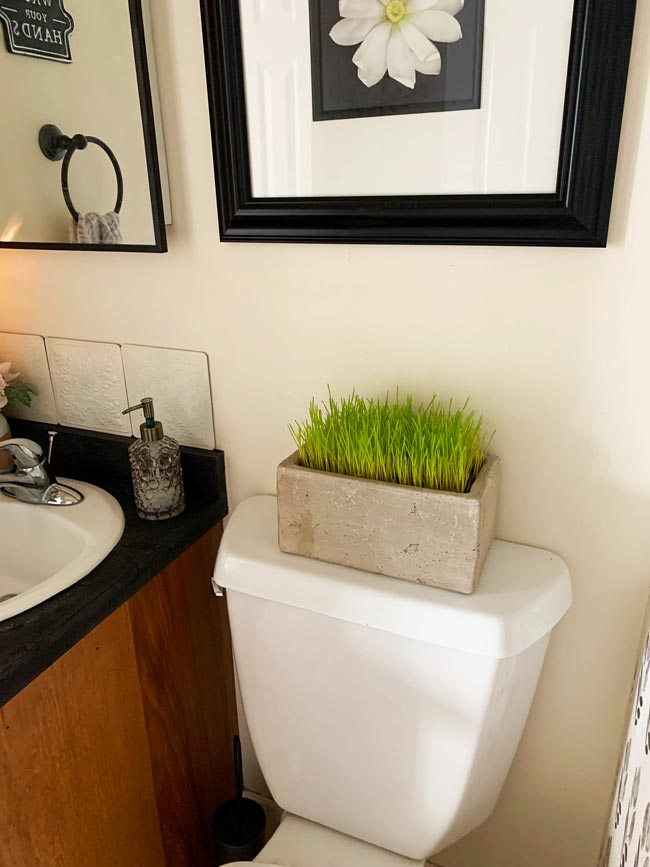 Do you need to "mow" your cat grass?
Yes. You do actually. Just like regular grass, cat grass looks best when its kept manicured. Simply trim off the tops with scissors to your desired length. It will keep growing, so you'll have to give your cat grass a haircut regularly.
Watering your cat grass
Water your cat grass 2-3 times per week or as needed to keep soil slightly moist.
Too damp and you could get mildew/mold. Too dry and your grass may start to turn brown.
You may notice dew on your cat grass.
Just like grass outside, you can get dew drops on your cat grass! This is a fun little surprise that adds to the character of this pretty, living grass, making it a real treat to use for decorative purposes.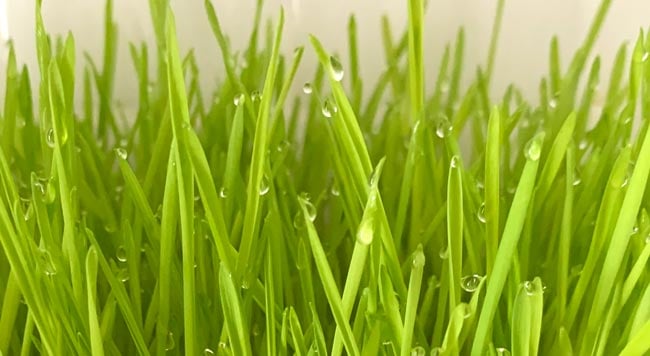 What exactly is "cat grass" anyway?
Cat grass is typically grown from oat or barley seeds so its non-toxic to animals. If you're planning on feeding this to your animals, just make sure the seeds you buy are marked safe for animal consumption.
This article is focused on using cat grass for decorative purposes but if you do have pets, you may want to consider this in case they decide to take a nibble from your decorative planter of grass.
Cat grass is extremely easy to grow.
All you need is a planter, soil, rocks for drainage, some water and cat grass seeds.
You can also grow cat grass without soil.
How to Grow Cat Grass Indoors
To set up your cat grass, first choose a planter. You have a few options here:

With soil. Use a planter of your choosing. Use one you have or you can shop planters on Amazon. Then add a layer of rocks, then soil.

Without soil. If you prefer to grow cat grass without soil, then just use more rocks to fill your planter and layer a wet paper towel on top as a bed for the seeds.
Once you have your planter prepared you'll need seeds. I purchased cat grass seeds on Amazon but you may be able to find them locally as well.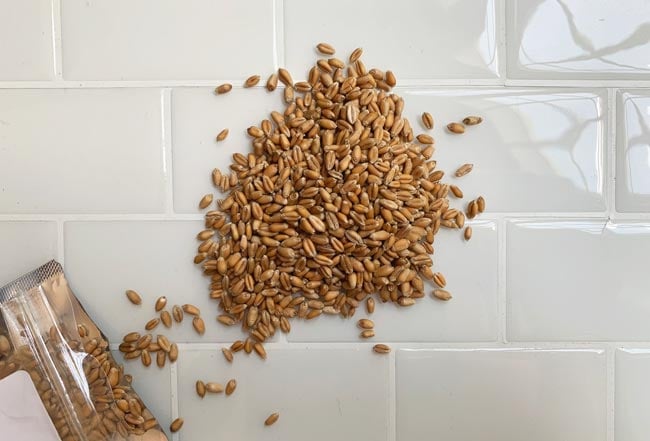 Take the seeds and sprinkle them over the top layer of soil. No need to bury them, they'll grow right on top of the soil.
If growing without soil, just spread the seeds out evenly on top of the paper towel.
Give the seeds a healthy watering and in as little as 2 days you should start to see them sprout!
Cat Grass Planter Kits
Growing cat grass is super easy but If you want to simplify the set up process, then you can look into cat grass planter kits that come with everything you need.
There are a number of stylish options available. Shop cat grass planter kits now on Amazon
Here's a cute rustic wood planter kit:
How Much Seed to Use in Your Planter
You want enough seed to cover the top layer of soil in your planter without the seeds overlapping. There's no exact science because cat grass is so easy to grow, you can't really mess it up.
However, the look of your plant will be affected depending on the amount of see you use. So, if you want a lush bed of grass, then go ahead and completely cover the top layer of soil with seed. If you want it a little more of a sparse look, then leave some soil showing between the seeds. Up to you!
Have questions?
Or want to share a photo of your cat grass planter you've used to decorate your house? Leave a comment! I'd love to hear from you and your ideas may help inspire others.