These baked Parmesan eggplant fries + dipping sauce is an easy and tasty way to get your veggies. Kid friendly too!
Eggplant: a fan or not a fan?
Can I be honest, I never really liked eggplant. I do think they are pretty though. I think there was a bit of fear of the unknown. I didn't really know what to do with an eggplant. Do you leave the skin on? Do you peel it? There are male a female eggplants, what's the difference??
Also, they tasted kind of plain and the skin is not easy to peel… there is a lot to learn about these purple veggies! But once you learn the things you can do with egg plant, and how they can literally melt in your mouth, your eyes will open like mine did!
Eggplant fries are surprisingly kid friendly.
My love for eggplant started with my son brought home an eggplant from daycare many years ago now. He was so excited to make something with it! So we experimented with making fries and have, over the years, made other things like eggplant Parmesan.
My kids however, prefer eggplant in the form of fries.
Can you eat eggplant skin?
Yep. You can. Or you can peel it. Here are the pros and cons. Pros: the skin, like many other vegetable skins, is rich in vitamins. So leaving the skin on your eggplant offers some added health benefits. It also looks pretty! Cons: eggplant skin can be a little rubbery and thick making it difficult to bite through without some effort. This gets in the way of the silky smooth texture inside the eggplant. Ideally, you'll want to work with a fresh, young (small) eggplant with skin that isn't super thick and tough. A very large eggplant will likely have tough skin.
How to Tell if an Eggplant is Ripe
An easy way to tell if an eggplant is ripe and ready to eat is if its skin has a gloss to it. If it looks shiny, that's a good sign! Another way to tell is by feeling it. Does it feel somewhat soft when you squeeze it? That's good! Too firm and it's not yet ripe.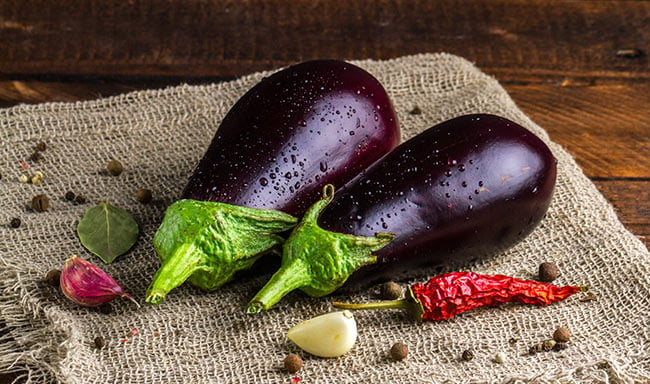 How do you peel an eggplant?
You can use a vegetable peeler but it can be tricky. So you may have better lucky using a sharp knife, and carefully removing the skin in shallow strips.
Do male or female eggplants taste better?
Say what? This is a weird little quirk that might not really make a big difference, but some say female eggplants contain more seeds and therefore have a more bitter taste and obviously a more seedy texture.
How to tell the difference between a male and female eggplant?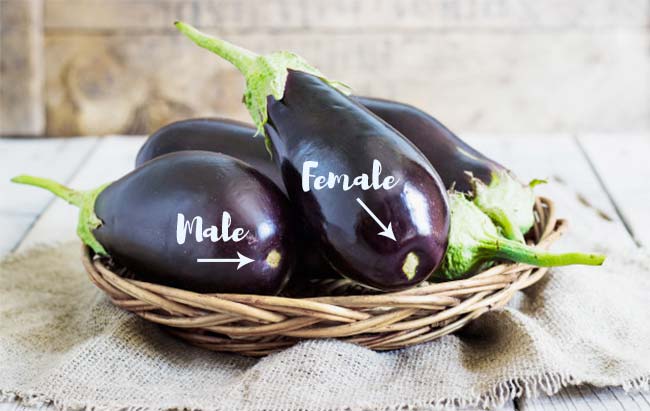 Look at the bottom of the eggplant, on the opposite end as the stem, and if you see a circular shape, it's male. If you see more of an elongated slit or rectangular shape, it's female.
Can you eat eggplant seeds?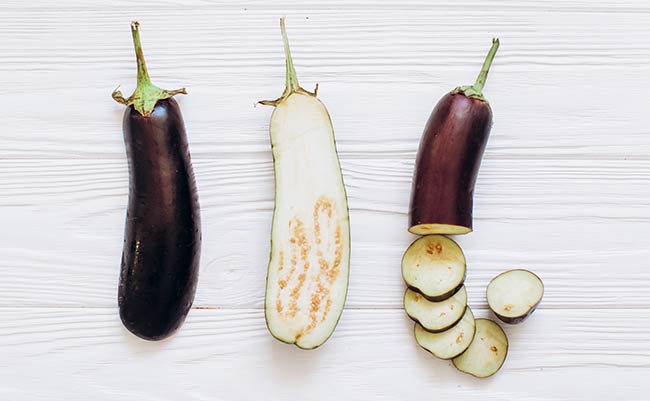 Yes, you can. You do not need to de-seed an eggplant. The seeds are very small. The seeds do have a bitter taste but this is lessened when cooked. If the bitter taste bothers you, select a male eggplant with less seeds. It's not impossible, but since the seeds are so small and are embedded into the "meat" of the eggplant, it would be very difficult to remove them.
Dress up your ketchup!
Make your ketchup fancy by adding in a few extra ingredients to the store bought condiment and voila! You have a delicious dipping sauce for these eggplant fries.
This recipe is an adaptation of my cooking heroine Giada De Laurentiis' recipe. Love. Her. This is my we've-got-30ish-minutes-until-bath-time adaptation of her much more gourmet recipe.
Want more easy recipe ideas?