This sangria is perfect to take camping or to outdoor music festivals.
This post may contain affiliate links. As an affiliate, I earn a commission.
Jump down to Recipe
Let me just start out by saying that this camping sangria goes down a little too easily! 😉
Sangria is for sharing!
I highly recommend making lots of friends around the campsite and sharing this tasty little beverage. Especially if you plan to eat any of the fruit, a cup or two will be plenty. Trust me.
This is camping sangria. Meaning it's specifically designed to travel, making it the perfect make-ahead cocktail to take camping.
So, you'll need a few things to make this portable and suitable for camping:
Watch how easy it is to make :
Have sangria, will travel.
The key here is the method of concocting and also storing this campsite-friendly beverage. So, once you gather everything you need to make this, you're half way to making your first batch of camping sangria. 🙂
I first made this sangria on the fly before a camping trip and just used random fruit and soda I had on hand. What I had, happened to be grapes, peaches and strawberries. A little bit random. But it wasn't bad!
What fruits work best in this sangria?
Truly, any combination of fruits can work in a sangria. You can get as creative as you want when you pick your fruits. I made another batch and tried to pick more tropical fruits in order to give it that vacationy-vibe! So choose your favorite fruit combo.
What mixer is best?
You can also choose your favorite carbonated beverage. I used Fresca because, again, that's what I had. Any carbonated or non carbonated juice works as a mixer. I just happen to enjoy the bubbles.
What type of vodka works best?
You can also try flavored vodka. That's another way to customize the taste of this sangria. The possibilities are endless!
Make this sangria your own!
Every time you go camping, have fun and mix up a new flavor combo to share! It's a sure way to meet fried around the camp site, I'll tell you that, ha!
Feel free to share any variations you've tried in the comments below.
Variations of this sangria I've tried
You'll see my tropical variation if you click to the left on the image slider above where I used Limoncello (instead of vodka) peaches, pineapples, papaya and cran-pineapple juice for a more tropical flavor. Campsite luau anyone??
Check out this Mason jar with pour lid
A company right here in my town of Erie, PA invented these awesome mason jar pour caps.
These mason jar caps are great for this particular recipe because it allows you to mix up and store your sangria concentrate. Then you can repurpose the mason jar as a drinking glass with a lid once you mix the sangria in your pitcher!
The lid keeps out bugs and prevent spills (party foul!). You can buy the mason jar pour caps on Amazon.
Want more camp recipe ideas?
Since you're cool campers like us, check out our Campfire Rotisserie Chicken recipe and my Pinterest board dedicated to other camping-friendly food and drink recipes to get recipe ideas for your next camping trip.
Want more fun drink ideas?
Browse all my cocktail recipes
This camping sangria recipe was featured on Wow Me Wednesday and on Buzzfeed!
Happy camping, friends!
Please note: Certain laws may prevent you from transporting this in the passenger area of your car, or at all. Check the open container law in your area or ask a police officer if you're concerned about transporting this to your campsite. This beverage is for 21+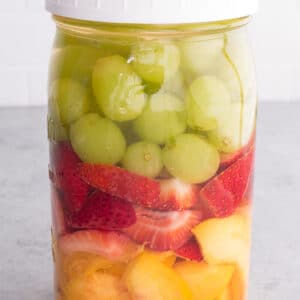 Ingredients
2

peaches

sliced

8-10

strawberries

sliced

1

cup

white or red grapes

750

ml

white wine

750

ml

vodka

you will have leftover

1

liter

Fresca

You can try other soda flavors too!
Instructions
Fill up the mason jar with peaches, strawberries and grapes.

Pour in vodka a 1/4 of the way up the jar. Fill up the remainder of the jar with wine; cork the rest of your wine.

Chill sangria concentrate overnight or at least for several hours.

Pack up the sangria concentrate, 1-liter bottle of Fresca and remaining wine in an insulated bag. When you get to the campsite, mix all 3 together in the pitcher and enjoy!

Remember to drink responsibly!
Nutrition Facts
Camping Sangria
Amount per Serving
% Daily Value*
* Percent Daily Values are based on a 2000 calorie diet.