This post may contain affiliate links. As an affiliate, I earn a commission.
Jump down to Recipe
This frozen Mai Tai is going to be your new BFF for summer weather! A classic Mai Tai is just one of those drinks that conjures up images of warm sandy beaches, palm trees and crystal clear waters. a.k.a. vacation, baby!
The Mai Tai = Vacation Vibes
So, whether or not a tropical vacation is in your budget this year, you can bring the tropics to you with the help of this pretty little frozen concoction.
Watch how to make a frozen Mai Tai slushie!
For hot days, add ice.
This cocktail is perfect for hot days but it melt quickly! So, you have a few options. You can add in some ice when you blend this mixed drink, or you can serve it over ice. I recommend crush ice but ice cubes work to keep things cool as well.
It also helps to chill your glass before hand. Just put your empty glass in the freezer for at least an hour before you're ready to enjoy this cocktail. This will help keep this frozen drink nice and frosty for longer.
Mai Tai slushies are next level! Here's how to make a big batch for a crowd.
These Frozen Pineapple Mai Tais are really fun to make and enjoy with friends for a festive cocktail hour. Because they are frozen, to make a big batch, you'll need a way to keep the drink frozen without it turning into a solid block.
So if you're planning to serve a large party, then you'll need to invest in a commercial grade frozen drink dispenser. I have yet to find a non-commercial version that appears to work. I realize that's a hefty investment! So depending on where you live, you may be able to rent one.
The other option is to sort of hack your own version together. It's not perfect but it works with a little babysitting. Again, I haven't found a blender with a build in spout that actually has good reviews.
So I'd recommend using a large capacity blender to mix these, then transfer immediately to your tiki cups, or to a beverage dispenser. You'll need to keep the beverage dispenser chilled on ice in order to keep things frozen.
Every now and then, give the dispenser a shake to keep things loose enough to flow out of the spout, and more evenly frozen. If things start to melt, transfer the dispenser into the freeze for awhile.
If it's a hot day, be sure to keep this in a shady place and you'll probably want to serve over crushed ice or ice cubes. or you can ad some ice right into the blender when mixing this frozen drink.
What liquors you will need to make this classic yet frozen Mai Tai
A true Mai Tai calls for rum which you might already have on hand. Then there are two pretty unique liquors that you're likely not going to have on hand unless you've made Mai Tais before—orgeat almond syrup and orange curaçao. The syrup is key for the hint of almond flavor and the orange liquor bring the citrus to the table.
I've tried making Mai Tais with substitute ingredients like orange juice and almond extract. It's just not quite the same. So, here's my suggestions. Go ahead and invest in these two special ingredients you'll need, make a big batch, and invite your friends over to make it worth it! 🙂
The special Mai Tai glass is key!
You can go with actual the glass tiki cups, I got mine from Amazon. They look so cool since yuo can see the pretty colors of this cocktail through the glass, but they're of course a little price. So maybe a plastic version is better for you? You decide! But the cup is really key to completing the Mai Tai experience.
If you love Mai Tais and have them a lot it might be worth getting you own set of tiki glasses. If this is just a one-time deal for you, like maybe you're serving these at a Hawaiian luau or just a tropical-themed happy hour or party, then check out these less expensive yet still fun and colorful tiki cups.
Please drink responsibly! This recipe is for ages 21+. To create a virgin Mai Tai, just leave out the rum!
Want more homemade cocktail ideas?
Browse all my cocktail recipes
The frozen Mai Tai slushie recipe was featured on Saturday Sparks and South Your Mouth!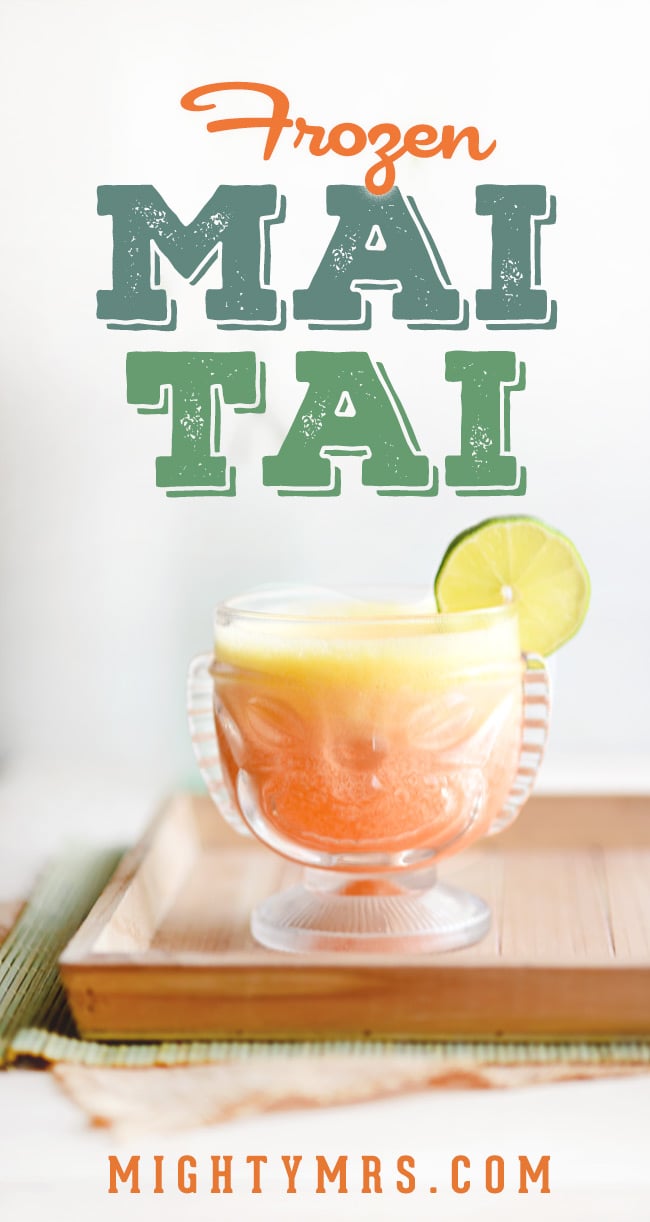 Frozen Pineapple Mai Tai
A classic Mai Tai is just one of those drinks that conjures up images of warm sandy beaches, palm trees and crystal clear waters.
Read Comments
Print
Pin
Rate
Ingredients
½

cup

frozen pineapple

1

oz

orange curaçao

½

oz

orgeat almond syrup

1

oz

dark rum

1

oz

light rum

or double up on dark rum

1 ½

oz

lime juice

¼

oz

grenadine

Slice

of lime for garnish

3-4

ice cubes (optional for hot days)
Instructions
Add pineapples, orange curaçao, orgeat almond syrup, light rum, dark rum, and lime juice to your blender and blend until smooth. Optional: Add ice if you're enjoying this on a hot day so it stay frozen longer. OR serve over crushed ice.

Add grenadine to a 15oz glass, then pour the Mai Tai blend over top to create a layered effect. Stir slightly to blend the grenadine with the mix to create a gradient effect.

Serve in a tiki glass with a slice of lime as a garnish. For hot days, you may want to add crushed ice to your glass to keep your frozen mai tai cold and frosty.
Notes
This frozen cocktail stays frozen longer if you put this mixture in the freezer after preparing for at least 1 hour. For hot days, this is a must!
Nutrition Facts
Calories:
156
kcal
|
Carbohydrates:
18
g
|
Protein:
1
g
|
Fat:
1
g
|
Saturated Fat:
1
g
|
Polyunsaturated Fat:
1
g
|
Monounsaturated Fat:
1
g
|
Sodium:
6
mg
|
Potassium:
76
mg
|
Fiber:
1
g
|
Sugar:
14
g
|
Vitamin A:
35
IU
|
Vitamin C:
26
mg
|
Calcium:
9
mg
|
Iron:
1
mg
Want more easy recipe ideas?
Follow @MightyMrs on Pinterest