This post may contain affiliate links. As an affiliate, I earn a commission.
Jump down to Recipe
Ladies and gentlemen, this is going to be epic! Ready? Introducing… the Thin Mint Cocktail.
Three ingredients. Tastes just like a Thin Mint Girl Scout cookie. Perfect for the holidays or St. Patrick's Day or any day really. 🙂
No bartending or mixology experience needed!
First of all, let's just get out of the way that I'm not a bartender. I know a few. I do enjoy a flavorful adult beverage. But that's about as far as my expertise goes. However I invented this cocktail. On accident. Proud moment. Trust me though. It's a very, very happy accident.
How the Thin Mint cocktail that tastes like the cookie came to be
How this glorious cocktail came to be, went something like this: I ran out and bought some crème de menthe because my plan was to share with you all (and I still am going to share with you soon) a cocktail my grandpa enjoyed.
My family called it "Grandpa's green drink" but it actually has a proper name, which is a green stinger. You can find my recipe for that green Stinger drink here.
So, after I made and photographed my grandpa's green drink, I wanted to see what else would go well with the crème de menthe and that's when I spotted a bottle of Kahlua pre-mixed mudslide in my recently organized liquor cabinet (spring cleaning is a real thing!).
I added the two cordials to a chilled rocks glass full of crushed ice, gave it a stir and took a sip. And it was like a liquid thin mint cookie! So nuts.
Made using mudslide and creme de menthe.
I'm not sure how old the bottle of mudslide in my cabinet is and I'm not even sure if you can buy mudslides ready-mixed anymore, so if you have trouble finding it, here's how to make your own mudslide.
The garnish makes the drink!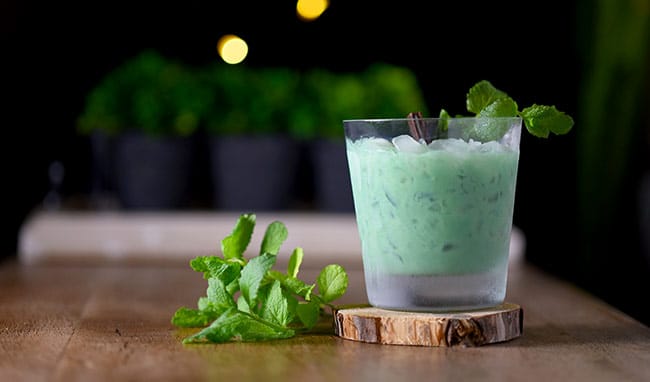 I recommend garnishing this drink with an Andes mint chocolate and a fresh sprig of mint.
When in season, why not go full thin mint lover here and grab a box of Thin Mint Girl Scout cookies too? I mean, it's for a good cause after all. A thin mint cocktail with a side of thin mints? I think yes. 😀
Make this Thin Mint cocktail virgin!
Want to make a virgin version of this cocktail? You can! Brew a strong cup of coffee, add a heavy pour of cream, sugar and then chill. Use this mixture in place of Kahlua and add creme de menth syrup.
For a more kid-friendly alcohol-free version, you can use chocolate or vanilla milk and creme de menth syrup!

Want to try making some other fun cocktails?
Browse all my cocktail recipes
**You must be 21 or older to enjoy this beverage! Please drink responsibly**
This Thin Mint cocktail was featured on Wine'd Down Wednesday, Inspiration Monday, Wow Me Wednesday, Sew It Craft It Cook It and South Your Mouth!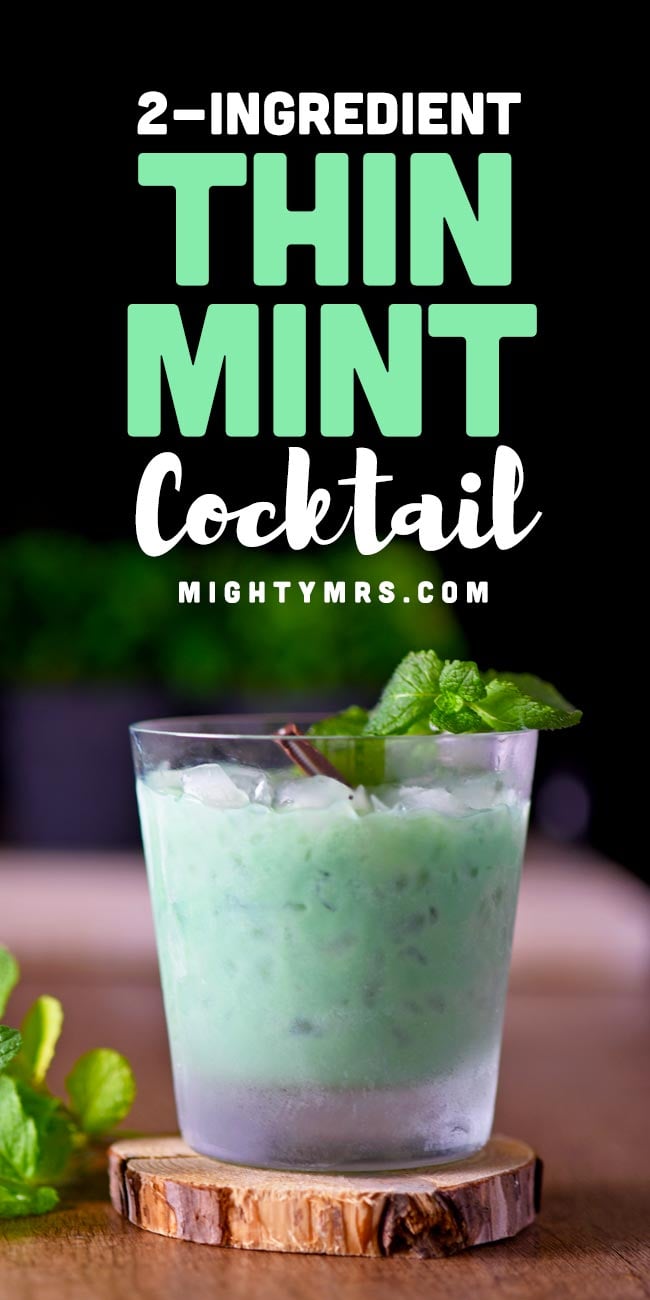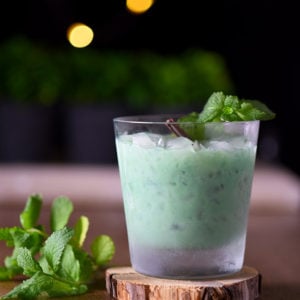 Thin Mint Cocktail
This easy frozen cocktail is made using ice, Kahlua Mudslide and creme de menth. Tastes just like a Thin Mint Girl Scout cookie! A fun green drink to make for holidays, especially St. Patrick's Day.
Read Comments
Print
Pin
Rate
Ingredients
2

parts

Kahlua pre-mixed Mudslide

1

part

Crème de menthe

crushed ice

1

Andes chocolate mint

optional for garnish

1

sprig of fresh mint leaves

optional for garnish
Instructions
Fill a chilled rocks glass with crushed ice.

Pour in Kahlua pre-mixed mudslide then Crème de menthe and stir.

Garnish with an Andes mint and a sprig of fresh mint.
Notes
To keep cocktail frozen longer, start with a chilled glass. Place glass in the freezer at least 2 hours prior to mixing your drink.
Try using a shot glass to portion ingredients.
Nutrition Facts
Calories:
300
kcal
|
Carbohydrates:
38
g
|
Protein:
1
g
|
Fat:
1
g
|
Saturated Fat:
1
g
|
Polyunsaturated Fat:
1
g
|
Sodium:
6
mg
|
Sugar:
38
g
|
Iron:
1
mg
Want more easy recipe ideas?
Follow @MightyMrs on Pinterest