This post may contain affiliate links. As an affiliate, I earn a commission.
Jump down to Recipe
We're keeping it old school here today with these glossy candy apples! Not only are they pretty, they're pretty delicious. Maybe even a bit healthy too. Not bad for a kid-friendly party treat.
Using a candy apple kit
The candy apple kits at the grocery store were calling our name and my kids convinced me that we needed to give them a try. If you're thinking about making candy apples too, let me give you a few tips for success.
How do you make candy apples at home?
The simplest way to make DIY homemade candy apples is with a kit. It comes with everything you need other than the apples however the instructions can be a little hard to follow. We used a Concord Foods candy apple kit and if you follow the instructions, you might end up with the same problem we did.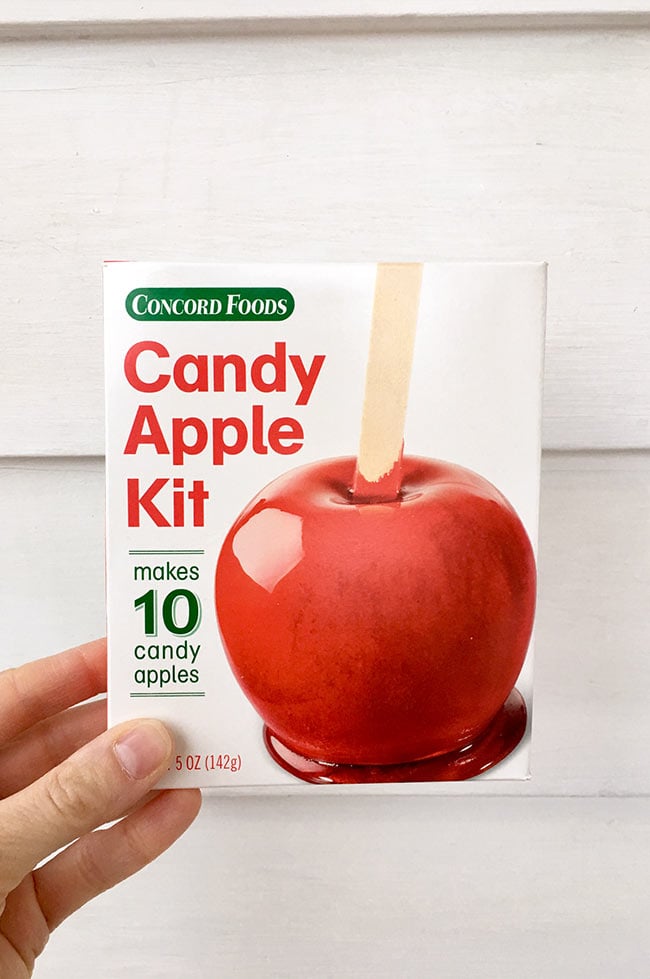 Buy this candy apple kit on Amazon.
Tips for making perfect candy apples
Even using a candy apple kit, our first attempt was a fail. So, I want to save you some trouble here.
Use a candy thermometer
We found that the liquid candy does not need to get all the way to 302 degrees per the package instructions. I wasn't about to get the candy to that temperature without burning it.
So the second time around making these, when the liquid candy coating had been boiling awhile, I noticed it started to smell different at around 250 degrees—it smelled like it was about to burn. Remembering the smell from the first failed attempt, I shut the heat off and quickly dipped the apples. They came out perfect. The candy hardened just it like was supposed.
Need a candy thermometer? You can shop them on Amazon.
I actually highly recommend a digital candy thermometer so you can get an instant reading. Since timing is important, waiting around to check the temperature can be tricky. Shop digital candy thermometers on Amazon
Other than the temperature issue, the Concord Food candy apple kit was great. The candy apples were super easy to make, they tasted great and they looked amazing! These candy apples would be perfect for a fall party or just a fall afternoon activity.
Be quick and careful!
One last tip I'll give you is that I noticed you have to dip the apples right away. The candy cools quickly and if you are too slow you can end up with bubbles. So to get bubble-free candy apples, you gotta be quick! And careful not to burn yourself. 😉
What is the best apple for candy apples?
You can use red, green or even yellow apples. However, I personally really like green apples because of how their sour flavor contrasts with the sweet candy coating. The skin is also pretty thick so it can withstand the heat of the melted candy against it pretty well.
Here's everything you need:

Want more party recipe ideas?
These candy apple kit tips were featured on Wine'd Down Wednesday and South Your Mouth!

Candy Apple Kit Tips
We're keeping it old school here today with these glossy candy apples! Not only are they pretty, they're pretty delicious. Maybe even a bit healthy too. Not bad for a kid-friendly party treat.
Read Comments
Print
Pin
Rate
Instructions
Thoroughly wash your apples. Insert sticks into apples.

Prepare candy coating per the packaging instructions except two things—use medium heat and slowly increase the heat after boiling for about 10 minutes, using a candy thermometer to check the temperature. When the temperature reaches around 250, remove from heat and immediate dip the apples to coat.

Place dipped apples on wax paper or a silicon baking sheet to cool and set. They are ready to eat in about 5 minutes!
Notes
Be sure to read the post for tips before using the candy apple kit.
Nutrition Facts
Calories:
333
kcal
|
Carbohydrates:
74
g
|
Protein:
3
g
|
Fat:
5
g
|
Saturated Fat:
1
g
|
Polyunsaturated Fat:
2
g
|
Monounsaturated Fat:
1
g
|
Cholesterol:
4
mg
|
Sodium:
141
mg
|
Potassium:
360
mg
|
Fiber:
5
g
|
Sugar:
60
g
|
Vitamin A:
144
IU
|
Vitamin C:
10
mg
|
Calcium:
92
mg
|
Iron:
1
mg
Want more easy recipe ideas?
Follow @MightyMrs on Pinterest