These Asian Sesame Chicken Thighs are so easy to make! Made with bell peppers and onions, ginger soy dressing, and Teriyaki sauce. Everything cooks in the crockpot. Serve over rice. Great for dinner or meal prep lunches.
This post may contain affiliate links. As an affiliate, I earn a commission.
Jump down to Recipe
Here's one of those easy Crockpot dinner recipes where you just toss everything in and it slow cooks to perfection while you go about your day: Crockpot Asian Sesame Chicken Thighs.
Just a handful of ingredients is all you need.
The main players here are chicken thighs, bell peppers, onions, bottled Asian Sesame dressing and a few splashes of Teriyaki sauce. Toasted sesame seeds finish things off and everything gets served over a bed of white rice.
Easy peasy.
Why chicken thighs?
Chicken thighs are dark meat and they slow cook well. They have a bit more fat than chicken breasts and therefore more flavor. The fat also helps the chicken retain its moisture as it slow cooks. This is key for best results. Could you use chicken breasts though? Sure. But chicken thighs are going to be optimal.
So we're using salad dressing as the sauce here?
Yep! I use Ken's Asian Sesame dressing with ginger and soy. You can go with the Lite version of this if you're looking to cut calories but I recommend the regular dressing if you're looking for maximum flavor.
The other aspect of this sauce is the Teriyaki sauce. This has many of the same ingredients as the dressing, but what it brings is the lovely Asian wine flavor. The wine adds a really nice tang to this sauce that I think you'll love. Since Teriyaki sauce is almost like a condiment, you can adjust the amount you use to your liking. You stir it in at the end so simply taste your sauce and add a bit more more if you'd like.
Why do we need to add corn starch?
You don't have to add corn starch. But it's not much and it really works wonders to thicken the sauce and coat the chicken and rice nicely. Since corn starch, like flour, can clump instead of dissolve evenly when you add it to liquid, you want to be sure to create a corn starch slurry using the Teriyaki sauce before you add it to your crockpot.
Corn starch slurries are often used in Asian dishes to thicken sauces. A slurry is created when you use a small amount of corn starch combined with a small amount of water or other cold liquid until it's dissolved. In this case, we're using Teriyaki sauce not water.
Corn starch activates and thickens when it's warmed. So, when you add your Teriyaki corn starch slurry to the Sesame Asian dressing that's already hot in your crockpot, the magic will happen! Just stir in the slurry and watch it thicken before your eyes to create a beautiful glossy and translucent sauce.
Toasting Sesame Seeds
You can buy toasted sesame seeds or you can toast your own. Buying them toasted is very convenient and safe because it's easy to burn sesame seeds during the toasting process. However, the toasted seeds can sometimes be four times the price! So, if you're looking to save a few bucks, you can toast your own sesame seeds.
Here's how to do it. Heat your toaster oven or regular oven to 400˚. Pour your sesame seeds onto an ungreased baking sheet and gently shake the pan from side to side to get the seeds to spread out on a single layer on the baking sheet. Bake for just 2-4 minutes keeping a close eye on them. As soon as they start to turn golden brown, remove the baking sheet from the oven, give the pan a shake to loosen any stuck seeds and then carefully pour the toasted seeds onto a cool plate so they stop cooking.
Substitutions and Add-ons
This recipe is really versatile! You could use a pork loin or any cut of beef in place of the chicken. You could also try adding in different veggies in place of or in addition to the bell peppers. Broccoli, carrots or an Asian vegetable mix would be a few I'd try. Water chestnut would also be yummy added to this dish! Have some fun experimenting to discover what you and your family like best.
Want more easy dinner ideas?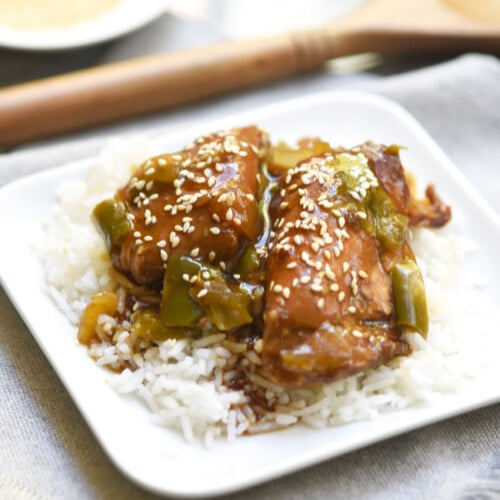 Crockpot Asian Sesame Chicken Thighs
These Asian Sesame Chicken Thighs are so easy to make! Made with bell peppers and onions, ginger soy dressing, and Teriyaki sauce. Everything cooks in the crockpot. Serve over rice. Great for dinner or meal prep lunches.
Read Comments
Print
Pin
Rate
Ingredients
8

chicken thighs

2

tablespoon

cooking oil

2

bell peppers

chopped

1

small onion

chopped

16

oz

Sesame Asian dressing

¼

cup

Teriyaki sauce

or more to taste

3

tablespoon

corn starch

4

cups

cooked rice

2

tablespoon

toasted sesame seeds
Instructions
Coat bottom of slow cooked with oil and add chicken thighs.

Layer on chopped peppers and onions then empty contents of Asian dressing over top.

Cook on high for 2 hours or low for 4 hours or until chicken reaches an internal temperature of 165˚.

Add Teriyaki sauce to a small bowl or ramekin. Whisk in corn starch. Add corn starch mixture to the crockpot and stir until sauce thickens.

To serve, spoon out chicken, peppers and onions onto a bed of rice then top with toasted sesame seeds.
Nutrition Facts
Calories:
904
kcal
|
Carbohydrates:
47
g
|
Protein:
31
g
|
Fat:
66
g
|
Saturated Fat:
12
g
|
Polyunsaturated Fat:
26
g
|
Monounsaturated Fat:
23
g
|
Trans Fat:
1
g
|
Cholesterol:
148
mg
|
Sodium:
1336
mg
|
Potassium:
614
mg
|
Fiber:
3
g
|
Sugar:
10
g
|
Vitamin A:
1387
IU
|
Vitamin C:
52
mg
|
Calcium:
73
mg
|
Iron:
2
mg
Follow Mighty Mrs. for more easy recipes!
Find @MightyMrs on Pinterest