This post may contain affiliate links. As an affiliate, I earn a commission.
Jump down to Recipe
Where are my Starbucks lovers? You're going to love this recipe for Instapot roasted red pepper egg bites!
It's inspired by the Egg White & Roasted Red Pepper Sous Vide Egg Bites available at Starbucks and is made with the same ingredients.
What's in these melt-in-your-mouth eggs bites?
It's a pretty short and sweet list of ingredients it's a wonder how they are so delicious but here's what we're working this:
• Egg whites (it's ok to use the whole egg with the yolk too)
• Roasted red peppers
• Spinach (fresh or frozen works)
• Salt
That's it. Lots of healthy things happening here yet so. much. flavor.
The texture is amazing too. These eggs bites are so light and fluffy, they taste like they are just melting in your mouth.
What makes these Instapot Roasted Red Pepper Eggs Bites so delicious?
It's the cooking method. Starbucks makes these sous vide style which is when you seal your food in a vacuum bag and then submerge in water to cook.
We're not actually doing that exact method, but something really similar that's easier and uses the Instapot. Since the Instapot uses pressure and steam to cook things, you get the same effect of evenly cooked, super moist food.
The second trick is whipping the eggs to add air.
Adding in some air bubbles before you cook these eggs bites gives them that light and fluffy melt-in-your-mouth texture.
Now, you can whisk the heck of your eggs with a whisk to add air or you can use my method which uses an immersion blender. No need to dirty a traditional blender. You can use the immersion blender and blend right in the mixing bowl. The added benefit of using the immersion blender is that is also chops up the spinach and roasted red pepper into little bits giving these eggs bites an even smoother texture.
It's not a deal break if you don't use the immersion blender, you can chop the spinach and roasted red pepper and just whisk everything together. However, if you are curious about the immersion blender and have other uses for it (hello, homemade creamy guacamole) you can pick one up for as cheap as $30.
Shop immersion blenders on Amazon
You need an Instapot for this recipe.
Of course. But you also need a silicon egg bite mold. You could get away with out one and use ramekin or another small heat-safe vessel, but the silicon makes these egg bites easily removable and the perfect size and shape. You can pick up an egg bite mold up for as little as $10. A few buck more and you can get one with a lid for easy storage (great when you want to heat and go in the morning).
How to Manually Cook with Your Instapot
1. To manually set your Instapot, simply close the lid and make sure the pressure valve is set to "Sealing."
2. Next press the "Pressure Cook" button. Adjust the pressure level to Low Pressure for this recipe using the "Pressure Level" button if needed. Press the + or – buttons to adjust the cook time.
3. It will take about 10 minutes for pressure to build and then cooking cycle will begins. You will see the cook time start to count down and then beep when done. For this recipe you want to let the pressure release naturally for 5 minutes then after that, you can carefully release the pressure value to let any remaining pressure out. Once the pressure pin next to the value drops, it's safe to remove the lid.
Want more easy and delicious breakfast ideas?
Browse all my breakfast recipes
This recipe for Instapot Roasted Red Pepper Egg Bites was featured on Meal Plan Monday and South Your Mouth!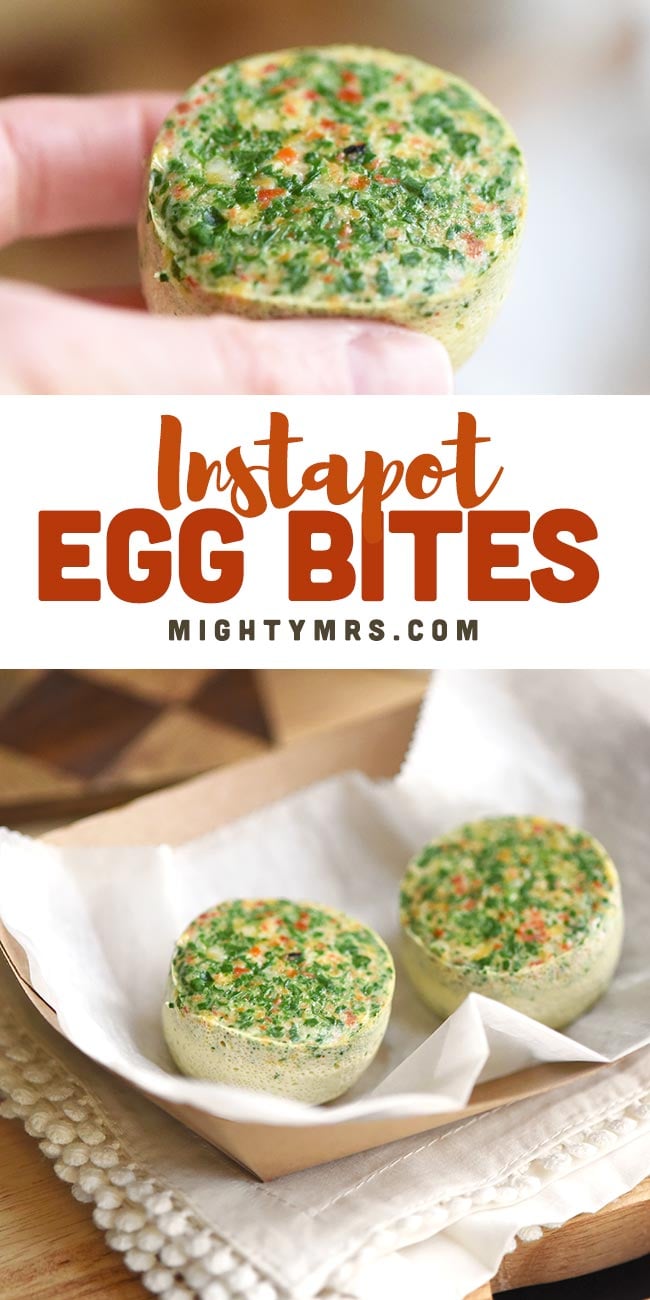 Instapot Roasted Red Pepper Egg Bites
Inspired by Starbucks Sous Vide Egg White & Roasted Red Pepper Egg Bites, this homemade recipe is easy to make in the Instapot.
Read Comments
Print
Pin
Rate
Ingredients
8

egg whites

or 4 whole eggs

¼

cup

finely chopped roasted red peppers

½

cup

finely chopped spinach

¼

cup

grated Montery Jack cheese

⅛

tsp

salt

1

cup

water for Instapot

Cooking oil or butter for greasing egg bite mold
Instructions
In a medium mixing bowl, blend together egg whites, roasted red pepper, spinach, Monterey Jack cheese and salt using an immersion blender or whisking thoroughly.

Generously grease silicon egg bite mold with cooking oil or butter. Pour egg mixture into each cup filling just below the top of each cup.

Add water to the Instapot. Place egg bite mold on top of the Instapot trivet and carefully lower the trivet and egg bite mold into the Instapot. Lay a sheet of foil loosely over top of the egg bites to prevent water from dripping into egg bites.

Close lid and set pressure value to "Steaming." Use the manual setting by pressing the "Pressure Cook" button and set the Pressure Level to Low Pressure. Set cook time using the + or - buttons to 8 minutes. Allow about 10 minutes for pressure to build then let cook for 8 minutes. When done, let pressure naturally release for about 4-5 minutes. Release the value completely and when pin drops, open the lid. Remove foil careful to not spill water onto the egg bites. Turn over egg mold onto a plate and squeeze too loosen each egg bite from the mold.

Enjoy fresh or refrigerate or freeze them, then reheat using the microwave before serving.
Nutrition Facts
Calories:
80
kcal
|
Carbohydrates:
1
g
|
Protein:
11
g
|
Fat:
3
g
|
Saturated Fat:
2
g
|
Polyunsaturated Fat:
1
g
|
Monounsaturated Fat:
1
g
|
Cholesterol:
8
mg
|
Sodium:
444
mg
|
Potassium:
183
mg
|
Fiber:
1
g
|
Sugar:
1
g
|
Vitamin A:
602
IU
|
Vitamin C:
7
mg
|
Calcium:
86
mg
|
Iron:
1
mg
Want more easy recipe ideas?
Follow @MightyMrs on Pinterest