You'll love the flavors in this mandarin orange crispy chicken salad. It's super easy to prep and is full of health ingredients. The best part is, this salad is kid friendly too!
This post may contain affiliate links. As an affiliate, I earn a commission.
Jump down to Recipe
This is a sponsored conversation written by me on behalf of Tyson® Foods, Inc.

Your whole family is going to love this Mandarin Crispy Chicken Salad!
Don't believe it? I'm willing to bet you, it's true.
Yes, even if you have very picky eaters!
No more having to make two different meals. No more having to negotiate for bites of food. This simple trick for pleasing picky eaters might just open up new possibilities for you and your family.
Here's how it works:
1. First, start with frozen Crispy Chicken Strips.
Starting with a main ingredient that everyone likes is really key to making one dinner that works for everyone.
Save prep time without the guilt.
I love the convenience and versatility of pre-cooked meats but I'm careful to choose quality frozen foods when I'm trying to save time. That's why I especially love Tyson® Crispy Chicken Strips. There are a lot of reasons they're a good choice:
They're 100% natural* (*No artificial ingredients, minimally processed)
No antibiotics ever
They're made with all white meat chicken
Kids love the crispy coating
They're an excellent source of protein
Did I mention kids gobble them up?
We're a big fan as you can see.
2. Next, plate your dinner according to who likes what.
Once you've heated your chicken strips following the directions on the package, then you'll just need to plate this dinner differently for parent vs. the kids.
Take the salad ingredients and plate them separately for the kids. Let the kids be a part of the process so they can choose what to put on their plate. Encourage them to try all of the ingredients, just separately.
You might be surprised to find that most kids will eat things like raw spinach leaves, when they're presented separately from other foods, and without dressing.
Here's what this Mandarin Orange Chicken Spinach Salad might look like plated for a kid: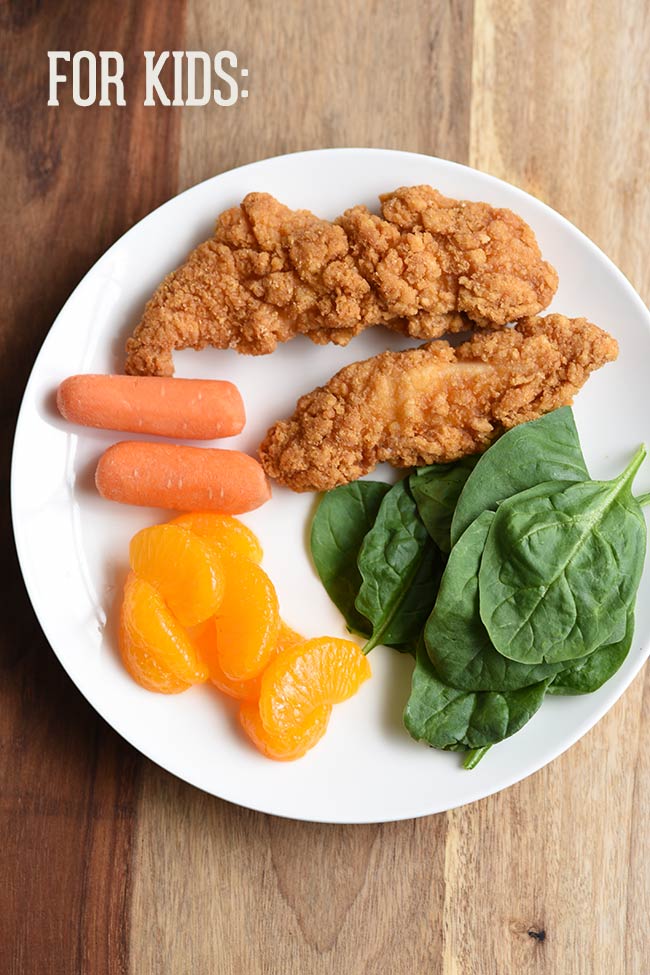 Now, take the same ingredients, layer them in a bowl and add dressing. There. You have a sophisticated, parent-friendly meal that's bursting with flavor and freshness. Same food. Just presented and enjoyed differently.
Here's what this Mandarin Orange Chicken Spinach Salad looks like, plated for parents:
Yum! Yum!
3. Offer dips to get your kids to try new flavors.
You can have kids try the salad dressing as a dip, offer their favor dip, or put together a little palette of dips to sample. This can be a fun exercise in getting your kids to learn more about what they like and might encourage them try new things. If you offer the kids multiple dips, have them tell you about which ones they like and why. Is it spicy? Creamy? Sweet? Sour? Help them identify the flavors.
Here are a few dips you could try that go well with Crispy Chicken Strips: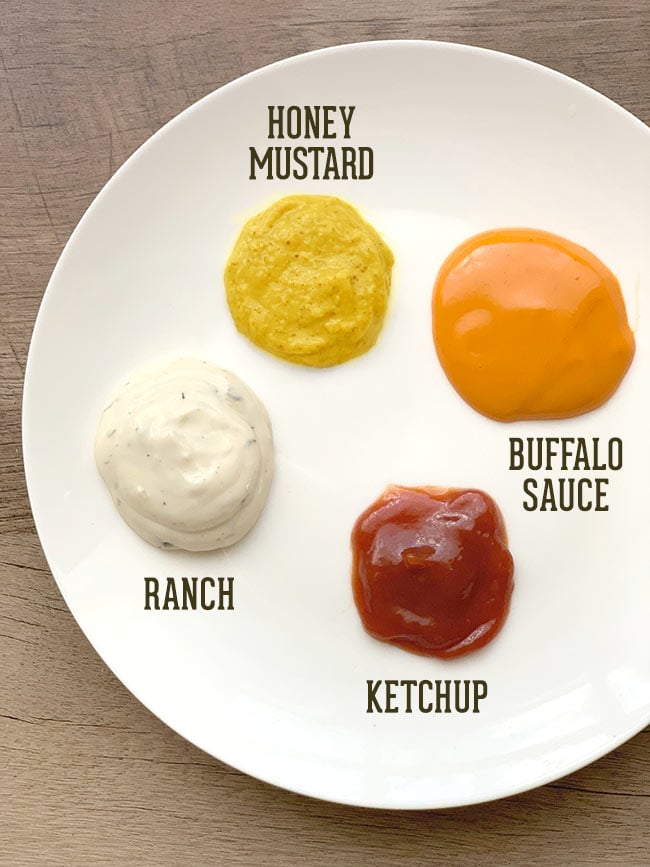 So that's how to feed picky eaters without making two meals. And without eating "kid-food" all the time.
I have been using this technique to deal with picky eaters for a while now and it works really well! My picky eaters won't usually touch a casserole. But a pile of raw spinach? Yep, they'll eat that. I've tested this out with some neighborhood kids and it works with them too. Some parents are amazed when I tell them their kid ate spinach at my house. Seem too good to be true? Try it and you just might be surprised!
Here's another trick I use to save time while still preparing homemade meals...
The struggle to make meals at home is real. Especially if you're part of a busy family.
I try to save time wherever I can and one of my favorite ways to gain an extra couple hours a week is to order my groceries online. I take advantage of Walmart's pick up service by ordering using their website, pulling it up on my laptop or my phone. It saves me from having to bring tired and sometimes crabby kids through the store and keeps me on track with what I need to buy.
When I use Walmart's grocery pick up, I am also better able to stick to a meal plan which ultimately leads to less wasted food (and money!).
Sometimes I wake up really early and go get my groceries first thing so I can have a little alone time in the car with some music. Or I schedule pick up late at night after we're done with activities and my kids can just sit in the car and rest while we load up the van and head home. It just works really well for us and I'm always telling my friends about how awesome it is. Wish it had been a thing when my kids were little babies too, really! But happy to have it now at least.
Try Walmart's Grocery Pick Up
If you haven't tried Walmart pick-up yet, be sure to check it out! Here's how simple it is: Just order online, log into the Walmart grocery app from your phone, then drive and pick up your bagged groceries! Easy!
Well, I hope you enjoy this Mandarin Orange Chicken Spinach Salad as much as we do! It's a family favorite for dinner but could be taken to potlucks or to work for lunch too. The chicken can be served warm or chilled if you need to refrigerate it. Both ways are good!
Be sure to pin this dinner idea, especially if you have picky eaters!

Want more easy dinner ideas?
This recipe for Mandarin Orange Chicken Spinach Salad was featured on South Your Mouth!
Mandarin Crispy Chicken Salad
You'll love the flavors in this mandarin orange crispy chicken salad. It's super easy to prep and is full of health ingredients. The best part is, this salad is kid friendly too!
Read Comments
Print
Pin
Rate
Ingredients
4

Tyson® Crispy Chicken Strips - Shop them now at Walmart!

½

cup

fresh spinach leaves

1

cup

tri-color coleslaw mix

substitute 4 baby carrots for kids

1

cup

mandarin oranges

drained

¼

cup

salted sunflower seeds

or slivered almonds

3-6

tablespoon

Asian dressing
Instructions
Prepare Crispy Chicken Strips according to package.

For kids: Plate Crispy Chicken Strips with spinach, baby carrots, mandarin oranges and sunflower seeds on the side, portioned separately. Offer a variety of dips to try!

For parents: Layer spinach leaves, coleslaw mix, mandarin oranges, cooked Crispy Chicken Strips and sunflowers seeds in a bowl. Drizzle with Asian dressing to taste.
Notes
Dip ideas: Ketchup, Honey Mustard, Buffalo Chicken Sauce, Cheese Sauce, Ranch Dressing
Nutrition Facts
Calories:
382
kcal
|
Carbohydrates:
21
g
|
Protein:
27
g
|
Fat:
22
g
|
Saturated Fat:
3
g
|
Polyunsaturated Fat:
12
g
|
Monounsaturated Fat:
5
g
|
Trans Fat:
1
g
|
Cholesterol:
64
mg
|
Sodium:
494
mg
|
Potassium:
752
mg
|
Fiber:
5
g
|
Sugar:
14
g
|
Vitamin A:
1442
IU
|
Vitamin C:
42
mg
|
Calcium:
82
mg
|
Iron:
2
mg
Follow Mighty Mrs. for more easy recipes!
Find @MightyMrs on Pinterest