Ever had an Amaretto sour? If not, you're in for a treat! I love lemons so this was a hit with my tastes buds.
Amaretto is definitely a sweet liquor so even without the simple syrup, you instantly get that glorious sweet and sour combo once you add the fresh lemon juice. The addition of a squeeze of orange and a Maraschino cherry (I add a little bit of the juice too) really produce the rich yet smooth flavor that's this cocktail is known for.
I think I'm going to make craft cocktails be a regular Friday thing. Whatduthink?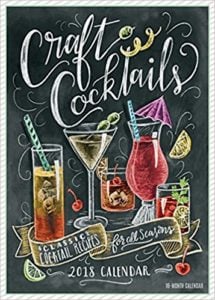 I've always appreciated a good cocktail and more recently have been interested in craft cocktails. But what the heck even is a "craft cocktail" and why is it so special. You can get the full scoop on craft cocktails here, but in a nutshell, it's a cocktail involving a liquor and a complimentary mix of fresh ingredients. So, instead of diet coke as your mixer, you'd likely be getting simple syrup and some other natural flavoring like lemons, mint, pineapples, raspberries, etc.
So, I've known for awhile that I wanted to do a cocktail series, and what better day to do it than Fridays but I wasn't sure where to start… until I came across this gorgeous hand-drawn cocktail calendar on Instagram. I ordered it, hung it up and then took it back down to look through the recipes. I was inspired! So I set up shop one night and created the first five drinks in this new series using the recipes featured in the calendar as my guide. To see all the cocktails in the series go here.