These crabs cakes are made with no bread crumbs, lots of real jumbo lump crab meat and some classic spices like Old Bay to zest things up.
This post may contain affiliate links. As an affiliate, I earn a commission.
Jump down to Recipe
These crabs cakes are made with no bread crumbs, lots of real jumbo lump crab meat and some classic spices like Old Bay to zest things up.
A true Maryland crab cake is made without bread crumbs.
Guys, I hate to break it to you, but unless you have dined in or around the state of Maryland, chances are that "Maryland Crab Cake" you ordered off of the menu, isn't the real deal.
Real Maryland crab cakes don't taste like filler because instead of using bread as a binder which quickly become saturated and soggy, an authentic Maryland crab cake employs a very small amount of nondescript starch. Like a few crushed saltine crackers.
Why is using saltine crackers better than bread crumbs?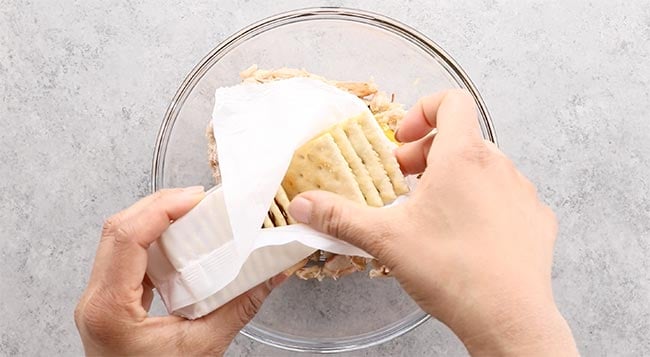 The difference is, bread crumbs are typically made with bread flour which has more protein and more gluten. This gives bread it's chewy texture but that same chewy texture is not really desirable when you're talking about putting it into a crab cake. Crackers, on the other hand, are typically made with all purpose flour which produces a less chewy, more crisp taste in this case.
Less starch. More meat.
The other trick is, to use only what you need to bind the crab meat together to form a patty. The crab should be the hero here. The crackers are only doing a job and should necessarily not be tasted.
Many places fill crab cakes with bread crumbs or other fillers because it's cheaper than filling them with actual crab meat. You only need a small amount of start to get the job done.
What happens if I just leave out the crackers?
Well, since crab does not naturally bind with itself like other more fatty meats, it's helpful to have some amount of starch plus an egg. The crab cake will likely fall apart without any starch at all.
Gluten-free seekers:
If you are looking for a gluten-free option, you can try gluten-free substitutes like gluten-free saltines, but results may vary. If you've tried this, please leave a comment below for other readers who are curious. I do not have a gluten intolerance so this decision to leave out breadcrumbs is strictly based on taste and texture.
Crab cakes are actually super easy to make!
Watch step by step how it's done.
Just for fun, here are some ways to spot a fake Maryland crab cake.
If you're at a restaurant and you're just not sure if you should opt for the crab cakes or not, here are some ways to help you decide.
It's most likely not a real Maryland crab cake if:
It's called a "Maryland Crab cake." Ha! Trickery. It's like if it's trying to hard to be the real deal, it's probably not the real deal.
It tastes more like breadcrumbs than anything else. – Sadly, this only happens after you order.
You can't see big, lump pieces of white crab meat.
There's an orange skin on your crab (Oh no! That's imitation crab meat).
It's priced less than $9.99. Real lump crab meat is $$$.
If you didn't know. Now you know.
What's the best type of crab to use for a crab cake?
The most delicious crab cakes are going to be made from jumbo lump crab meat from freshly picked crabs. Hands down.
You can buy a bushel of crabs, steam them, invite your friends and family over and feast! Pick the leftover crabs for that yummy fresh meat and make yourself a crab cake!
Do this after your friends leave or they will want you to make them one too. ? Or if you have enough, you could be nice and share. 😉
If you don't want to go to the trouble of cooking your own crabs but you have access to a seafood market that sells Maryland crabs, chances are, you can purchase cooked lump crab meat from then in a small container. This is also an excellent option. It'll be expensive but obviously a big time saver.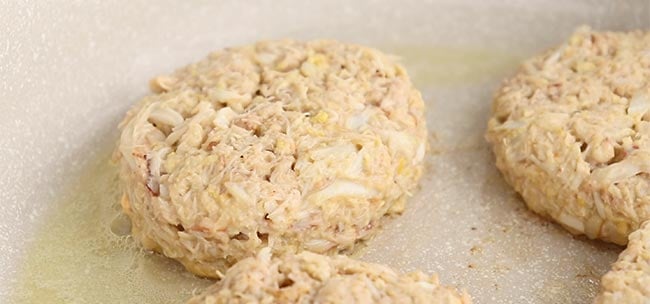 Can I use canned crab meat?
If crabs aren't in season or you don't live anywhere remotely close to a place that sells crabs or fresh seafood, fret not. You still have options. You can opt for canned crab meat.
I no longer live in Maryland sadly. We are up in Pennsylvania now and fresh crabs aren't available on the side of the highway like they are in Maryland. So, I actually use canned crab meat. It's pretty good.
But beware, not all canned crab meat is create equal!
The best canned crab meat is available in the seafood section of your grocery store. It costs about $20 per can and will be refrigerated and labeled "lump crab meat." If you're lucky, you can sometimes find it on sale. Whenever I see it on sale, I grab up a few cans to make crab cakes and one of my favorite appetizers, this crab dip.
Of course fresh crab meat is just better.
With canned crab meat, you may not get big, flaky chunks of white crab meat like you would if you buy or pick your crabs fresh. Also, the meat will have lost some of it's flavor after being packed into the can and sitting for awhile.
If you're a stickler for the best quality but don't have access to fresh seafood, then another option is to order fresh crab meat online. Just make sure when you order, that you're getting real crab meat from a place located in Maryland. It's not going to be cheap.
So, since real crab cakes are made up of mostly crab meat…
The quality of your crab will affect it's flavor.
Now that you know the difference between fresh crab meat, canned crab meat and imitation crab meat, you can make an educated choice and what type to use for this recipe.
Also, now that you know Maryland crab cakes are made without bread crumbs and just a small amount of Saltines, you can see why starting with the best crab you can get is very important because that's where all the flavor comes from.
So that's really it in a nutshell. I hope that clears up any confusion you may have had about real Maryland vs. fake crab cakes. 🙂
Now you can confidently request "Real Maryland crab cakes only please!" or make your own!
What do you serve with crab cakes?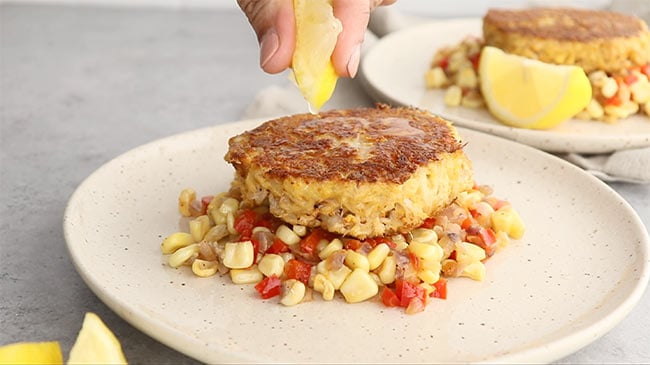 A lemon wedge is a must! Lemon and seafood go hand in hand and when it comes to crabs, this is no exception.
You truly don't need a bun for crab cakes. They are amazing by themselves! You can add a bun though, if you'd like a heartier, more filling meal.
I love the combination of fresh corn and crabs. Fresh scraped corn, or corn on the cob, with a little butter and old bay is just perfect! If you want to step it up, you can make a corn medley like what you see in the photos. Use corn, pimentos or red bell peppers, red onions, and Old bay. Saute everything together in a pan until onions are soft and translucent.
Spinach also goes really well with crab cakes. A spinach strawberry salad makes a great side dish, or try fried spinach if you want to get fancy!
Love crabs?
Then you will love my crab dip pretzel! It's one of my favorite family recipes!
You might also like my Easy Salmon Patty recipe.
You might also like these popular recipes…
These Maryland crab cakes were featured on Wow Me Wednesday and South Your Mouth and Meal Plan Monday!

Real Maryland Crab Cakes - No Bread Crumbs
These crabs cakes are made with no bread crumbs, lots of real jumbo lump crab meat and some classic spices like Old Bay to zest things up.
Read Comments
Print
Pin
Rate
Ingredients
16

oz

fresh jumbo lump Maryland crab meat

¼

tsp

Worcestershire sauce

2

egg yolks

¼

tsp

salt

¼

tsp

Old Bay seasoning

¼

tsp

ground mustard

4

saltine crackers

crumbled

4

tbsp

mayonnaise

½

tsp

lemon zest
Instructions
Mix all ingredients together in a bowl then form in 4 individual patties, tightly packed and pressed flat to about 1" thick.

Lightly brown for 5 minutes on each side in a buttered pan over medium heat.
Nutrition Facts
Real Maryland Crab Cakes - No Bread Crumbs
Amount per Serving
% Daily Value*
* Percent Daily Values are based on a 2000 calorie diet.