Ever buy a huge watermelon only to eat half of it then wonder…
What can I do with leftover watermelon??
He's an easy solution to all your leftover watermelon problems: Watermelon Lime Slushies!
Just two ingredients to make these Watermelon Lime Slushies.
This simple 2-ingredient drink recipe will have you wondering why you've been throwing out leftover watermelon for so many years. (Just me? ?)
All you need for this is a watermelon, a freezer, a lime and a blender or food processor.
Or get this one that's both.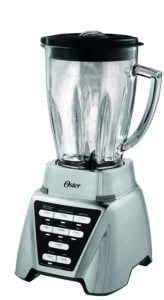 And actually, if you happen to be shopping for a food processor, check out my friend's super in depth site reviewing food processors! Her site's chock full of great info, perfect for the indecisive at heart, like myself. 😉
So, you can freeze leftover watermelon?
Yep! Cut it off the rind and freeze it. Then when you go to make these slushies, you'll already be half way there. No ice needed, just blend the frozen watermelon with lime juice and you have the most amazingly refreshing summer drink you could want.
No limes?
Could you make this without limes? Yes. But. The limes really add a nice tart layer to the sweet watermelon giving this a sweet-tart taste that's just right. You could try a lemon and that would work pretty well too. I've also added mint. Orange, grapefruit or other fruit juices might even work out well. I personally feel like you can blend just about any combination of fruits together and get something taste so don't be afraid to use what you have and experiment a little. Some of my best recipe discoveries have come from me trying to use up leftovers.
Get creative and try different combos using what you have or just blend the frozen watermelon straight for a sweeter drink.
Make a frozen watermelon slushie cocktail!
Are you over 21? Add vodka for a really refreshing and easy summer cocktail.
Or to turn this slushie into an easy Frozen Watermelon Margarita, add tequila and orange liqueur!
Want more cocktail ideas? Browse all my cocktail recipes
Want more idea for what to do with leftover watermelon?
Check out my watermelon popsicles.
This recipe for frozen watermelon slushies was featured on South Your Mouth!