This post may contain affiliate links. As an affiliate, I earn a commission.
Jump down to Recipe
On the hunt for a healthy summer side dish or a refreshing appetizer? This Cilantro Lime Black Bean Corn Avocado Salad works both ways!
Serve as a side item, or serve it as a dip with chips.
An easy appetizer or side dish that's bursting with freshness!
I love how easy this comes together. Not too many ingredients yet lots of flavor. The fresh ingredients tossed in a salty cilantro-lime dressing are light yet flavorful. The taste ends up being similar to Chipotle.
What's better fresh, frozen or canned corn?
I don't like to make rule. Use what you have! The flavor might be slightly different but overall will be similar. This side salad is a great way to use up leftover corn on the cob, but if you don't have any, then frozen or canned corn works just as well.
Could I use seasoned black beans?
Sure! Is that's what's in your cabinet? Yes? Then, go for it! You don't have to rinse the black beans. I find that they can be a little gooey if you don't rinse them and they also turn everything a murky color. If that doesn't bother you, then skip rinsing.
Could you add tomatoes to make this more like a salsa?
Yep! You could dice some grape tomatoes or I like to use roma or heirloom tomatoes, but again, use whatever you have. Grape tomatoes hold their shape well but you'll get similar flavor with other types of tomatoes so don't stress too much about what kind.
Want a hint of sweetness?
Sometimes my grandma would sneak a spoonful or sugar into different things when she cooked. Just a little but of sugar can really bring out the other flavors and transform a dish. If you're one of those people who enjoys a little hint of sweetness, try mixing a spoonful or honey with the lime juice before you add it in. Or try adding in a sweet ingredient like mangos or pineapples!
Could you add onions to this black bean corn avocado salad?
You bet! Any onion will do but I personally love the taste of red onion with these types of flavors. If all you have is a white onion though and you really want that bit of kick and onion can add, then don't worry. That will do the trick. You could even use onion powder.
Does this salad need to marinate?
It's a bit better when the flavors have time to meld together. I recommend chilling for at least twos before serving. However, if you're short on time, it's still very good when you eat it immediately.
What kind of chips work best when serving this as a dip?
I love the scoop shaped chip or purple corn chips. Those are just my two favs, but feel free to experiment and see what you like best.
Could you add pasta and turn this into a pasta salad?
Yep! I think something small would be best, like orzo or ditalini pasta. You could actually add rice too. You may want to add a bit more lime juice and balsamic vinegar in order to coast the pasta.
What kind of oil works best for this?
I like to use grape seed oil, but any oil works!
Want more recipe ideas?
Browse all my appetizer recipes
Browse all my side dish recipes
This Cilantro Lime Black Bean Corn Avocado Salad was featured on Inspire Me Monday!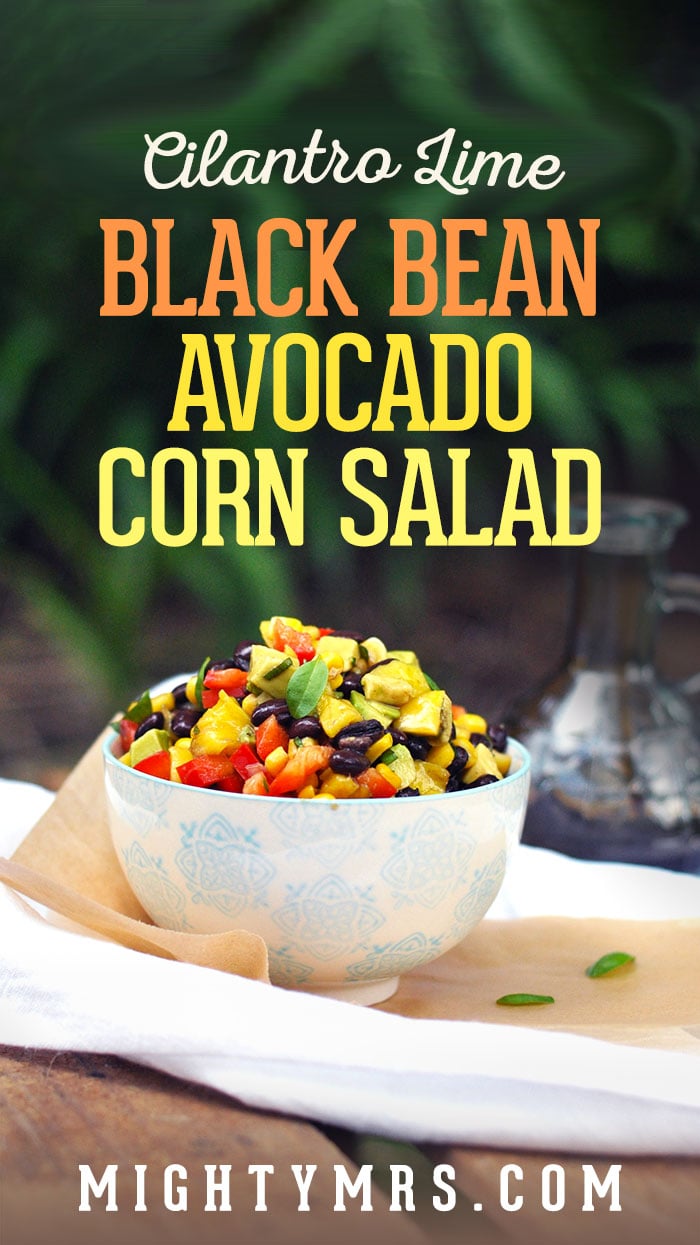 Cilantro Lime Black Bean Corn Avocado Salad
On the hunt for a healthy summer side dish or a refreshing appetizer? This Cilantro Lime Black Bean Corn Avocado Salad works both ways!
Read Comments
Print
Pin
Rate
Ingredients
1

avocado

diced

1

yellow pepper

diced

1

red pepper

diced

1

cup

corn

1

can

black beans

1

lime

juiced

2

tbsp

balsamic vinegar

¼

cup

cilantro

chiffonade

2

tbsp

oil

Sea salt to taste
Instructions
Combine the avocado, peppers and corn in a bowl.

Rinse black beans in cold water and add to bowl.

Add corn, cilantro, lime juice, oil, balsamic vinegar and sea salt then gently toss to combine and coat everything evenly.

Serve chilled with salted tortilla chips.
Nutrition Facts
Calories:
291
kcal
|
Carbohydrates:
34
g
|
Protein:
9
g
|
Fat:
15
g
|
Saturated Fat:
2
g
|
Polyunsaturated Fat:
3
g
|
Monounsaturated Fat:
10
g
|
Trans Fat:
1
g
|
Sodium:
9
mg
|
Potassium:
707
mg
|
Fiber:
11
g
|
Sugar:
5
g
|
Vitamin A:
1245
IU
|
Vitamin C:
105
mg
|
Calcium:
38
mg
|
Iron:
2
mg
Want more easy recipe ideas?
Follow @MightyMrs on Pinterest