So many bean dips, so little time! This particular hot Mexican bean dip however, is a little chunkier than the rest and… dare I say, more delicious!
This post may contain affiliate links. As an affiliate, I earn a commission.
Jump down to Recipe
So many bean dips, so little time! This particular hot Mexican bean dip however, is a little chunkier than the rest and... dare I say, more delicious!
This tasty little number is warm and cozy, full of texture and flavor, and ripe for dippin'! So, grab some tortilla chips and let's dig in...
★ Why You'll Love this Recipe ★
This is a Chunky Bean Dip
No refried beans here. Nothing against them. You could actually stir a can right into this exact recipe and it'd be totally fine, but I just really wanted to offer up a chunkier style dip than what you normally see.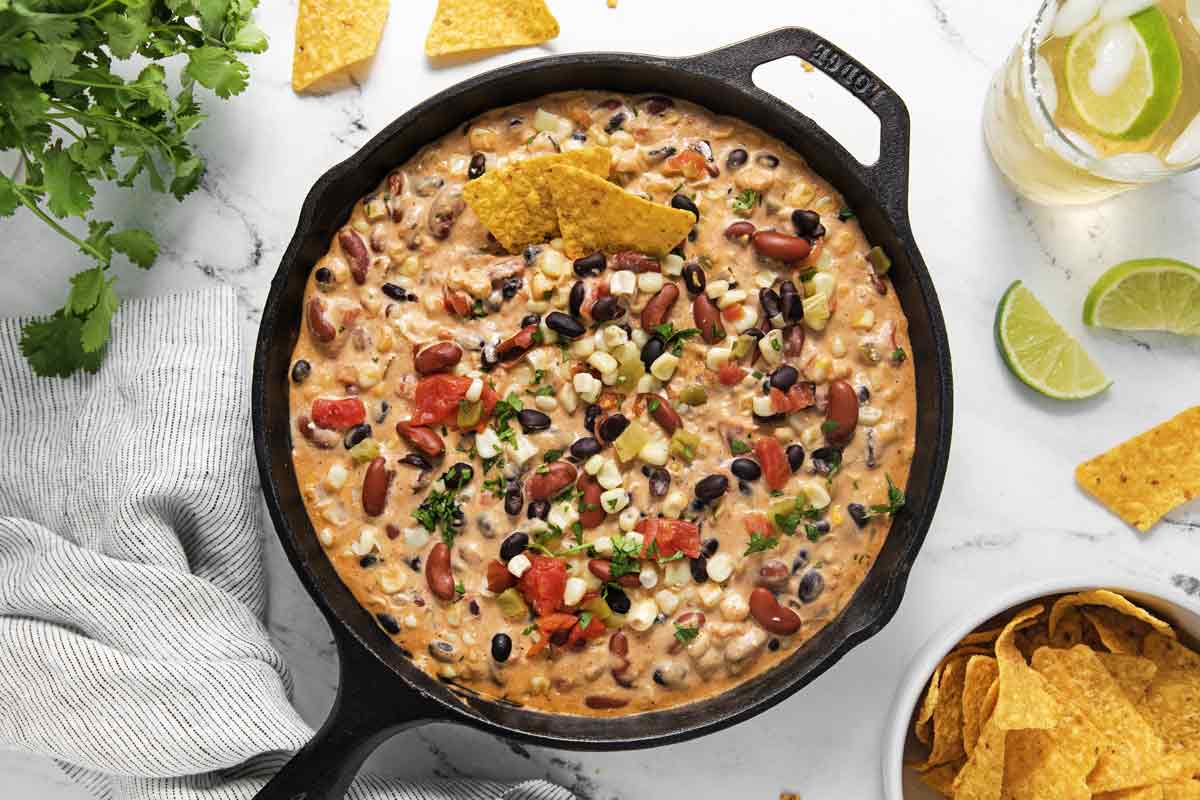 Hot Mexican bean dip with chips is excellent for parties!
This simple recipe makes quite a bit of dip! So it's great for serving a crowd of 8-12 people. Have more people than that coming? Double up and serve this dip from a large crockpot or casserole dish.
★ Ingredient You'll Need ★
Here are all the ingredients that are in this dip: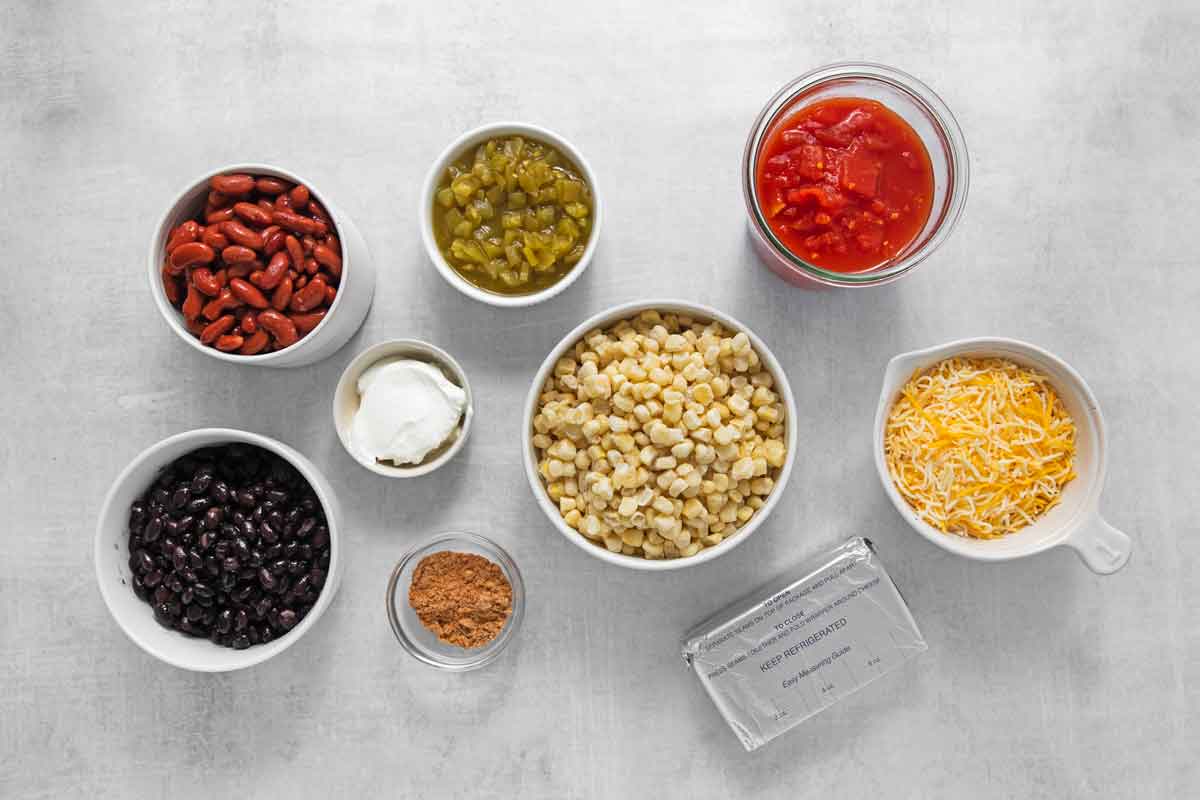 You'll notice this bean dip is chock full of whole beans — black beans, kidney beans, and whole-kernel corn for a meatier bite.
However, no actual meat. This is a vegetarian dip. Could you add chicken or ground beef? Absolutely. Two or three big bites in though, and you may feel as though you just finished a meal. So I personally prefer to keep this bean dip light and meat-free. Up to you though.
I add a heavy serving of green chilies, tomatoes, cream cheese, shredded cheese, taco seasoning and few dollops of sour cream just for a flavor boost. Overall, it's different than a lot of other beans dips in that it's not just a thick mass of cheese and beans. It's got a nice texture and depth of flavors.
You can top this dip off with some optional ingredients too. My favorite toppings are avocado, fresh cilantro, and fresh diced roma tomatoes.
★ How to Make this Recipe ★
This bean dip is super easy to make.
Combine all the ingredients in a pan and heat until cheeses melt.
Add any toppings you'd like.
Serve with chips.
Easy!
★ Tips & FAQs ★
What can you serve with this bean dip?
Well, naturally this bean dip pairs up nicely with a big tortilla chip. The Mr. likes the thick yellow corn chips but they aren't really my favorite. However, this dip is pretty heavy duty so in this case I have to agree that the thicker chips really do a better job scooping.
Since I don't add any additional salt, the yellow corn chips also bring a salty-corn flavor that goes really well with the ingredients in this dip. So, again, up to you. If you're a thin and crispy chip person, that'll taste great too, you just may need to more carefully scoop.
You could also serve this bean dip over rice, rolled up into a tortilla and baked to a crisp, or try it the dip grilled between two tortillas as a sort of vegetarian quesadilla.
What toppings would go with this bean dip?
I love the taste of fresh cilantro sprinkled on top after everything is done cooking, right before serving so it stays nice a bright green.
You could also top this dip with fresh diced tomatoes, salsa, sliced avocados, diced or cooked bell peppers and/or onions, diced raw red onions, lettuce, extra cheese or even olives. Anything you'd put on a taco works!
Can this bean dip be made in a crockpot?
Yep. I like to make this in or transfer it to a crockpot if we're heading somewhere or if I need to keep it warm for an extended amount of time.
I have a small crock I use just for dips similar to this one that has a dial for different temperature settings:
Shop small dip warmers on Amazon
If I'm serving it right away at home, I really love serving this dip in cast iron skillet though. The skillet holds the heat of the dip for awhile (although you have to be careful since it's hot to touch). Because it's flat and open, it's easy for a lot of people to be able to scoop at once. You will need to put the hot skillet on top of a trivet, or a pot holder to keep it off the table.
★ More Recipes You'll Love ★
Are you a dip fanatic?
Check out these other million-dollar dip recipe:
You may also like these popular recipes...
This hot Mexican bean dip recipe was featured on Menu Plan Monday and on Sweet Little Blue Bird!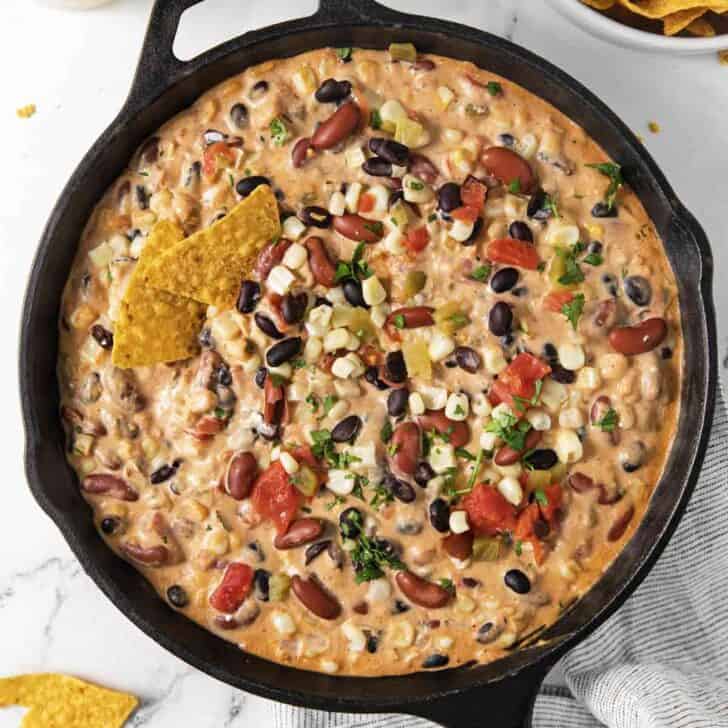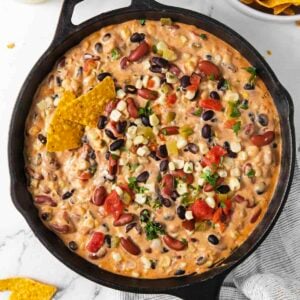 Hot Mexican Bean Dip
So many bean dips, so little time! This particular hot Mexican bean dip however, is a little chunkier than the rest and… dare I say, more delicious!
Read Comments
Print
Pin
Rate
Ingredients
14.5

oz

seasoned black beans, drained

14.5

oz

kidney beans, drained

14.5

oz

diced tomatoes

7

oz

green chilies

14.4

oz

frozen white corn

8

oz

cream cheese

1

cup

shredded Mexican cheese blend

2

tablespoon

sour cream

2

tablespoon

taco seasoning

Fresh cilantro for garnish
Instructions
In a lightly greased cast iron skillet on medium, heat black beans, kidney beans, tomatoes, green chilies, and white corn for about 5 minutes, stirring occasionally.

When bubbles start to form, stir in cream cheese, Mexican cheese, sour cream and taco seasoning. Heat and stir for another 5 minutes or until bubbles appear.

Remove from heat and serve hot by placing the cast iron skillet on a trivet or oven-safe hot pad. Add toppings and serve with a large bowl of tortilla chips for dipping.
Notes
Optional toppings: Extra cheese, fresh diced tomatoes, lettuce, olives, diced red onions, fresh or sauteed bell peppers, avocado slices
Nutrition Facts
Calories:
307
kcal
|
Carbohydrates:
33
g
|
Protein:
13
g
|
Fat:
15
g
|
Saturated Fat:
8
g
|
Polyunsaturated Fat:
1
g
|
Monounsaturated Fat:
4
g
|
Cholesterol:
46
mg
|
Sodium:
659
mg
|
Potassium:
572
mg
|
Fiber:
9
g
|
Sugar:
8
g
|
Vitamin A:
614
IU
|
Vitamin C:
13
mg
|
Calcium:
173
mg
|
Iron:
3
mg
Follow Mighty Mrs. for more easy recipes!
Find @MightyMrs on Pinterest