This whipped pumpkin dip is quick and easy to make. A great appetizer for Thanksgiving or a Halloween party. A no-cook fall snack you can serve with Nilla waffers, pretzels and/or apples. Add cream cheese for a cheesecake-like taste!
This post may contain affiliate links. As an affiliate, I earn a commission.
Jump down to Recipe
You're going to love how easy this whipped pumpkin dip is to make with just 5 ingredients!
★ Why You'll Love this Recipe ★
This pumpkin dip is light and tastes great paired with Nilla waffers, apples or even pretzels.
This fun fall dip makes a kid-friendly after school snack or serve it as an appetizer at a fall get together.
Enjoy it as a pre-Thankgiving dinner treat or serve it up for fall tailgates.
This pumpkin dip also makes a great football-watching snack or bring it to a Halloween party!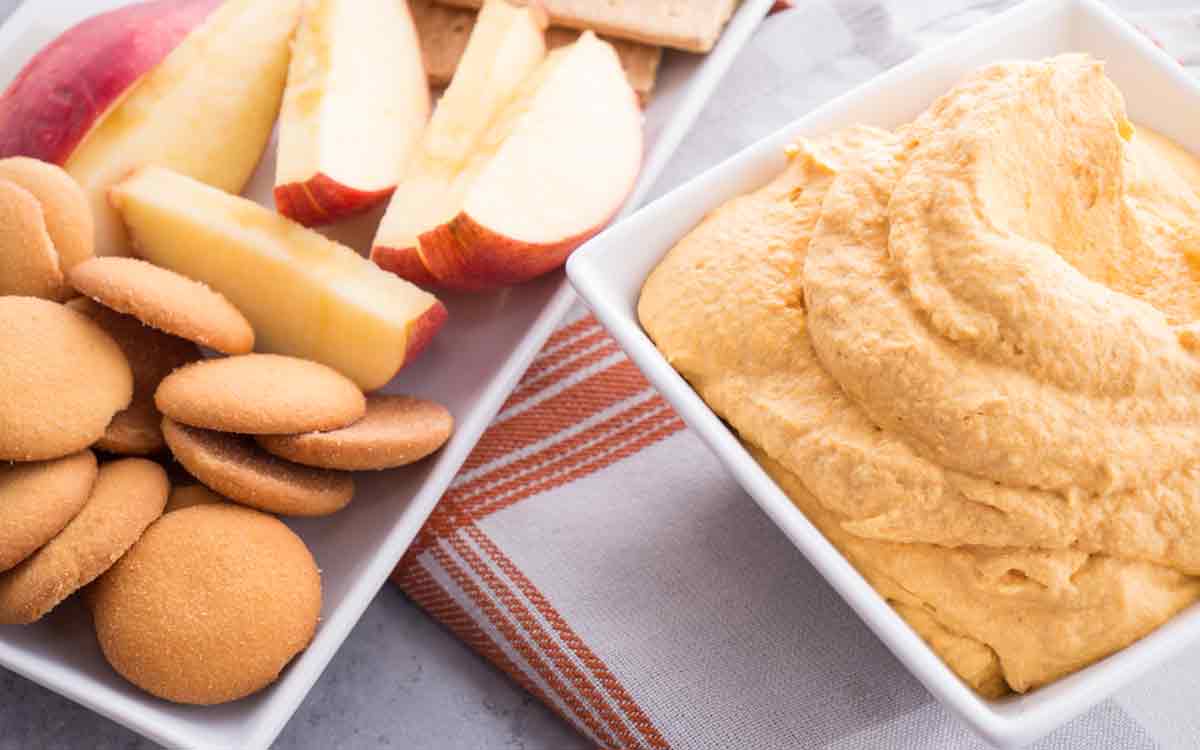 PUMPKIN SPICE IS LIFE.
I know it might seem a little over the top when people start putting pumpkin in everything, but the season is so short lived. There's so much to love about fall— the foliage, the squash, pumpkins, corn mazes, hay rides, boots, flannel shirt, cute costumes, etc. why not make the most of it while it's here?
★ Ingredients You'll Need ★
All you need is 5 ingredients with the option to add cream cheese.
If you love cheesecake, stir in the cream cheese for a cheesecake-like flavor.
Not a fan of cheesecake? No problem. Just leave out the cream cheese.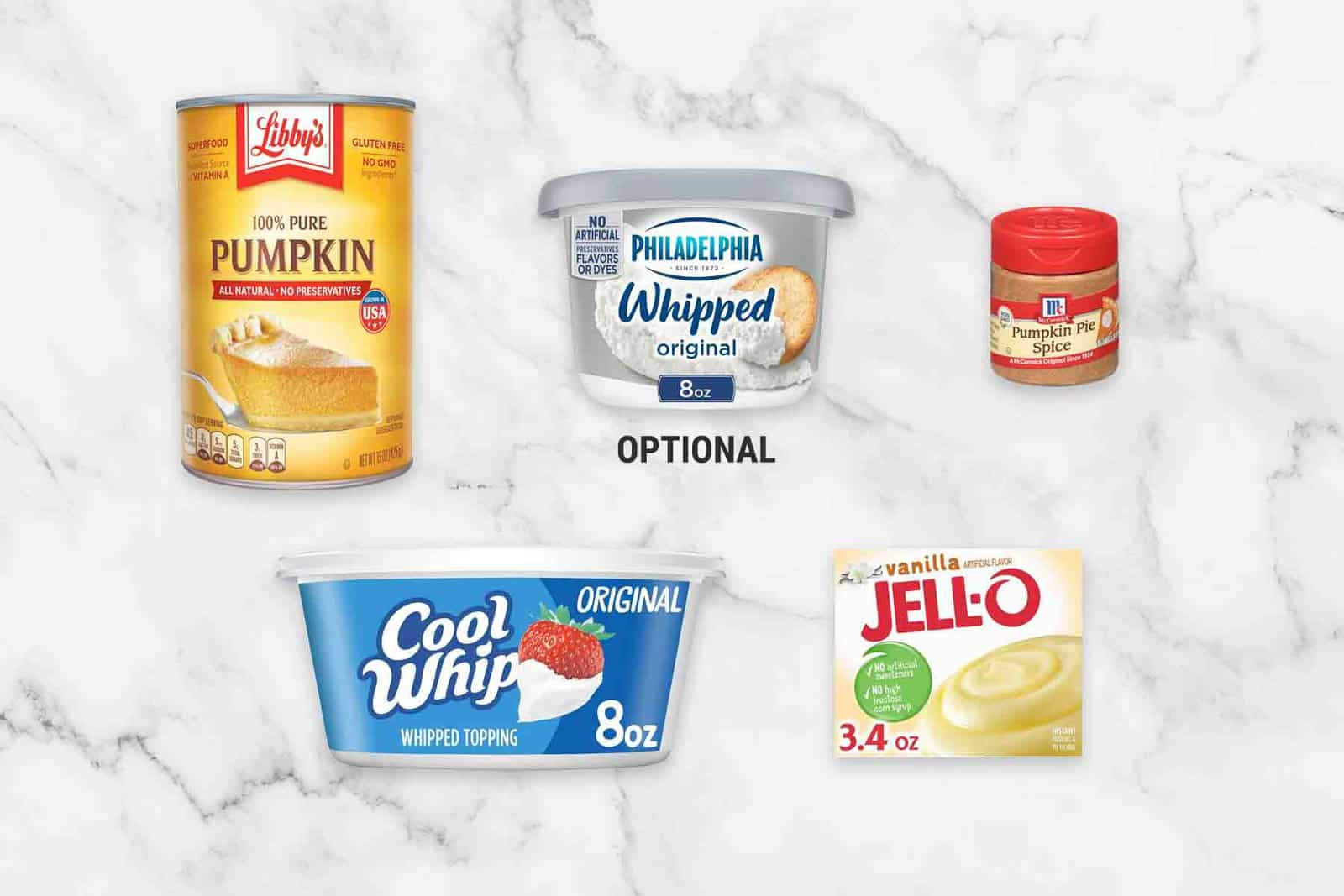 Here's everything you need:
Pumpkin puree. You can find this in a can and did you know it's actually quite healthy? Lots of vitamin A! You'll also get some vitamin C, fiber, protein and calcium all while being low in fat too.
Pumpkin spice. Just a pinch is all you need to bring the pumpkin puree to life. This classic blend of spices gives this dip a wonderful flavor and smell. What even is fall without pumpkin spice, right?
Cool Whip. This is what give this dip its fluffy texture.
Vanilla Instant pudding mix. Just the powder. This enhances the flavor, sweetens the pumpkin puree and adds a smooth texture.
Cream cheese. Optional. In or out, your call. I like to use whipped cream cheese as it's easier to blend in with the other ingredients.
★ How to make this Recipe ★
Watch the how-to video beneath the recipe below, that shows exactly what you need to do to make this recipe.
It's super easy! No cooking required.
★ Tips & FAQs ★
What does this whipped pumpkin dip taste like?
It's creamy and delicious! And addicting! It's not overly sweet, it's got just the right amount of spice that is mellowed by the cool whip and pudding.
It definitely has a subtle pumpkin flavor but it's not quite as powerful as a pumpkin pie. However, if you love pumpkin pie or pumpkin spice lattes, chances are you'll love this dip too.
As I mentioned, if you love cheesecake, then you'll love the addition of cream cheese. When adding cream cheese, this dip transforms into a dippable pumpkin cheesecake! Mmmmm!!
What do you serve with pumpkin dip?
Once you mix up the ingredients and transfer into a serving bowl, you just need to choose your favorite cookie to go with it.
I've tried this pumpkin dip with vanilla wafflers and graham crackers but I think you could serve this dip with granola bars, or any type of cookie that would go well with pumpkin.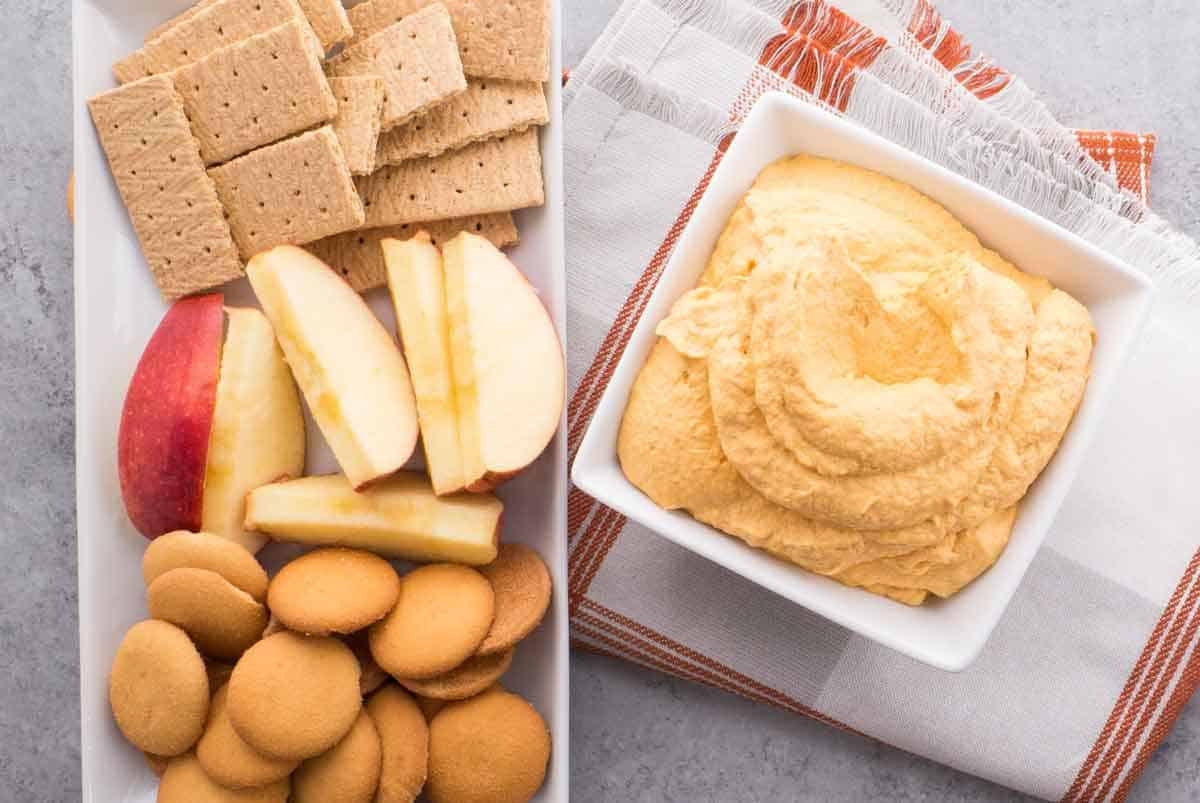 Something pretty neutral or vanilla in flavor works best but I've also heard of serving pumpkin dip with ginger snaps. So if you're feeling snappy... 😉 then give that a try!
Pretzel are also great, especially with the cheesecake-like variation of this dip. The salt-sweet combo hits all the right notes.
You could even offer an assortment of cookies and fruits to go with this dip and have a little taste test to see which is your favorite.
Make this dip into finger food for a party.
Another way to serve this dip is as finger food. Check out the sister post to this where I made little pumpkin fluff sandwiches using vanilla waffers and dipped in sprinkles. This works well if you are serving little kids who have a tendency to double dip, lol!
You could make the sandwiches in advance and then let kids choose the sprinkles they want to roll onto the edges so it becomes a fun activity. Lots of possibilities without a lot of effort. My kind of recipe. 🙂
Get your fill of vitamin A!
Did you know pumpkin puree is actually pretty healthy for you? There is a hearty dose of vitamin A as well as vitamin C and even iron. One more reason to put pumpkin in everything while the season lasts.
What's your favorite fall tradition?
Leave a comment below!
Hosting a Halloween or fall themed party?
Shop Halloween party decor on Amazon.
★ More Recipes You'll Love ★
Want more recipes that just taste like fall?
Check these out:
Caramel Apple Crumb Cake
Candy Apples
Witch Brewed Apple Cider
Butterfinger Bundt Cake
Crescent Roll Apple Dumplings
Apple Cinnamon Bundt Cake
This recipe for whipped pumpkin dip was featured on South Your Mouth and on the Ultimate List of Best Fall Recipes!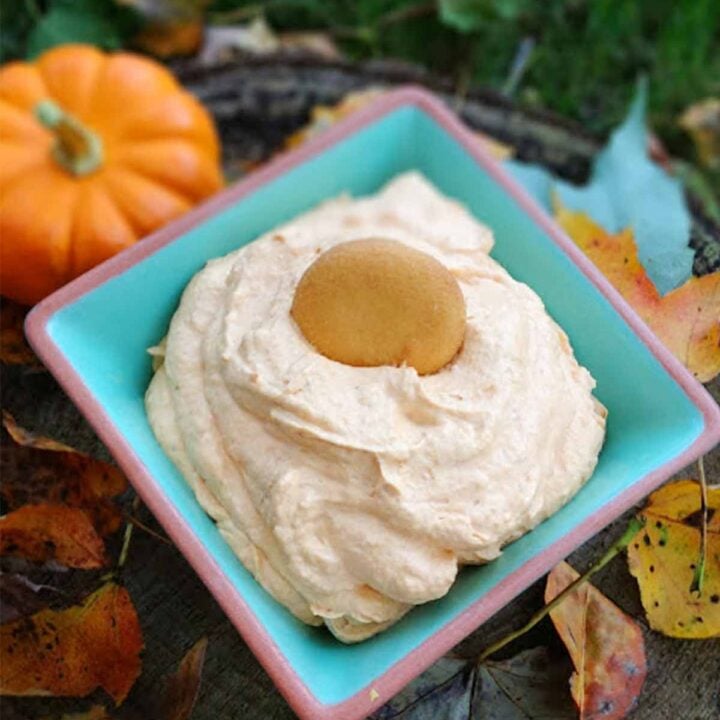 Whipped Pumpkin Dip
This whipped pumpkin dip is quick and easy to make. A great appetizer for Thanksgiving or a Halloween party. A no-cook fall snack you can serve with Nilla waffers, pretzels and/or apples. Add cream cheese for a cheesecake-like taste!
Read Comments
Print
Pin
Rate
Ingredients
15

oz

pumpkin puree (canned)

3.4

oz

instant vanilla pudding

4

oz

whipped cream cheese

(optional)

8

oz

cool whip
Spices
pinch of pumpkin spice cinnamon, nutmeg, ginger and allspice
Serve With
Nilla wafers, sliced apples or graham crackers.
Instructions
Mix together pumpkin, vanilla pudding mix (just the powder), whipped cream cheese (optional) and pumpkin spice.

Fold in Cool Whip and serve with your choice of cookie and/or apples to dip.
Notes
For extra pumpkin flavor, try adding a pinch of pumpkin spice.
Chill before serving or serve immediately.
Nutrition Facts
Calories:
177
kcal
|
Carbohydrates:
23
g
|
Protein:
2
g
|
Fat:
9
g
|
Saturated Fat:
6
g
|
Polyunsaturated Fat:
0.3
g
|
Monounsaturated Fat:
2
g
|
Cholesterol:
15
mg
|
Sodium:
144
mg
|
Potassium:
159
mg
|
Fiber:
2
g
|
Sugar:
19
g
|
Vitamin A:
8484
IU
|
Vitamin C:
2
mg
|
Calcium:
48
mg
|
Iron:
1
mg
Follow Mighty Mrs. for more easy recipes!
Find @MightyMrs on Pinterest