This easy Butterfinger bundt cake recipe is made with cake mix and topped with crushed Butterfinger candy bar bits. So simple to make yet tastes amazing and looks impressive too! Bonus: It's a fun way to use up leftover Halloween candy.
This post may contain affiliate links. As an affiliate, I earn a commission.
Jump down to Recipe
Butterfinger lovers everywhere: rejoice! You can now enjoy your favorite candy bar in the form of a cake. Specifically, a BUTTERFINGER BUNDT CAKE.
Best part is how easy this is to make using cake mix, cream cheese frosting and Butterfinger crumbles.
This Butterfinger bundt cake with cream cheese frosting will rock your world.
What do Halloween, football and Butterfingers have in common? You're about to take a bite and find out.
See fall Sundays in our house are spent cheering on the Browns. When the Browns appear on TV, it's a big deal. Living in the tri-state area, the Browns usually get the boot by the infamous Steelers or the Bills. So when the Browns game actually gets aired, we make cake.
Browns fans will understand.
Side story alert. While I was typing this, the Mr. just swooped by like he does whenever I'm at the computer which is sweet but I have to shoe him away because I don't like anyone reading my words until I'm all done! But he got away with reading the title of the post and of course he had a comment. "Browns Butterfinger cake?! Ok, yeah I get it. That's actually funny."
If you're a Browns fan or a fan of any other perpetually loosing team, then you get it.
So, yes. We are fans of an underdog but we love it and rally behind them anyway. I mainly enjoy our football watching days because it's a chance to relax at home with the family and an excuse to sit for awhile. I am usually tempted to do some laundry though as I watch because it's always ominously staring me down.
Yes, Butterfingers taste even better atop of a cake.
So let's talk a little about this cake. Butterfingers are my favorite. In crunch topping form — delish. On top of a buttery, moist vanilla cake with buttercream icing? Yes. I'll indulge.
This is super easy and does involve boxed cake mix because I happened to have some one hand. I really honestly love boxed cake mix. Is that such a sin? I think not. It's an amazing invention perfect for a lazy family football day.
The Cream Cheese Frosting
Some people have given me a little flack for using canned cream cheese frosting.
Listen, Karen. You can easily make your own cream cheese frosting if you want. I'm not stopping you. I am just striving to provide quick and easy recipes here and sometimes that means opting for ready-made ingredients to save time.
There are organic frostings available if that is a concern. If it's an issue of flavor, I get it. Homemade is almost always better. You can absolutely whip up your own cream cheese frosting for this. I bet it will be amazing. But the canned stuff is pretty darn good too if you're short on time. 🙂
As I mentioned, this recipe is super easy to make!
Watch how to make this, step by step:
Please check the size of your bundt pan.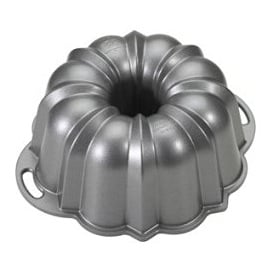 You will need a bundt cake pan for this recipe. A BIG one. I recommend the 12-cup Original Bundt Cake pan which is the one I have.This recipe calls for a LARGE bundt pan so if you have a smaller one, then you WILL need to cut this recipe in half. Sadly I've had several reviews saying the cake overflowed their bundt pan so consider yourself warned. ?
This is a tall and somewhat elegant looking cake so it requires a deep bundt pan. Here's a slice so you can see what I mean:
If you don't already have a large bundt pan, I'll recommend the Nordic brand of bundt pan. It's thick and very durable and non-stick which is key to getting your cake out of the bundt pan without it breaking.
I've tried the copper bundt pans and those are cute for hanging on your wall in an old school way, but please don't try to bake in them! They are not non-stick and baking spray isn't always enough to keep them from sticking.
The other secret to getting your bundt cake out of the pan in one piece is...
... using a flour-based cooking spray like Baker's Joy.
It works much better to release you cake from the pan than regular oil or butter based spray. If you don't have Baker's spray handy though, you can get the same effect by greasing your bundt pan with butter then lightly dust your pan with flour before you pour the batter in.
Where to Find Butterfing Crunch Topping
P.S. You'll need two full sized Butterfingers bars or about eight snack sized Butterfingers. Make sure to raid you kids' candy bags accordingly. Or you can buy Butterfinger crumble in most stores in the baking aisle or on amazon. 😉
Need an icing piper?
For a more elegant look, I sometimes use a flat tip with a ridge in the center. It makes the icing look a bit like a ribbon. You can choose any tip you'd like. Have fun experimenting with them and see which you like best!
You can get away with piping using a plastic sandwich bag with a small hole cut out of the corner. Or you can up your game a bit and using a piping bag. The benefit to using a piping bag is you can choose different tips.
Shop icing pipers and tips on amazon
Got a sweet tooth? Check out my other desserts.
Browse all my dessert recipes.
Making this for a football party?
Check out my other popular football food recipes:
You may also like these popular recipes:
This Butterfinger bundt cake was featured on South Your Mouth and Big Green House!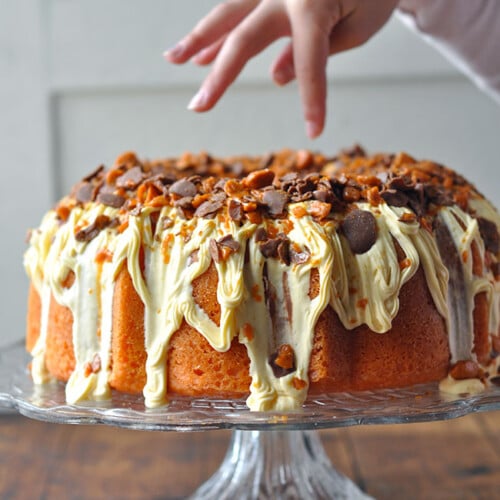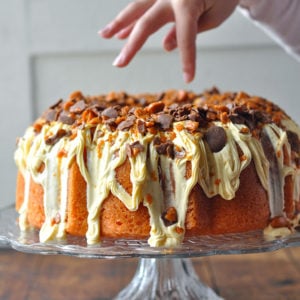 Easy Butterfinger Bundt Cake
This easy Butterfinger bundt cake recipe is made with cake mix and topped with crushed Butterfinger candy bar bits. So simple to make yet tastes amazing and looks impressive too! Bonus: It's a fun way to use up leftover Halloween candy.
Read Comments
Print
Pin
Rate
Ingredients
2

boxes

white cake mix

you may need to cut this recipe in half if you have a smalll bundt pan

6

eggs

1 ⅔

cups

water

substitute 1 cup milk for richer flavor

1

stick

butter

softened

⅓

cup

oil

6

drops

orange food coloring

optional

1

can

whipped cream cheese icing

or make your own whipped cream frosting

1

cup

Butterfinger crumble topping

or crushed Butterfinger bars
Instructions
Beat together cake mix, eggs, water, butter, oil and food coloring for 2 minutes. (I used red+yellow food coloring to make orange for the Browns!)

Grease and lightly flour your

bundt pan

. Pour cake batter in evenly until it's ¾ full. Don't overfill! The cake needs room to expand.

Bake at 325˚ for 50-55 minutes or until a cake tester comes out clean. Let cool then gently flip onto a cake plate.

Top with icing using an icing piper or put icing into a large ziplock bag with a tiny hole cut in the corner. Sprinkle with Butterfinger crumble topping.
Nutrition Facts
Calories:
523
kcal
|
Carbohydrates:
80
g
|
Protein:
5
g
|
Fat:
21
g
|
Saturated Fat:
8
g
|
Polyunsaturated Fat:
4
g
|
Monounsaturated Fat:
7
g
|
Trans Fat:
1
g
|
Cholesterol:
77
mg
|
Sodium:
602
mg
|
Potassium:
98
mg
|
Fiber:
1
g
|
Sugar:
50
g
|
Vitamin A:
266
IU
|
Calcium:
158
mg
|
Iron:
2
mg
Follow Mighty Mrs. for more easy recipes!
Find @MightyMrs on Pinterest