This creamy Spinach Artichoke Dip is easy to make in the crockpot or stovetop. Amazing flavor inspired by Applebee's famous appetizer.
This post may contain affiliate links. As an affiliate, I earn a commission.
Jump down to Recipe
This is the only spinach artichoke dip recipe you'll ever need! Truly.
It's Easy. Creamy. And everything cooks in the crockpot. You can't go wrong here!
Just 6 Ingredients!
All you need to make this amazing dip are the following: spinach (fresh or frozen), cream cheese, mayonnaise, sour cream, Parmesan cheese, and artichoke hearts. Add garlic powder if you want a little flavor boost. Garlic powder is not required but I highly recommend it.
Love Applebee's Artichoke Spinach dip appetizer?
Me too. This recipe is inspired by their creamy dip that's served with chips and is going to make you feel like you're actually in one of their cozy booths enjoying this restaurant-quality appetizer.
You can add a side of salsa just like Applebee's appetizer as a secondary dip option. I think this makes a nice presentation and I personally enjoy going back and forth between the cream spinach dip and the fresh salsa. Pair with your favorite salsa. I prefer fresh salsa from the grocery store refrigerator section or Restaurant Style salsa.
This dip is supremely easy to make!
Literally all you need is 5 minutes of prep. You're just opening up some stuff, chopping the artichokes and toss everything into your crockpot or a pot if you're opting for the stovetop method.
Make this dip in the crockpot or on the stovetop.
Either one. Directions for both are below.
Crockpot: If you have time and want to use the crockpot to serve, that may be a better option for you. This recipe makes about 5 cups so you can make this in a small crockpot which I prefer if I'm making this to take somewhere. Small crockpots are really affordable so if you don't already have one, you can check them on Amazon.
Shop small crockpots on Amazon
Stovetop: If you want to save a little time, don't have a crockpot, or don't want to use one, then you can just as easily make this on the stovetop with a pot. Since you're not dealing with a slow cooker, this dip is ready to go in about 20 minutes or less.
What does this dip taste like?
There are so many recipes for spinach artichoke dip out there that are vastly different. I wanted to put on together that tasted amazing and was easy to prep.
So here's how I would describe this particular recipe: The texture is very creamy with a hearty amount of healthy spinach and a whole can of delicious artichoke hearts mixed in. The flavor has a subtle tang from the artichokes as well as the dollop of sour cream. The blend of cream cheese, sour cream and mayonnaise really adds some dimension to this dish since each brings a creaminess but with a slightly different flavor and texture. Then there's that optional garlic powder. It's optional only because some folks aren't garlic lovers and you can get away without it, but for me, it really finishes this dip off and balances out the earthy flavors of the spinach and artichokes.
In a nutshell, it's addictively delicious and I'm very confident you're going to really enjoy this recipe! It's so good, you may even decide to claim it as your own signature dish to take places as an appetizer.
Love a good, easy appetizer?
Be sure to browse all my appetizer recipes while you're here!
This easy creamy spinach artichoke dip was featured on Menu Plan Monday and South Your Mouth!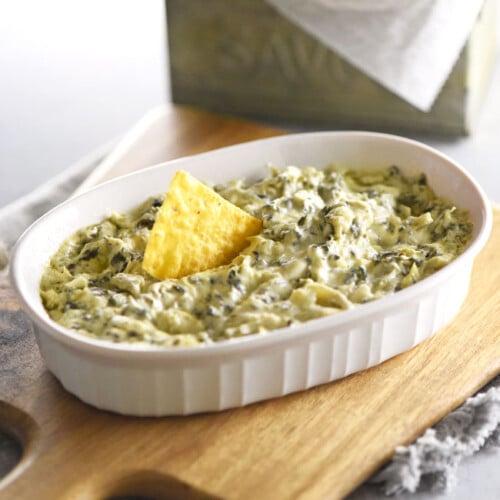 Easy Creamy Spinach Artichoke Dip
This creamy Spinach Artichoke Dip is easy to make in the crockpot or stovetop. Amazing flavor inspired by Applebee's famous appetizer.
Read Comments
Print
Pin
Rate
Ingredients
10

oz

frozen spinach

8

oz

cream cheese

1

cup

mayonnaise

¼

cup

sour cream

¼

cup

grated Parmesan cheese

more to taste

13.75

oz

artichoke hearts, chopped

¼

teaspoon

garlic powder

optional

Serve with tortilla chips or crusty bread
Instructions
Add spinach (frozen or fresh), cream cheese, mayonnaise, sour cream, Parmesan cheese, chopped artichokes and garlic powder (optional) to your crockpot set to high. Cook for 1 hour, stirring half way through and more as needed to break up the frozen block of spinach and cream cheese.

Dip is ready when all ingredients have combined together evenly and are piping hot. About 1 hour or less if using thawed or fresh spinach. Serve hot with tortilla chips or crust bread.

To prepare on the stovetop: combine all ingredients in a pot over medium-high heat. Cook and stir frequently for about 10-15 minutes or until all ingredients are evenly combined into a creamy texture.
Nutrition Facts
Calories:
337
kcal
|
Carbohydrates:
5
g
|
Protein:
5
g
|
Fat:
33
g
|
Saturated Fat:
10
g
|
Polyunsaturated Fat:
13
g
|
Monounsaturated Fat:
8
g
|
Trans Fat:
1
g
|
Cholesterol:
49
mg
|
Sodium:
529
mg
|
Potassium:
182
mg
|
Fiber:
2
g
|
Sugar:
2
g
|
Vitamin A:
4626
IU
|
Vitamin C:
2
mg
|
Calcium:
118
mg
|
Iron:
1
mg
Follow Mighty Mrs. for more easy recipes!
Find @MightyMrs on Pinterest