Brookies give you the best of both brownies and cookies, and then just slap some ice cream in between!
This post may contain affiliate links. As an affiliate, I earn a commission.
Jump down to Recipe
Baby, I can see your halo-o-o! ????
I did it. I finally tried Halo Top ice cream. I had to see what the hype was all about. Healthy ice cream? Hmmmm... but all those instagram photos were more than I could resist and when I found out I could get a pint at my ever-convenient Walmart, I was sold.
So, here were my initial thoughts: Healthy ice cream? OK, well how about a health ice cream sandwich! Yeah! I'll make brownies using zucchini or black beans and I'll smoosh some Halo ice cream between two of them and it'll be delicious AND healthy. So that was the intent and something YOU could totally do. However, in my haste to get out of the store with dinner and a tired 5-year-old little redhead, I grabbed a box mix of brookies. You know, cookies and brownies baked together into one delicious cookie-brownie? Yeah, those. Not healthy. But at this point my rational was, hey, the ice cream's healthy so what the hey.
Fast forward about an hour later and we're all chomping on our ever-so-slightly-healthy brookie ice cream sandwiches. Delish, and easy.
So, I want to share with you my thoughts on the ice cream itself. I just went with the traditional vanilla. The texture was not as creamy as traditional ice cream, more icy. The flavor seems to be really where it's at. Vanilla seeds were visible in the ice cream which made it look really pretty and also gave it a powerful flavor. Overall, for a diet ice cream, I was pleasantly surprised at how good it was. Plus as the carton clearly points out, you can eat an entire carton and it'll only cost you 240 calories.
Finally, if you are more dedicated to healthy eating than I ????, you'll want to check out this healthier brookies recipes: Paleo Brookies (Brownie/Cookie Hybrid Bars) - A Clean Bake. Or if you are a busy mom like me, you can make a pre-boxed mix healthier by substituting any amount of the butter with the same amount of apple sauce! You can substitute a banad for the egg and you might also try almonds, chia seeds or cocoa nibs instead of sprinkles.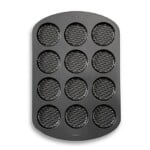 Pro tip: To get perfect ice cream sandwich portions, I used this Wilton Ice Cream Sandwich Cookie Sheet. Note that the brookies bake much quicker using this sheet than the packaged directions say.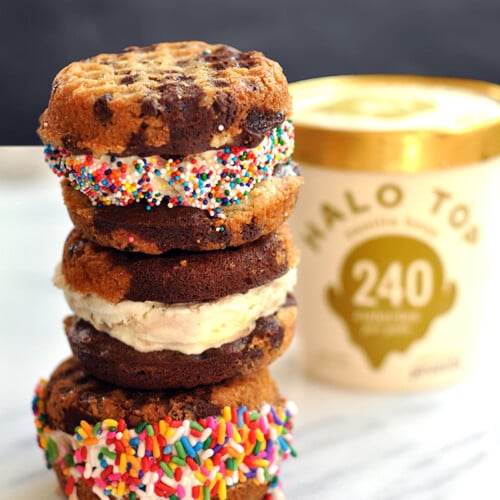 Healthy Brookie Ice Cream Sandwich with Halo Top
Brookies give you the best of both brownies and cookies, and then just slap some ice cream in between!
Read Comments
Print
Pin
Rate
Yield:
6 ice cream sandwiches
Ingredients
1

box

brookie mix

1

pint

Halo Top ice cream

Choose your favorite flavor!

Sprinkles

almonds, chia seeds or cocoa nibs
Instructions
Bake brookies according to package. To make healthier, see suggestions above. Reduce bake time to 12-15 minutes if using ice cream sandwich cookie sheet. Too cool brookies quickly after baking, place sheet in freezer for about 10 minutes.

Smoosh one scoop of Halo Top ice cream between each sandwich.

Sprinkle the edges with the edible topping of your choice!
Nutrition Facts
Calories:
443
kcal
|
Carbohydrates:
78
g
|
Protein:
6
g
|
Fat:
12
g
|
Saturated Fat:
3
g
|
Polyunsaturated Fat:
1
g
|
Monounsaturated Fat:
6
g
|
Cholesterol:
10
mg
|
Sodium:
276
mg
|
Potassium:
79
mg
|
Fiber:
1
g
|
Sugar:
51
g
|
Vitamin A:
170
IU
|
Vitamin C:
1
mg
|
Calcium:
61
mg
|
Iron:
2
mg
Follow Mighty Mrs. for more easy recipes!
Find @MightyMrs on Pinterest