Chocolate Frosted Zucchini Brownies — one of the tastiest ways to use up that zucchini. Healthy? Ish.
This post may contain affiliate links. As an affiliate, I earn a commission.
Jump down to Recipe
Chocolate Frosted Zucchini Brownies — one of the tastiest ways to use up that zucchini. Healthy? Ish.
Well, if you've made it this far, you're clearly not afraid to venture into the healthy dessert zone.
Healthy Desserts. Are they Wrong or Right?
While I acknowledge that desserts and meant to be indulgent, I think you can still indulge while also getting a little nourishment, and not consume so. much. sugar. Sugary sugar-sug things are just bleh in my opinion. I much prefer rich and surprising flavor combinations to things so sweet your teeth hurt eating them. Are you with me? I fully realize you might not be. But bear with me...
These Zucchini Brownies are Kid-Approved!
These zucchini brownies have actually been approved by my entire family (kids and husband) with the specific feedback that they are "surprisingly really good." My two kids, 7 and 9, who would live off of candy and sugar cubes if I allowed it, actually love these brownies.
My kids are pretty used to me sneaking things into their desserts at this point. I don't even try to hide it anymore after that one time I tried to put broccoli in their brownies and they ended up smelling so bad I had to throw them away. Note to self and you guys: zucchini and other more low-key veggies are a way better choice than broccoli. But hey, it was an experiment and if you don't fail, you aren't trying.
Brownies, Veggie's BFF
Back to these zucchini brownies though. These were a win! Another win was the black bean brownies we made for St. Patrick's day.
Here's the thing—when I make brownies, I just start with a box. If you're looking for a more from-scratch recipe, then check out my chocolate zucchini bread recipe.
However, I just discovered Miss Jones baking products and they are so delicious and also organic. So it's a great option if you're short on time but you're looking for natural ingredients and homemade taste.
Here's the other thing—I no longer buy canned frosting (unless it's Miss Jones—no they are not sponsoring this post, I just love their products). You can easily make a delicious chocolate buttercream frosting and once you go homemade, it's hard to ever go back to the canned stuff.
It's truly way better tasting and worth the tiny bit of extra effort involved. You'll actually need that buttercream frosting to top these zucchini brownies.
Try adding some cream cheese to the frosting.
Sometimes I mix the chocolate buttercream with a tiny bit of cream cheese. You don't have to add in the cream cheese but I do sometimes because it cuts down on the sweetness of the frosting while adding some extra vitamins and of course, that rich cream cheesy flavor.
Tools to Help you Make this Recipe
You don't need a lot of special tools to make these other than a food processor and a brownie pan. I pulled out my go-to brownie pan which I just adore. It's pressed glass with the prettiest pattern made by Pioneer Woman. You can buy it on Amazon or at Walmart. It's a great size for brownies or a quick cake.
This easy healthyish recipe for frosted zucchini brownies was feature on Happiness is Homemade!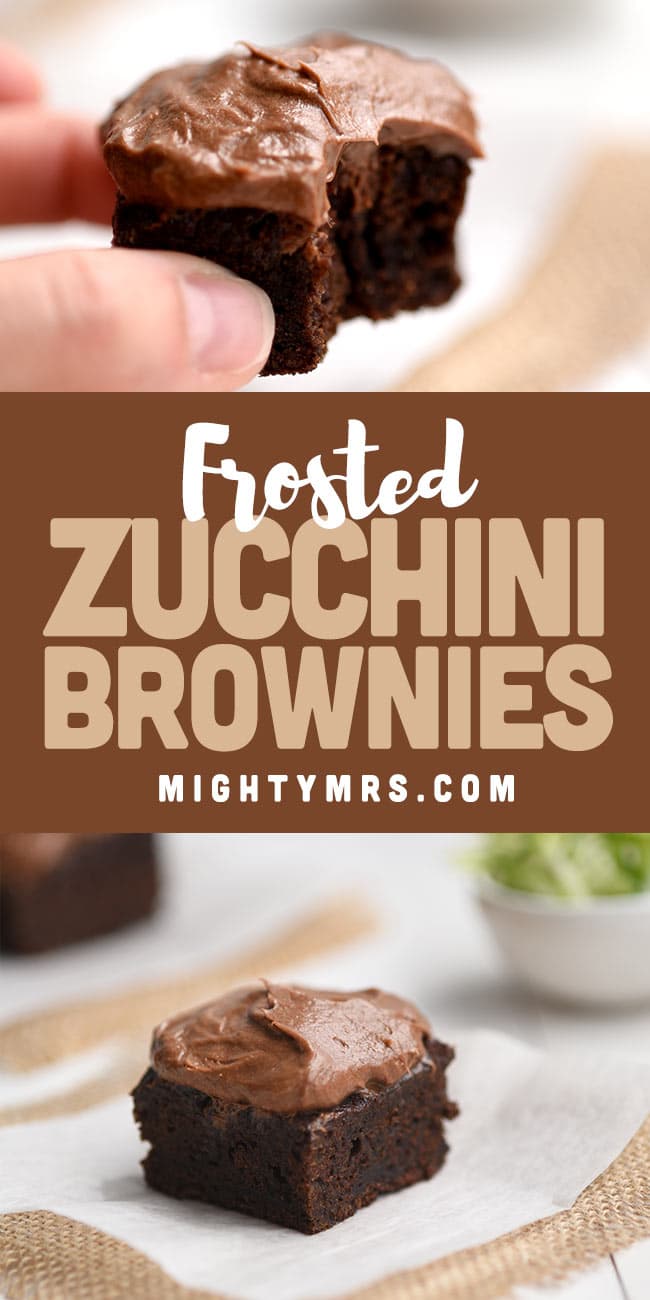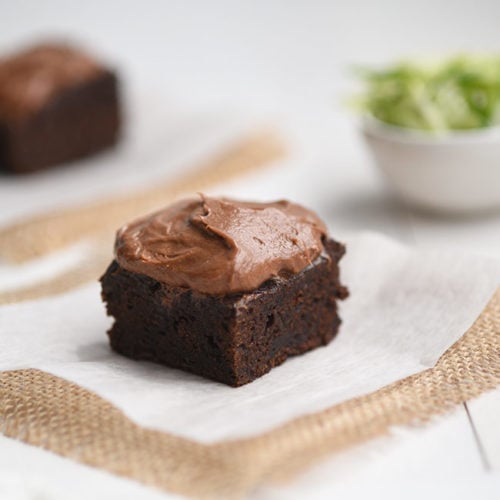 Chocolate Frosted Zucchini Brownies
Chocolate Frosted Zucchini Brownies — one of the tastiest ways to use up that zucchini. Healthy? Ish.
Read Comments
Print
Pin
Rate
Ingredients
1

box

brownie mix

I love Miss Jones' organic Brownie mix!

3

eggs

2

tablespoon

water

1

cup

shredded zucchini

½

cup

coconut or vegetable oil

1

batch chocolate buttercream frosting
Instructions
Shred 1 cup of raw zucchini using a food processor.

Prepare brownie mix according to package but use half the amount of water since the zucchini will be watery. I use 3 eggs and also coconut oil instead of vegetable oil. Add the shredded zucchini to your brownie batter and stir until completely mixed in.

Transfer batter into a greased baking pan (grease with coconut oil), and bake according to package.

While the brownies are baking, prepare the chocolate buttercream frosting per my other recipe (see link in ingredients list). Stir cream cheese into the frosting.

When brownies are done cooking, allow them to cool completely before spread on the chocolate cream cheese frosting. Store brownies at a cool room temperature to prevent frosting from melting or hardening.
Nutrition Facts
Calories:
433
kcal
|
Carbohydrates:
58
g
|
Protein:
4
g
|
Fat:
22
g
|
Saturated Fat:
11
g
|
Polyunsaturated Fat:
2
g
|
Monounsaturated Fat:
7
g
|
Trans Fat:
1
g
|
Cholesterol:
41
mg
|
Sodium:
210
mg
|
Potassium:
116
mg
|
Fiber:
1
g
|
Sugar:
43
g
|
Vitamin A:
80
IU
|
Vitamin C:
2
mg
|
Calcium:
11
mg
|
Iron:
2
mg
Follow Mighty Mrs. for more easy recipes!
Find @MightyMrs on Pinterest