Elevate a simple omelette by adding fresh herbs of your choice.
This post may contain affiliate links. As an affiliate, I earn a commission.
Jump down to Recipe
Usually the simplest things in life are the best things. Sometimes I try to come up with these crazy recipes and I'm finally learning that there are small things you can do to make food taste 1,000 times better. One biggie is to choose fresh ingredients. Now wait. I'm all about the convenience of frozen, dried and canned food don't get me wrong. However, there are times when fresh makes a difference and when it doesn't. For example, when making a sauce for pasta, dried herbs are totally cool with me. I don't notice a huge difference between fresh and not fresh in this case I guess because the herbs have a chance to release their flavor during the cooking process. So in cases where you aren't cooking the herbs, like in a cold pasta salad or this omelet dish, then fresh is going to be the best option.
On the topic of fresh herbs, I have started always buying the whole plants at the store for three reasons. 1.) You don't need to refrigerate them. This helps maintain flavor, frees up fridge space and looks pretty in your window for a bit! 2.) As long as you water and give light to the plant, it'll keep growing until you're ready to use it vs. spoiling! 3.) When you buy the whole plant, roots and all, and you pluck the leaves, more will grow back. It's the same price either way, so it just makes me wonder why you would want to buy the herbs already cut?
Enough about that, let's talk about that cute striped mason jar and the deliciousness inside. This is bottled Hidden Spirits Cocktail which is essentially lemonade for adults. Yassss! Serve it over ice with lemon wedges but before you pour, sugar the rim. Do this by rubbing a piece of lemon around the rim to get it sticky, then dip in a plate of sugar. Yum yum yum.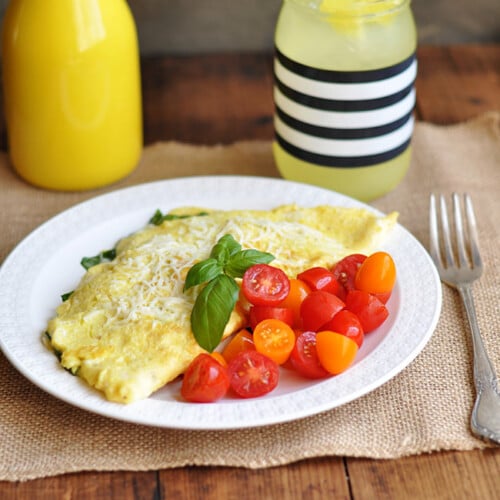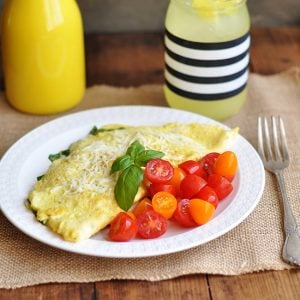 Spinach Basil Mozzarella Omelette
Elevate a simple omelette by adding fresh herbs of your choice.
Read Comments
Print
Pin
Rate
Ingredients
4

eggs

splash milk

pinch

of salt and pepper

¼

cup

fresh spinach leaves

mozzarella cheese to taste

¼

cup

grape tomatoes

halved

Fresh Basil to taste
Instructions
Whisk eggs together with milk in a small, flat non-stick pan. Let egg mixture fill the pan.

Turn heat to medium-low. Let cook for approximately 7 minutes until top appears to be nearly cooked. Layer spinach leaves on top then fold in half and remove from heat. The inside of your omelette will finish cooking once folded (no need to flip!) and spinach will gently wilt.

Sprinkle immediately with freshly shredded mozzarella cheese and then transfer the omelette to your plate. Top with fresh basil and serve with Lemon Chilled in a mason jar.
Nutrition Facts
Calories:
260
kcal
|
Carbohydrates:
3
g
|
Protein:
23
g
|
Fat:
17
g
|
Saturated Fat:
6
g
|
Polyunsaturated Fat:
3
g
|
Monounsaturated Fat:
6
g
|
Trans Fat:
1
g
|
Cholesterol:
655
mg
|
Sodium:
258
mg
|
Potassium:
373
mg
|
Fiber:
1
g
|
Sugar:
2
g
|
Vitamin A:
1964
IU
|
Vitamin C:
7
mg
|
Calcium:
110
mg
|
Iron:
3
mg
Follow Mighty Mrs. for more easy recipes!
Find @MightyMrs on Pinterest