Delicious, creamy egg salad made with chopped dill pickles (not relish), fresh dill, and organic eggs. Great for croissant sandwiches, wraps or as a salad topping.
This post may contain affiliate links. As an affiliate, I earn a commission.
Jump down to Recipe
★ Why You'll Love this Recipe ★
This dill pickle egg salad is easy to whip up, makes a great lunch for picnics or you can pack it to take to work.
Do you crave variety? Me too! That's one of the reasons I love egg salad. It's very versatile. You can serve this tasty dill pickle egg salad on a sandwich, wrapped in a tortilla, over a salad, or enjoy it by the spoonful.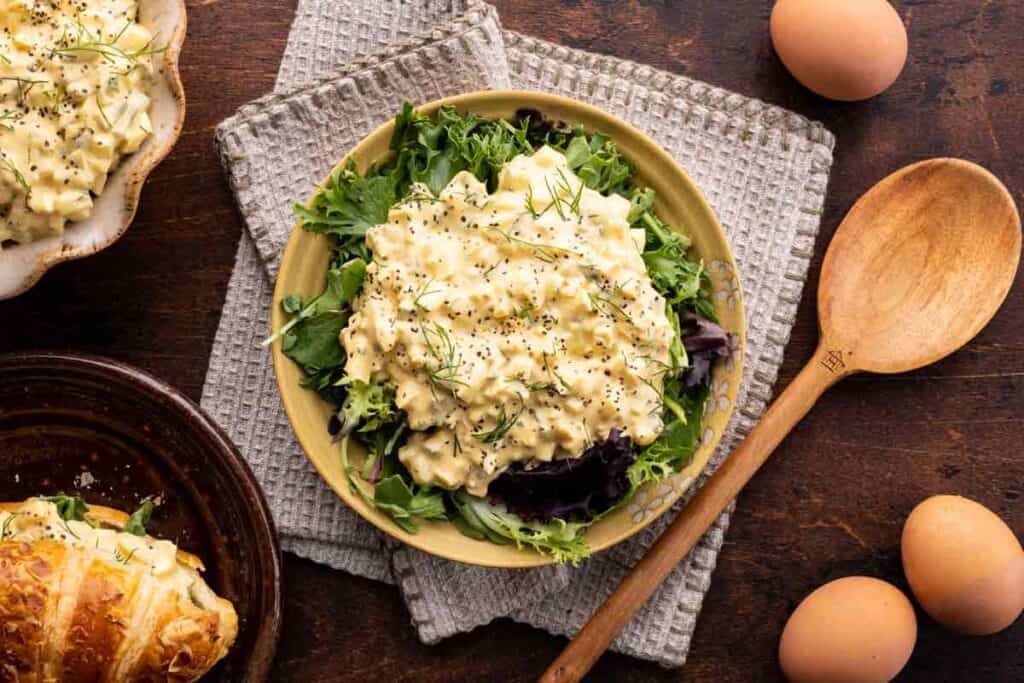 This egg salad stores well in the fridge for up to 5 days and it still tastes as good as the day you made it on day 5 (just give it a stir as needed).
You can double or triple the batch and have several different meals for the week depending on how you choose to enjoy it — on a sandwich or not.
Egg salad travels well. So it's great for taking on day trips! Think sporting events, hikes, boat rides, or road trips. Just transport in a cooled container, like an insulated lunch box with an ice pack or a cooler.
★ Ways to Enjoy this Egg Salad ★
Try this egg salad served on a croissant with pepper arugula! So delicious!
You can also enjoy this egg salad on classic white sandwich bread like grandma use to make. 🙂
This egg salad tastes great and travels well wrapped in a tortilla with some added greens. Try spinach! There are also a variety of tortilla flavors like tomato, spinach or whole wheat to choose from. Choose your favorite. Any flavor works! I love them all.
You may want to go low carb. If so, serve this egg salad over a bed of salad greens or on a single rib of romaine lettuce. I love this egg salad over mixed greens and shredded carrots, topped with little Italian dressing!
★ Ingredients You'll Need ★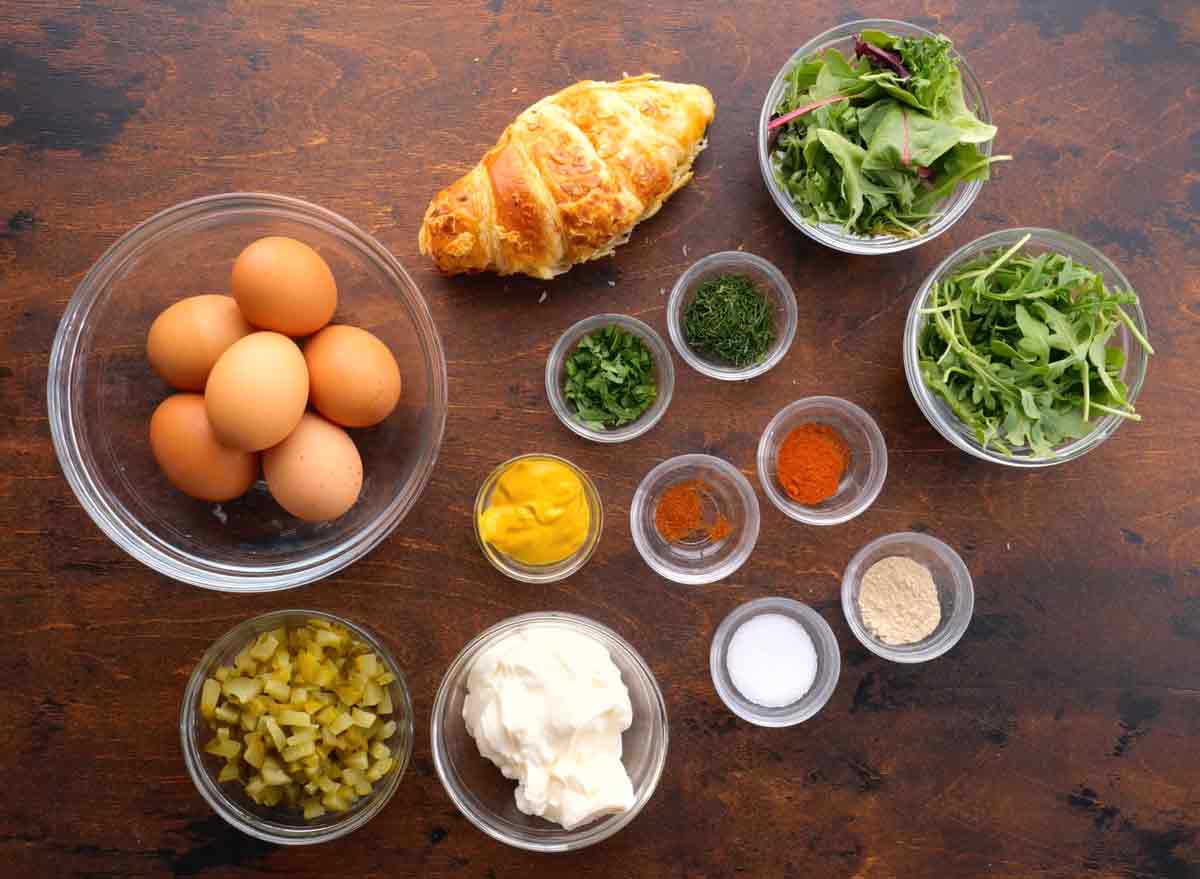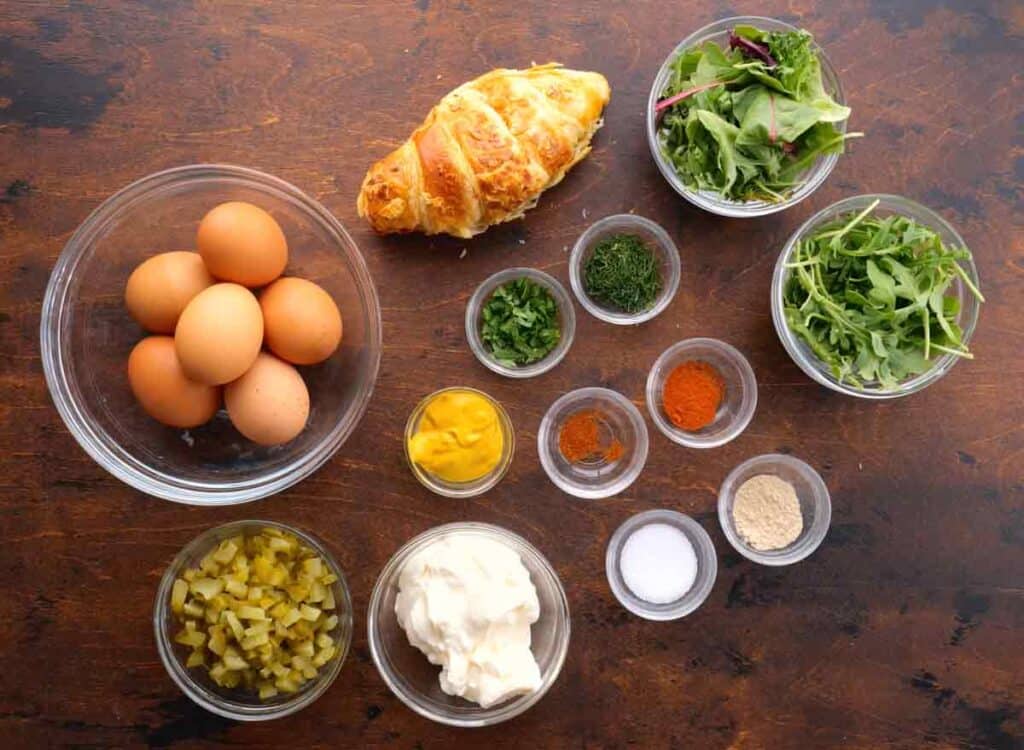 Eggs. Of course! Be selective with your eggs. Since eggs are the star of the show here, I recommend splurging on organic eggs. Look for eggs that are laid by free-range hens fed a vegetarian diet of corn and soy and are antibiotic-free. These eggs will have much better flavor as well as creamier, more vivid yellow yolks.
Mayonnaise. Yes. Do it. Don't substitute with Greek yogurt. It won't taste that good. If you must, go ahead. But if you want the best flavor, stick with tried and true mayo. Not lite. Real, plain original mayonnaise. The only exception would be mayonnaise with avocado oil. That one is OK to use! 😉
Dill pickles. Maybe it's just me but dill pickles remind me of summer time with my cousins. We could put away some dill pickles! They're a great one-ingredient snack! So it makes sense that this single ingredient brings a lot to the table in terms of flavor and texture. Do not substitute with dill pickle relish. Unfortunately, it's not quite the same and isn't as good as whole pickles, chopped up.
Yellow mustard. Nothing fancy here. Standard yellow mustard adds great flavor and that signature yellow "egg salad" color too.
Paprika and cayenne pepper. Both dried and ground peppers. Paprika is much more mild. Cayenne brings the heat! Use accordingly.
Fresh dill. This is one of those herbs that is much better fresh. Use dry if you must but fresh is best.
Fresh parsley. Same deal. Dry will work in a pinch but go fresh if you can!
FOR SERVING:
Bakery croissants. I prefer the large croissant you can find at most grocery stores or Sam's Club. You could also use the smaller croissants though and those work great for serving smaller sandwiches for an event like a birthday party, bridal and baby shower, or Mother's Day brunch.
Arugula. This peppery tasting lettuce is a favorite of mine for sandwiches. An arugula and baby spinach blend is also good and packs in some nutrition.
Tortilla wraps. Any flavor that sounds good to you works! Try rolling them up along with some greens for an easy to-go wrap.
Mixed greens salad. Any blend of mixed greens works great as a salad. Add egg salad, croutons, tomatoes and/or shredded carrot for a hearty, tasty salad for lunch or dinner. Top with Italian or ranch dressing.
Romain Lettuce. A full rib of roman lettuce makes a perfect little low-carb boat for this egg salad.
★ How to Make this Egg Salad ★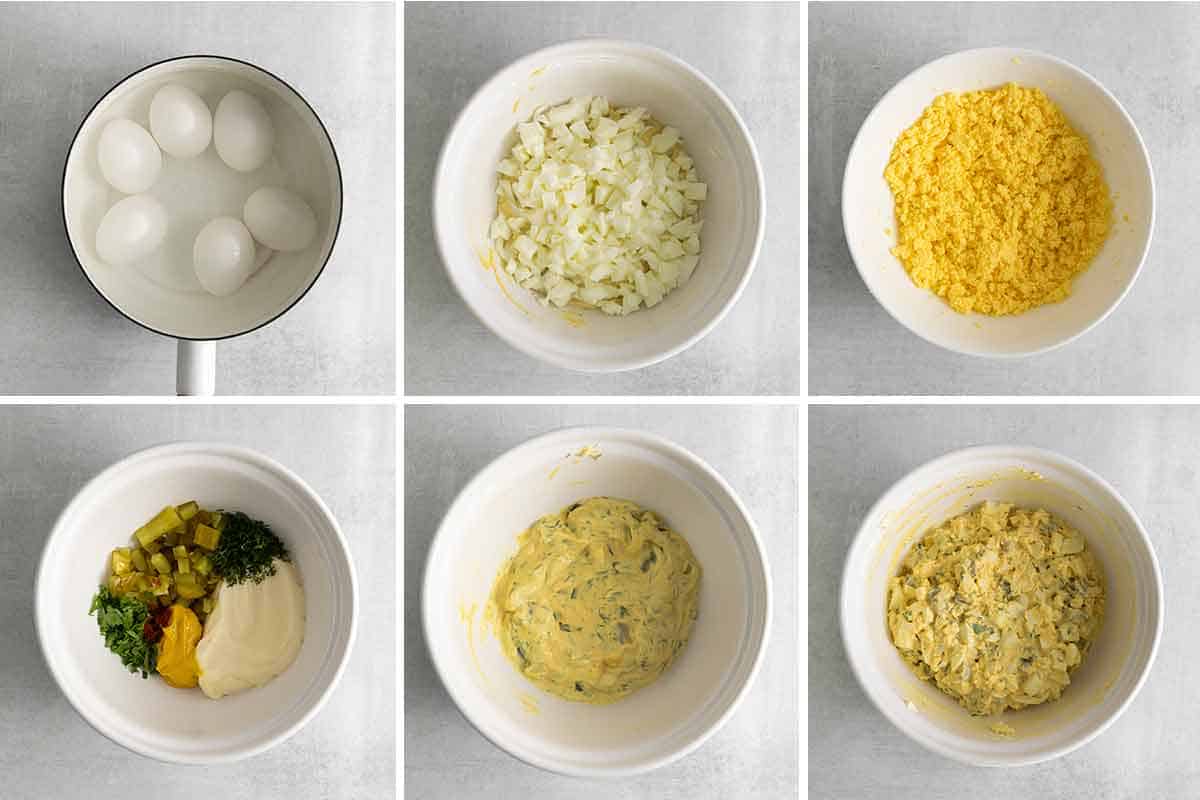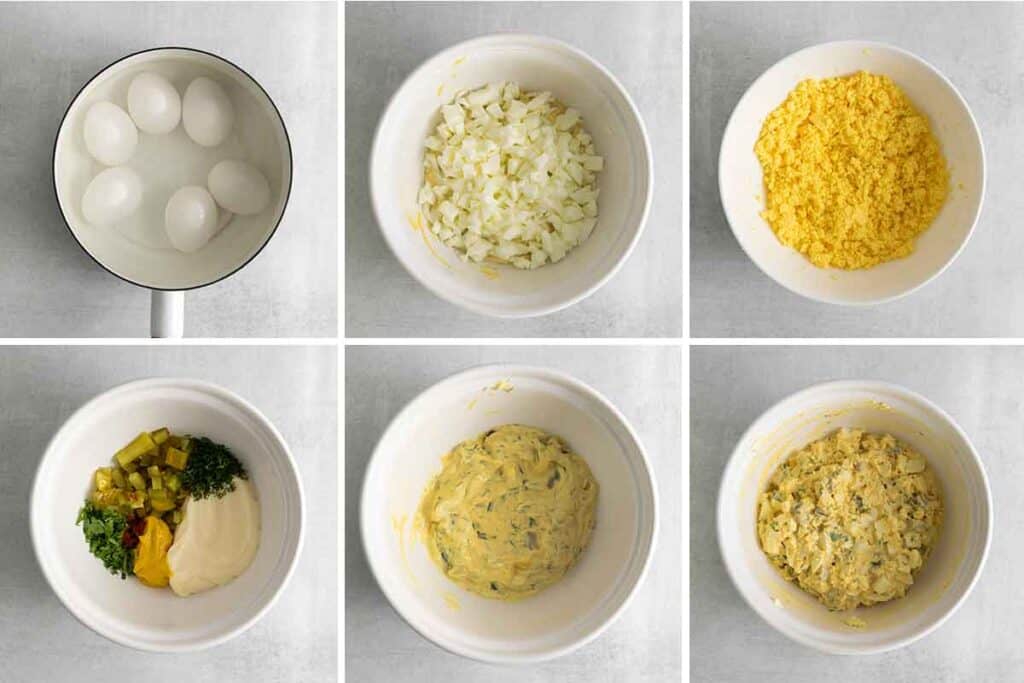 First hard boil the eggs, peel, slice, separate the egg whites and yolks.
Chop the eggs whites and mash the yolks.
Mix mayonnaise, mustard, chopped dill pickles paprika, cayenne pepper, dill, and parsley together with yolks and chopped egg whites.
Easy!
★ Tips & FAQs ★
How to Get Eggs to Peel Easily
I have a method for cooking hard boiled eggs that prevents the shells from being difficult to peel. It actually works! The shells slide right off.
The trick is to add the eggs after you get the water boiling. Follow the recipe directions below for the complete how-to.
There's also a trick to perfectly cook yolks and that just comes down to timing. 10 minutes of hard boiling, 10 minutes rest in the hot water with heat off.
Perfect hard-boiled eggs, every time: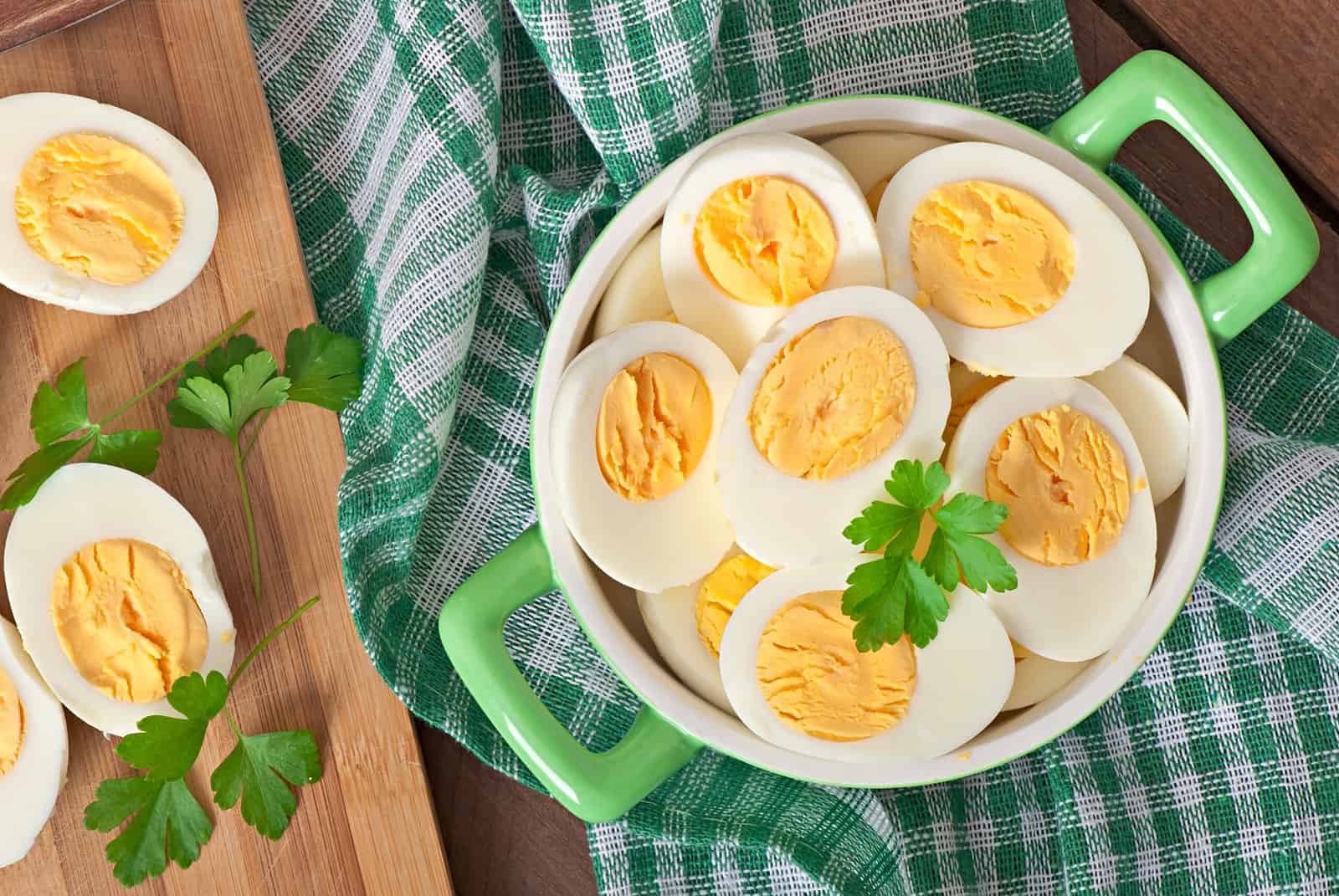 How to Store Egg Salad
Store in an air-tight container for up to 5 days in the fridge.
Can you freeze egg salad?
I do not recommend freezing egg salad. Freezing changes the texture of the egg whites and makes them rubbery.
Can you use other types of pickles other than dill?
Sure. I prefer dill but if you prefer sweet bread and butter pickles, then by all means, go ahead and use those.
Can you use relish instead of pickles?
Yes. However, I've found that dill relish does not taste as good as chopped whole dill pickles. That's my personal preference though. It does save some time chopping so if you're short on time, relish is a good substitute.
I've used sweet relish and I've also used homemade spicy relish with good results.
Optional Ingredients
If you want to change up the flavor trying adding in: bacon bits, celery, onion powder, chopped red or white onion, garlic powder, seasoning salt, or different herbs other than dill.
How to make this egg salad healthy?
There are several "tricks" to making egg salad healthy involving avocado and Greek yogurt but I say, don't do it! It's not worth sacrificing the flavor.
If you want a healthy egg salad recipe, go with one built from the ground up rather than using substitutions, like Pinch of Yum's Avocado Egg Salad.
★ More Recipes You'll Love ★
Never know what to make for lunch?
Browse all my easy lunch recipes!
While you're here check out my most popular recipes on Pinterest.
This Dill Pickle Egg Salad recipe was featured on South Your Mouth!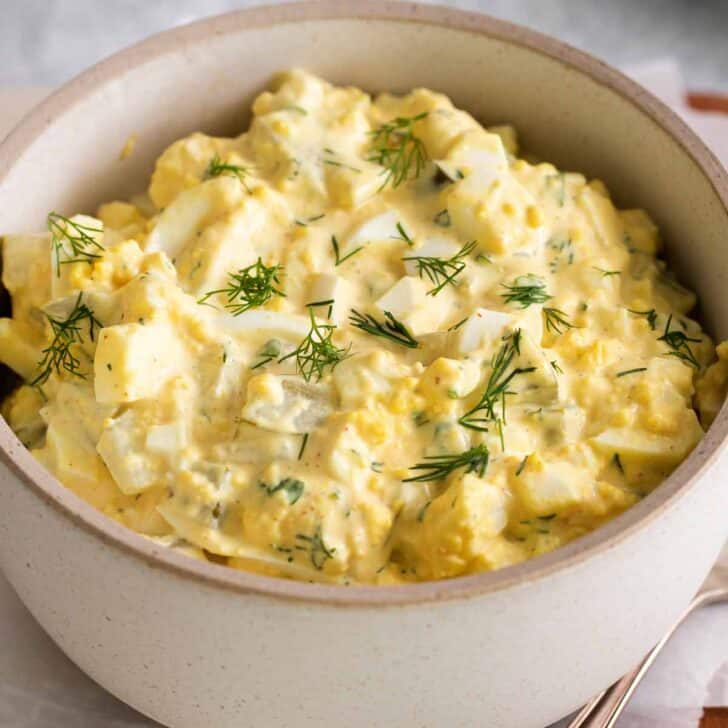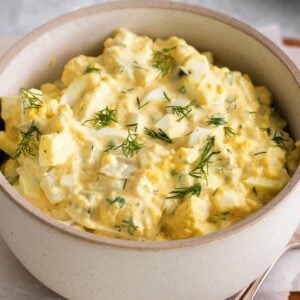 Dill Pickle Egg Salad
Delicious, creamy egg salad made with chopped dill pickles (not relish), fresh dill, and organic eggs. Great for croissant sandwiches, wraps or as a salad topping.
Read Comments
Print
Pin
Rate
Yield:
2 ½ cups egg salad
Ingredients
6

eggs

2

whole dill pickles,

finely chopped

1 ½

tablespoon

yellow mustard

½

cup

real mayonnaise

¼

teaspoon

paprika

pinch

cayenne pepper

2

sprigs

fresh dill,

chopped with large portion of stems removed

1

tablespoon

fresh chopped parsley

½

cup

arugula, microgreens or mixed greens

2

bakery croissants,

sliced in half

salt and white pepper*

to taste
Instructions
Bring a large pot of water to a medium boil. Carefully lower in eggs. Boil for 10 minutes. Turn off heat and let sit for an additional 10 minutes.

While eggs are cooking, chop pickle sand add them to a large mixing bowl.

Add mustard, mayo, cayenne pepper, paprika, fresh dill and parsley. Stir to combine.

Peel eggs and separate the cooked yolks from the egg whites. Chop egg whites into small pieces and add to mixing bowl. Put cooked yolks in a small bowl and smash them to a powdery texture using a fork, then add yolks to the large mixing bowl.

Fold everything together to combine.

Serve egg salad on a croissant as a sandwich with argula or other greens, on a rib of romaine lettuce or over a bed of salad greens with Italian Dressing!
Notes
Carefully adding uncooked eggs to boiling water v. heating the eggs with the water will help them peel more easily. I use a hand-held pasta "spider strainer" to slowly lower the eggs into the boiling water.
Arugula adds a wonderful peppery flavor so this is my favorite choice of greens to pair with this egg salad.
*White pepper is strong, you don't need much. I prefer white pepper in egg salad. However, you can use black pepper instead.
Nutrition Facts
Serving:
1.25
cups
|
Calories:
584
kcal
|
Carbohydrates:
3
g
|
Protein:
18
g
|
Fat:
55
g
|
Saturated Fat:
11
g
|
Polyunsaturated Fat:
28
g
|
Monounsaturated Fat:
15
g
|
Trans Fat:
1
g
|
Cholesterol:
515
mg
|
Sodium:
1192
mg
|
Potassium:
286
mg
|
Fiber:
1
g
|
Sugar:
2
g
|
Vitamin A:
911
IU
|
Vitamin C:
2
mg
|
Calcium:
121
mg
|
Iron:
3
mg
Follow Mighty Mrs. for more easy recipes!
Find @MightyMrs on Pinterest