This post may contain affiliate links. As an affiliate, I earn a commission.
Jump down to Recipe
★ Why You'll Love this Recipe ★
This pretty pink Catalina pasta salad is one of my family's favorite recipes. This dish always takes me back to summer barbecues we had when I was a kid. I loved this pasta salad! And I think you will too.
This pasta side dish is super easy to whip up, made with just five ingredients!
It's great for summer barbecues, potlucks or to take to work for lunch.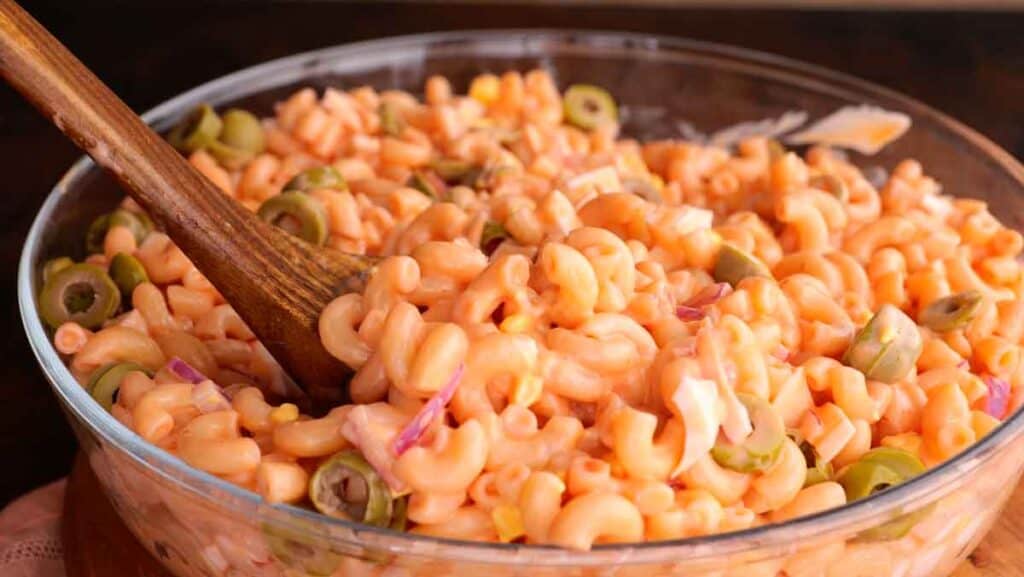 This pasta salad is served cold and is made with elbow macaroni, hard boiled eggs, Catalina dressing, mayonnaise and red onion.
You can also add green olives for a delicious briney flavor. If you're not into olives though, then you can leave them out or offer them on the side.
I love making this side dish because it's something different from the norm. Everyone is always surprised to see a pink pasta salad! Bet you haven't seen or had a pasta salad like this one before but if you have, then you know how yummy it is.
★ Ingredients You'll Need ★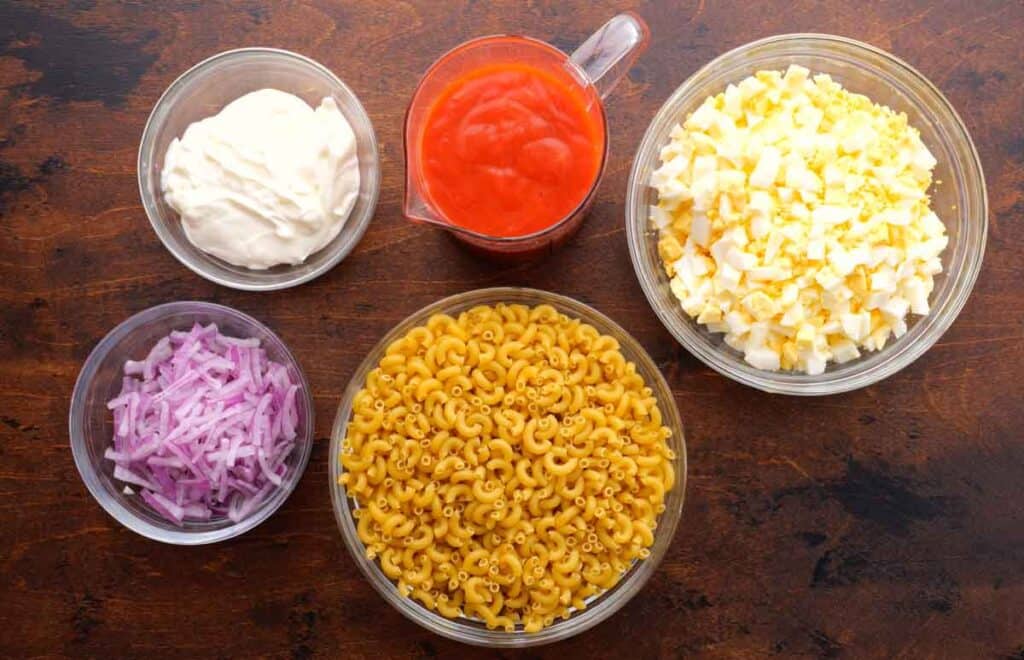 Elbow macaroni pasta. Or use any shape pasta you like. However, I like elbows for this recipe because the dressing soaks into the insides of the elbow shape making each bite flavorful and creamy.
Hard boiled eggs. I prefer organic, corn-fed hen-laid eggs. The yolks of these eggs are brighter yellow and have much more and better flavor than other eggs. To me, worth spending a little bit more. But you don't have to. Go with what works for your budget and your taste buds.
Catalina dressing. This is the key to that pretty pinky orange color you get! Catalina is a slightly sweet and tangy dressing. The perfect compliment to the hard boiled eggs.
Mayonnaise. Real mayo is best. You don't need a lot, just enough to make the dressing creamy and add a punch of tang.
Red onion. I prefer red onions in this dish because they add pretty color and they're also more mild in flavor than yellow or white onions.
Optional: Green olives. Not everyone loves olives (I do!) but they add a really yummy briney flavor to this pasta salad. If you're an olive lover, go ahead and mix them in! If you're serving this pasta salad to a mixed crowd with potentially picky eaters, you can offer the olives on the side as a topping.
That's it! just 5 main ingredients, plus olives if your heart desires.
★ How to Make this Italian Pasta Salad ★
This summer side dish comes together in a few easy steps.
Here's what's involved:
First hard boil the eggs.

Here's my secret for perfect hard boiled eggs that are easy to peel every time! Gently lower eggs into a large pot of boiling water. Boil for 10 minutes. Turn off heat. Let pot of eggs sit for another 10 minutes. Drain away the hot and water and cool off the eggs by spraying them with cold water. Crack the eggs and the shell will peel right off!

To lower the eggs into the hot water I use a spider strainer.

Peel and slice eggs into small pieces.
Cook pasta according to package, drain and let cool.
Thinly slice and chop the red onion.
Combine Catalina dressing and mayo.
Fold in cooked pasta, eggs and green olives if desired.
This pasta salad is best chilled for at least 2 hours before serving.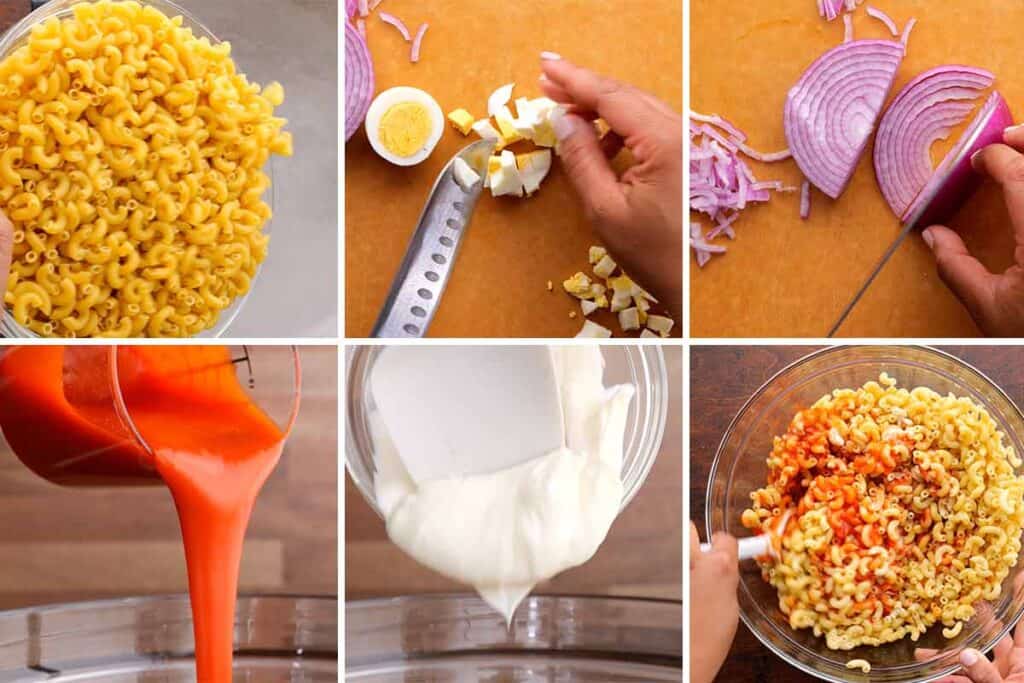 ★ FAQs and Tips ★
What is Catalina dressing made of?
Catalina dressing is a sweet and tangy tomato-based dressing that can be made with ketchup, oil, sugar, onion powder, garlic powder and vinegar. You can also just buy this dressing in a bottle ready to go. Kraft and other brands make this dressing.
What does Catalina dressing taste like?
The flavor is similar to ketchup but creamier and tangier with an onion-garlic flavor.
Catalina dressing is similar to French and Russian dressing but a bit sweeter.
If you can't find Catalina dressing or want to change up the flavor of this pasta salad, you can substitute the Catalina with either French or Russian dressing.
What other types of pasta can be used?
This salad can be made with any type of pasta. Bow tie pasta makes a pretty presentation. You could also use rotini pasta as the space between the spirals holds the dressing nicely.
I prefer elbow macaroni noodles just because that's what our family always used! So, go ahead and make this your own and choose the pasta you like best. There's no right or wrong.
★ More Recipes You'll Love ★
Love easy recipes? Me too!
While you're here, be sure to browse my other recipes and Pin your favorites for later.
Want more side dish ideas?
Browse all my side dish recipes
This easy recipe for pink Catalina pasta salad was featured on South Your Mouth!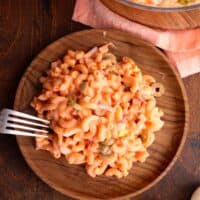 Catalina Pink Pasta Salad
This Catalina pink pasta salad with eggs is one of my family's recipes that takes me back to summer barbecues we had when I was a kid.
Read Comments
Print
Pin
Rate
Ingredients
20

oz

elbow macaroni

16

oz

Catalina dressing

1

large

red onion

10

hard boiled eggs

⅔

cup

mayo

7

oz

sliced green olives

optional
Instructions
Bring large pot of water to a boil. Carefully lower in 10 eggs. Boil over medium heat for 10 minutes. Turn off heat and let sit for 10 minutes. Rinse under cool water to cool, then peel.

While eggs are cooking, in another large pot, cook pasta al dente; drain & rinse w/ cold water.

Slice cooked eggs into small pieces, the same width as a macaroni noodle. The yolks may fall out, that's OK. Set egg pieces aside.

Thinly slice red onion then chop into pieces the same width as a macaroni noodle. Please it a very large bowl.

Add Catalina dressing, mayonnaise and cooked pasta to the onions in the bowl, stir to combine. Lightly fold in egg pieces.

If you want to add olives, add those in now, otherwise you can offer them on the side if you are serving picky eaters.

Refrigerate for at least 2 hours before serving to help marinate all the flavors together.
Notes
By keeping the size of the egg and onion pieces the same as the macaroni noodles, you'll have an even texture that not only looks nice but also tastes better!
If serving this pasta salad to picky eater, you can offer green olives on the side as a topping.
Nutrition Facts
Serving:
1
cup
|
Calories:
556
kcal
|
Carbohydrates:
58
g
|
Protein:
14
g
|
Fat:
28
g
|
Saturated Fat:
5
g
|
Polyunsaturated Fat:
8
g
|
Monounsaturated Fat:
7
g
|
Trans Fat:
1
g
|
Cholesterol:
193
mg
|
Sodium:
1030
mg
|
Potassium:
217
mg
|
Fiber:
3
g
|
Sugar:
15
g
|
Vitamin A:
348
IU
|
Vitamin C:
1
mg
|
Calcium:
51
mg
|
Iron:
1
mg
Want more easy recipe ideas?
Follow @MightyMrs on Pinterest