These heart-shaped cinnamon rolls with pink cream cheese frosting are an easy Valentine's Day breakfast idea.
This post may contain affiliate links. As an affiliate, I earn a commission.
Jump down to Recipe
These heart-shaped cinnamon rolls with pink cream cheese frosting are an easy Valentine's Day breakfast idea.
Perfect for the lazy cook!
Sometimes I get lazy about cooking. I wish I could say we carefully planned all our meals but more often than not, we don't. A lot of times, we're coming up with dinner that morning or even more likely, about an hour before we're ready to eat. I think a lot of other busy families operate this way too. Do you?
Short cuts are sometimes necessary
So along with the lack of planning issue, making everything from scratch just isn't realistic either. While nutrition is extremely important, there are a lot of other things that are important to us as a family. For one, we enjoy celebrating the special days in life like getting a good report card, birthdays and holidays.
Holidays are what you make of them
The magic of being a child only lasts for so long and as a mom, I want to savor those moments. Holidays are what you make of them, and for me they are a source of inspiration to draw on in order to create memories and traditions with my family. I love seeing the grocery store isles come alive with each holiday and the shelves stocked with different colored and shaped sprinkles, icings, and crafts.
Go with the flow!
To be honest, I used to let the holidays overwhelm me. There was all this pressure to make them special. Now, I've learned to just go with the flow. If we see a craft that looks fun, we make it. If we see sprinkles that are cute and exciting, we get them and figure out what to do with them next. For me, cooking should be about nutrition but it should also be a source of fun and enjoyment.
Put your own spin on things
So, all this to say that this Valentine's day, one of our special treats (See links to other treats below!) was putting a new spin on Pillsbury cinnamon rolls. We made these warm puffy cinnamon rolls festive and delicious by shaping them into hearts before baking them and then adding cream cheese and pink food coloring to the icing. The cream cheese gives you more icing to work with (there's never enough included!) while also making them taste so much better! Give it a try for an easy Valentine's Day breakfast or have your kids make this for you for Mother's Day. Top with fresh strawberries if you have them for a punch of color, nutrition and freshness.
Other Valentine's Day recipe ideas
Here are a few other of our favorite Valentine's Day recipes:
Love cinnamon rolls?
We can't enough cinnamon treats. We're also experimenting to see what we can do with Pillsbury Cinnamon rolls to make them even better. Check out our make-ahead Cinnamon Baked French Toast. and our easy Pull Apart Cinnamon bread. Great for feeding house guests especially around the holidays.
About meal planning...
I do want to just mention that we are getting better at meal planning. Slowly but surely. How are we doing this? Well, I finally buckled down and created my own, very simple, one-page meal planner plus grocery list. It's very basic but that's good because it's easy and quick to fill out so I'll actually do it. Want a copy to use yourself? Pop your email in the box at the top of my site and I'll send you a printable copy or check out more about how I use my meal planner here.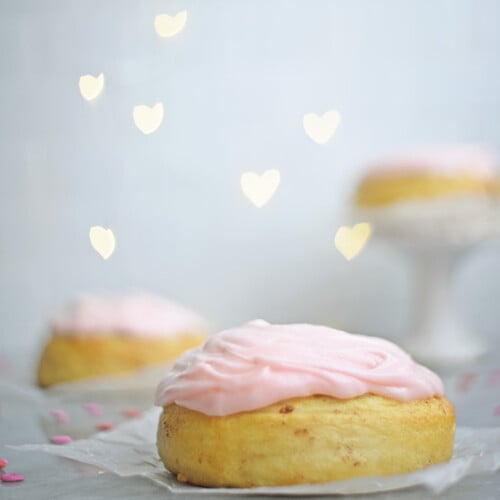 Heart-shaped Cinnamon Rolls with Cream Cheese Icing
These heart-shaped cinnamon rolls with pink cream cheese frosting are an easy Valentine's Day breakfast idea.
Read Comments
Print
Pin
Rate
Ingredients
1

tube

Pillsbury Cinnamon Rolls

¼

cup

whipped cream cheese

Few drops of red food coloring

Valentine sprinkles of choice

5

fresh strawberries

optional
Instructions
Remove cinnamon rolls from package and shape each roll into a heart shape by indenting the tail end of the roll and squeezing the sides to form the top of a heart, then pinch the opposite end to form a point.

Bake at 350˚ for 13-15 minutes or until light golden brown and the center is set. Remove from oven and let cool for 10 minutes.

In a small bowl, beat cream cheese, icing and food coloring together. Using a spatula spread a thick layer of cream cheese icing on each cinnamon roll. Top with sprinkles and if you have them, fresh strawberries, and enjoy!
Nutrition Facts
Calories:
295
kcal
|
Carbohydrates:
37
g
|
Protein:
4
g
|
Fat:
15
g
|
Saturated Fat:
7
g
|
Polyunsaturated Fat:
1
g
|
Monounsaturated Fat:
1
g
|
Trans Fat:
1
g
|
Cholesterol:
12
mg
|
Sodium:
564
mg
|
Potassium:
16
mg
|
Sugar:
16
g
|
Vitamin A:
152
IU
|
Calcium:
11
mg
|
Iron:
1
mg
Follow Mighty Mrs. for more easy recipes!
Find @MightyMrs on Pinterest