This post may contain affiliate links. As an affiliate, I earn a commission.
Jump down to Recipe
So many things to love about these holiday shredded Brussels sprouts!
This Christmas dinner side dish is easy to make and is so festive topped with pomegranate seeds and toasted walnuts.
Just Five Ingredients
All you need is five, maybe four if you want to go the nut-free route, ingredients. Brussels spouts, of course. A bit of olive oil (or grape seed oil works too). Fresh pomegranate seeds. Walnuts. And then sea salt to finish things off.
Roast or sauté these shredded Brussels sprouts.
You can cook these quickly on the stove top in a skillet. Or you can roast them in the oven. Below you'll find directions for the stove top method. However, since this is a holiday dish, sometimes the stovetop gets full making side dishes. So, if that's the case and you have available oven space, go ahead and roast them in the oven at 400˚for about 15-20 minutes or until you see some golden brown edges.
If you have neigh stovetop space or oven space, then you can also cook these in an electric skillet.
Nuts Optional
You might be a bunch of nuts, but if you or your family are not into eating nuts, you can leave those off. I think the walnuts add a little bit of a rustic Christmas/wintery look if you leave them whole but the green Brussels sprouts with simply fresh pomegranate seeds added, is also very festive just by itself. You can scroll through the photo to see this side dish with and without the nuts and see what you think.
Toasting nuts optional.
Toasting the nuts for just a minute or two adds some warmth and extra flavor to this dish. It's optional though. You can skip the toasting and just add walnuts in their natural form if you want to save time.
How to Easily Remove Seeds from a Pomegranate
You want to know the easiest way? Let POM do the work for you! POM sells cups full of pomegranate seeds when pomegranates are in season, which just so happens to be right before the holidays through the winter months. So that's what I like to do. You know me. Always looking for the easy way out!
But sometimes the ready-to-go seeds don't last long. They seem to spoil quickly. So an actual pomegranate fruit may be a better option if you need to shop several days before you're ready to use them.
In that case, to easily remove the seeds from the pomegranate follow these steps:
Cut or peel open the pomegranate.
Fill a large bowl with cold water.
Over the bowl of water, squeeze the outside of the fruit to loose the seeds until the fall into the water. You may need to help some of them out with clean hands or a spoon.
As the seeds and the pulp of the pomegranate fall into the water, they should separate. The pulp will float while the seeds will sink.
Skim off the pulp then spoon out the seeds with a slotted spoon or drain them using a strainer.
How to Shred Brussels Sprouts
Again, you can actually buy Brussels sprouts already shredded. So that's going to be the easier way to go!
If you prefer to shred your own, you can easily shred Brussels sprouts using a food processor. Most all food processors have a shredding wheel attachment you can use. Just drop in the Brussels sprouts with the shredder attachment in place, let them whirl around, and that's it! Easy.
Shredding your own works best when using fresh Brussels sprouts however you can also shred frozen ones too, they just tend to be a little messier/juicier is all.
Presenting this Side Dish as a Festive Wreath
This is easy too. All you need is a round platter, tart pan, or large plate to serve this. Something with a lip is helpful to contain the food and prevent spills. I use my ceramic tart pan for this dish and it works great. You can get the same one on Amazon here.
Arrange the cooked Brussels sprouts in a circle, leaving the center open. Top with fresh pomegranate seeds and walnuts to finish it off and serve immediate while still hot and fresh.
Make-ahead Wreath Tips
If you're making this ahead, you can cook the Brussels sprouts, arrange in a wreath shape on your platter (be sure it's microwave safe) and cover in plastic wrap. Before serving, heat with plastic wrap on for 2 minutes. Carefully remove plastic wrap (direct hot steam away from you) and top with pomegranate seeds and walnuts right before serving.
More Holiday Recipes
Browse all my recipes that are perfect for the Christmas holidays!
This super easy recipe for a Brussles Sprout Wreath was featured on Meal Plan Monday!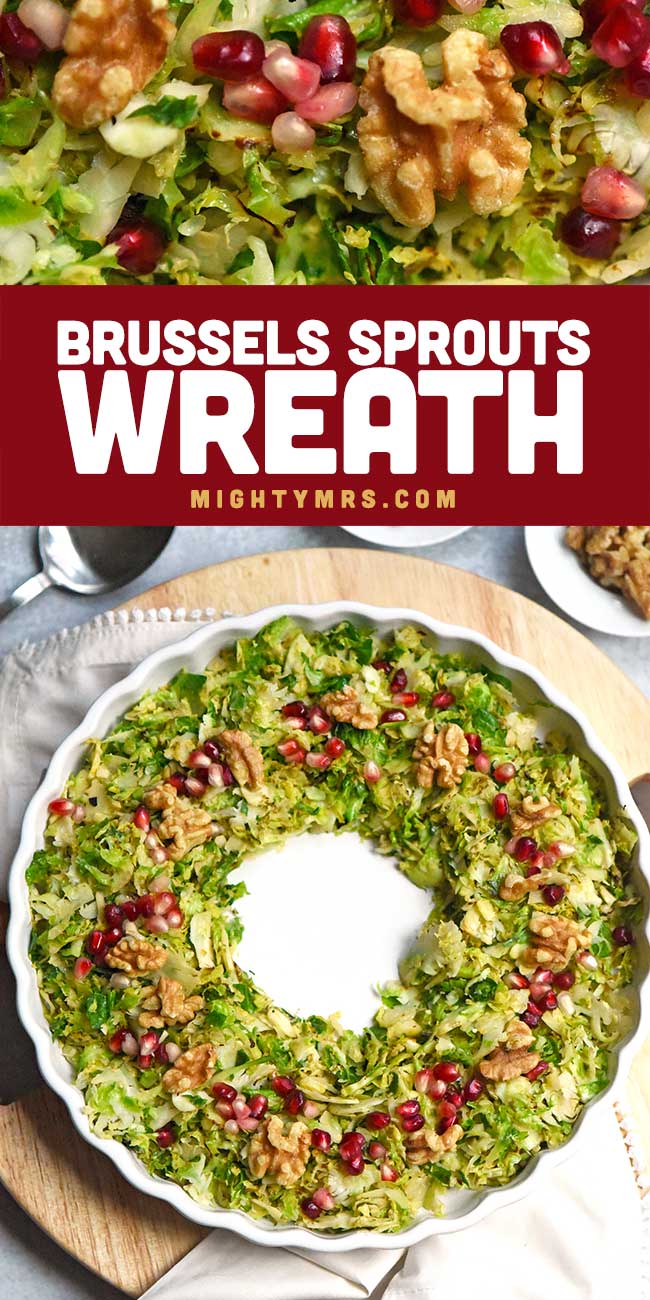 Holiday Shredded Brussels Sprouts
These holiday shredded Brussels sprouts taste as good as they look! And easy to make too — just 5 ingredients! Brussels spouts, olive oil, pomegranate seeds, walnuts and sea salt to finish things off. A super cute, healthy and tasty holiday side dish.
Read Comments
Print
Pin
Rate
Ingredients
1

lb

fresh Brussels sprouts

3

tbsp

olive oil

1 ½

tsp

sea salt

more or less to taste

¼

cup

pomegranate seeds

½

cup

walnut halves

toasted (optional)
Instructions
Shred Brussels sprouts using a food processor.

Heat oil in a skillet over medium-high heat. Add shredded Brussels sprouts.

Cook for 10 minutes, stirring frequently, until edges of Brussels sprouts are golden brown.

While Brussels sprouts are cooking, toast walnut halves by placing on a baking sheet and baking in the oven (or use a toaster oven) at 350˚for 5-8 minutes or until you can just start to smell their nutty fragrance. Remove immediately and set aside. Keep a close eye on them since they can quickly overcook.

When Brussels sprouts are done cooking, spoon them onto a platter, forming a wreath shape.

Top with pomegranate seeds and toasted walnuts. Serve immediately while hot.
Nutrition Facts
Calories:
164
kcal
|
Carbohydrates:
9
g
|
Protein:
4
g
|
Fat:
14
g
|
Saturated Fat:
2
g
|
Polyunsaturated Fat:
5
g
|
Monounsaturated Fat:
6
g
|
Sodium:
601
mg
|
Potassium:
353
mg
|
Fiber:
4
g
|
Sugar:
3
g
|
Vitamin A:
572
IU
|
Vitamin C:
65
mg
|
Calcium:
42
mg
|
Iron:
1
mg
Want more easy recipe ideas?
Follow @MightyMrs on Pinterest