Homemade fruit snacks are a great way to get fruits and veggies into perfect kids. You get to choose the ingredients versus buying these at the store.
This post may contain affiliate links. As an affiliate, I earn a commission.
Jump down to Recipe
**This recipe is sponsored by Slammers Superfood Snack**
Here's the thing. I really want my kiddos to eat their fruits and veggies. It's just not that easy. And I like easy.
I mean, I am willing to put in some effort when it comes to my family's health, of course I am. As long as it doesn't take a lot of time. Because, who (consistently) has lots of extra time to toil away making food? This coming from a food blogger! Hey, just because I'm a food blogger, doesn't mean I like to spend my time making the fanciest, most labor-intensive food imaginable. That's just not practical. And practical is kind of my thing. I like to keep it real. Look, we've got wrestling practice, horse lessons, homework, laundry, cleaning, paperwork and, you know, actual business to attend to like answering phone calls and emails in a timely fashion in order to get the bills paid. So, a good shortcut is always my bff.
Smoothies and fruit slushies have always been a hit in our house because you can use frozen fruit (cuts down on trips to the store), and yogurt (keeps forever in the fridge), you can make them in less than 5 minutes (woot!) aaaaand the kids actually eat them. ???? Yes, I'm one of those moms desperate for their kids to eat better. If your kids eat anything and everything, I'm truly happy for you. Really, I am. I mean it.
So, yeah it's winter here and when it's 12˚and there's a foot of snow on top of your van that you have to brush off to get anywhere, you don't really get excited about a refreshingly cool smoothie. So I think that's how I stumbled upon making homemade fruit snacks. Somewhere in between shoveling snow and Pinterest, this light bulb went off that I could use fruit puree pouches to make a delicious and healthy snack that the kids and I would have fun making together. So, we did it! And to my surprise, making homemade fruit snacks was easier than I thought.
There are a few things you're going to want to know before you get started. First, while we did use silicon gummy bear molds, the texture ends up more like a fruit snack than a gummy bear. The gummy bears are just cute! You could also use a glass dish and just slice them into blocks to keep it simple. Second, we used Slammers superfood snack pouches instead of having to make our own fruit purees and here's why: aside from saving time and that they store at room temperature, I really like that the Slammers fruit puree pouches are a yummy blend of different fruits and some even have veggies and protein too. So you're getting a variety of vitamins and nutrients into the gummies without having to buy and store all sorts of different ingredients. Also, the size of each pouch is a perfect match with the packets of gelatin. So it's really easy to make a small batch of each flavor to get a pretty variety of colors. Last thing. I recommend choosing a juice to compliment the flavor of the pouch. For example, I used orange juice with the Epic snack pouches because those already contain oranges and I used grape juice with the pomegranate grape crush pouches.
One final tip: I experimented with a few other flavors of gummies including cinnamon vanilla chia seed pudding and coconut milk and honey. You can really make anything that's a puree or a liquid into a gummy so have fun and get creative with your flavors by using whatever you have on hand! The textures may be different, but as long as you use the same measurements as listed, you can swap out different fruit purees, and juices or other (edible) liquids to your liking. Have fun and don't forget to follow along with us on Instagram to see what we're up to. I'm happy to answer any questions you have via the comments or message me on Instagram.
Here are some things you'll need for this recipe: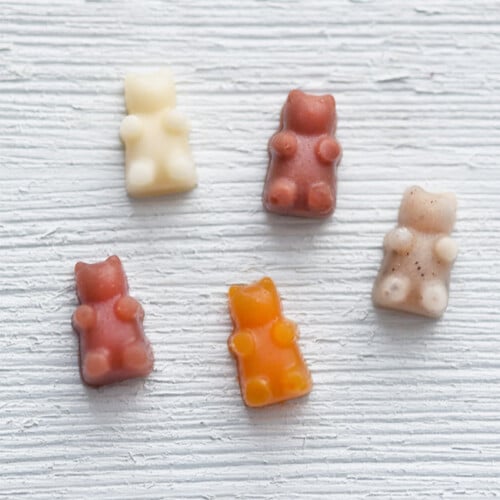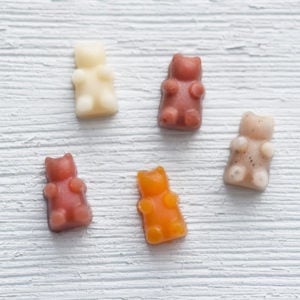 Homemade Fruit Snack Gummy Bears
Homemade fruit snacks are a great way to get fruits and veggies into perfect kids. You get to choose the ingredients versus buying these at the store.
Read Comments
Print
Pin
Rate
Ingredients
3.17

oz

Slammers Superfood Snack pouches (flavor of your choice)

1 pouch

¼

cup

juice

choose a flavor to compliment your fruit puree

1

packet

gelatin powder

1 tbsp
Instructions
In a small pot, over low heat, squeeze out fruit puree pouch then add juice and gelatin power. Whisk together until gelatin is dissolved.

Remove pot from heat and using a ¼ teaspoon or an eye dropper, transfer the fruit mixture into your mold. If using the gummy bear molds, I found using a ¼ teaspoon exactly filled each bear and created less bubbles than the eyedropper. If bubbles occur, do your best to pop them. Fill each bear up the the top. The fruit snacks do not expand or contract after they set.

Place the tray of fruit snacks in the freezer for 5-10 minutes or until they are set. Gently push the front of the mold to pop them out. That's it! Easy peasy!
Nutrition Facts
Calories:
90
kcal
|
Carbohydrates:
17
g
|
Protein:
6
g
|
Fat:
1
g
|
Saturated Fat:
1
g
|
Polyunsaturated Fat:
1
g
|
Sodium:
18
mg
|
Potassium:
130
mg
|
Fiber:
1
g
|
Sugar:
14
g
|
Vitamin A:
27
IU
|
Vitamin C:
1
mg
|
Calcium:
12
mg
|
Iron:
1
mg
Follow Mighty Mrs. for more easy recipes!
Find @MightyMrs on Pinterest