Feeling scrappy but still craving something delicious? Kaiser roll mini pizzas will save the day. Great for a quick and easy lunch or dinner. Kid-friendly too!
This post may contain affiliate links. As an affiliate, I earn a commission.
Jump down to Recipe
When you're feeling scrappy but still crave something delicious, these kaiser roll mini pizzas will save the day.
★ Why You'll Love this Recipe ★
We all know kaiser rolls are good for burgers...
But what you might not have known (until now) is that kaiser rolls make some awesome and easy mini pizzas!
Instead of pizza dough, just grab a kaiser roll, cut it in half and top with your favorite pizza sauce, cheese and toppings.
Make these mini pizzas for dinner, lunch or serve as a appetizer.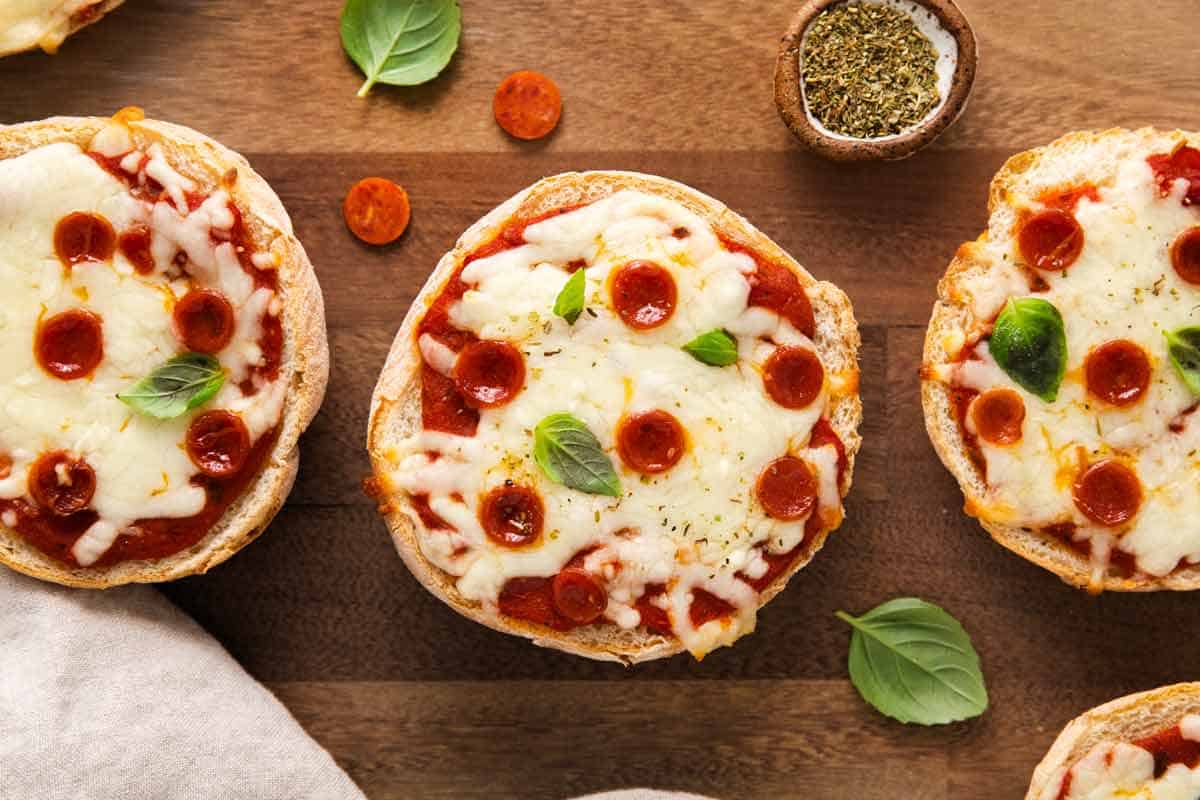 These are easy enough to pull off on a short lunch break but also make a great lazy-style dinner.
I love making these kaiser roll pizzas for dinner because everyone can prep their own. We like to pull out whatever topping-able items we have on hand and everyone builds their pizzas.
Great use for leftover hamburger buns!
Is it just us or do we always have too many or not enough hamburger buns? I'm on the side of buying more than we need so that means we always have leftover buns. If you're like us, now you have a way to use up those leftover buns before they go bad.
These kaiser roll pizzas are kid-friendly!
Kids seem to love two things: 1. Pizza and 2. Anything they help make. So since this dinner idea checks both those boxes, chances are, any kids you're trying to feed will happily enjoy these.
★ Ingredients You'll Need ★
You literally just need 3 main ingredients for basic, cheese mini pizzas. Then add any toppings you'd like. So simple! Yet so tasty.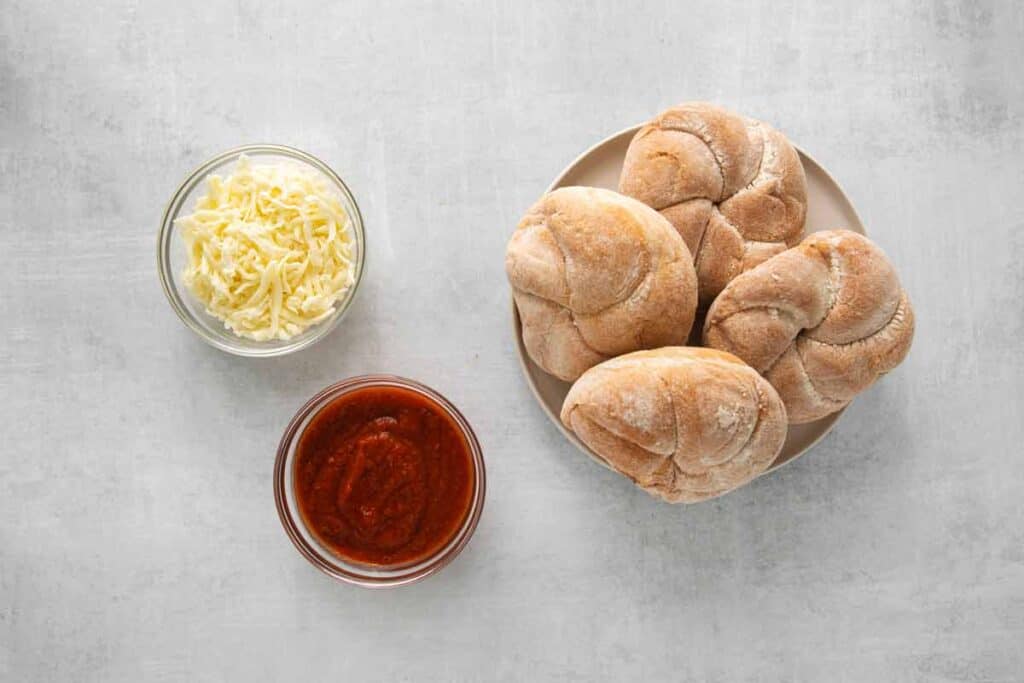 Choose Your Own Topping Adventure
All the standard pizza topping ideas apply here but here are some topping combinations we especially love:
Pineapple chunks + black forest ham
Mini pepperonis + roasted red pepper
Banana peppers, red onion slices and Sriracha sauce
Fresh basil + fresh diced tomato + garlic powder
★ How to Make these Pizzas ★
You'll only need about 5 minutes to prep these mini pizzas!
Here are the steps involved in making these, start to finish: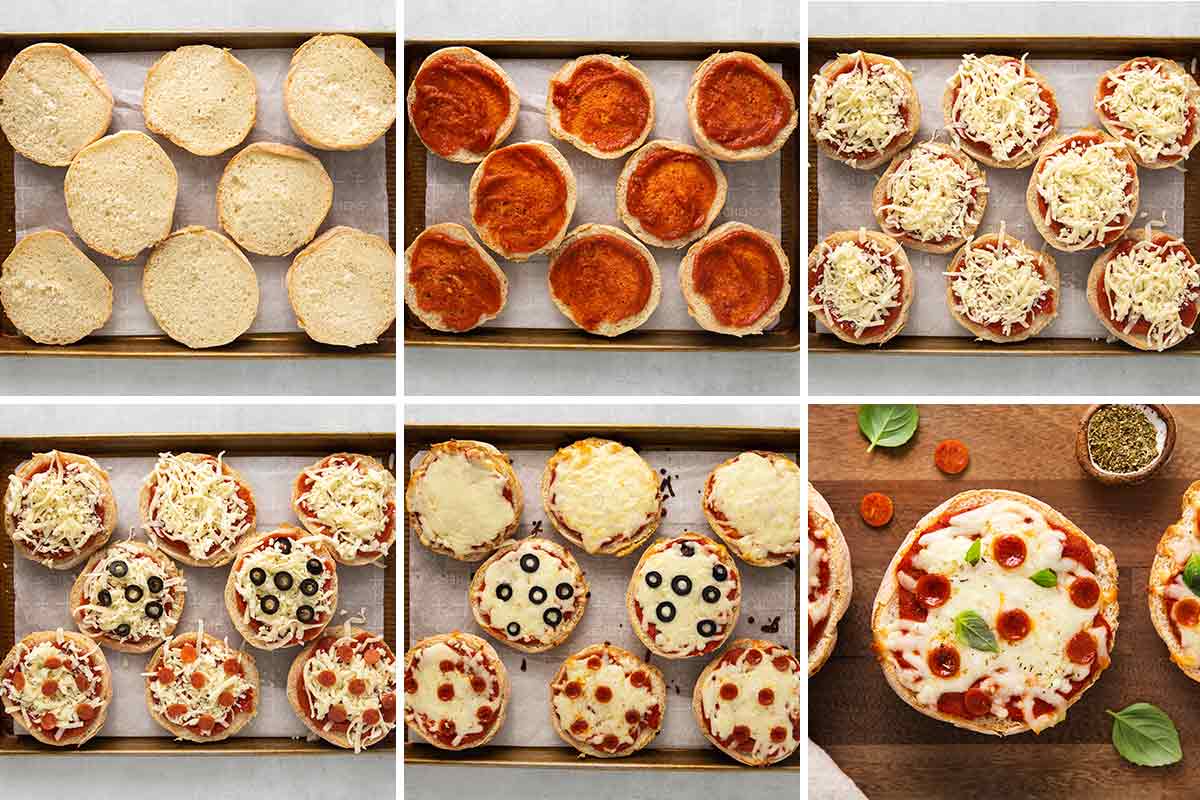 Cut kaiser rolls in half
Place rolls on baking sheet.
Spread each roll with pizza sauce.
Top each roll with cheese then toppings.
Bake.
Add any garnishes and/or seasoning.
That's it. Super easy!
★ Tips & FAQs ★
"What would a kaiser roll pizza taste like?" You might ask.
Well, imagine all the things you know about kaiser rolls— their somewhat flaky texture, bakery-fresh flavor and light and airy inside with crispy outside.
Now, image that delicious roll smeared on both of its halves with a layer of pizza or spaghetti sauce and then each half sprinkled with mozzarella cheese.
Now image that going into a warm toaster oven (or conventional oven) and baked until the cheese gets nice and melty and the outside edges of the kaiser roll come to a light crisp. Boom. So easy. So yummy. And they look cute too!
Next, take a bite. The crust is warm and crispy yet chewy like a regular pizza. Good thing you get two halves because you're going to want more than just one.
Day old kaisers rolls?
Or even several days old? Not a problem! These get toasted and crisped anyway, so if they're a little old, it's no big deal. In fact, if you're a bargain hunter and you love the day-old bakery rack, this is a great way to use those half price rolls you might find.
Can you make ahead and freeze these mini pizzas?
Yes! You can make a big batch of these little pizzas then freeze them before baking. Just wrap tightly in plastic wrap and freeze for up to 2 months. When you're ready to eat one, unwrap and place directly on the toaster or regular oven rack and bake for an extra 1-2 minutes as needed. No need to defrost.
Add toppings before you bake.
Baking your toppings right along with your pizza will give you a little extra flavor so top your pizzas right before you pop them in the oven.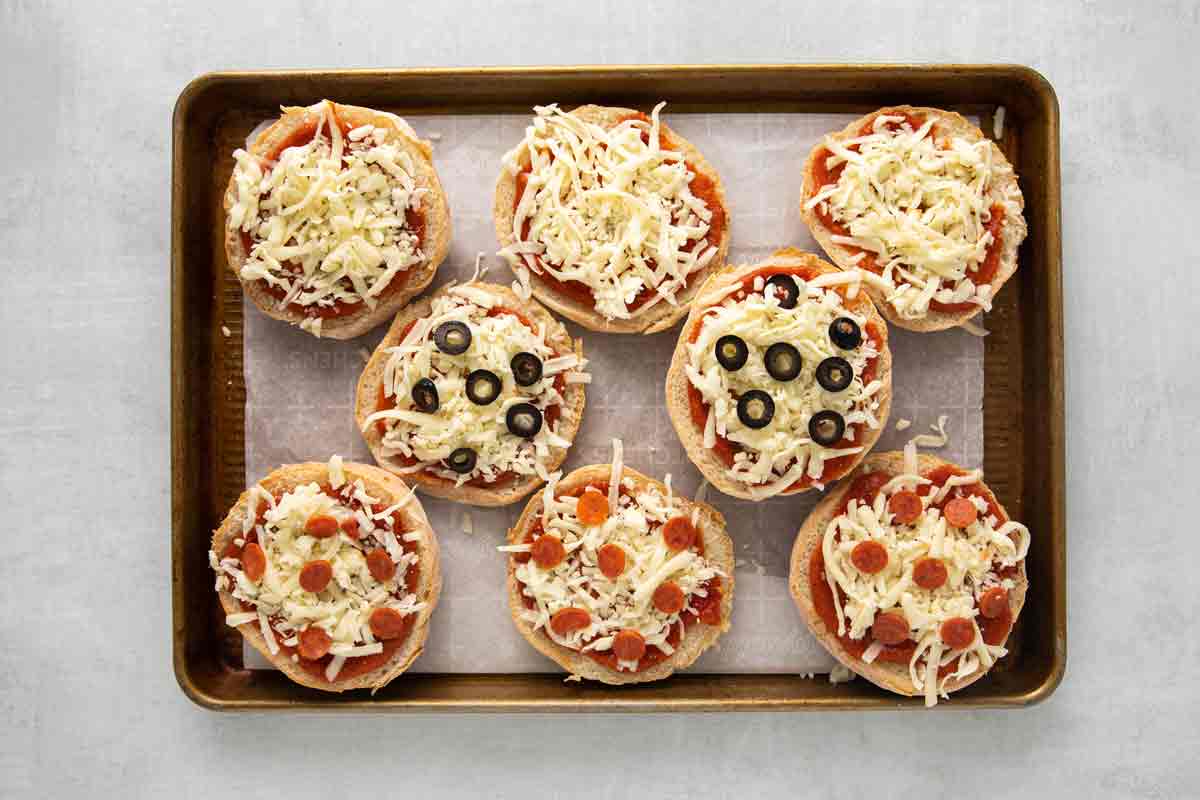 You can sprinkle any seasonings on after your pizzas are baked. And if using fresh basil as a topping, I recommend adding that after baking as well.
★ More Recipes You'll Love ★
Love easy meals? Browse all my dinner recipes and Pin your favorite for later!
Love Italian flavors? Browse all my Italian-inspired recipes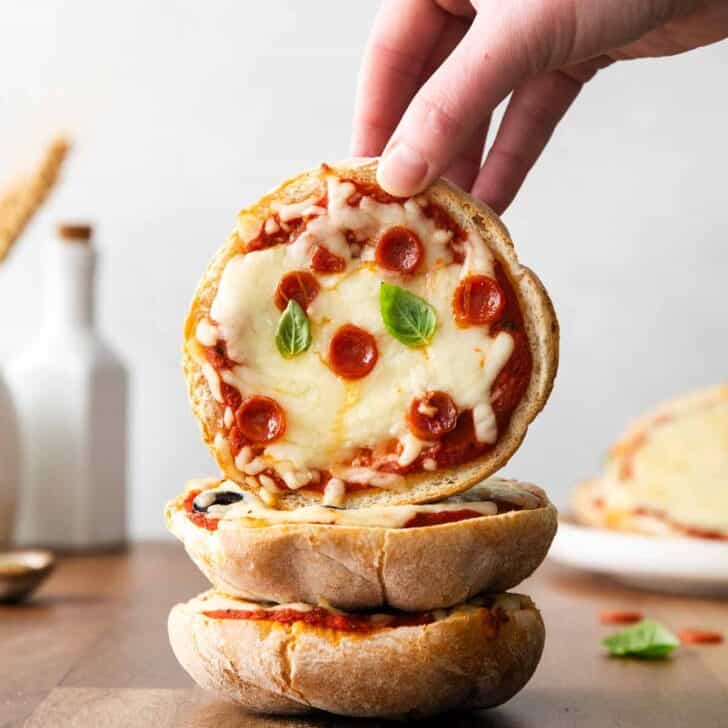 Kaiser Roll Mini Pizzas
Feeling scrappy but still craving something delicious? Kaiser roll mini pizzas will save the day. Great for a quick and easy lunch or dinner. Kid-friendly too!
Read Comments
Print
Pin
Rate
Ingredients
4

kaiser rolls

8

tablespoon

pizza or spaghetti sauce

8

tablespoon

shredded mozzarella cheese
Toppings
Anything you'd put on a pizza!
Instructions
Slice kaiser rolls in half if not already sliced. Lay rolls, flat size facing up, on a baking sheet.

Spread 1 tablespoon of pizza or spaghetti sauce on each roll half and top with 1-2 tablespoon of mozzarella cheese.

Add any toppings your heart desires!

Bake at 450˚for about 5-7 minutes or until cheese is completely melted.
Notes
See above for toppings ideas.
Nutrition Facts
Serving:
1
pizza
|
Calories:
131
kcal
|
Carbohydrates:
16
g
|
Protein:
6
g
|
Fat:
5
g
|
Saturated Fat:
2
g
|
Polyunsaturated Fat:
1
g
|
Monounsaturated Fat:
1
g
|
Cholesterol:
12
mg
|
Sodium:
319
mg
|
Potassium:
87
mg
|
Fiber:
1
g
|
Sugar:
1
g
|
Vitamin A:
165
IU
|
Vitamin C:
1
mg
|
Calcium:
104
mg
|
Iron:
1
mg
Follow Mighty Mrs. for more easy recipes!
Find @MightyMrs on Pinterest