This delicious old fashioned ground beef goulash is a recipe reminiscent of what your grandma may have served. Made with bell peppers, onions, tomato sauce, diced or crushed tomatoes, Worcestershire sauce and elbow macaroni pasta. An easy dinner that tastes great and feeds a large family or a small crowd. Freezer friendly too.
This post may contain affiliate links. As an affiliate, I earn a commission.
Jump down to Recipe
★ Why You'll Love this Recipe ★
American Goulash is one of those recipes your grandma may have served. It seems to bring back fond memories for so many.
"Goulash" might be an old fashioned American dish but it's still a great little dinner recipe for modern families.
This particular Goulash recipe is flavorful featuring ground beef, bell peppers, onions, Worcestershire sauce and spices.
The cooking process is very simple and uses just one pot for easy clean up! Hooray for less dishes!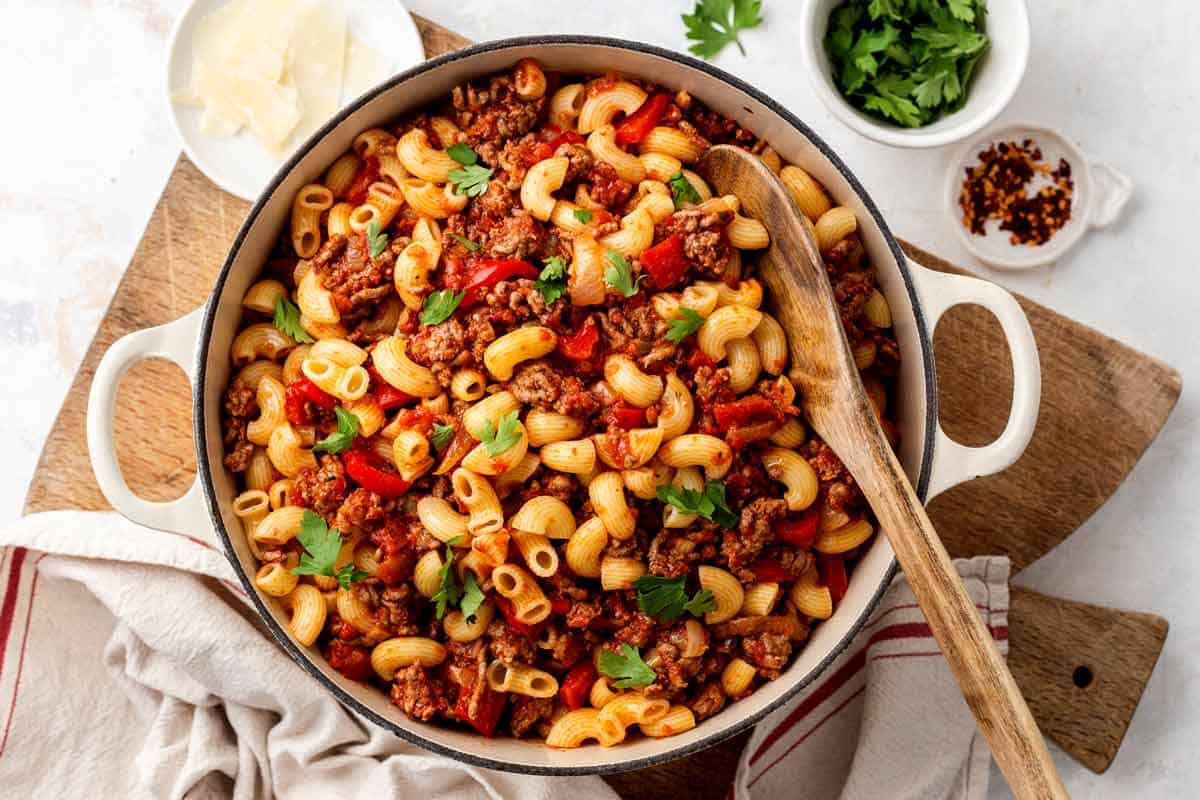 American Goulash vs. Hungarian Goulash
First of all, I need to mention the difference between American Goulash and Hungarian Goulash.
American Goulash features ground beef and elbow noodles. It's more of a pasta dish.
Whereas Hungarian Goulash is more of a soup made with chunks of beef and can incorporate potatoes and other vegetables.
This is a recipe for American Goulash which is quite a bit different than Hungarian goulash. If you're looking for Hungarian Goulash, check out this recipe by Spend with Pennies.
Different parts of the United States started calling this dish Goulash. It's popular where we live in Pennsylvania and Ohio.
Did you grow up eating American Goulash for dinner? Comment below with where you're from if so!
Old fashioned goulash is great for families on a budget.
One of the reasons this recipe became so popular back in the day is that it's really affordable to make a big batch of this filling dish.
American Goulash is a great dinner for feeding big families, house guests, growing children and teens, or for making extras to have lunch to take to work for the week. Ground beef is very affordable and is typically well-liked even among picky eaters.
All the food groups in one dish!
I love a meal where you get the filling factor of carbs, hearty and flavorful meat, plus veggies all in one dish. It makes cooking and clean up super simple and I'm happy as mom because everyone gets some veggies with each scoop.
★ Ingredients You'll Need ★
Traditionally, and with this recipes, here's what you'll find in American Goulash:
Elbow macaroni. This classic pasta shape works well with this dish because the sauce and bits of meat get trapped inside the noodles in the best way making for perfect bites! However, if you want to use a different shape of pasta, by all means, you can.
Ground beef. This is a great "Hamburger Helper" style recipe that's almost as easy as just adding some beef to a box. We are just incorporating some more freshness and texture vs. the boxed dinner with onion, mixed vegetables and tomatoes.
Bell peppers. To me, the peppers are what really makes goulash goulash. Bell peppers add a subtle sweetness and depth of flavor that sets this dish apart from the more familiar spaghetti dinner.
Onion and garlic. This tasty duo layers flavor into the sauce and compliments the ground beef nicely.
Tomato sauce and diced tomatoes. You get lots of sauce but also a little but of a chunky texture when you combine these two to form the base for the sauce.
Worcestershire sauce. This is almost like a secret weapon for literally beefing up the flavor of this dish. It's subtle but if you've been making Goulash without Worcestershire sauce and feel like it's been missing something, this just might be what's missing!
A tablespoon of sugar. Because that's what grandma did and that's because it perfectly balances out the acidic tomatoes and peppers. Another subtle but secret weapon!
Olive oil. I like to add a splash of olive oil to enrich the sauce. It seems insignificant but it really makes a difference in adding flavor and a silky smooth texture to the finished dish. Scientifically speaking, adding a small amount of fat to a dish makes things taste much more flavorful because the fat actually helps the flavor stick to your tongue longer. How fun is that?
Optional Ingredients for Extra Flavor
Black olives are an excellent topping for this dish, adding some saltiness and texture to each bite. Add as a topping to your finished dish or stir them in at the end of the cooking process if you want to heat them up a little.
You could also add chopped artichokes, fresh or dried Italian herbs and/or Parmesan cheese. Add these as toppings when serving.
Ideally, you'll want to let the olives and artichokes get to room temperature before adding as toppings.
Bay leaves also add a layer of extra flavor. Add 2-3 bay leaves when you saute the meat and veggies. You can leave them in the sauce as it cooks. They are edible but you don't want to actually eat them as they are tough. So when serving, just pull them out if you accidentally scoop them onto your plate.
★ How to Make this Dish ★
This American Goulash Recipe is an easy ground beef dinner comes together in just a few steps and with just one pot!
First, boil the elbow macaroni according to package then drain and set aside.
Next, use the same pot to cook ground beef, onion, garlic and bell peppers.
Add tomato sauce, diced tomatoes, Worcestershire sauce, olive oil, and salt to taste.
Return cooked pasta to pot and stir to combine.
Serve and add optional toppings as desired!
Quick and easy!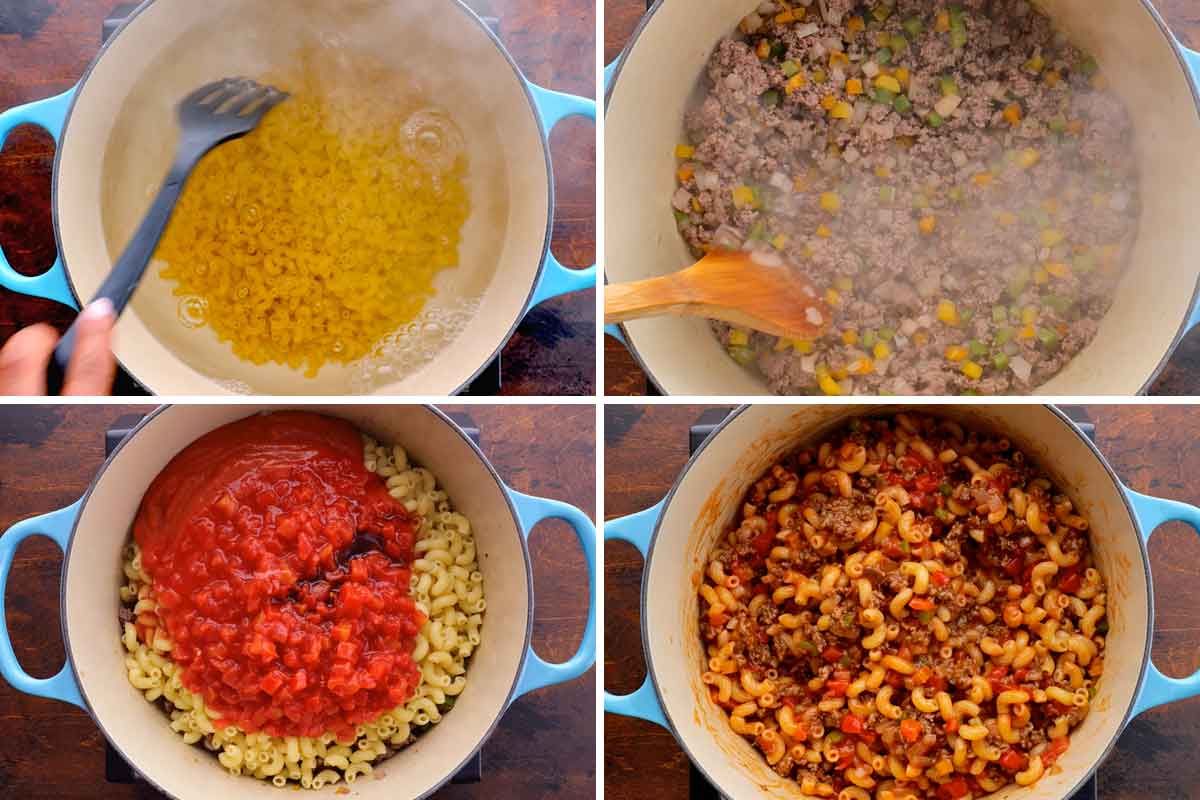 ★ FAQs ★
How can you lighten up this dish?
There are two main tweaks that will make this dish a little healthier.
Try substituting some or all of the ground beef with ground turkey which contains less fat. You can also choose a lean ground beef to reduce the fat this dish.
Try a protein or plant-based pasta. This will reduce carbs and add protein and/or vitamins.
What type of tomato sauce is best for goulash?
I always say, go with what you have. This recipe works well with crushed tomatoes, diced tomatoes, spaghetti sauce, tomato soup or V8 + tomato paste. A combination of these would also work.
Try different kinds to vary the flavor a bit if you make this often. Experiment and find what you and your family like best. As long as you're working with a tomato-based sauce, you can't go wrong. Tomato paste can be used to thicken any sauce you find too thin.
Do you have to cook the pasta separately?
You don't have to but I prefer to cook the macaroni noodles separately, drain, then combine the pasta with the meat and sauce. This allows better control over cooking the macaroni just right and you can drain away flavorless water.
However, you can cook the pasta right in the sauce if you add water. You'll end up with a thinner sauce since you'll need to add 1 and ½ cups of water in addition to the tomato sauce. Most of the water will get absorbed by the pasta but if you find your sauce is too watery, then you can add tomato paste to thicken it. If you find it too watery tasting, then try adding some beef bullion powder or Worcestershire sauce until it tastes just right. You may need additional salt as well.
So, up to you how you want to tackle cooking this. Some will argue that traditional goulash is all cooked in one pot and that is what makes it different than spaghetti. To me, the flavor is what sets it apart. Specifically the bell peppers and onions are what give this dish its unique taste, apart from spaghetti. I say, there is no right or wrong here. Go with what works for you!
If you're planning to cook everything in one pot, I'd recommend using a dutch oven. Cook the ground beef, peppers, onions and garlic first, then add the sauce, water and macaroni noodles. Simmer for about 20 minutes or until pasta is fully cooked.
Is American goulash freezer friendly?
Yes. Goulash is freezer-friendly so you can make a bunch and freeze half for later. Or share with friends and family. Goulash makes a great make-ahead meal for new moms, sick friends, and new neighbors.
Store in an air-tight container in the freezer for up to 4-6 months.
To reheat from frozen: Cover with foil and bake at 350˚ for about an hour and 15 minutes or until center is nice and hot. You can also defrost this casserole first and just bake for about 45 mins.
How long can you store Goulash in the fridge?
Goulash store well for 3-5 days refrigerated in an air tight container.
★ More Recipes You'll Love ★
Love an easy, yummy dinner?
Browse all my dinner recipes and Pin your favorites!
Are you a fan of beef? Browse all my beef recipes
This easy recipe for Old Fashioned Ground Beef Goulash was featured on Menu Plan Monday and The Country Cook!
Old Fashioned Ground Beef Goulash
This delicious old fashioned ground beef goulash is a recipe reminiscent of what your grandma may have served. Made with bell peppers, onions, tomato sauce, diced or crushed tomatoes, Worcestershire sauce and elbow macaroni pasta. An easy dinner that tastes great and feeds a large family or a small crowd. Freezer friendly too.
Read Comments
Print
Pin
Rate
Ingredients
8

oz

elbow pasta

1

lb

ground beef

1

cup

bell peppers,

any color or mix of colors, seeded and diced

1

small

onion

diced

1

teaspoon

garlic paste

15

oz

tomato sauce

14.5

oz

petite diced tomatoes

or crushed tomatoes for smoother sauce

1

tablespoon

Worcestershire sauce

1

tablespoon

olive oil

1

tablespoon

sugar

more or less to taste

½

teaspoon

salt

more or less to taste
Optional:
Grated Parmesan cheese

red pepper flakes

Italian spices

olives

artichokes
Instructions
In a dutch oven, cook elbow macaroni according to package, drain and set aside.

Set the dutch oven to medium-high heat and add ground beef, diced bell peppers and onion. Cook until ground beef is brown and peppers and onions are soft, about 10 minutes. Add garlic paste and cook for an additional minute.

Stir in cooked pasta*, tomato sauce, tomatoes, Worcestershire sauce, olive oil, sugar and salt to taste.

Serve hot! Offer Parmesan cheese, red pepper flakes, Italian spices, olives and/or artichokes as optional toppings.
Notes
*To cook the pasta in the sauce instead of cooking and draining it first: Add pasta uncooked plus 1 and ½ cups of water. Cook pasta and sauce over medium heat, stirring occasionally, for 15-20 minutes of until pasta is desired tenderness.
Nutrition Facts
Serving:
1
cup
|
Calories:
305
kcal
|
Carbohydrates:
30
g
|
Protein:
15
g
|
Fat:
14
g
|
Saturated Fat:
5
g
|
Polyunsaturated Fat:
1
g
|
Monounsaturated Fat:
6
g
|
Trans Fat:
1
g
|
Cholesterol:
40
mg
|
Sodium:
534
mg
|
Potassium:
596
mg
|
Fiber:
3
g
|
Sugar:
6
g
|
Vitamin A:
926
IU
|
Vitamin C:
33
mg
|
Calcium:
48
mg
|
Iron:
3
mg
Follow Mighty Mrs. for more easy recipes!
Find @MightyMrs on Pinterest