This caramel apple crumb cake got me thinking…
Sometimes getting some time to yourself to process your thoughts is what you need to navigate through difficult times.
Baking is therapy.
Sometimes it's really hard but I'm learning to embrace all the seasons of life. Even the not-so-fun ones. The trying ones. The humbling ones. The ones that make you want to give up. That ones make you question your identity. The ones that make you question your worth, your value, you ability to contribute something meaningful to this big world. Even those can be beautiful.
Savor the seasons.
My grandpa, always freely giving out nuggets of wisdom, used to tell me "Don't forget to stop and smell the roses." I don't think he meant it literally of course but a lot of times you can find some peace in nature. I know I do.
Right now appreciating the turning leaves, the fruits that are in season, the harvest moon, the cool evenings, even the spider webs… all the things that make fall, fall. Knowing that it's not going to last long makes we want to soak in this time of year and make the most of it.
For me, taking things that aren't going to be around forever and making the most of them helps me appreciate the season I'm in. I don't want to look back and regret not appreciating what was right in front of me. Even something as simple as taking fresh, local apples and turning them into a cake that I can enjoy with my family is enough.
Make the most of what's in front of you.
Things don't have to be complicated but you do need to put in a certain amount of effort to not just let the seasons pass by. Dive in and enjoy them. Eat some cake with your family. Perhaps this caramel apple crumb cake with apple cider glaze?
Sometimes you need a short cut.
I get it. Life's busy. Maybe it's no longer fall and fresh apples aren't plentiful or maybe you just don't feel like peeling a bunch of apples. Go ahead and spare yourself some time. You can buy already peeled apples or you can also just use apple sauce for this recipe. It'll still taste great! Promise. 😉 I mean, it's caramel apple crumb cake….
Get a little fancy
Sometimes putting something on a pedestal can make things feel more special. My feeling is, if you're going to go to the trouble of baking a special treat from scratch, then you need to display it proudly!
I scored the mini cake stand above at Marshalls and I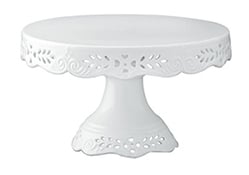 adore it! It's perfect for taking photos to show you guys what the inside of the cakes and pies look like. It's not really practical for every day use though and so that's why I thought I'd recommend a full size cake stand so you guys can enjoy presenting your cake in a pretty way too.
For the love of apples
If you love apples, check out my tips for making the perfect yet super easy candy apples using a kit. And
Want more dessert ideas?
This caramel apple crumb cake was featured on South Your Mouth and on Wow Me Wednesday