There's something so cozy, festive and inviting about a holiday yule log! Especially one made of cake. 😋
Did you know it's really pretty easy to make a yule log? My recipe uses boxed cake mix and I'll give you directions for rolling the cake as well as decorating to look just like a beautiful log. But first, you may be wondering…
What's the history and origin of the yule log?
You might be curious about origin of the yule log dessert. Or you might not be. So I'll keep it short and sweet and you can do your own Googling if you need more info.
The yule log is a Nordic tradition that began with an actual log which was part of an entire tree burned a little bit each day during the 12 days of Christmas. (Read the full story here). Somewhere along the way, the idea of the yule log was transformed into a dessert. Brilliant.
What ingredients are in a Yule log cake?
If you've never seen or enjoyed a yule log cake, I'd say it's similar to a giant Ho Ho or chocolate Swiss roll cake. Except instead of a chocolate coating, it's covered with chocolate frosting.
The frosting is often made to look like the bark of a log. With this recipe, I'm going to show you how to do this to your yule log! (Don't worry, it's really easy, no professional bakery skills required.)
Actually in general, a yule log cake is incredibly easy to make if you start with a cake mix.
Why is this the best yule log cake recipe?
Well, I think it's this one. Why? Because it's easy and delicious. I'm a big fan of boxed cake mixes because they're cheap, easy and now you can buy them organic.
However, I really recommend making your own chocolate frosting if you have time.
Homemade chocolate buttercream frosting (click for my recipe) is pretty easy to whip up and it's so amazingly good.
Can you make your own Marshmallow fluff?
Yes, you can! If you forgot to pick up marshmallow fluff at the store, don't worry. If you have marshmallows and corn syrup, then you can make your own. Here's a recipe for homemade marshmallow fluff.
You can also try this marshmallow flavored frosting: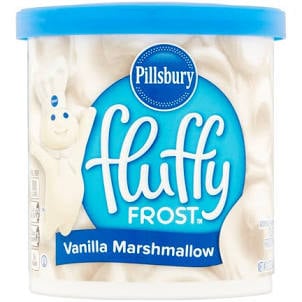 The texture is a bit different, more light and fluffy light frosting but still has that marshmallow flavor.
Or, just simply use vanilla frosting. All of these options are delicious so choose your favorite or just use whatever is handy. Remember, this is an easy and low stress cake! 😉
Tips for Success on the First Try
Bake time may vary depending on how thick you spread the batter out and also your type of oven. Just be sure not to overcook the cake or you may have trouble rolling it. Recommended baking sheet size is 12″ x 18″ for best results.
Keep an eye on the batter. As soon as all the shiny parts disappear, check the center with a toothpick. You don't want to over cook or it will be harder to roll.
When rolling the cake, be sure to use plenty of powdered sugar to prevent it from sticking to the towel.
Don't let the cake cool for more than 5 minutes or it will be difficult to roll and may crack.
If the cake cracks, just smooth over the cracks with frosting
Roll the cake tightly.
You may choose to slice off the ends of the cake and leave it unfrosted. Some of the tradition recipes for yule logs I've seen do this. I've seen the slices stacked together and attached to the side of the log with frosting to look like a branch. Up to you if you want to try this! There's no right or wrong way to do this in my opinion. This is a fun dessert recipe that can be decorated and served according to your own style. So have fun with it!
To save time or simply for a different look, try using woodland-themed cake toppers to decorate vs. cranberries and rosemary.
What do you need to make a yule log using cake mix?
Here are a few tools that will make things easier, less stressful and also just more fun!
Feeling the holiday spirit?
Try making some Christmas cookies too!
Typically this is a Christmas dessert so if you're reading this and Christmas is still pretty far away, pin this recipe for later!
This easy yule log recipe was featured on Wine'd Down Wednesday, Sew It Craft It Cook It, Back to my Southern Roots and Big Green House!