These healthy stuffed shells are going to rock your world! They're stuffed with spinach, a yummy blend of cheeses, then lightened up with ground turkey.
A healthier, freezer-friendly, delicious dinner option.
If you like healthy food but you still like things to taste good… this recipe is for you, baby.
Ground Turkey + Ground Beef

No matter how you season it or cook it, ground turkey is not going to taste like ground beef. I tried. So my compromise here is to lighten up this dish by using half ground beef and half ground turkey. The ground beef infuses flavor into this dish while the ground turkey adds that meaty texture but cuts the grease in half. You can opt to use all turkey or all beef, but this half and half blend is my personal favorite way to make these stuffed shells healthier without sacrificing flavor.
This recipe feeds a large family or a small crowd.
These stuffed shells are pretty easy to prep but do take a little time so I'd recommend making two batches at a time—have one for dinner and either share one dish with a friend or put it in the freezer for an easy heat-and-eat weeknight dinner. These freeze and reheat well using a casserole dish.
If you don't want to make a huge batch, two batches, or if you're just short on time, then cut the amount of ingredients in halfv to make half the amount. A half batch will still feed 3-4 people.
Watch how to prepare and cook these stuffed shells:
Tips for stuffing the shells:

If you've never stuffed shells before, don't worry it's pretty easy it just takes a little time and some practice to find your grove.
Here are a few tips:
Make sure to stir your jumbo noodles while cooking, otherwise they can stick together and rip when you try to pull them apart.
Don't overcook your shells. Drain immediately after they're done cooking. Cooked properly, they hold their shape better and are easier to stuff.
After you drain the shells, don't let them sit too long. They'll dry up and start to stick together. I cover mine with a wet paper towel if I need more time to mix up the stuffing.
Use your fingers to stuff the shells with the spinach-cheese-meat mixture if a spoon isn't working well.
What kind of baking dish is best for these stuffed shells:
When I freeze this dish, I use glass Pyrex dishes with lids. You do need to be careful about reheating them in the oven though since glass can shatter if you change its temperature too quickly. So I usually let mine sit out for a little bit then heat it up with the oven rather than putting it in a pre-heated oven. I like the glass because you can easily see what's inside. Helpful when you're storing in a packed freezer.
Now, there are other options if you're not sure about glass. This cast iron casserole dish for example. It's going to be heavy but also heavy duty. The color is fun and makes me happy. It's weird, but I've found that cooking with utensils, dishes, etc, that I really love, makes dinner-making a much more enjoyable experience especially after a long day.
A cast iron casserole dish is ideal for this recipe. You can shop them now on Amazon.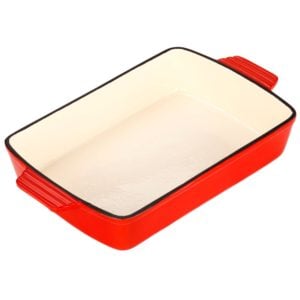 If you own a cast iron dutch oven or cast iron skillet, then you'll love this cast iron casserole dish. Yes, it's heavy but it's also heavy duty. I really like the look of it but after having several glass and ceramic casserole dishes break, the durability of it is what's most appealing.
Helpful tools for making these stuffed shells:
Want more easy and delicious dinner ideas?
While you're here, browse and pin my most popular recipes:
Get monthly recipe inspiration, too.
Sign up for my email newsletter to stay inspired!
I typically send out an email once a month with seasonal recipe ideas. The sign up box is at the bottom of this page. When you sign up, I'll also send you a copy of the printable meal planner and grocery list I use.
These healthy stuffed shells were featured on South Your Mouth, Menu Plan Monday, and Inspire Me Monday and have been pinned more than 15,000 times with lots of rave reviews! I hope you enjoy them and if so, please let me a review!