This cinnamon roll casserole made with Pillsbury cinnamon rolls is THE MOST POPULAR recipe on my whole site. Why? Because it's a delicious, easy to make breakfast casserole. Perfect for holidays and weekend mornings. Tastes like gooey, baked cinnamon French toast with icing!
This post may contain affiliate links. As an affiliate, I earn a commission.
Jump down to Recipe
This cinnamon roll casserole made with Pillsbury cinnamon rolls, is essentially baked cinnamon French toast but gooey and absolutely delicious!
A family-friendly recipe that serves a small crowd.
This cinnamon roll breakfast casserole is super easy and family-friendly so it's great for feeding picky eaters.
Think lazy weekend mornings or for serving overnight guests without a lot of fuss. This french toast bake is east and kid-friendly. It can even be made the night before then just popped in the oven to bake in the morning so it's a great choice if you're wondering what to make for Christmas morning breakfast.
The secret is starting with Pillsbury cinnamon rolls. I like using the flaky Pillsbury Grand rolls but any kind works, cook time will vary so best to keep an eye on these while they bake.
What makes this cinnamon roll casserole recipe so easy?
As I mentioned, this french toast casserole uses cinnamon roll dough instead of bread. Bread tends to get soggy when you add eggs and a creamy-cinnamon topping. The cinnamon roll dough however, holds up like a champ! In fact, think about what happens when you bake cinnamon rolls straight up, they get dry.
So this is basically like the best of both worlds—a cross between cinnamon rolls and cinnamon french toast which results in a perfectly moist, sticky and a deliciously perfect breakfast treat. Nom!
Watch how to make this recipe.
You'll see how to make this cinnamon roll casserole, step by step. It's quick and easy.
Inspired by Pillsbury's Cinnamon French Toast Bake
I actually discovered this recipe via a good friend who made this for us during a visit to her house years ago. It's a variation of Pillsbury's Cinnamon French Toast Bake recipe using canned Pillsbury Cinnamon Rolls. I was hooked after the first bite and was on a mission from there to make it myself and of course, add my own little touches.
Perfecting a Favorite Recipe
I started with the original recipe by Pillsbury at first then experimented from there. The final version I landed on differs in that I added extra cinnamon, nutmeg, and flour; and reduced the eggs and cream so it didn't get too soggy or overly eggy. The flour helps the egg stick to the cinnamon rolls, in case you get to that and you're thinking about leaving it out. Just keep this in mind.
Per my friend's recommendation, I also left off the maple syrup because it's plenty sweet enough without it. In my opinion. If you want to go all out and add it back, by all means, do it. If you just want a little hint of maple flavor, you could add a splash into the egg batter.
Ingredients Needed to Make this Recipe
Here's everything you need: Pillsbury cinnamon rolls (or your favorite brand of cinnamon roll raw dough or use homemade dough if you're feeling ambitious!), pecans, eggs, flour, milk or half and half, butter, vanilla, cinnamon and nutmeg (optional).
Adaptations to this Cinnamon Roll Casserole
I've seen variations of cinnamon roll casserole and other french toast bakes like this one that also include pumpkin (perfect for fall!), cream cheese and apples. So, have fun with this. Add sprinkles and make it into a birthday breakfast if you want. It's really a very versatile and well-loved breakfast casserole.
The recipe below includes my tweaks after making and adjusting the ingredients many times over to get everything just right. It doesn't have any of the extras nor does it need anything extra but once you master this base recipe, you can get as creative as you want.
Pecans Optional
The pecans taste so good roasted on top of this breakfast casserole, however if you have picky eater who don't like nuts, you can leave them off. Or, cover just half the casserole with nut and leave the other half, nut-free.
Rave Reviews on Pinterest!
This is one of the most popular recipes I've ever made and shared. I've been working on this recipe for a long time to make sure it's absolutely perfectly delicious!
This cinnamon french toast recipe has actually been pinned hundreds of thousands of times and has been "tried" on Pinterest with rave reviews so I'm pretty confident you'll love it, too!
Of course, I'm always open to improving so please let me know what you think and if you changed anything to make it even better. All feedback welcome! You can review the recipe below and/or leave a comment.
Choose regular icing or cream cheese icing.
Both options are delicious! Just choose cinnamon roll dough with the kind of icing you prefer — classic icing or cream cheese icing.
Perfect for Christmas morning breakfast!
I get comments from lots of people who make this baked french toast every year for Christmas. I think it's such a big hit because it's quick and easy to prep and is popular with both the kids as well as the grown ups. 🙂
Cooking Tips for Success on the First Try!
Use a pizza cutter. Quickly and evenly cut the cinnamon rolls into eight pieces. You can also cut each roll into six pieces but keep in mind, this may require a longer cook time.
Oven temperatures can vary greatly. For best results make sure your oven is calibrated to the correct temperature. Do this by using an oven thermometer and follow the directions for adjusting your oven temperature in your oven manufacture's user manual.
The size of your baking dish matters. This recipe calls for a 9×12 baking dish. This is important because it allows enough space for the pieces of dough to be spread out and cook evenly. If you are using a very different shape or size baking pan, that will change the amount of time needed to cook and may not cook evenly.
The size of your cinnamon rolls matters. Cinnamon rolls come in varying size packages. If you choose cans larger or smaller than the 12.4oz standard size, then be sure to keep an eye on the dough as it cooks to prevent under or overcooking.
The brand of your cinnamon rolls matters. You can opt for store brand or even choose a frozen cinnamon roll brand like Rhodes, just thaw them first. Pillsbury rolls are not mandatory. Just keep in mind the cook time may vary so check on the pieces of cinnamon roll dough often as they are baking and adjust your cook time as needed.
The material of your baking dish matters. For best results, use a glass baking dish. Ceramic baking dishes can be very thick or thin so the cook time can very greatly. If you don't have a glass baking dish, just check on the cinnamon roll dough piece and if it looks like they are not yet done, give them some additional bake time.
Keep an eye on things. The dough can go from raw to cooked in just minutes and from perfectly golden brown to burned very quickly. If this is your first time making this recipe, it's best to keep an eye on things especially towards the end of the cook time. If the dough starts to brown early, cover with foil to prevent overcooking.
Changing the ingredients may affect cook time and the taste. Using milk instead of half and half for example, may lengthen the cook time and sadly won't taste as good but it's a good way to cut fat if that's what you want to do. If you make adjustments to the recipe, just keep an eye on things when cooking and allow yourself some extra time in case it needs longer to bake.
Helpful tools for making this cinnamon roll casserole:
Try my cinnamon pull apart bread too!
If you love this cinnamon roll casserole, try it in a slightly different form. One day I decided to make this same recipe but as more of pull apart bread loaf. It's really excellent and comes out looking so pretty too! If you want to try that, here's the recipe: Cinnamon Pull Apart Bread.
Want more breakfast ideas?

Browse all my breakfast recipes

This is one of my most popular recipes! Want to see more popular recipes?
Browse these popular recipes here (be sure to Pin the ones you like for later!)
This easy cinnamon roll casserole recipe using Pillsbury cinnamon rolls was featured on Made by You Monday, Inspire Me Monday, South Your Mouth, Wow Me Wednesday and Menu Plan Monday and Meal Pan Monday!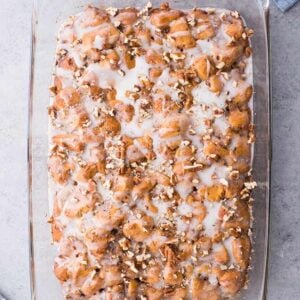 Easy Cinnamon Roll Casserole
This cinnamon roll casserole made with Pillsbury cinnamon rolls is THE MOST POPULAR recipe on my whole site. Why? Because it's a delicious, easy to make breakfast casserole. Perfect for holidays and weekend mornings. Tastes like gooey, baked cinnamon French toast with icing!
Read Comments
Print
Pin
Rate
Ingredients
2

tubes

Pillsbury cinnamon rolls

12.4 oz each

¼

cup

butter

melted

2

eggs

½

cup

heavy whipping cream

2

tbsp

flour

3

tsp

cinnamon

¼

tsp

nutmeg

1

tsp

vanilla extract

½

cup

finely chopped pecans

Icing from cinnamon rolls

Powdered sugar or maple syrup

if desired
Instructions
Melt butter and coat a 9x12 baking dish with the melted butter (There will be extra, that's OK)

In a bowl, beat together eggs, cream, flour, cinnamon, nutmeg and vanilla.

Open canned cinnamon rolls, slice each cinnamon roll like a pizza, into eighths. Place cinnamon roll pieces into the bowl of egg mixture and toss to thoroughly coat. Then pour the pieces, coated in egg mixture, into the greased baking dish and spread out evenly. Any remaining egg mixture, you can pour or brush over top of areas that look like they might get dry. Sprinkle with pecans (optional)

Bake in the oven at 350˚for 18-25 minutes or until light golden brown. Smaller, deeper pans may require additional bake time. Type of cinnamon rolls used can also vary cook time. Best to keep an eye on things and check one of the middle pieces to be sure dough is set before removing from oven.

When all dough is set, remove the french toast bake from oven. Warm icing from cinnamon rolls in microwave for 15 seconds; pour evenly over cinnamon roll pieces. Sprinkle with powdered sugar or top with maple syrup if desired. Serve warm. Enjoy!


Nutrition Facts
Easy Cinnamon Roll Casserole
Amount per Serving
% Daily Value*
* Percent Daily Values are based on a 2000 calorie diet.