This post may contain affiliate links. As an affiliate, I earn a commission.
Jump down to Recipe
These strawberry puff pastry tartlets are adorable and so easy to pull off!
Perfect for a baby shower!
Strawberry Puff Pastry Tartlets make a really cute bridal or baby shower dessert or brunch menu item. Top them with fresh Strawberries or any berry, and a mint leaf for a very fancy look and amazing taste without a ton of effort.
I really love how fancy these look compared to the amount of work needed to make them. You can make a bunch of these in no time flat and keep them chilled until you're ready to serve them. You could also make just the puff pastry shells, and set out individual toppings so that party guests can add what they want to them. A build-your-own danish bar of sorts.
Try something new for breakfast!
Now, maybe you're thinking you'll just eat a try of these yourself. No party needed right?
These make a great weekend breakfast. Easier than pancakes even. And you can top them with all sorts of fun things.
Kids love them, and I love that they are so quick and easy to make. They're yummy and just something different than our typical weekend breakfast.
If you're celebrating something special, maybe a birthday, mother's day, or some other special occasion, then give these a try! Also great for feeding house guests.
Lots of topping possibilities for these tartlets.
These puff pastry tartlets are "build your own" so you can add any kind of fruit and toppings.
I don't bake the cheese filling into the pastry like you would if making a danish. I add it after the pastries are baked. Reason being, if there's someone in your house who isn't a fan of cream cheese (like my son) then they can skip the filling. The pastries still taste very good with just fruit, whipped cream, Nutella and/or almonds.
Don't stress about scoring the puff pastry perfectly.
You'll notice that one of the steps is to score a square shape into the dough before cooking. This is so that once these are cooked and puffed, you can just press that middle part in so it sinks down, leaving a cup to fill with your fruit, cheese filling and other goodies. The square outline does not need to be perfect at all. you won't even see it once they're filled so don't drive yourself crazy trying to make sure your cuts are even. See the photo of how haphazard mine were and they came out just fine.
What if you don't have or don't like ricotta cheese?
I'll be honest, I just added ricotta to be a little fancy. The ricotta adds a light texture and isn't as rich as cream cheese. The filling is similar to a cannoli.
If you don't have ricotta, simply add more cream cheese in its place. You'll just end up with a slightly more dense cheese filling that is actually more like a typical danish that you would buy already made.
Or you could even skip the cheeses all together and go with a whipped cream base. Lots of options. Choose what works best for you, or go with what you have on hand. You truly cannot go wrong with anything creamy. Even Greek yogurt would work.
Could you bake the cheese filling into the puff pastry?
Yes, you could. This is actually typically how cheese danishes are made. I just chose to not bake the cheese in because I have picky eaters. 🙂
If you want to bake yours the more traditional way, then you'll want to cook your puff pastry about half way, then carefully push in the centers to create an indention to fill. Then spoon in your cream cheese mixture and bake for the remaining time. Once they're done baking you can add fruit and any other toppings you'd like.
What can I to do with the leftover puff pastry dough?
So glad you asked! 😉 To make a dozen of these easy strawberry cheese danishes, you need exactly one and a third sheets of puff pastry. You can use the remaining square of puff pastry to top a pie! Try my blueberry pie recipe or my chicken pot pie recipe. Both call for a puff pastry top!
Helpful tools for making this Strawberry Puff Pastry Tartlet recipe:
Want more breakfast ideas?
Browse all my breakfast recipe
This strawberry puff pastry tartlet recipe was featured on Sew It Craft It Cook It, South Your Mouth and Foodie Friday!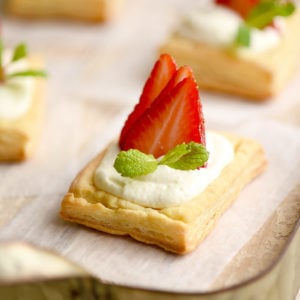 Strawberry Puff Pastry Tartlets
These strawberry puff pastry tartlets are adorable and so easy to pull off! Add mint leaves for the perfect visual punch.
Read Comments
Print
Pin
Rate
Ingredients
1 ⅓

sheets

puff pastry

save the remaining to top a pie!

1 ½

cups

whipped cream cheese

2

tbsp

ricotta cheese

½

cup

powdered sugar

you could also use maple syrup or honey if you prefer a more natural sweetener

9-12

large strawberries

Optional toppings: blueberriers

raspberries, whipped cream, lemond curd, almonds, Nutella, mint for garnish
Instructions
Slightly defrost and unroll puff pastry sheets. Cut into 12 equal rectangles and arrange on a baking sheet lined with parchment paper or a

silicon baking sheet

.

Score each piece of puff pastry dough with a rectangle using a knife. It doesn't have to be perfect! See photo for example. Once scored, bake puff passtries at 425 for 8-10 minutes or until lightly golden brown on the bottom. Carefully lift the pastry to check around 7-8 minutes into bake time to be sure you don't over cook them. Once done, remove pastries from the oven sheet and let them cool.

While puff pastries are cooking, use a mixer to whip together the cream cheese, powdered sugar and ricotta cheese.

Next wash and slice the leaves off the strawberries and cut strawberries lengthwise into thin slivers. You should get 4-5 slices from each strawberry. Ideally you'll want three slices per puff pastry.

Finally, assemble your danish by spooning cheese filling into each puff pastry and top with strawberry slices and a sprig of mint for garnish if you want to be fancy.

*See notes in post above for alternative toppings and methods for cooking and serving.
Nutrition Facts
Calories:
274
kcal
|
Carbohydrates:
19
g
|
Protein:
4
g
|
Fat:
20
g
|
Saturated Fat:
8
g
|
Polyunsaturated Fat:
2
g
|
Monounsaturated Fat:
8
g
|
Cholesterol:
32
mg
|
Sodium:
161
mg
|
Potassium:
72
mg
|
Fiber:
1
g
|
Sugar:
6
g
|
Vitamin A:
394
IU
|
Vitamin C:
5
mg
|
Calcium:
37
mg
|
Iron:
1
mg
Want more easy recipe ideas?
Follow @MightyMrs on Pinterest