This puff pastry blueberry pie is so simple and delicious. You'll love how the puff pastry adds a light and fluffy texture to an otherwise dense and rich pie. It's kind of perfect.
This post may contain affiliate links. As an affiliate, I earn a commission.
Jump down to Recipe
This puff pastry blueberry pie is so simple and delicious. You'll love how the puff pastry adds a light and fluffy texture to an otherwise dense and rich pie. It's kind of perfect.
Pick your own blueberries!
Blueberry picking season is upon us and can I just tell you that my first-ever time picking blueberries happened a few days ago?! Really, it was all an effort to keep my kids occupied while they were not at camp last week that we decided to go blueberry picking. I think I may have been more excited than my kids to be honest but we all ended up having a great time.
What to make with fresh picked blueberries?
The fields were marked so that you could choose between sweet or tart berries and we were allowed to sample as we vwent. We got back to the small barn to check out with a mix of both. I was pleasantly surprised to find our whole blueberry excursion only cost about $6! So we headed home thinking about what to make. Blueberry pancakes? Blueberry muffins? We had SO many blueberries though, we decided on a blueberry pie.
Ever been blueberry picking?
If you've never been, then you've gotta add this to your bucket list! Grab a hat and head to your nearest blueberry farm. Pick blueberries until your heart's content, no one minds if you sample a few as you pick, then come back to this super easy recipe.
What are some good toppings for blueberry pie?
You could go traditional and top your blueberry pie with vanilla ice cream or whipped cream but I actually really like to use a dollop of vanilla Greek yogurt. I also sometimes a mint leaf because a little green makes everything look fresh and pretty.
A summer dessert you can enjoy for the holidays too.
Fresh picked blueberries, depending on where you live, are typically available throughout the last few weeks of summer. However, thanks to modern conveniences you can pretty much get blueberries all year long at the grocery store. So this pie can be made and served up for Thanksgiving if you want something other options to go with your pumpkin pie.
You can also make this pie and then freeze it before you cook it. You can warm it up in the oven, and add some cook time until it's golden brown. Usually an extra 10 minutes does the trick.
Easy as Pie
They don't say that for nothing! Pie is super easy to make! Watch step by step how to make this blueberry pie:
Use a pie crust from the bottom, puff pastry top.
Since a trip to the store was not going to happen after running around the hot, sunny fields, I grabbed what I had available for crust — puffed pastry. I think it was one of those Bob Ross happy accidents because the puff pastry really made the pie so different and delicious!
An easy way to make your pie pretty.
If you get lazy from time to time like I do, and you don't care to take the time to perfectly crimp the edges of your pie, here's an easy solution.
Get a fluted pie pan.

The edges of the pan itself are fluted (scalloped) and so it makes the pie look way fancier without having to do any actual work yourself. Genius? I think so!
Just press the crust into the pan and use the edge of the pan to cut to size.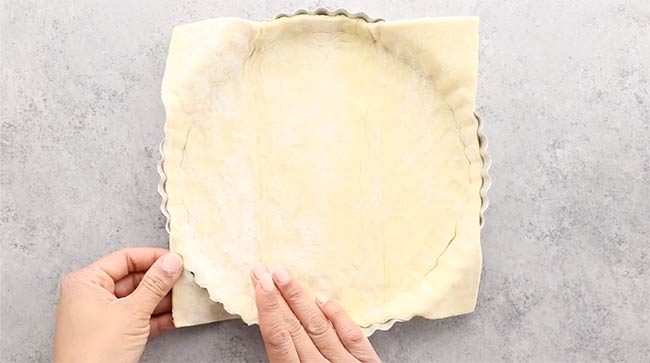 Watch the how-to video to better see how it's done.
Here's something else to make with your fresh blueberries.
If you love blueberries, check out my homemade blueberry pop tarts (the kind made with real fruit!).
You might also like these popular recipes!
This recipe for puff pastry blueberry pie was featured on South Your Mouth and Wow Me Wednesday!

Puff Pastry Blueberry Pie
This puff pastry blueberry pie is so simple and delicious. You'll love how the puff pastry adds a light and fluffy texture to an otherwise dense and rich pie. It's kind of perfect.
Read Comments
Print
Pin
Rate
Ingredients
2

sheets

puff pastry dough

thawed

4

cups

fresh blueberries

2-4

tablespoon

sugar

1

tablespoon

fresh lemon juice

1

tablespoon

butter

2

tablespoon

pectin

or use tapioca
Optional Finishing
2

tablespoon

milk

2

tablespoon

sparkling sugar
Instructions
Unfold 1 puff pastry sheet and press into the bottom of a greased pie pan.

Cut off extra crust corners. Bake for 10 minutes at 375˚ then remove from oven and let cool. Keep the oven on as you'll bake again with filling, next.

Press the cooled puff pastry down as needed to flat some. Add blueberries on top. Sprinkle sugar evenly over top.

Next, pour lemon juice evenly over top then sprinkle pectin evenly over top of the blueberries. Toss blueberries to coat and spread pectin and lemon. Finally, place darts of butter throughout.

Unfold remaining puff pastry sheet and place on top of the pie, cut off or fold under extra dough. Pinch edges to seal and poke holes with a fork or cut small slits to vent the top.

Optional: Brush top of pie crust with milk then sprinkle with sparkling sugar.

Bake at 375˚ for about 30-35 minutes or until puff pastry becomes light golden brown and filling is bubbling.

The pie will thicken as it cools. If you prefer to eat it warm it may be a little runny.
Notes
If the top of the pie starts to brow too early, cover loosely with a piece of foil.
You can substitute pectin with quick-cook tapioca to thicken your pie filling.
You can use regular pie crust for the top and/or bottom crust if you prefer. Cook time may vary slightly.
Nutrition Facts
Serving:
1
slice
|
Calories:
418
kcal
|
Carbohydrates:
45
g
|
Protein:
5
g
|
Fat:
25
g
|
Saturated Fat:
7
g
|
Polyunsaturated Fat:
3
g
|
Monounsaturated Fat:
14
g
|
Trans Fat:
0.1
g
|
Cholesterol:
4
mg
|
Sodium:
173
mg
|
Potassium:
103
mg
|
Fiber:
3
g
|
Sugar:
11
g
|
Vitamin A:
91
IU
|
Vitamin C:
8
mg
|
Calcium:
16
mg
|
Iron:
2
mg
Follow Mighty Mrs. for more easy recipes!
Find @MightyMrs on Pinterest