Here's something sweet, easy and delicious you can make to celebrate Valentine's day or an anniversary… a strawberry log cake complete with your own "carved" initials.
This post may contain affiliate links. As an affiliate, I earn a commission.
Jump down to Recipe
Here's something sweet, easy and delicious you can make to celebrate Valentine's day or an anniversary... a strawberry log cake complete with your own "carved" initials.
This cake is easy enough for novice bakers to pull off on the first try but looks super impressive and will surely communicate that loving feeling to anyone you share this with.
Looking to celebrate a special anniversary or Valentine's day?
This dessert is perfect to enjoy after a date night in or enjoy it as a family to celebrate your love for each other.
This roll cake serves a small group of about 8-12 depending on how large you slice it. So you can save some to eat for breakfast the next day if you're enjoying this dessert as a party of two.
Made Using Cake Mix
I'm a big fan of saving time with cake mixes and doctoring them a bit. This incorporates real strawberries, no fake strawberry flavoring. So the flavor is light a fresh similar to strawberry shortcake or strawberry sponge cake.
You can also save time using canned frosting but it's not that hard to make your own frosting if you prefer that. Up to you.
For the filling, I highly recommend using a very specific frosting called "fluffy frost." It's like a cross between vanilla buttercream frosting and marshmallow fluffy. It has marshmallow flavor yet has the light and fluffy texture of frosting. So good! And is a great pair with the fresh strawberries.
Here's what it looks like: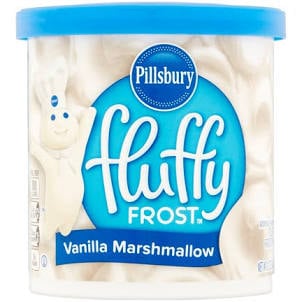 For the buttercream icing that goes on the outside of the log cake, again, you can buy that or make it. If you want to make it, you can use my recipe for chocolate buttercream frosting, just leave out the cocoa.
This cake is easy to make yet somewhat time consuming.
Follow the directions step-by-step and you'll be fine. But be sure to leave yourself an hour to tackle all the steps and allow proper baking and cooling times which will be key to success on the first try. You got this!
Adding a Heart and Your Initials to Create a Carved Branch Look
You can add just a heart or your initials or both to this strawberry log cake. Up to you and how detailed you want to get here.
To add a heart, use a small spatula or a clean finger to press and smooth a heart shape into the frosting of the cake. Then dab red food coloring around the edge of the heart shape with a toothpick. Next, using your clean finger, or a small spatula, blend the red food coloring toward the middle of the heart to fill it in.
To create initials, slice long thin pieces of strawberry skin and shape them into letters. You could also try carving letters with toothpick and filling it with food color but I find the strawberries create a cleaner look. It just take a little time and patience.
Love roll cakes?
I do too! They're so pretty, moist, and full of flavor. But best of all they're really easy to make using cake mix and you can get creative with trying different cake and icing flavor combinations once you've made a few.
Check out my holiday yule log recipe for a chocolate version of this log cake.
Helpful Tools for Making this Strawberry Roll Cake
Here are a few tools that will make things easier, less stressful and probably more fun:
Before you go, check out some of my other recipes.
Browse and pin my most popular recipes on Pinterest
This Valentine Strawberry Log Cake was featured on South Your Mouth!
Valentine Strawberry Log Cake
Here's something sweet, easy and delicious you can make to celebrate Valentine's day or an anniversary… a strawberry log cake complete with your own "carved" initials.
Read Comments
Print
Pin
Rate
Ingredients
6

eggs

1

box

yellow cake mix

⅓

cup

water

¼

cup

cooking oil

2

tablespoon

powdered sugar

21

oz

strawberry pie filling

diced or pureed

12

oz

whipped buttercream frosting

2-3

drops

Red food coloring

Fresh strawberries and mint for garnish
Instructions
In a large bowl, beat eggs with an electric mixer (ideally with whisk attachment) for 5 minutes until frothy and pale yellow in color.

Add cake mix, water and oil and beat on low for 2 minutes.

Line your baking pan then coat the liner with baking spray.*

Pour batter onto prepared baking baking sheet and spread batter as evenly as possible. As long as the sides are greased, you can push the batter up to the side walls of the baking sheet so you have a nice, flat rectangular cake.

Bake at 350˚ for 15 minutes or until a toothpick inserted into the center comes out clean.

When done, remove the pan of cake from oven and let cool for 5-10 minutes to let the cake set. Try not to let cool longer than 10 minutes.

While the cake is still warm, grab your linen dish towel. Sprinkle both sides of the towel with powdered sugar to prevent cake from sticking to it then lay it on top of the cake, completely covering it.

Holding the towel and the pan together, gently flip the pan upside down so that the cake drops from the pan into the towel like a hammock then let go of the towel and the cake gently laying it onto a clean counter or onto another clean dish towel.

Take the pan and set it aside leaving the towel with the cake on top. The liner will likely stick to the top of the cake, go ahead and gently peel it off.

Next, starting from the short side of the cake, begin to tightly but gently roll the cake up, keeping the towel in place so that it separates the layers. Place the rolled up cake on a cooling rack and let cool for at least 15 minutes.

When done cooling, gently unroll the cake and spread a thick layer of strawberry pie filling across the whole top of the cake.

Gently but tightly roll up the cake again to form a log. Scrape away any excess filling.

Lift and place your log onto your serving dish, seam-side down so cake does not unroll.

In a new bowl, add a few drops of red food color to the buttercream frosting and stir until frosting is pink. Frost the entire outside of the log cake.*

*You can choose to slice off an end of the log cake to place it to the side and leave that unfrosted to show the inside if you'd like.

Add initials and heart. Use your finger to lightly shape the heart then fill in with red food coloring. Use strawberry slices to create lettering.

Finally, garnish with fresh strawberries and mint leaves and scrape the cake to create a bark texture using a fork.
Notes
*

If you don't have a silicon baking sheet, use parchment paper to line your baking sheet.
If you don't have baking spray, you can use regular cooking spray or butter. Make sure to grease the sides of the baking sheet as well so that the cake is easy to remove.
Nutrition Facts
Calories:
627
kcal
|
Carbohydrates:
106
g
|
Protein:
7
g
|
Fat:
19
g
|
Saturated Fat:
5
g
|
Polyunsaturated Fat:
5
g
|
Monounsaturated Fat:
8
g
|
Trans Fat:
0.2
g
|
Cholesterol:
123
mg
|
Sodium:
617
mg
|
Potassium:
91
mg
|
Fiber:
2
g
|
Sugar:
73
g
|
Vitamin A:
178
IU
|
Vitamin C:
16
mg
|
Calcium:
174
mg
|
Iron:
2
mg
Follow Mighty Mrs. for more easy recipes!
Find @MightyMrs on Pinterest