This post may contain affiliate links. As an affiliate, I earn a commission.
Jump down to Recipe
Do you love potatoes? How about Ranch? Yeah, thought so. You're going to love these baked Parmesan ranch potato wedges!
Like, a lot.
These ranch-licious potato wedges are crispy, perfectly seasoned, and come with a side ranch dressing because there's no such thing as too much ranch. 😉
Plus, all you need is 5 ingredients to make this recipe!
Why Potatoes are Awesome
1.) They're cheap. 2.) They're delicious. 3.) They're so versatile!
I don't know about you, but I grew up eating mashed potatoes by the bowl full. My grandma help encourage this love. She was pretty good about honing in on my favorite foods, homemade mashed potatoes being #1 on the list, and she loved to stuff me full of all of them. I happily obliged.
My other grandmother would count my ribs and tell me I was too skinny. Her favorite treats to share with me were her famous sherbet punch and Andes mints.
I guess I have them both to thank for the need to share my love in the form of food, as well as my ever-thickening body frame and general love of homemade food.
Particularly potatoes of just about any variety and form. 🙂
Why potato wedges vs. fries?
Wedges are so perfectly puffy and warm and require so little effort. A few quick slices with a large knife, a few tosses, bake, done.
Why is the first time I made these just recently? Wait, I know. Because I have always bought these suckers by the bag in the frozen aisle not really processing how much cheaper and better for you it would be to just make them myself.
A 10lb bag of potatoes costs under $5 around here and Lord knows I WILL use all 10lbs, so why not step out of my comfort zone of turning all 10lbs into mashed potatoes, and try some wedges? Live a little, Angela.
How do you make homemade potato wedges?
It's pretty simple to cut them into wedge. You can cut them using a potato slicer, a vegetable wedger, or a knife.
Watch this how-to video!
Check out the easy process for making these delicious baked potato wedges.
How to Evenly Cook Potato Wedges
The tricky part is baking them evenly. You want potato wedges to be crispy on the outside and soft in the middle.
The solution is pretty simple though. You need to cook then on a wire baking rack so that air can get to all sides of your potato wedge. This is really key. If you bake wedges directly on a baking sheet, even one lined with parchment paper, you're not going to get a nice crisp on that side.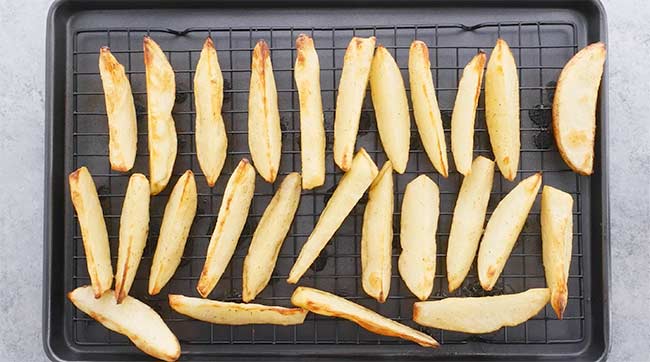 So wire rack is key but there are a few other tips that can help as well:
Soak potato wedges before you bake them. This removes an extra starch and allows for a crispier outside. If you skip this step, you may find that your wedges a little chewier.
Slice the wedges to be the same size. Keeping your wedges the same size ensures that they all cook the same amount. If you have some small wedges and some large, then the small ones may become overcooked, or the larger ones may be undercooked and still stiff.
Toss your wedges in oil. Oil can heat up to a much higher temperature than the potato itself, without burning. So completely coating the potato in oil is important or you may find that areas of the potato not coated in oil, will become charred.
Try parboiling or pre-cooking your potatoes. If you aren't getting the fluffy inside of your dreams, then it may help to pre-cook the potaoes before you bake them.
You can do this two ways.
1.) You can parboil your potato wedges in salted boiling water for about 5-7 minutes to soften the wedges but not cook them all the way. Remove and dry them, then toss in oil and ranch and bake them to finish them off.
2.) Instead of parboiling, you can microwave your freshly-cut potato wedges to soften and pre-cook them. I recommend a minute at a time for about 2-3 minutes total or until potatoes have a small amount of give to them. Then, toss them in oil and ranch and bake the rest of the way.
If you pre-cook your wedges, keep in mind, this will likely lessen the bake time needed so just keep an eye on them in the oven and check them when they turn golden brown.
Try sweet potato ranch wedges!
Same recipe. Just use sweet potatoes. Really good! You can also try ketchup or aioli sauce for dipping for dipping.
Skin on or off?
Up to you. My grandma used to always tell me the skin was the best part because that's where all the vitamins are. The skin can also add flavor. If you're using sweet potatoes, you may want to peel the skin off only because it's a bit more chewy and doesn't crisp as well as regular potatoes.
Love potatoes?
This recipe for baked Parmesan ranch potato wedges was featured on Melt in You Mouth Monday, Wine'd Down Wednesday and Sweet Little Bluebird!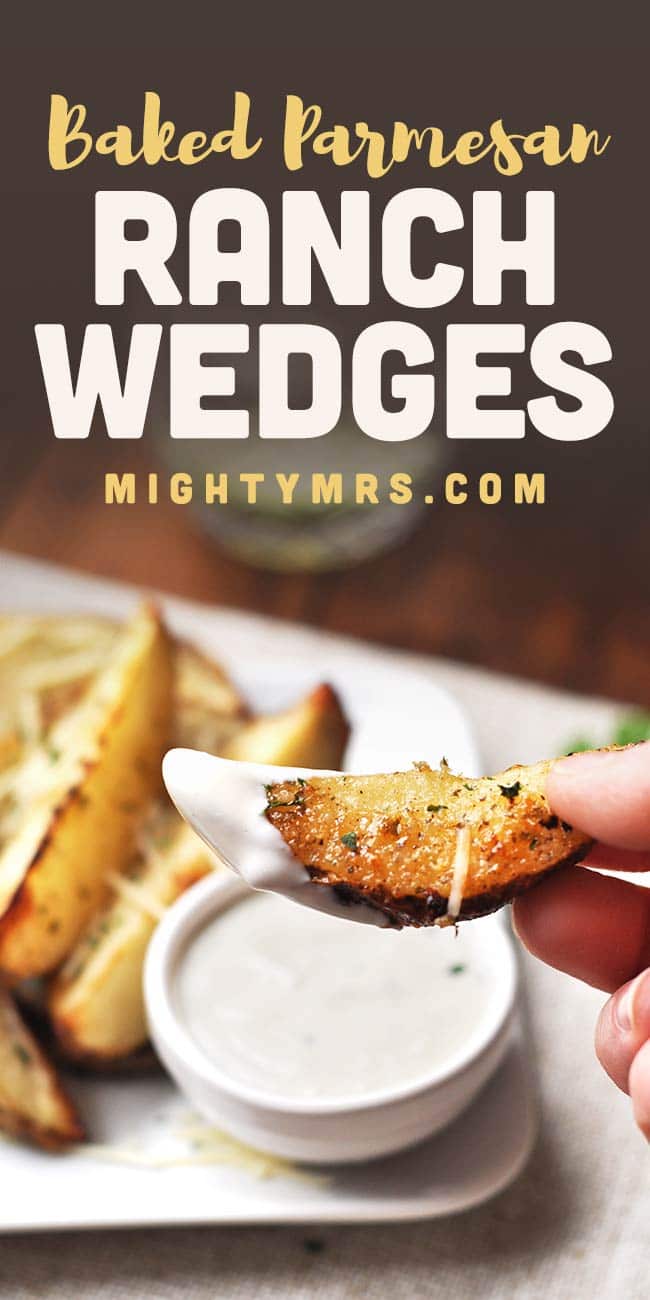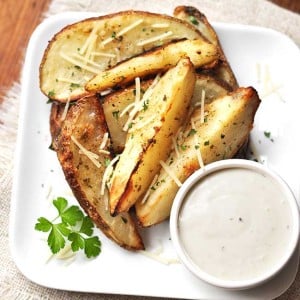 Baked Parmesan Ranch Potato Wedges
These crispy Parmesan Ranch Wedges can be oven baked or made in the air fryer. A tasty side dish or appetizer. Super easy to make! Great for feeding a crowd. Dip in ranch dressing!
Read Comments
Print
Pin
Rate
Ingredients
4

large

potatoes

1

oz

dry ranch seasoning (2 tbsp)

1 packet

¼

cup

olive oil

Sea salt to taste

¼

cup

shredded Parmesan cheese

Dipping sauces: ranch dressing

ketchup, aioli sauce.
Instructions
Wash potatoes then cut into uniformly sized wedges. (You should get 6-8 wedges per potato). Pre-cook if desired but is not required. (See notes above for pre-cooking.)

In a large bowl, toss potatoes in oil until thoroughly coated.

Sprinkle potato wedges in dry ranch seasoning plus added salt.

Layer an oven-safe wire rack on top of a baking sheet and spread out potato wedges evenly, skin side down. Try not to overlap them. Bake at 400˚ for 35-45 minutes or until golden brown and softened. (Cook time will vary depending on the size of your wedges.)

Remove from oven and top with shredded or grated Parmesan cheese while still hot. Enjoy with ranch dressing, ketchup or aioli sauce.
Nutrition Facts
Calories:
450
kcal
|
Carbohydrates:
69
g
|
Protein:
10
g
|
Fat:
16
g
|
Saturated Fat:
3
g
|
Polyunsaturated Fat:
2
g
|
Monounsaturated Fat:
10
g
|
Cholesterol:
6
mg
|
Sodium:
650
mg
|
Potassium:
1561
mg
|
Fiber:
8
g
|
Sugar:
3
g
|
Vitamin A:
61
IU
|
Vitamin C:
73
mg
|
Calcium:
114
mg
|
Iron:
3
mg
Want more easy recipe ideas?
Follow @MightyMrs on Pinterest