My mom's easy recipe for Cajun Sausage and Seafood Gumbo. It's not authentic but it is delicious. I think you'll love her spin on this classic dish!
This post may contain affiliate links. As an affiliate, I earn a commission.
Jump down to Recipe
This recipe was developed in partnership with Smith's. (and my mom!)
This is my mom's version of "gumbo" and is not in any way meant to be an authentic gumbo recipe. This is a quick and easy seafood soup inspired by the classic gumbo dish. I'll try to explain what makes this different.
If you are looking for an authentic gumbo recipe, then you might want to move on and try to find a recipe that's created by someone from the southern states where gumbo originated.
If you're looking for a yummy and easy soup made with shrimp and sausage, stick around! I think you'll really enjoy this easy recipe.
★ Why You'll Love my Mom's Recipe ★
This gumbo is made with tomatoes.
Traditional gumbo usually does not have tomatoes, so if you prefer a more authentic tomato-free gumbo recipe, then you can leave the tomatoes out.
As I mentioned, this is my family's spin on the classic gumbo dish and we like what the tomatoes add.
So, up to you! You can add the tomatoes in at the end after you taste the gumbo without tomatoes to see what you like best if you're not sure.
Thicken with a roux.
Traditional gumbo is thickened using a roux. Here we're cooking the vegetables in oil, then adding a bit of flour at the end. The flour combines with the oil and then acts as a thickener when you add the broth. You can adjust the amount of flour and oil you use if you prefer a thicker or thinner broth, just keep the ratio 1:1 oil to flour.So if you use ½ cup oil, then you want to add ½ cup of flour.
Another tip for creating a roux to thicken your gumbo is to let the flour cook a bit in the oil. This will help ensure your gumbo does not end up with a floury taste. You want the flour to cook a bit. This is a little trick when you aren't cooking just oil + flour together by themselves.
To save time, we're creating the roux using the same oil we're using to cook the vegetables. So once you add the flour, stirring is key to be sure the flour gets a chance to mix well with the remaining oil and cook a little.
A medley of seafood + sausage = amazing flavor!
When you combine sausage and seafood, good things happen! You don't need a lot else. So the stars of this delicious dinner are: Cajun-Style Andouille sausage, bay scallops (these are the cute tiny ones!), cod (or other white fish), and shrimp.
For best results, start with good quality Cajun flavored sausage and make sure to purchase your seafood raw. Frozen is okay. Fresh is obviously better. But do what's convenient and accessible to you.
★ How to Make this Recipe ★
Believe it or not, making gumbo from scratch is not very difficult!
Smoked sausage, a main player in this gumbo recipe, is easy to work with since it's already cooked (it's slowly smoked before being packaged) and comes ready to eat. You just need to warm it up and brown it a bit for extra flavor.
Veggies are easy too. You just want to soften those to remove their crunchy texture and help them release their flavors (and vitamins!) into the broth.
You'll add chicken stock for flavor as well as some fire-roasted tomatoes for that pop of acidity.
The last step is cooking your seafood and that's surprisingly easy too. You can cook your seafood right in the soup! Seafood is one of those things that might seem a little tricky, but it's actually quite quick and easy to cook. However, each type of seafood is a little different so read on if you feel like you could use a few tips.
★ Tips for Success ★
How to be sure your seafood is fully cooked.
I'd say there are a lot of people out there that overcook their seafood out of fear of not cooking it correctly or long enough. Then it becomes rubbery and bad. And they just think they are a bad cook and give up. Are you one of those people? I know I was until I got some practice with each type of seafood.
The overall trick is to cook seafood just enough. When it's cooked correctly, it's flaky and pops with delicious, juicy flavor. But how do you tell when enough is, well, enough?
How to tell when shrimp is fully cooked. Raw shrimp is grey and semi-transparent white. When it's cooked, it turns a pretty orangey-pink color and the translucent white parts turn solid white.
It's almost like shrimp has a built in color-changing thermometer! Shrimp also puffs up a bit when cooked. Almost like a piece of popcorn! Looking for this plumpness and color, can help you tell when your shrimp is fully cooked.
If you're a bit nervous to judge it by eye, or just want to be extra sure your shrimp is fully cooked, you can check the temperature. Choose the biggest shrimp in the pot and check the internal temperature with a thermometer. It should be 165˚. Remember, as soon as that temperature is reached, your shrimp is done and if it remains cooking, will become overcooked. Some experienced chefs will tell you to turn off the heat 5˚-10˚before it gets to 165˚ because the shrimp will continue to cook a little more even after you remove it from your heat source. I'll leave it up to you and what you feel comfortable with.
How to tell if fish is cooked. Similar to shrimp, fish tends to plump a bit and become flaky. The color also changes from a more translucent look to a solid color. Fish is considered fully cooked when it reaches the internal temperature of 145˚.

How to tell if scallops are cooked. Scallops are also similar to shrimp in that they plump when cooked and they go from a translucent color to a more solid white color when done. The tricky part is they don't turn the orangey-pink color shrimp does. That and scallops are also thicker. So the outside can look done but the inside can still need a bit more time to fully cook. To be sure, you may want to cut one open to make sure the color is solid white, all the way to the center. The suggested safe internal temperature is 145˚ although many other sources site temperatures lower than that for cooking scallops. So, if you feel like your scallops have been cooking for a long while but your temperature isn't getting where it needs to be, use the other visual clues to determine if it's done.
Now, bay scallops are tiny so they'll cook pretty quickly. If you aren't able to get a hold of bay scallops and you're using full-sized scallops, then you will need them to cook longer. You should add full-sized scallops into your gumbo a few minutes sooner than you add the fish and shrimp.
Bringing the Flavor
What gives gumbo it's classic flavor it the seasoning. You can make your own gumbo seasoning using a blend of onion powder, garlic powder, oregano, basil, thyme, black pepper, white pepper, cayenne pepper, paprika and salt to taste.
Or you can buy a seasoning blend. You'll want a Louisiana influenced seasoning blend. This particular blend of spices goes by the name of Cajun or Creole. So, if you're looking for a pre-made spice blend, you can opt for either one of these or create your own using the spices listed and adjust the quantities to suit your tastes.
I would think that if you are looking for a very authentic and refined gumbo flavor, then you may want to try to source your spice blend from the birthplace of gumbo—Louisiana. Try shopping Louisiana gumbo seasoning on Amazon or check the spice aisle in your local grocery store to find the most authentic looking brand.
Optional Add-ins
This gumbo is really simple and delicious in its basic form, but if you want to really load it up, go for it! Here are some other extra ingredients you could stir in that would taste great:
• Corn - scraped off the cob or frozen
• Okra - a popular vegetable in the south, totally fits the southern roots of this dish
• Crawfish, crab, lobster, and/or pretty much any other seafood!
• Shredded Chicken
• Chorizo
★ More Recipes You'll Love ★
Love seafood?
Want more soup ideas?
Special thanks to Smith's!
Smith's, headquartered in Erie, PA has graciously allowed Mighty Mrs. to publish this recipe for cajun sausage and seafood gumbo in order to inspire families with new ways to cook their prepared meats. You can show your gratitude and support by connecting with Smith's on Facebook: facebook.com/smithshotdogs and on Instagram: instagram.com/smithshotdogs. If you're located in the tri-state area, you can find Smith's meats at your local grocer or chain retailer. Visit Smith's website site for a complete list of locations.
This recipe for Cajun Sausage and Seafood Gumbo was featured on The Country Cook!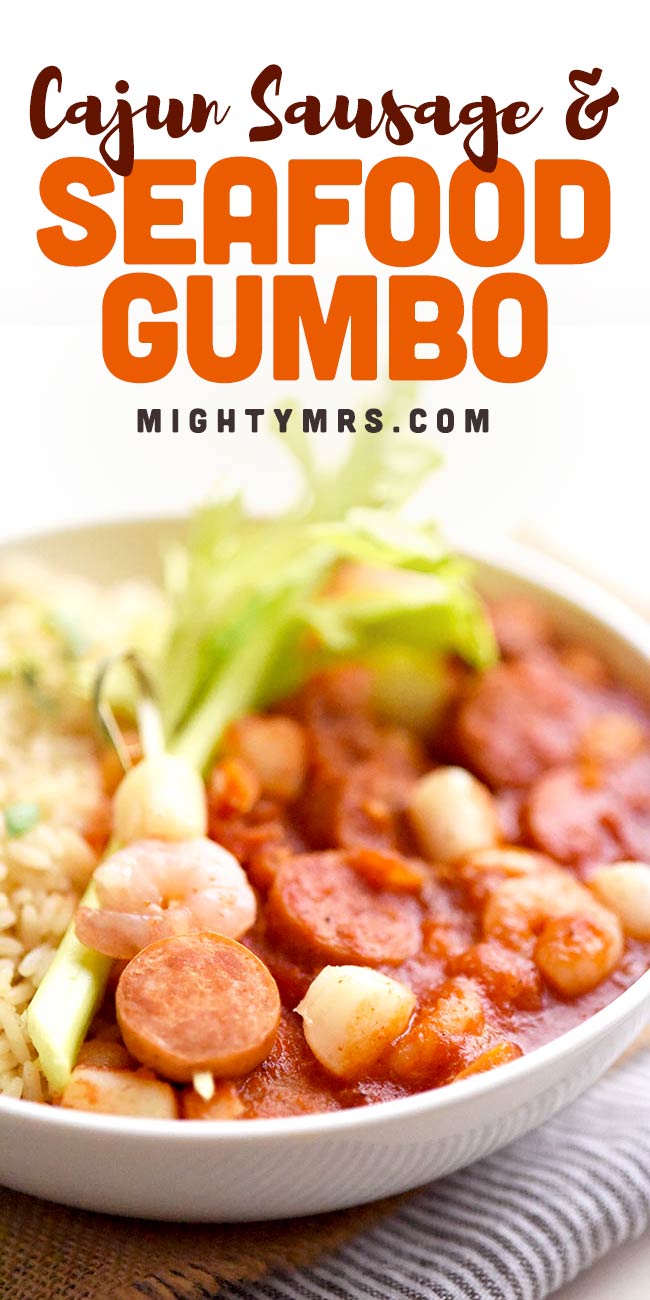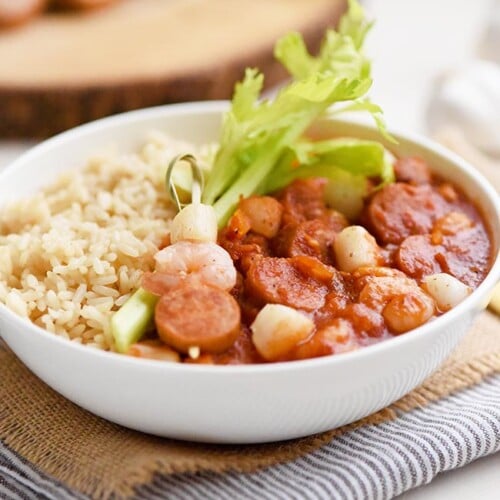 Cajun Sausage and Seafood Gumbo
My mom's easy recipe for Cajun Sausage and Seafood Gumbo. It's not authentic but it is delicious. I think you'll love her spin on this classic dish!
Read Comments
Print
Pin
Rate
Ingredients
14

oz

fire-roasted diced tomatoes

12

oz

Smith's Cajun-Style Andouille sausage

sliced ½" thick

¼

cup

vegetable oil

¼

cup

flour

1

small

white onion

diced

2

stalks

celery

sliced

1

small

carrot

diced

½

red pepper

diced

1

tablespoon

minced garlic

2

cups

chicken broth

14

oz

crushed tomatoes

Cajun or creole seasoning to taste

1

cod filet

cut in pieces

1

lb

raw shrimp

1

lb

raw bay scallops

2

cups

cooked rice
Instructions
In a dutch oven (or large pot), heat oil over medium-high then add sausage, carrots, celery, onions and red pepper and cook until sausage is browned and veggies are slightly softened (about 5 minutes). Sprinkle in flour and add garlic then cook for an additional 3 minutes, stirring to combine flour with the remaining oil.

Add chicken broth, tomatoes and Cajun seasoning then simmer for 20 min.

Add shrimp and bay scallops 6-8 min before serving so as not to over cook. *Be sure seafood is fully cooked before serving.

Serve gumbo hot, over cooked rice.
Notes
Be careful not to overcook the seafood or it will become rubbery. Once soup is cooked, serve immediately or chill and heat right before serving.
Nutrition Facts
Serving:
1
cup
|
Calories:
417
kcal
|
Carbohydrates:
26
g
|
Protein:
46
g
|
Fat:
14
g
|
Saturated Fat:
4
g
|
Polyunsaturated Fat:
3
g
|
Monounsaturated Fat:
5
g
|
Trans Fat:
1
g
|
Cholesterol:
171
mg
|
Sodium:
1324
mg
|
Potassium:
1043
mg
|
Fiber:
2
g
|
Sugar:
5
g
|
Vitamin A:
1795
IU
|
Vitamin C:
18
mg
|
Calcium:
105
mg
|
Iron:
3
mg
Follow Mighty Mrs. for more easy recipes!
Find @MightyMrs on Pinterest